'Olympian' has ring to it for Matt Grevers
June, 27, 2012
6/27/12
11:10
PM ET
OMAHA, Neb. -- Understand this about backstroker Matt Grevers and breaststroke specialist Annie Chandler -- it would be hard for any meet to be more memorable than the Missouri Grand Prix in February.
That was where Grevers, the 2008 Olympic runner-up in the 100-meter backstroke, arranged with the event organizers to make Chandler a medal presenter. He pulled her into an embrace on the top step of the podium, then dropped to one knee, pulled an engagement ring out of his sweatpants pocket and proposed. She threw her hand over her mouth, half-collapsed in shock, and accepted. The video is at 2.7 million views and counting on YouTube.
[+] Enlarge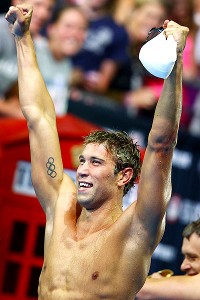 Al Bello/Getty ImagesMatt Grevers won the men's 100-meter backstroke with the second fastest time ever (52.08) on Wednesday night.
Wednesday, the 27-year-old Grevers led wire-to-wire and finished in an Olympic trials record and personal best time of 52.08 seconds. Chandler watched his race on the enormous video screen mounted on the wall in the warm-up pool area, aware she had to keep herself from expending too much energy. Her 100 breaststroke final -- possibly the last of her career -- was set to begin exactly 9 minutes, 2 seconds after Grevers' race ended.
As she walked onto the deck, Grevers told reporters he was thrilled with his swim and thinks double Olympic champion Aaron Peirsol's world record might be within his reach. Before hurrying off to watch his fiancée race, he added that the two Tucson Ford Dealers club teammates are accustomed to juggling priorities. "She is a veteran swimmer," he said. "She knows how to get things done, so I'm not going to waste my emotional energy before my race. Now all my energy is going toward her."
Chandler was racing in what was, on paper, one of the toughest events to crack; most observers had Rebecca Soni and Jessica Hardy inked in for the two Olympic spots. But dark horse Breeja Larson had other ideas and touched out Soni at the wall as Chandler finished fifth.
Afterwards, in another familiar scenario, Chandler fielded several questions about Grevers' race before anyone asked about her own. "I wasn't surprised by the [backstroke] outcome, but I was elated," she said. "I know Matt has incredible swims ahead of him still.
"I watch him race and my heart's always in there with him. I think he was pretty confident going into this race; I didn't have to be too nervous about it."
At the 2008 trials, Grevers surprised many by qualifying for the Olympic team behind superstar Peirsol. Grevers and Chandler were dating by then, and she watched his race from the "ready room" -- the space where swimmers wait to be called on deck for races, and traditionally an intense environment. The result "was unexpected and it kind of blew me away," Chandler recalled. "I kind of squealed in the ready room, which is a no-no."
Grevers said he wishes Chandler could have been the one to pull off an upset.
"It's sad because that was probably her last 100 breaststroke ever, and that was my fastest 100 backstroke ever," he said. "It's kind of a new beginning for me and an end of a chapter for her."
But now, London beckons. And then there's the little matter of finishing what they started in Missouri, documented by footage that lives on in cyberspace.
"It's great that it's brought so many people joy," Chandler said.