One-word mantra for Games? Patience
February, 4, 2014
2/04/14
9:39
AM ET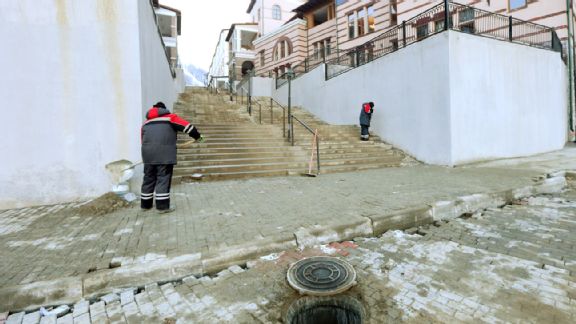 AP Photo/Luca BrunoMany visitors have run into delays or problems at Olympic housing complexes in Sochi.
SOCHI, Russia -- I knew something was wrong when the woman asked me to sit down and then suggested a complimentary cup of tea or coffee to help kill the time. It was just after 1 a.m. local time, and after a 24-hour, three-airplane trek from Chicago, I didn't want to sit. I wanted to sleep.
I had read the stories and heard the rumblings about issues with the media lodging in Sochi and now I found myself in the middle of it. My hotel room wasn't ready. I was better off than many – up in the mountain cluster, it had been reported that at one media hotel, construction had not even begun. My hotel was built. It was standing at least. But inside, the halls were filled with a chaotic stream of workers installing light bulbs, shower curtains, toilet paper, telephones, double-checking that locks worked -- all in the wee hours of the morning.
I waited and waited, my patience thinning. A volunteer for the Sochi Organizing Committee, a woman who said she was from St. Petersburg, offered me a beer. I accepted. It was nonalcoholic. The woman was a master in crisis control. She constantly disarmed me with phrases like, "I know," "You're right" and "I'd be upset, too." Eventually, as my frustration cooled, she began to tell me that this had been the story of her week; day after day, media members had shown up, hotel rooms hadn't been ready and she was there to absorb the abuse.
"It's embarrassing," she said. "I'm embarrassed for my country. We want to show you how great Russia is. You're the media, and you come here and have to deal with this? It isn't right."
I asked her how this could happen. It isn't like it was a surprise that a reported 11,000 media members were descending on Sochi this week. The city was named host of the 2014 Winter Olympics more than seven years ago. Plenty of time to build hotels, right?
"But that is not always how it works," she said. "Even a year ago, none of this was here."
She told me that the hotel issue had grown to the point that even President Vladimir Putin was involved. I chuckled at the thought, refusing to believe her.
After some 90 minutes, my room was available. It was 2:30 a.m. As the elevator door opened to my floor, I was stunned at what I saw. At least 25 different people -- men and women -- running up and down the halls working like crazy to finish rooms. You didn't need to speak Russian to understand the pressure they were under. When I arrived at my door, a man was in the bathroom installing a shower curtain rod. A few minutes later, a woman came with the actual curtain. Then someone showed up with a bar of soap.
The room itself was fine. A pair of single beds rolled together to form a double. Two end lamps. A small television. A desk. A closet to store my clothes. Nothing fancy, but more than enough to crash for a few weeks in between Olympic events. The tiled bathroom included a massive shower/tub, as well as a heated towel rack. And best of all – hot water.
All through the night, there was chatter and commotion in the hallway, and an occasional rustling of my door handle. It wasn't any sort of attempted break-in. It was surely someone else, unaware the room was now occupied, dropping off something that was missing from my room. Through all this, I eventually fell asleep.
Tuesday morning, I woke to a pair of Russian men fiddling with my front door handle, eager to double check that the lock to my bathroom had been installed properly. Without even checking, I told them it had. And off they went.
I later arrived at the Main Press Center eager to share my plight with friends and colleagues. And as I began to do so, I realized I should shut up. I didn't have it that bad. There were those who didn't have a room and were sharing space with colleagues. There was another whose room had been broken into (nothing was taken) so a cable television box could be installed.
Someone told me to give it 48 hours. This is how long it takes, it was suggested, to accept the fact that you're a long way from home, that things are done differently here, and that the most important trait you can possibly have is patience.
And so I began my clock. One day down. One day to go.