As the Summer Games came to a close on Sunday, some of our staff weighs in one last time before heading home from Beijing:
From ESPN.com senior writer Jim Caple:
I could say my most lasting memory of the Olympics was watching the cycling race at the Great Wall. Or seeing Michael Phelps win his eighth gold medal. Or Usain Bolt blow away the world in the 100-meter dash. I could name those athletic performances or at least a dozen more. But I know what I'll remember most.
[+] Enlarge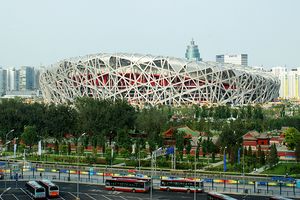 Arty Berko
Somewhere near the Bird's Nest is one of our staff's favorite restaurants.
The Mango Supreme dessert at a restaurant that's a 10-minute walk from the Bird's Nest.
My colleagues and I wound up there by accident one night when we got in a taxi with the only English-speaking cab driver in Beijing. We told him to take us to a good restaurant and he dropped us off at La Poleta. Minutes later, we were enjoying a delicious meal of dim sum, duck and Singapore noodles.
And then came the Mango Supreme. It's an enormous bowl of sliced mango, mango pudding, mango sherbet and mango juice, with a scoop of coconut ice cream to top it off. We split two bowls among the four of us the first night.
We upped it to three bowls the next meal.
By the end of the Olympics, we were up to a bowl apiece.
Sadly, my Mango Supreme days are over. I have a morning flight on Monday.
I wonder if they serve breakfast?
[+] Enlarge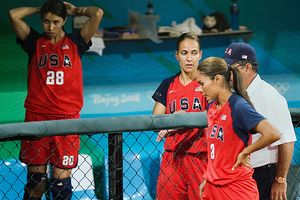 Omar Torres/AFP/Getty Images
In Beijing, we found out that the U.S. softball team was not invincible.From ESPN.com senior writer Liz Merrill:
What I learned after 19 days in Beijing ...
That the Chinese are prideful, efficient people who can ship a postcard halfway across the world faster than I can craft an opening sentence.
That Michael Phelps and Usain Bolt are inhuman.
That softball players are human.
That the Peking duck is succulent and delicious, but I am still very afraid.
And that I now have a deep appreciation for tap water and athletes who pour their hearts out for what we call niche sports.
From ESPN bureau producer Justine Gubar:
One thing I will take away from the Games: bad pop music stuck in my brain from the dated choices played repeatedly at the venues.
Friday night, Jeremy Schaap and I went to the Bird's Nest. Crazy crowded on the walk to get there. I entertained the thought that I could be trampled to death. But we got there and experienced a plethora of riches. We saw the Jamaicans set the world record in the 4x100 relay, Bryan Clay win the decathlon and Steve Hooker set an Olympic record in the pole vault. Loved him! Of course, the staff felt the need to play Men at Work to mark his victory (Hooker is Australian).
I got in some sightseeing before it was too late. Saw the Summer Palace, which was big, hot and crowded, like most things in Beijing at this time of year.
Saturday's women's basketball gold-medal game was my last official assignment. Among the musical selections heard at the gymnasium -- "Shake, Rattle and Roll" for a cheerleader routine. Also heard:
The Ghostbusters theme ... and it's a remake!
"Everybody Dance Now"
"Living in America"
Which is now, of course, stuck in my brain. Guess that makes sense as we head home.
ESPN The Magazine senior writer Luke Cyphers:
What struck me most is the sense of being simultaneously sent forward in time, with incredible construction designs of the venues and the city -- oh, the subway! -- and back in time, with the omnipresent human labor.
Hard work, done by humans. Sweeping, cooking, greeting, guarding, cleaning up, driving. Were they paid? Was it coerced? Were they prisoners or volunteers? Hard to tell.
But the whole place felt like a buddy movie starring the late 21st and early 19th centuries, together for the very first time.