Tuesday, August 19, 2008
Aug. 19: More marveling the Great Wall

---
From ESPN.com senior writer Pat Forde:
The Great Wall was above and behind us, Beijing below. For the moment, we were in blissful middle ground: plowing through plates of fish, lamb, pork and kung pao chicken, serenaded by cicadas. Our host opened three bottles of beer with chopsticks, a cool local party trick. As the sweat dried off of us and we gorged on delicious local food, life was awfully good.
"I think I could sit here forever," said the USOC's Bill Hancock.
A group of seven of us had just taken our first day trip away from the Olympic Games, traveling to see the truly awesome spectacle that is the Great Wall. The Olympics have been incredible to witness in person, and it's been a real privilege -- but it was great to do something other than crowd a mixed zone to get a half-sentence quote from an out-of-breath athlete.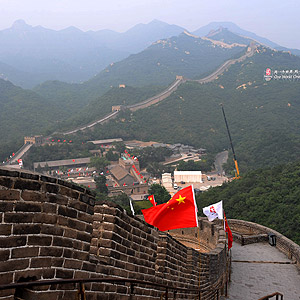 Kirby Lee/US PRESSWIREMarveling the Great Wall.
A little culture never hurt anyone. Especially when it's as impressive as the Wall.
It's so immense in scope that it defies explanation. And belief. How a 4,200-mile long edifice was built -- especially over the mountainous terrain where we were -- without benefit of any appreciable technology is staggering.
And we did our own staggering around the Wall, laboring up and side-stepping down hundreds of narrow steps -- some of them still held in place by their original bonding agent of egg whites, glutinous rice and powdered rock. We passed Asians wearing Jethro Tull and Easy Rider T-shirts, and a European in a Run-DMC shirt. The views were amazing. The sweat was flowing. The history beneath our feet was overwhelming.
The parts of Beijing we see on a daily basis are thoroughly modern. On the way to the Wall, you steadily pass back in time -- there's a guy leading a camel on the side of the road, there are street vendors hawking bananas and nuts. When you reach the Wall, you feel as if you've reached antiquity -- dialing back to a time when the Mongols and Huns were feared invaders, and this was built as the means to keep them out.
Stephen, our tour guide, spoke excellent English -- but that doesn't mean he embraced all things American. He stayed in Los Angeles on his one visit to the United States, and one night went out for a walk in Hollywood. He was encountered on the street by three women -- who turned out to be men. This, to Stephen, was excessive personal freedom.
"That brings me to think your country has probably gone too far," he said. "You need Confucius."
Confucius can wait. We needed this mental-health trip to the Great Wall more.
---