Olympics:

2014 Sochi Olympics
February, 11, 2014
Feb 11
3:25
PM ET
Jason Brown has had a pretty memorable past year. At this time last year, he was just an 18-year-old figure skater on the junior circuit. In the year since, he made the Olympic team, won a medal and even met Russian president Vladimir Putin.
[+] Enlarge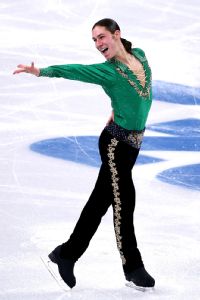 Robert Cianflone/Getty ImagesJason Brown's Olympic debut has been an eventful one so far.
That meeting was after the team figure skating competition. Putin attended Sunday's finals, then congratulated the skaters.
"It's something that happened so fast, you almost didn't think it was real," Brown said. "Our team was standing around, and he literally put his hand out for each of us. We all shook his hand.
"It was kind of like one of those moments where you stand there with your eyes open -- and then he moved on to the next person. It happened so fast, I was totally star-struck and having a hard time trying to grasp it all. It was so incredible. ..."
"He's so supportive of the Russians and their skating, and that's another incredible aspect, that Putin is behind all the skaters. He's behind the Russian federation and he's here to support them, and I think that's awesome. That's huge. And the fact that he came up to us is such a memorable moment. It's incredible that I can say I shook Putin's hand."
Brown helped the U.S. to a bronze medal in the team competition by skating the men's free program. Although he fell once, he skated much better than U.S. champion Jeremy Abbott, who fell twice in the short program and dug his teammates into an early hole. Still, Abbott said that made for good preparation for this week's men's competition that starts Thursday.
"I had some big demons post-U.S. nationals, and I got to meet them up close and shake their hands and make peace with them and send them on their way," Abbott said. "It was good for me mentally because it made me really look at my preparation, and I really wasn't in my structure. When I was at the rink I was, but when I was in the athletes village I wasn't. So it made for a very unsteady situation, and when I got in that pressure situation, it kind of all collapsed."
Abbott says he's altered his schedule to compensate thanks to the lesson he learned in the team competition, Plus, both he and Brown have medals they have only a slim chance of winning as individuals.
"To be on the medal stand with my teammates yesterday and to think a year ago I didn't even think I was going to be skating in seniors competition?" Brown said. "I didn't think I was going to make the Olympic team. And now to have a medal?"
February, 10, 2014
Feb 10
2:20
PM ET
SOCHI, Russia -- U.S. speedskater Shani Davis said he knew he didn't have much chance to win Monday's 500-meter race, but he came away feeling good because of how his performance set him up for Wednesday's 1,000 meters.
"I got some Olympic racing experience," he said of his 24th-place finish. "I worked on some speed a bit for the 1,000. I got some good practice on the inner and the outer lanes, and we just have to put it together Wednesday and see what happens then."
[+] Enlarge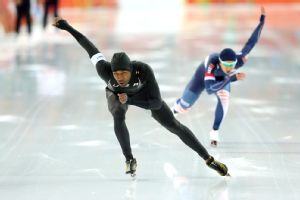 Quinn Rooney/Getty ImagesDavis used the 500 meters as a warm-up for the Wednesday's 1,000.
Davis, of course, already has considerable Olympic racing experience. He has won four medals, including gold in the 1,000 in 2006 and 2010. If he wins Wednesday, he will become the first man to win that event in three different Olympics. He said those previous gold medals do not make the upcoming 1,000 any easier.
"No, because people are shooting for me, and I have the biggest target on my back," he said. "People really strive to beat me. That's all they really train and aim for in the 1,000 men's. That's what they aim for, and my job is to defend it, and defending is always harder than being on offense.
"I'll have a lot on my shoulders, but I'll do the best I can. I'm in the best shape I could possibly be in. And if it's meant for me to win that race, I will."
Speedskating is a national pastime in the Netherlands, and the orange-clad Dutch fans had much to cheer about Monday when they swept the 500 podium. Michel Mulder beat Jan Smeekens by just one-hundredth of a second for the gold while his twin brother, Ronald, took the bronze. Davis was the top American.
The sport will never be anywhere near as popular in the U.S., but with a victory Wednesday, Davis would join the elite club of U.S. skaters who are household names in America: Eric Heiden, Bonnie Blair and Dan Jansen. Davis said he isn't thinking about that legacy right now, though.
"I'm just out there living a dream I set for myself when I was a kid," he said. "I'm just trying to skate fast. And I'm trying to meet those demands among the hundreds of people doing the same thing. And I'm trying to stay ahead of them."
February, 7, 2014
Feb 7
8:33
PM ET
By
John Dorsey
| ESPN.com
After passing through the hands of more than 14,000 torchbearers along the way, the Sochi Olympic torch relay ended at Fisht Olympic Stadium Friday night. The flame was brought into the stadium by tennis star Maria Sharapova, but the honor of igniting the Olympic cauldron fell to two Russian Olympic greats. Hockey legend Vladislav Tretiak and figure skater Irina Rodnina -- both three-time gold medalists for the former USSR -- lit the cauldron together, signaling the official start of the Sochi Winter Olympics.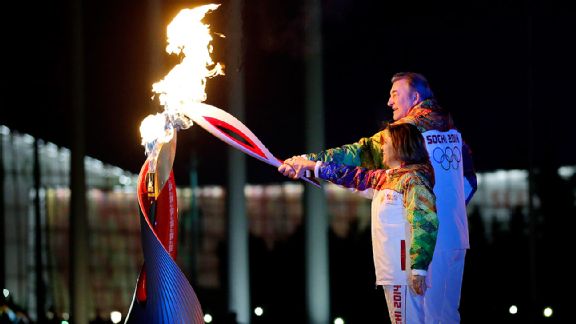 AP Photo/Matt SlocumRussian Olympic heroes Irina Rodnina and Vladislav Tretiak light the Olympic cauldron during the opening ceremony of the 2014 Winter Olympics in Sochi.
February, 6, 2014
Feb 6
4:51
PM ET
SOCHI, Russia -- The last time Evgeni Plushenko skated with anything at stake, it was behind closed doors, a special exam to convince Russian officials he deserved to claim the lone men's spot available at the Winter Games.
He succeeded, although it's hard to imagine this born showman turning in his best effort before a small audience. Thursday, he performed for an adoring -- if not sold-out -- crowd, and kept his country in the hunt for a medal in the new team event.
[+] Enlarge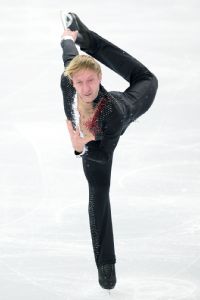 JUNG YEON-JE/AFP/Getty ImagesSkating in his four Olympics, Plushenko is hoping to lead Russia to a medal in the new team event.
If Russia reaches the podium as expected, it will be a group effort, but the 2006 Olympic champion used a lot of first-person pronouns as he spoke to reporters at the Iceberg Skating Palace.
"I already won for myself -- I am skating in my fourth Olympics," said an obviously content Plushenko. He basked in an ovation after scoring 91.39 points in the short program, taking a tour of the rink before repairing to the kiss-and-cry area.
"It doesn't matter, the result. In the end, it's the Olympics."
However, Plushenko knows very well how much the outcome matters to Russia, which is on the rebound in its traditional stronghold after being shut out of gold medals four years ago in Vancouver. A team medal of any color would get the Winter Games off to a good start for the host country.
As the only Russian man in this event, Plushenko will have to compete in the free skate as well. His raw score, eclipsed only by the numbers posted by the sublime Yuzuru Hanyu of Japan, doesn't carry over to the free skate. But the nine points out of a possible 10 that he earned with his second-place finish -- along with a first place by the pairs duo of Tatiana Volosozhar and Maxim Trankov -- puts Russia in an excellent position going into the women's and dance short programs.
At 31, with aches and pains that have not been fully solved by multiple surgeries, there's been much back-and-forth speculation about whether he would withdraw from the individual event, some of it fueled by Plushenko himself. Asked the million-ruble question Thursday, he said, "I will try, of course."
March, 10, 2011
3/10/11
1:33
PM ET
Although there is still no decision on whether NHL players will compete in the 2014 Winter Olympics in Sochi, Russia, one decision has been made.
The IIHF council confirmed Thursday that the Olympic ice hockey tournaments for men and women will be played on international-sized rinks (200 feet by 98 feet) instead of North American-sized rinks (200 feet by 85 feet).
The 2010 Vancouver Games were the first Olympics played on the smaller rink.
"This decision was not as obvious as it may have been some years ago," IIHF president Rene Fasel said in a statement released by the organization. "In our thorough evaluation of Vancouver 2010, we received very positive feedback about playing on the small surface, and the IIHF has today recognized both surfaces as fitting for international hockey.
"What we know today from our extensive research dating back to 1972 is that ice size does not benefit one hockey style over another. The experience shows that the best team wins regardless of which rink you play on. So this decision carries nothing political, the reason is solely based on respecting the tradition and also practicality."
February, 23, 2011
2/23/11
9:24
PM ET
Mascot mavens, take note: Saturday via a gala television presentation, Russia will unveil the winner of a national vote for the cute and huggy, warm and possibly fuzzy hood ornament for the 2014 Olympic Winter Games and Paralympics to be held in the Black Sea resort of Sochi.
You can read up on the candidates and their backstories here. Meanwhile, as a public service, my snap judgments on each are listed below:
[+] Enlarge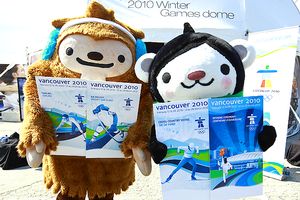 Jeff Vinnick/Getty ImagesCute and huggy, warm and fuzzy ... Quatchi and Miga won over Vancouver during the 2010 Winter Olympics.
Olympics
Brown Bear: Been there, done that with 1980 Moscow Games mascot Misha.
Ded Moroz, aka "Father Frost": For a Santa lookalike, the dude's real name is a real downer. Are his elf assistants Ded Tired and Ded Wrong?
The Fire Boy: Sochi, at sea level with daytime temperatures averaging around 50 degrees in February, does not need another heat source.
The Snow(board) Leopard: Aloof but accessible, with a certain "Tony the Tiger" charisma. Essence of cool. My runaway pick.
The Little Sun: See "Fire Boy."
Polar Bear: Could live with this, especially if the choice drew more attention to the vanishing habitat of a magnificent animal. Backup pick.
The Snow Girl: Looks too high-maintenance.
Zaya the Doe Hare: Gender confusion could lead to calls for DNA testing.
Paralympics
The Bullfinch: Just doesn't say "winter" to me.
The Dolphin: Fun-lovin' marine mammal should be considered for Rio 2016.
Matryoshka Dolls: Best pick based on cultural reference and cute factor.