May, 15, 2012
5/15/12
6:09
PM ET
DALLAS -- Win an Olympic gold medal and lose once in 59 games, and no one pays attention. Lose a World Cup in the middle of a slow sports summer, and marketers and media knock down the doors.
That's been the upended world of the U.S. women's soccer team in the past four years. The sports world hardly noted the squad that stormed back from an opening-game loss to top the podium in Beijing. "In 2008, we won a gold medal, and there was really no talk about us," midfielder Carli Lloyd said. "It was crazy."
Nor did people pay much attention as Pia Sundhage's team continued an unbeaten streak that lasted until a shocking World Cup qualifier loss to Mexico in November 2010.
[+] Enlarge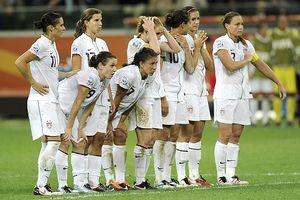 AP Photo/Martin MeissnerThe U.S. women's team lost to Japan on penalty kicks in last summer's World Cup final.
Now, though, the U.S. team is in high demand; and thanks to the male under-23 side's failure to qualify for London, it will have the American Olympic soccer stage to itself. Keeper Hope Solo famously competed on "Dancing with the Stars," newcomer Alex Morgan famously donned body paint in Sports Illustrated's swimsuit issue, and Abby Wambach belatedly garnered the media recognition that her Hall of Fame career merits.
It all stems from one moment in the World Cup quarterfinal against Brazil last July in Germany, when Wambach's dying-moment goal sent the match to penalty kicks, enabling the U.S. to advance.
"What sold everything was the Brazil game; that was the endorsement game," Lloyd said Tuesday at the Olympic media summit. "That did it for everybody. To have such a dramatic game like that drew so many fans, fans who don't even watch soccer. It's been great."
The thriller commenced a summer soap opera in which the Americans slipped past France in a tight semifinal game and lost a heartbreaker on penalty kicks against Japan in the final, a drama that kept fans glued to the tube and Twitter.
The long-ignored squad was full of overnight celebrities, and they've had staying power.
"We have superstars now," midfielder Lauren Cheney said. "Hope's a superstar. Alex is a superstar. Abby's a superstar. The outside stuff, Vogue magazine, 'Dancing with the Stars,' all of that is awesome."
A year and a half ago, Morgan was a college kid in a dorm room at Cal. Now, she's a marketing machine and an Internet phenomenon. "I have gotten overwhelmed at times," she said. "I've tried to stay level-headed, I've tried to still look to my family and my friends for support. I've really tried to balance my schedule right."
She seems to be handling it. The youngest member of the team has become a regular starter at forward for Sundhage, and her goals have come even more frequently than her endorsement opportunities. (She has 11 goals in eight games.)
"Leading up to the Olympics, I want soccer to be a priority," she said. "I just need to take a step back when I get overwhelmed."
The players say the added attention hasn't created any rifts in the locker room. Quite the contrary.
"Everyone's down-to-earth on our team. No one's got a huge head from what they've done, and it's perfect," Lloyd said. "When we're together, half the time we're not even talking about that stuff. It's been great for our team, great for women and great for women's soccer."
January, 18, 2012
1/18/12
9:45
PM ET
VANCOUVER, British Columbia -- The U.S. women's soccer team had an abrupt greeting when it arrived here this week for the start of the Olympic qualifying tournament. The first was snow and significantly colder than normal weather for Vancouver (it is much colder here now than it ever was during the 2010 Winter Olympics). The second was a fatal shooting in the restaurant of its hotel.
The players said they were all upstairs in their rooms when the shooting occurred Tuesday evening around 8:45 p.m. in the hotel restaurant.
"All of us were a bit scared," goalkeeper Hope Solo said Wednesday afternoon. "We all travel all around the world; big cities, small cities. It's a normal thing that crime happens. We were aware of the situation. It was scary for us, but it was handled incredibly well by the hotel staff and the police officers."
"It was a little scary at first," forward Alex Morgan said. "I've never been so close to a shooting even though we were upstairs. Everyone was taken care of really well by our general manager. We were calling down and guest services were very nice to us and telling us not to come down. The situation was handled really well.
"I don't think this affects us at all. Even though it was in our hotel, we didn't witness it, so I don't think that's going to be a problem. We were definitely a little shaken up the first moments when we heard about it."
Asked about whether the incident affected her, Solo replied: "Every experience in life affects you personally. You start to question what life is all about. You start to think about your loved ones. That's pretty normal. We know we're in a very safe place, both in Canada and up in Vancouver, and keep in mind, I live in Seattle, which is just a couple hours down south. I feel safe. The team has no second thoughts about being here or performing well in the tournament."
The eight-team tournament begins Thursday at BC Place Stadium, with the top two teams advancing to the Olympics. The United States plays its first game Friday night against the Dominican Republic.
With snow on the ground and temperatures in the 20s, midfielder Megan Rapinoe said she hopes the new retractable roof remains closed.