November, 21, 2014
11/21/14
9:27
AM ET
By
D'Arcy Maine
| ESPN.com

Ashley Wagner is a two-time U.S. figure skating champion, an Olympic medalist and a meme sensation, but it turns out she's somehow really just like the rest of us normals.
On Friday morning, Wagner tweeted on the most important topic of our time, or at least of the hour. And by that I mean she gave a shout-out to the guy in Taylor Swift's "Blank Space" video. Obvs. And it probably reads exactly like something you saw your college roommate post on Facebook.
While I know I have bigger things 2 worry about today, I want 2 make a shout out 2 that mystery man in T-Swift's latest video...ohh HEY!!

— Ashley Wagner (@AshWagner2010) November 21, 2014
Ohhhh HEYYYYYY, indeed. Ashley Wagner: Woman of the people.
See something entertaining on social media that you think deserves to be shared? Let me know on Twitter, @darcymaine_espn.
January, 23, 2014
1/23/14
11:23
PM ET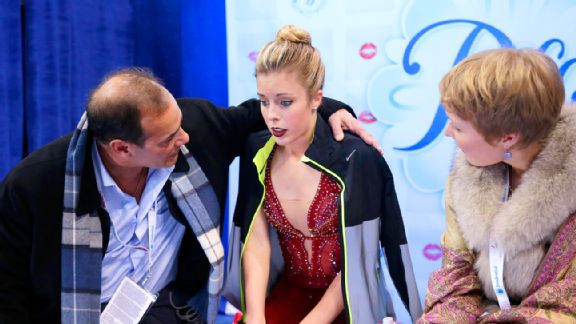 AP Photo/Steven SenneAshley Wagner finished fourth overall at U.S. nationals earlier this month.
Ashley Wagner went through four different dresses this season trying to get her free-skate program to fit.
It never really worked. Finally, after a disastrous outing at the U.S. national championships that briefly put her Olympic team selection in doubt, Wagner convinced coach Rafael Arutunian to let her scrap the long program in favor of a hybrid. She will compete with last year's Samson and Delilah music, choreography that is a mix of old, new and borrowed from this season's "Romeo and Juliet," and, of course, a new dress.
The decision seemed cataclysmic -- Wagner called it "insane" -- on the eve of the Winter Games, but as she told reporters on a conference call Thursday, "I don't think anyone is more prepared for such a big change so close to the Olympics than I am."
In fact, it has been on her mind for months, but there was so much other transition going on in her life that she simply tried to strong-arm her issues and live with a free skate that didn't suit her.
In the space of a few months, Wagner dealt with the finality of her parents' divorce, changed choreographers, brokered a new coaching arrangement when John Nicks stopped traveling and had her jump technique completely deconstructed and rebuilt by new primary coach Arutunian.
I sat down with her in December after she performed in an ice show in New Jersey. Just a few days had elapsed since the Grand Prix final in Japan at which Wagner survived a fall on her triple Lutz jump and other flaws in the free skate to win the bronze medal.
At that point, Wagner sounded resolute about sticking with "Romeo and Juliet" but was still struggling with making her character "bigger than the music" -- selections from the complex, occasionally thundering and somewhat dark version by Sergei Prokofiev.
"The first couple months I had this program, I was afraid that I had bitten off more than I could chew," she told me. "It's very easy to make it look like it's overpowering me. If you try and play the story of Juliet as this young, innocent, soft girl who's falling in love, it doesn't go with that big piece of music.