February, 21, 2014
2/21/14
5:50
PM ET
SOCHI, Russia -- Jamaica will not compete in the four-man bobsled this weekend but it was represented in the two-man competition here. And team president Chris Stokes says the country not only will be back in 2018, it could be on the podium.
"Within the next four years, I expect to have an athlete on World Cup podium and maybe an Olympic medal in four to eight years,'' he said. "And I mean that sincerely.''
[+] Enlarge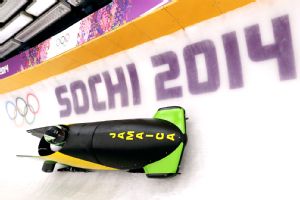 AP Photo/Michael SohnThe Jamaican bobsled team gained fame from the movie "Cool Runnings."
Stokes might be sincere but that would be an amazing accomplishment, even if
Usain Bolt
was pulling the sled as well. Winston Watts and
Marvin Dixon
finished last in the two-man this week.
Stokes was on the original 1988 Jamaican team that inspired the movie, "Cool Runnings,'' and turned the squad into a world-wide cultural phenomenon. Which is interesting considering that Jamaica is not the only warm-weather country competing in the sport.
"People talk about Jamaica being this warm-weather country in the Caribbean. But when I entered the sport in 1988, I came and saw warm weather countries,'' Stokes said. "I saw Mexico, I saw Puerto Rico. I saw the U.S. Virgin Islands. But the brand Jamaica is so strong that it represented something else and people took to it.
"I think it's important for Olympics to be world wide. When our sprinters go to the Summer Olympics, we don't say, 'Why is this Swedish guy or this Austrian guy here to run a 10.5 in the 100?' It's the Olympics, it's participation. The appeal of the Winter Olympics is going to depend on its appeal globally, not just for cold weather countries. And we're working very hard on that.''
Jamaica competed in the Olympics from 1988 to 2002 but failed to qualify in 2006 and 2010. Much of that was due to a lack of funding in a sport that is very, very expensive. Even when it qualified for these Games, it still needed to raise money in a hurry to cover the expenses. And it did so, receiving enough money within mere days.
"Funding was the hardest thing,'' Watts said. "In the end, we got funding from our friends and fans. I'm so happy they made it possible. We were able to show the world, that Jamaica is still alive.''
When it comes to bobsled, however, Jamaica has more support and popularity beyond the island than on it.
"Our coverage is much greater overseas than in Jamaica,'' Stoke said. "It is a business problem in Jamaica. I've been a little perplexed on this. I've been talking to a lot of companies about sponsoring this and they say, 'How do we connect our product to people who watch the team?' ''
Stokes pointed to the team fundraising campaign that netted more than $30,000 in two days and eventually more than $100,000 from people in every U.S. state and 52 countries as evidence that this "should be an easy problem to solve."
"They need to have more confidence we're here and here to stay and are serious athletes,'' he said. "I'm confident we will have a lot more stable, long-term funding rather than just trying to save the day from week to week.''
January, 16, 2014
1/16/14
7:16
AM ET
Christof Koepsel/Bongarts/Getty ImagesElana Meyers and Lolo Jones celebrate their second-place finish at a World Cup event in Germany earlier this month.
The U.S. Olympic bobsled roster will be announced on Sunday, but first the contenders get one last chance to impress the selection committee with a World Cup race in Igls, Austria this weekend. Olympic hurdler and media sensation Lolo Jones will look to win a spot as a push athlete when she pairs with driver Jazmine Fenlator. Earlier this month, Jones and driver Elana Meyers finished in second place in Winterberg, Germany. Lauryn Williams, the team's other Olympic track star-turned-bobsledder, will work with driver Jamie Greubel for the event. Aja Evans, who was a sprinter at Illinois, will push for Meyers. Katie Eberling and Emily Azevdedo, the other push athletes in the mix to make the Sochi roster, will not compete in Igls. Three push athletes will be selected to join the three drivers at the Olympics. Meyers won a bronze medal in 2010 with Erin Pac. Jill Bakken and Vonetta Flowers remain the lone U.S. women to take home gold (2002) in the event.
September, 30, 2013
9/30/13
6:32
PM ET
AP Photo/Rick BowmerLolo Jones is vying for a spot on the U.S. women's bobsledding team for the Sochi Olympics.
PARK CITY, Utah -- For all the changes Lolo Jones has endured in her transformation from Olympic hurdler to bobsledder, perhaps nothing has proven more challenging than her quest to build a bigger, stronger, heavier body.
Last year, during her inaugural bobsled season, the 31-year-old struggled to put on weight. So you can imagine her excitement during a recent commercial shoot when she slipped into her Team USA bobsled suit only to have it rip down the middle of her torso. While many would have reacted with horror, Jones smiled.
"Yeah, that hasn't happened to me before," Jones admitted Monday at the U.S. Olympic media summit. "They had to sew me back in. It was crazy. I was like, 'Get me a scale.' I was happy."
Happy because the wardrobe malfunction meant Jones was inching closer to her target weight of 162 pounds that she hopes to reach in the lead-up to the Sochi Olympics. Jones, who weighed 135 pounds when she finished fourth in the 100-meter hurdles in the 2012 London Games, struggled to eclipse 150 pounds last season.
After dropping down to 138 to run hurdles this past spring and summer, she's ecstatic that she's already up to 158.5 pounds before the 2013 bobsled season has even begun. (Her diet included plenty of bacon double cheeseburgers and consuming 9,000 calories per day.)
"As a track athlete, you're more like a greyhound dog," Jones said. "With bobsled, you're more Rottweiler or pit bull. At first, my legs were so thick. I felt like I had pregnant legs."
It's all in the name of Jones' longtime goal: winning an Olympic medal.
"When you're wearing that Team USA, it doesn't feel any different if you're in a bobsled uniform or a track uniform," she said. "You get the same chills. Well, maybe it's a bit colder [for bobsled]."
Jones is one of several American women who will be vying for a spot on the U.S. bobsled team. She finished second in her first career World Cup competition last November and was part of the U.S. team that won gold at last year's World Championships.
The U.S. team trials begin Oct. 12. Regardless of what happens there and whether or not she's selected for the U.S. team, the Iowa native said she has every intention of returning to track and field to hopefully compete in Rio in 2016. And, on Monday, she hinted that the bobsled might not be the end of her Winter Olympics dream.
"When I went out to bobsled, the skeleton coach said, 'You should really be a skelly athlete,'" Jones said. "'You wouldn't have to gain all the weight. You could go back and forth easier,' So, I hate to say this, but after the Winter Olympics, I kind of want to try skelly. Not serious. But I just want to go down and see what it's like."