October, 1, 2013
Oct 1
4:58
PM ET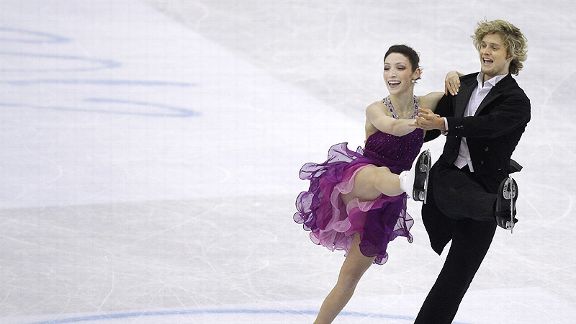 AP Photo/Lionel CironneauMeryl Davis and Charlie White won the silver medal at the 2010 Vancouver Olympics.
PARK CITY, Utah -- Any edge, no pun intended, could enter into the calculation as ice dancers Meryl Davis and Charlie White pursue the Olympic gold medal that just eluded them four years ago.
Will setting their free dance to a famous piece by a Russian composer (Rimsky-Korsakov's "Scheherazade") under the guidance of a Russian coach they unabashedly call a genius help them connect with the crowd at the Sochi Games? If they put together the complete package, they said Tuesday at the Olympic media summit.
The duo said they toyed with using the piece a few years ago, but is glad they saved it for the ideal competitive moment. The music is a way of honoring Russian influence on dance in general and coach/choreographer Marina Zoueva's tutelage specifically, they said.
"It never hurts to have the support of the crowd ... at the end of the day, it's really about moving the audience, making that emotional impact," Davis said.
But in a development no one could have foreseen a decade or two ago when the Russians dominated the discipline, Davis and White will have to try to dethrone fellow North Americans for the title: their friends and rink-mates Tessa Virtue and Scott Moir of Canada. The tandems have gone 1-2 at the past four world championships, with Davis and White prevailing in the past two editions.
Davis and White say it wouldn't be "healthy" to focus on the Olympic gold medal itself, and manage to be convincing when they talk about refining their already superlative chemistry.
"When we won worlds in 2011, one of the things that helped us [defend] is that we didn't say, 'Let's continue at this level and expect the same results,"' White said. "Our expectations go beyond any given placement ... staying in character from beginning to end, and keeping everyone enthralled."
The short program could prompt a world-wide sing-along. It will be set to music from "My Fair Lady," including, naturally, "I Could Have Danced All Night."
"It's bubbly, light, elegant, fun," Davis said.
Davis and White joked easily about their snail's progress toward undergraduate degrees at the University of Michigan -- they've crawled past the start lines of their junior years and are taking this academic year off for obvious reasons. "Each passing year is bringing us closer to the Guinness Book of World Records [for tenure as students]," White said.
The refreshing thing about them is their obvious desire to keep learning on the ice after all this time.
March, 14, 2013
Mar 14
11:03
PM ET
LONDON, Ontario -- The gap that opened up between the world's top two ice dancing teams Thursday night is more like an abyss. Credit near-flawless execution by the U.S. team of Meryl Davis and Charlie White on a night when Canada's favorite son and daughter Scott Moir and Tessa Virtue were not completely in synch.
The Ann Arbor, Michigan-based Davis and White whirled through a precise, dynamic short dance that White called "one of those dream skates." They earned a whopping 77.12 points, tops in the short three-year history of the short dance, an amalgam of the former compulsory dance and original dance competitions.
Canada's defending Olympic and world champions Moir and Virtue, performing not only in their home country but also their hometown, were undone by a botched twizzle (side by side traveling spins) and a couple of other missteps and will be 3.25 points behind going into Saturday's free dance -- a margin that is fair to call insurmountable unless something strange happens.
"That was not only our season's best result, we felt it was our season's best skate," said a clearly elated White, half of the tandem paired in childhood that won the 2010 Olympic silver medal and 2011 world title. "We feel different than we did two years ago, in a good way. Our confidence is as high as it's ever been."
Excellence has become routine for both of these teams, so it was interesting to see Davis and White exceed their own high standard and jarring to watch Virtue go badly off course during the twizzle -- prompting an audible gasp from the section of seats where teams from several countries were watching following their own programs. (All of the teams competed to some combination of polka and waltz music, with some, including Davis and White, adding a march segment.)
Moir and Virtue wore brave faces afterwards, but it would have been hard for them to convince anyone they were in the vicinity of satisfied. "We find ourselves in a little bit of a hole, but hopefully it's not over yet," said Moir, who was quick to shoulder some of the responsibility for their score of 73.87. "It wasn't just the twizzle, although that's the easiest thing to point to. The way we do our twizzle, it's tricky. We cover a lot of ice. It takes a millisecond to get out of control."
The Canadians certainly are accustomed to home pressure, having endured the highest form of it at the 2010 Vancouver Games. But the intimate confines of Budweiser Gardens presented a different kind of stress. Both Moir and Virtue were born in London and first trained together in nearby Ilderton. Asked if they could recognize faces in the seats, Moir said, "We try not to. We could recognize a face in every row if we wanted to."