April, 11, 2011
4/11/11
6:55
PM ET
Former University of Michigan swimmer Chris DeJong returned to his old school this past weekend for his first elite race in three years -- an experience he called "surreal." But that sentiment didn't prevent the backstroke specialist, whose comeback I wrote about a couple of weeks ago, from getting down to business.
The men's side of the Eric Namesnik Grand Prix in Ann Arbor was dominated by the Michael Phelps watch (three wins, two second places, one shocking fourth place as he lost a 200-meter butterfly race for the first time since 2002), but DeJong quietly announced his presence by making the finals and the Olympic trials cuts in both the 100- and 200-meter backstroke events.
Phelps won the 100 in a pool-record time of 54.15 seconds (DeJong was fifth in 56.27). Tyler Clary -- who had a great weekend with three wins -- prevailed in the 200 back in 1 minute, 56.61 seconds (another pool record), and DeJong also was fifth in that race at 2:02.50.
"I had no idea what to expect, and I couldn't have been happier with the results after the time I took off [from elite swimming]," said DeJong, who will focus on the 200 backstroke in training.
He doesn't know where he'll compete next; setting up a schedule going forward will be tricky for him as he balances racing with his job as co-owner and instructor of the Big Blue Swim School in suburban Chicago.
Footnote: For those who might not be familiar with Eric Namesnik's story, here's a reminder of why this meet bears his name and why so many hold his memory dear.
March, 23, 2011
3/23/11
8:36
PM ET
Leading up to the 2004 and 2008 Olympics, it was Chris DeJong's fate to overlap with several of the greatest athletes in his strongest event, the 200-meter backstroke: Aaron Peirsol, Michael Phelps and Ryan Lochte.
A two-time Olympic trials finalist, DeJong finished fourth in the 200 back in 2004 and sixth in 2008, as Peirsol set or equaled world records on both occasions. (Phelps and Lochte were the other men to qualify for the U.S. team in those races, respectively.) Peirsol retired earlier this year, but two younger American men, Tyler Clary and Nick Thoman, are among the world's best backstrokers now.
After three years away from racing, DeJong recently decided he wanted to dive back into the deep end. The former Michigan Wolverine will make his re-entry into elite competition next month in a familiar place, Ann Arbor, Mich., at the Grand Prix event named for the late Michigan swimmer Eric Namesnik.
[+] Enlarge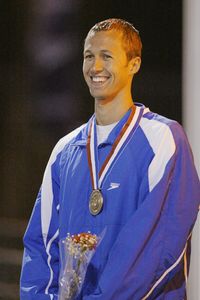 Todd Warshaw/Getty ImagesChris DeJong hopes to qualify for the 200-meter backstroke and 200 free at next year's Olympic trials.
His motivation is simple: "I'm a geek for the Olympics," DeJong said. "One-tenth of 1 percent of a chance to make it is enough for me to go for it."
As for the continuing bottleneck at the top, "It's not like there's an easy pass to any event in the Olympics in the U.S.," he said.
DeJong will turn 27 the week after the Ann Arbor meet, but age isn't his biggest challenge. Job No. 1 is finding the time he needs to rebuild his endurance base in the pool and add muscle to his 6-foot-4-inch frame in the weight room. He has to fit that into his schedule as co-owner and instructor at the Big Blue Swim School in Glenview, Ill., where he and his partner, John Lonergan, oversee more than 400 students and a staff of 15.
The Holland, Mich., native, now married, said he's smarter about his diet and sleep than he was in college, and has the serious purpose of a mature athlete.
"I view that as an advantage I didn't have before, and I'm curious to see how far it takes me," he said.
DeJong also intends to try to qualify for the trials in the 200 freestyle.
Northwestern University men's coach Jarod Schroeder agreed to work with DeJong in January.
"I expect the meet [in Ann Arbor] will be an awakening," Schroeder said. "But he's a talented kid and I wouldn't put anything past him."
A clock over the pool in Evanston, Ill., is counting down the days to the 2012 London Olympics. DeJong's time frame is shorter, however -- he needs to make the trials cuts in his events. As of last week, he said he hadn't memorized them. For the record, they are 2:04.99 in the 200 back and 1:52.89 in the 200 free.
"I have a year to get there, and I'm sure I'll get there," he said.