Olympics:

Christian Vande Velde
March, 16, 2013
3/16/13
11:26
PM ET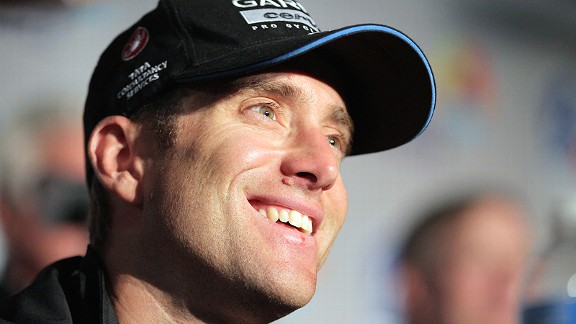 Doug Pensinger/Getty ImagesChristian Vande Velde races this week for the first time since serving a doping suspension that was reduced to six months in exchange for cooperation with the USADA's case against Lance Armstrong.
Veteran Christian Vande Velde is one of three Garmin-Sharp riders who will start this week's Tour of Catalunya in Spain, their first race since serving doping suspensions that were reduced in exchange for cooperation with the U.S. Anti-Doping Agency's case against Lance Armstrong. Vande Velde, 36, of Lemont, Ill., signed with the U.S. Postal Service team before the 1998 season and rode in support of Armstrong at the Tour de France in 1999 and 2001. He subsequently competed for two European-based teams before joining the Garmin organization in 2008, and finished fourth at that year's Tour.
In 2010, Vande Velde was among numerous witnesses interviewed by federal investigators then gathering evidence in a criminal investigation of organized doping on the Postal team. Last year, he and 10 other former Postal riders gave sworn testimony, including their own admissions to performance-enhancing drug use, that collectively formed a crucial and compelling part of USADA's case.
The five riders who were active at the time received six-month suspensions and had some past results nullified. Armstrong's longtime teammate George Hincapie has retired. Levi Leipheimer was fired by his Omega-Pharma-Quick Step team and remains unsigned. Vande Velde, David Zabriskie and Tom Danielson, whose suspensions ended March 1, will compete at Cataluyna this week. It marks the beginning of what Vande Velde says will be his final professional season. His tentative schedule includes the Giro d'Italia, the Tour de France and the USA Pro Cycling Challenge in Colorado, a race he won last year in dramatic fashion in a time trial on the last day.
Vande Velde spent much of his suspension in suburban Chicago with wife Leah and daughters Uma, 5, and Madeline, 4. He also trained by himself (and occasionally with Zabriskie) in Southern California, where he struggled emotionally. "It finally dawned on me that I really enjoy this, and I'm really thankful I have my health and have the opportunity to race at the highest level cycling has to offer,'" he told ESPN.com in a telephone interview Saturday from Girona, Spain.
"I don't want pity from anyone. That's my biggest fear of saying these kinds of things, and that is the farthest thing from the truth. I'm just saying what I was going through. There were plenty of times when I questioned what I was doing at this stage of my career and why I was doing this. I definitely stumbled for a while there."
The following are excerpts from Vande Velde's conversation with ESPN.com.
What have the last six months been like?
[+] Enlarge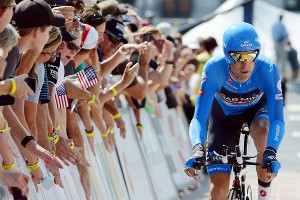 Garrett W. Ellwood/Getty ImagesVande Velde considered retiring after winning last year's USA Pro Cycling Challenge but "didn't want to go away and hide after everything that came out."
It's been hard. I'm not going to lie. And I didn't foresee a lot of the things that would be hard. Like, for example, a training camp in November-December that a lot of times I didn't want to go to. I've been at a training camp at that point in time for the last 20 years of my life. Having that gaping hole there and not being retired, it blindsided me. I know I'm going to race this year, that'll come, and I wasn't freaking out about that. But it was definitely being away from the team, having that communication like I always have, that was hard, much more than I thought it would be.
I put myself out there and did quite a few public speaking [engagements] and it was all met really well. I was happy to do it, too, because there aren't too many questions I get asked now that I can't answer honestly.
[Editor's note: USADA still has pending cases against former Postal director Johan Bruyneel and other staff members that could involve evidence from riders.]
I enjoyed it, and I think most of the people I spoke to enjoyed it too. That was a different side that I didn't foresee being so positive.
I spoke to the Challenged Athletes Foundation [charity ride] three or four days after [USADA's evidence] was announced. That was one that I was pretty scared about, in all honesty. Of course people threw some hard questions out there and I addressed them. I definitely made it so that I wasn't that elephant in the room: "Come up and ask me, I don't want you to be avoiding me.'"
July, 4, 2011
7/04/11
10:58
AM ET
LES ESSARTS, France -- To understand what Garmin-Cervelo's first Tour de France stage win in Sunday's team time trial meant to veteran Christian Vande Velde, it's necessary to go back to the same event in the same race 10 years ago.
At the 2001 Tour, the 25-year-old Vande Velde was a support rider for two-time defending champion Lance Armstrong on the U.S. Postal Service team. Jonathan Vaughters and Thor Hushovd, a newly minted 23-year-old pro from Norway built like a brick barracks, rode in the green-and-white kits of a team sponsored by a French bank, Credit Agricole.
Vande Velde, the son of a track cycling Olympian from Chicago, had been part of Armstrong's inaugural Tour win in 1999. Vaughters, a slender, bespectacled Colorado-bred climbing specialist whose father was a lawyer, had previously been Vande Velde's Postal teammate and roommate in Girona, Spain.
It rained the day of Stage 4 in 2001 as the Tour teams negotiated the 42-mile course in northeastern France from the World War I battlefield of Verdun to Bar-le-Duc. Postal had finished second to the powerful Spanish ONCE team in the TTT the year before and Armstrong and director Johan Bruyneel -- a former ONCE rider -- were keenly intent on winning. Vande Velde was equally intent on restoring his status as a valuable Tour domestique after having to sit out in 2000 due to a freak infection.