June, 29, 2012
6/29/12
1:06
AM ET
SAN JOSE, Calif. -- Danell Leyva's coach and stepfather Yin Alvarez said a quick prayer, crossed himself, kissed the cross around his neck and lifted his son up to the high bar.
Then, Leyva electrified the crowd at the U.S. Olympic gymnastics trials with the best high bar routine of the night. Minutes later, national champion John Orozco nailed his own set with the same highly difficult, full-twisting reverse Hecht release move as Leyva and stuck his dismount.
It was a fitting finale for the duo, ranked first and second overall after one night of Olympic trials competition combined with two days' worth of scores from U.S. nationals earlier this month. Orozco, 19, and Leyva, 20, have been pushing each other all year and will be expected to lead the team in London. The top two overall gymnasts will receive guaranteed berths on the five-man team, as long as they place within the top three on at least three events, as well. As long as there aren't any major injuries or meltdowns, those two athletes will be Orozco and Leyva.
[+] Enlarge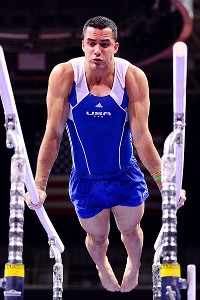 Kyle Terada/US PresswireDanell Leyva leads overall after Day 1 of the U.S. Olympic gymnastics trials.
Leyva looked especially on fire, earning the top scores on parallel bars and high bar, and the second highest on pommel horse, not usually his strong suit. Finishing second to Orozco at nationals hadn't sat well with him, and he used it as fuel the past few weeks in training.
"I'd go up to take a turn, and remember I was second and say, 'Do this routine cleaner.'"
Afterward, he gave his first round of trials a high mark. "As far as what I was expecting from today, it's a 10. I don't want it to be perfect, which is exactly what I did. I want to be perfect in London."
Orozco had hoped to do a bit better on Day 1. After a solid showing on floor, he struggled on his pommel horse dismount and then sat down his vault. He rallied with strong routines on parallel bars and high bar, but even then, he barely cracked a smile.
"I'm not satisfied with my performance at all. I can improve a lot on those two events," he said at the end of the day. Orozco is .95 behind Leyva going into the final day of competition Sunday -- a difference worth noting since Orozco was penalized 1.00 for his vault fall. Erase the error, and the two are almost in a dead heat.
The surprise of the competition was Sam Mikulak, a University of Michigan gymnast who finished third behind Orozco and Leyva at nationals, but topped them both in Thursday's scores. Mikulak is strong on pommel horse, an event where the U.S. team is weak, and throws a much harder vault -- a Kasamatsu double that includes three twists off the table -- than either Orozco or Leyva.
As the men left the arena after the meet, a teammate turned to Mikulak and asked him, "You know you won today, right?"
Mikulak's confused look in response said it all. Though he might not have expected to do so well, he'll be a no-brainer pick for the selection committee if he has another consistent day Sunday.
Jonathan Horton, the only 2008 veteran at trials, is fourth. He's one of the country's best on rings, and excelled Thursday with the second-highest score of the day behind ring specialist Brandon Wynn. Though he's an Olympic silver medalist on high bar, Horton missed his first and biggest release move (a full-twisting double layout over the bar), before re-mounting and successfully throwing two other nearly as difficult release moves. Still recovering from foot surgery late last year, he's likely to clinch the fourth spot on the team.
The fifth member could well be a specialist like Jake Dalton or Steven Legendre. The training partners have the same strengths -- vault and floor -- and may be competing for the same place on the Olympic team. Dalton is first overall on both events, with Legendre second on floor and third on vault.
Legendre had a terrible competition at U.S. nationals, though, and is still climbing his way up the standings after severe cramping in his forearms hindered his performance there. He has been downing Gatorades and eating bananas on the sidelines in San Jose, and had the highest score of anyone on his vault, a handspring double front with a half twist, named after Romanian world vault champion Marian Dragulescu.
"I just wanted to go out there and do what I know I'm capable of, and I didn't feel like I did that [at nationals] in St. Louis, so I guess it was a little bit of redemption today," he said.
While the stars of the team are clearly Orozco and Leyva, the team's depth of talent is such that even Leyva insists he doesn't feel his spot is secure.
"To be completely honest, I don't think anyone is a lock at this time," he insisted. "Especially this team, this year. All the guys are so close together in performance, it's amazing. Whoever they pick for this team is going to be out of this world."
October, 6, 2011
10/06/11
3:41
PM ET
Danell Leyva's earliest gymnastics memory is an instructive one. "My first competition was when I was 5 or 6 and I didn't place on anything,'' he said. "I got a last-place medal on high bar and I was crying. And Yin said, 'See? If you want to be something in this world, you have to work for it.'"
Yin is Leyva's stepfather and coach, Yin Alvarez. And if "You have to work for it'' seems like a harsh instruction for a disappointed, sobbing 5-year-old, well, perhaps that's also how you raise champions. Leyva won the U.S. all-around championship in August and will head a strong American team into the world championships this weekend in Tokyo.<./p>
[+] Enlarge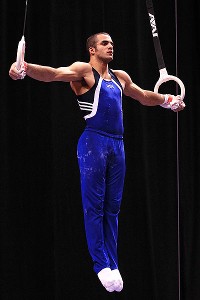 Chris McGrath/Getty ImagesDanell Leyva enter Japan as the all-around national champion, which he won in August.
"We're looking really good," Leyva said. "We have a really good chance, not only in doing well but also winning gold."
"The goal is to win the team gold medal," U.S. men's team coordinator Kevin Mazeika said. "I think our chances are very good. The team is well-prepared, in the right frame of mind and balanced over six events. It's one of the strongest teams we've ever fielded.''
Leyva was born in Cuba in 1991, but his mother, Maria Gonzalez, was able to bring him to the United States when he was 2 years old. She reunited in Miami with Yin, whom she had met when they were both top gymnasts in Cuba, and the two eventually married. "Both my parents were part of the Cuba national team for like 10 years,'' Leyva said. "They brought some [gymnastics] videos over when I was really young and I got super interested. At first, my mom didn't want me to get in it, but Yin pushed and made her believe I could make it.''
Yin had defected to the U.S. in 1992 and opened his Universal Gymnastics gym in Miami. He is famous for his wildly animated enthusiasm while watching his gymnasts during competitions. "He is my gymnastics; he is my life,'' Leyva said. "He's given me everything I know, everything I am. Even as a human being. He and my mom both have made a great structure for me.''
This will be the second trip to Tokyo in several months for the U.S. team, which finished second to Japan at the Japan Cup in July. It won the pommel horse competition at Japan, a discipline that has long challenged the U.S. team.
"We've all been to Japan; we've all competed there, so the real confidence-builder is we know what we're getting into," said Jonathan Horton, the 2009-10 U.S. champion and a silver medalist in the 2008 Olympics. "It's a very humble confidence how good our team is. We know we're a great team. The competition at Japan Cup was great and we know we can be better. We know what the country is like and that really helps.''
Horton, 25, and Leyva are good friends but it was the younger Leyva -- still technically a teenager until he turns 20 on Oct. 30 -- who upset the two-time defending champ at nationals in St. Paul in August (Horton fell on the pommel horse). After Leyva clinched the all-around competition, he hugged his demonstrative stepfather and lifted him off the ground in joyous celebration.
"To be completely honest, I feel no different [as national champ]," Leyva said this week. "I know it's weird, but I think it's because I looked at [the U.S. championships] as one of the higher priorities of my career, but at the same time, I looked at the world championships as higher. It will be after worlds when everything is going to hit me.''