February, 18, 2014
Feb 18
12:03
PM ET
SOCHI, Russia -- U.S. forward
David Backes
might be hard on opposing players at this Olympic tournament -- we recall at one point during the Russia game on Saturday, Backes seemed to have both hands wrapped around Russian defenseman
Fedor Tyutin
's throat and was giving him a good throttling along the boards -- but he's got a soft spot for animals.
The
St. Louis Blues
' captain and his wife started the charity Athletes for Animals back home, and with hundreds of stray dogs roaming the Olympic areas in Sochi, he and some of the other athletes competing here are exploring the complicated adoption process of taking a few of those dogs back to North America.
"They kind of were portrayed a little bit as rabid animals that were dangerous," Backes said after the U.S.' practice Tuesday. "I don't know if anyone's seen that out of those animals. I think you've seen a lot of friendly, smart street dogs that have perhaps have had a tough life and had to find ways to get food and shelter and water and all that good stuff.
"For us to be able to give them a chance for a forever home and kind of live in that lap of luxury that a lot of dogs in North America have, if we can do that for a few of them and give them that little reprieve, it's a great opportunity for those dogs."
It would also go a long way to helping educate people globally about North Americans treat their animals.
"And maybe that's contagious as well," he said.
Backes and some of his U.S. teammates have heard from other athletes, not necessarily just those competing for the U.S.
"[W]e've kind of been able to network with some of the other wives and families, even if they're wearing different colors ... we've got some of the wives from Slovenia and Canada and all the different teams," Backes said. "That said, if there's anything we can help to get some of these dogs home, financially, put our voice out there, whatever, they're willing to do that.
"I think that's going to continue when we get back to the States to continue the messaging and continue to educate people on companion animals and all the things that go into ownership responsibilities and adoption and all that other good stuff."
February, 15, 2014
Feb 15
1:44
PM ET
By
ESPN.com staff
| ESPN.com
T.J. Oshie
, the hero of Team USA's thrilling
shootout win over Russia
, might not have been in Sochi at all had it not been for his skill in the shootout.
Oshie was one of a handful of players, including
Brandon Saad
of the
Chicago Blackhawks
, who fought for the final forward spots on Team USA leading up to the Olympics.
ESPN.com's Scott Burnside was embedded with GM David Poile and the other American decision makers throughout the selection process, and
his report from inside
contains a prophetic statement from Poile:
As he has throughout, (Blackhawks GM Stan) Bowman speaks on behalf of his player, Saad.

"I think he's a more versatile player than Oshie," Bowman says.

"I think he's got more to his game than Oshie. He's like a young version of [Marian] Hossa. He's such a strong guy. He's just hard to handle. He's smart. He's a guy the coaches would love," the Chicago GM says.

Poile, meanwhile, knows Oshie and likes his personality.

"Oshie's got that shootout move," he adds.
Burnside also reported that the Team USA coaching staff wanted Oshie, in part for his versatility and chemistry with
David Backes
, as well as his shootout skills.
It appears they put their faith in the right player.
January, 9, 2014
Jan 9
12:59
PM ET
There's certainly an amount of pride attached to the fact that you're an NHL team sending the most Olympians to Sochi.
That can only signal that you've got a lot of good players on your team.
But there's also the cold reality of what that entails: a large number of players traveling halfway across the world and coming back possibly fatigued after the Olympic break.
The
Detroit Red Wings
,
Chicago Blackhawks
and
St. Louis Blues
lead the NHL with 10 Sochi-bound players each. They're not ignoring the ramifications of that.
"It's a good question," Blackhawks coach Joel Quenneville told ESPN.com Thursday. "People are asking us how we're going to deal with our team going into the Olympic break. I don't see that being a problem. What I say is, how are we going to be coming out of it? I think rest is going to be very important. Days off."
Time away from the rink will be Quenneville's best move to help ease the likes of
Jonathan Toews
,
Patrick Kane
,
Patrick Sharp
,
Niklas Hjalmarsson
and
Duncan Keith
, especially -- workhorses on the team -- back into the swing of things after Sochi.
Sure, the Hawks coach says, limiting their minutes is also a possibility, but that's easier said than done.
"It's easy to say you'd like to share the ice time a little bit more, cut their ice time, but once you get into a game, you play to win," said Quenneville. "So, I just think that keeping guys away from the rink as much as you can so they can get the added rest. That's probably the most planning you can do. Other than if you can do it in-game, you'll cut back, as well."
The Blues might push it even further than days off between games. There might even be a game off or two for their top Olympians right after the break.
September, 30, 2013
9/30/13
6:08
PM ET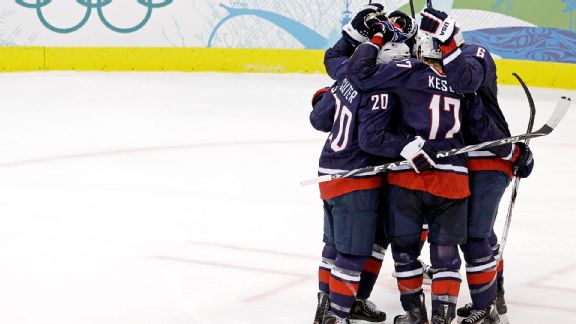 AP Photo/Julie JacobsonThe U.S men's hockey team reached the gold-medal game in the past two Winter Olympics held on North American soil (2002 and 2010).
PARK CITY, Utah -- The United States men's hockey team has enjoyed a lot of success on North American ice.
The Americans won gold at the 1960 Olympics in Squaw Valley, Calif., and, as you might recall, upset the Soviets en route to the gold medal at the 1980 Olympics in Lake Placid. The team won silver in 2002 (Salt Lake City) and 2010 (Vancouver), losing to Canada each time.
Playing elsewhere has been the problem. The U.S. has never won gold outside its own country and has medaled outside of North America only once since 1956. Even with NHL players, the U.S. team was, shall we say it, underwhelming at the 1998 Olympics in Nagano and the 2006 Olympics in Torino, finishing sixth and eighth.
Which does not exactly bode well for the 2014 Olympics in Sochi.
St. Louis Blues right winger David Backes, who was on the 2010 team, said Monday that the U.S. recently talked about this pattern and how to change it. He said playing on Europe's larger rinks and playing somewhere outside their comfort zone are the major issues. (All teams played on an NHL-sized rink in the Vancouver Games.)
"Collectively, they're the biggest challenges," he said at the Olympic media summit. "I know that's a politician's answer to the question, but I think that they're the difference between success on North American soil and not a lot of success on European soil. Those two things combine for a little bit of adversity before you've even dropped the puck.
"On top of that, the other guys are swinging the other way. [In Salt Lake and Vancouver], they were going from living in their comfort zone to coming over to North America and not being comfortable with our culture, our society, our food, whatever," Backes added. "Now they're back on European soil and are as comfortable as can be. That tilts the table a little, but preparing for that and being aware that it's going to happen and taking it in stride will be a big factor in whether we have the success we hope to have or whether we don't."
"We have to come to grips with that," said Nashville Predators GM David Poile, who is also serving as the general manager of the 2014 U.S. men's team. "People were very comfortable in Salt Lake and Vancouver. They had their families there. Socially, they were comfortable because they could go out after a game or on an off-day and go out to a restaurant. Sochi will have a totally different dynamic. Sochi is not really close to anything -- the city is 35-40 minutes away. It's going to be a different experience for all the athletes."
Adapting to the ice and a less physical game is also important, Poile said.
"There has to be some adjustments," he said. "Whether it's angles for goalies or what a defensemen does in going back and getting a puck or what position a forward plays, there have to be some changes. Maybe it just seems obvious, but it needs to be pointed out to the players and put into the strategy of the game."