January, 29, 2013
1/29/13
5:39
PM ET
Gold medalist Dan O'Brien is competing in the decathlon again.
Well, not the decathlon. He won Olympic gold in that event at the 1996 Atlanta Games, and at age 46, he is now a little past his prime. But he will compete in a decathlon. To be specific, he's competing in this summer's RBC Decathlon, the annual charity competition among Wall Street employees that benefits the Sloan Kettering Cancer Center.
So how does an Olympic gold medalist feel about competing against stock advisors, hedge fund managers and other Wall Street employees?
"I'm sure that once I get close to the competition, I'll feel nervous because you're pushing yourself," O'Brien said. "That's what I like about the event. It's the challenge. It gives everyone a long-term goal. When you train for the Olympics, that's all you can do. You can't go to work, you can't have a part-time job. But these guys are doing it on the side. ...
[+] Enlarge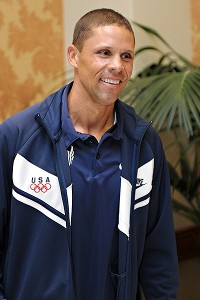 Kirby Lee/USA TODAY SportsDan O'Brien will compete in the one-day RBC Decathlon on July 27 at Wien Field on the Columbia University campus.
"I don't take anything lightly. If I'm going to compete, I'm going to take it seriously. As an athlete, you don't want to underperform."
Donations are raised through CharityBets, a performance-based fundraising program developed by RBC Decathlon organizers Dave Maloney and Marc Hodulich. The concept is simple. You can either make a simple set donation or make a sliding donation based on the performance of the competitor on whom you bet. The good thing is, regardless of how your bets goes, charity always wins.
"I've been known to gamble a bit from time to time," O'Brien said of the event's appeal. "The program he's developed makes sense to me. It's a good fit for these guys. They are guys with disposable income, they're mature and well-muscled. They're doing it for the fun of it, but they're also doing it for the charity. I'm honored that Dave would want me to be the face of the decathlon."
"Dan's participation opens up a world of charity-betting possibilities and will dramatically increase spectators who take a keen interest in his performance," Maloney said. "He's also still a role model to much of the financial services community, so Dan's presence will certainly stoke the competitive spirit among participants."
The Olympic decathlon takes place over two days, while the RBC Decathlon is a one-day competition at Wien Field on the Columbia University campus July 27. The RBC Decathlon is a combination of an actual decathlon and a football combine. The 10 events are the 400-meter run, football throw, dips, 40-yard dash, 500-meter stationary row, five-cone drill, pull-ups, vertical jump, bench press and 800-meter run.
O'Brien said he is confident he can hold his own in the pull-up and vertical jump competitions, but he expressed concern about the 400 and 800 runs. One, some back pain issues have restricted his running in recent years, and two, everyone hates the 400- and 800-meter lengths.
"Even as a former athlete, those are two events you don't want to do," he said. "Put me in a 5K or let me run a 40, but don't put me in the middle-distance races. To run a good 400 or a good 800, you have to train."
Not that O'Brien ever minds that; in fact, he said he preferred training to competing.
"Ultimately, what it came down to was that I loved my job," he said. "I liked getting up every day and working toward my goal."
For more information about the RBC Decathlon and this year's inaugural Wall Street mile run, go to thedecathlon.org.
June, 24, 2012
6/24/12
8:07
PM ET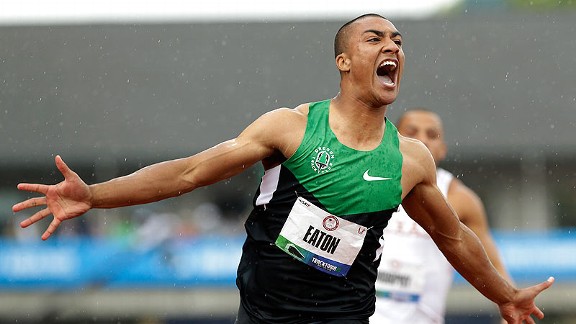 AP Photo/Eric Gay
EUGENE, Ore. -- If you care about Olympic sports at all -- heck, if you care about sports, period -- then Ashton Eaton's world record in the decathlon here at the Olympic trials is not a one-day story.
It all came together Saturday evening at his home track at Hayward Field, the Fenway Park of American track. To witness the crowd of 21,000 on its feet for the entirety of Eaton's final 1,500 meters, urging him on to greatness, was to witness, viscerally, sports history being made.
So, let's savor his 9,039-point performance a while, with some more perspective on what Eaton accomplished.
First, the numbers
• Here's what Eaton posted in each of the 10 disciplines:
Day 1:

100 meters: 10.21 seconds (fastest ever in a decathlon), 1,044 points

Long jump: 8.23 meters, or 27 feet (best ever in a decathlon), 1,120 points

Shot put: 14.20 meters (46, feet, 7 inches), 741 points

High jump: 2.05 meters (6 feet, 8 ¾ inches), 850 points

400 meters: 46.70 seconds, 973 points
Day 2:

110 hurdles: 13.70 seconds, 1,014 points

Discus: 42.81 meters (140 feet, 5 inches), 722 points

Pole vault,: 5.30 meters (17 feet, 4 ½ inches), 1,004 points

Javelin: 58.87 meters (193 feet, 2 inches), 721 points

1,500: 4:14.48, 850 points
The takeaways: For a man to sprint that fast and run distance that well is just plain unfair. And this record has room to grow. Eaton, the greatest all-around runner in the history of the event, is still learning how to throw.
This is no fluke
No one sets the decathlon record by accident. Look down the list of the decathlon record's progression and every record holder is among the sport's greats. This is also a good portent for Eaton in London. Every American decathlon world-record holder has also won a gold medal (though not always while they held the world record) -- James Bausch in 1932, Glenn Morris in 1936, Bob Mathias in 1948 and 1952, Rafer Johnson in 1960, Bill Toomey in 1968, Bruce Jenner in 1976 and Dan O'Brien in 1996.
OK, one fluky thing … the weather
Runner-up Trey Hardee said Eaton's record deserved "an asterisk," not because something should be taken away from it, but because something should be added. Hardee, the two-time defending world champion, called it the wettest decathlon he has ever competed in, and he got no argument from Eaton. The often driving rain, especially during the first day, plays havoc with this event, in which one error can kill a whole meet.
"You need skills, but you also need a consciousness to deal with chaos," said Harry Marra, Eaton's coach, who trains him in Eugene. "Rain like that is chaos. Throwing it in a circle where it's slippery, it's chaos. You don't practice that. Well, we do in Oregon. It definitely is an advantage."
Why people are excited
It's not just the record; it's how Eaton carries himself and the context of what he's doing.
First, at 6-feet, 180 pounds, he's normal sized, with none of the linebacker bulk usually associated with decathletes. He's not a cyborg, he's not a robotic corporate-sponsored product, at least not yet. Suitably for Oregon, the home of Steve Prefontaine, Eaton says things like, "The beauty is the pursuit of the limit, not the limit itself." And he has the personality of a decathlete, athletes who tend to be the student-council presidents of the sports world: organized, diligent, focused on the long term, optimistic and outgoing, with a healthy dose of humility. Eaton is damn glad to meetcha, yet he seems sincere about it.
He is also from a long line of diverse American champions in this most diverse event. One of the most touching aspects of the weekend was that Eaton achieved the record in front of living American gold medalists Bryan Clay, O'Brien, Jenner, Toomey, Johnson and Milt Campbell, along with the surviving sons of the first great decathlete, Jim Thorpe. Clay was competing, of course, and the rest came to Eugene for a ceremony celebrating 100 years of the event at the Olympics.
Thorpe, the first champion, was a Native American, and Johnson and Campbell represented the U.S. in the 1950s, when many states wouldn't have allowed them to drink at the same fountains as whites because they are African-American.
Like Clay and O'Brien, Eaton has a mixed-racial heritage and fits right into the cultural continuum of the event, whose champions always seem to be a bellwether of social forces. And like O'Brien and other former U.S. champions Dave Johnson and Tom Pappas, Eaton comes from a small town in the Northwest, creating a back story that was perfect for the weekend, and one that is likely to hold appeal as America, and the world, get to know him.
June, 23, 2012
6/23/12
12:28
AM ET
By
Associated Press
| ESPN.com
EUGENE, Ore. -- Bruce Jenner was back on the track and the cameras following him all around.
It was just like old times.
Only, the cameras were interested in Jenner the reality TV star, not Jenner the former decathlon star.
[+] Enlarge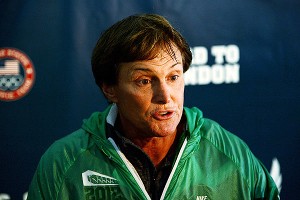 Michael Heiman/Getty ImagesBruce Jenner returned to Eugene for the first time since the 1976 Olympic trials.
His two worlds collided Friday night at the U.S. Olympic trials when he arrived at Hayward Field for the first time in three decades. He was an instant hit with the crowd.
Then again, he always has been and now a new audience is paying attention as well.
Although Jenner set world records, won at the 1976 Montreal Olympics and graced the front of a Wheaties box, these days he's best known for his role in the TV show, "Keeping Up with the Kardashians." The reality series focuses on the personal lives of Jenner's family, which includes the celebrity Kardashian sisters -- Kourtney, Kim and Khloe.
Jenner was at trials as part of a tribute to the 100th anniversary of the modern decathlon, when Jim Thorpe won the 10-event discipline in 1912. Also on hand were Rafer Johnson (1960 gold medalist) along with Dan O'Brien and Dave Johnson of the famed "Dan and Dave" promotion by Reebok.
But Jenner stole the show. The last time he was in Eugene was before the '76 Olympic trials, just trying to secure his spot on the U.S. team. He ended up setting a world record.
"My entire family, 65 people, had already bought tickets to Montreal," Jenner said. "They planned their vacation to go to Montreal, got their RVs and were picking up little Jenners along the way. But nobody bought me a ticket. I had to come to Eugene and earn my ticket, just to ensure that I was able to visit my family in Montreal."