February, 11, 2014
Feb 11
3:25
PM ET
Jason Brown has had a pretty memorable past year. At this time last year, he was just an 18-year-old figure skater on the junior circuit. In the year since, he made the Olympic team, won a medal and even met Russian president Vladimir Putin.
[+] Enlarge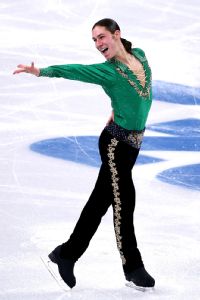 Robert Cianflone/Getty ImagesJason Brown's Olympic debut has been an eventful one so far.
That meeting was after the team figure skating competition. Putin attended Sunday's finals, then congratulated the skaters.
"It's something that happened so fast, you almost didn't think it was real," Brown said. "Our team was standing around, and he literally put his hand out for each of us. We all shook his hand.
"It was kind of like one of those moments where you stand there with your eyes open -- and then he moved on to the next person. It happened so fast, I was totally star-struck and having a hard time trying to grasp it all. It was so incredible. ..."
"He's so supportive of the Russians and their skating, and that's another incredible aspect, that Putin is behind all the skaters. He's behind the Russian federation and he's here to support them, and I think that's awesome. That's huge. And the fact that he came up to us is such a memorable moment. It's incredible that I can say I shook Putin's hand."
Brown helped the U.S. to a bronze medal in the team competition by skating the men's free program. Although he fell once, he skated much better than U.S. champion Jeremy Abbott, who fell twice in the short program and dug his teammates into an early hole. Still, Abbott said that made for good preparation for this week's men's competition that starts Thursday.
"I had some big demons post-U.S. nationals, and I got to meet them up close and shake their hands and make peace with them and send them on their way," Abbott said. "It was good for me mentally because it made me really look at my preparation, and I really wasn't in my structure. When I was at the rink I was, but when I was in the athletes village I wasn't. So it made for a very unsteady situation, and when I got in that pressure situation, it kind of all collapsed."
Abbott says he's altered his schedule to compensate thanks to the lesson he learned in the team competition, Plus, both he and Brown have medals they have only a slim chance of winning as individuals.
"To be on the medal stand with my teammates yesterday and to think a year ago I didn't even think I was going to be skating in seniors competition?" Brown said. "I didn't think I was going to make the Olympic team. And now to have a medal?"
February, 6, 2014
Feb 6
4:51
PM ET
SOCHI, Russia -- The last time Evgeni Plushenko skated with anything at stake, it was behind closed doors, a special exam to convince Russian officials he deserved to claim the lone men's spot available at the Winter Games.
He succeeded, although it's hard to imagine this born showman turning in his best effort before a small audience. Thursday, he performed for an adoring -- if not sold-out -- crowd, and kept his country in the hunt for a medal in the new team event.
[+] Enlarge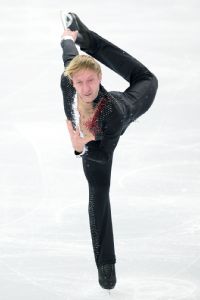 JUNG YEON-JE/AFP/Getty ImagesSkating in his four Olympics, Plushenko is hoping to lead Russia to a medal in the new team event.
If Russia reaches the podium as expected, it will be a group effort, but the 2006 Olympic champion used a lot of first-person pronouns as he spoke to reporters at the Iceberg Skating Palace.
"I already won for myself -- I am skating in my fourth Olympics," said an obviously content Plushenko. He basked in an ovation after scoring 91.39 points in the short program, taking a tour of the rink before repairing to the kiss-and-cry area.
"It doesn't matter, the result. In the end, it's the Olympics."
However, Plushenko knows very well how much the outcome matters to Russia, which is on the rebound in its traditional stronghold after being shut out of gold medals four years ago in Vancouver. A team medal of any color would get the Winter Games off to a good start for the host country.
As the only Russian man in this event, Plushenko will have to compete in the free skate as well. His raw score, eclipsed only by the numbers posted by the sublime Yuzuru Hanyu of Japan, doesn't carry over to the free skate. But the nine points out of a possible 10 that he earned with his second-place finish -- along with a first place by the pairs duo of Tatiana Volosozhar and Maxim Trankov -- puts Russia in an excellent position going into the women's and dance short programs.
At 31, with aches and pains that have not been fully solved by multiple surgeries, there's been much back-and-forth speculation about whether he would withdraw from the individual event, some of it fueled by Plushenko himself. Asked the million-ruble question Thursday, he said, "I will try, of course."
January, 28, 2014
Jan 28
1:21
PM ET
By
ESPN.com news services
| ESPN.com

AP PhotoTokhtakhounov
The alleged Russian mafia boss accused of bribing judges at the 2002 Salt Lake City Olympics is living the good life in Moscow with little fear of retribution.
Alimzhan Tokhtakhounov,
according to ABC News
, is being protected by Russian authorities despite an Interpol arrest warrant, said the FBI.
Tokhtakhounov, 65, was indicted in 2002 by a federal grand jury in New York for attempting to fix the pairs figure skating competition in what is considered one of the worst Olympic scandals ever.
May, 2, 2011
5/02/11
5:16
PM ET
The biggest takeaway from last week's figure skating world championships was the confirmation that ice dancing coaches Igor Shpilband and Marina Zoueva are not only in a class of their own but constitute a sort of border-less country unto themselves. Shpilband-Zoueva Nation's accomplishment in putting three teams on the podium is obvious. What's more subtle and admirable is the juggling act that has to go on behind the scenes.

This is no cookie-cutter operation. Each of the three medal tandems -- newly crowned world champions Meryl Davis and Charlie White of the U.S., runners-up and 2010 Olympic gold medalists Tessa Virtue and Scott Moir of Canada and senior world debutants Maia and Alex Shibutani of the U.S. -- displays a distinct style that plays to its strengths. How the Russian-born coaches pull this off in one suburban Detroit rink, giving each duo customized treatment and making sure they have the time and attention they deserve in an apparently rancor-free atmosphere, is nothing short of remarkable.


April, 21, 2011
4/21/11
10:07
PM ET
An odd sporting time warp will end next week when the top figure skaters who were supposed to compete at the world championships in Tokyo the week of March 21 gather in Moscow for the event postponed by the catastrophic earthquake and tsunami in Japan.

In interviews this week, U.S. skaters said that after the initial period of uncertainty -- worlds were in limbo for almost two weeks as officials pondered canceling them altogether -- they slipped back into the harness of their daily routines without much trouble and even benefited from the extra month on the ice.


April, 1, 2011
4/01/11
9:32
PM ET
• Life in Japan won't be anything approaching normal for a long time, and that includes the sporting scene. Other international federations are going to have to weigh the same factors the International Skating Union did when it first postponed, then relocated, the World Figure Skating Championships from Tokyo (where the event was scheduled for last week) to Moscow. The World Gymnastics Championships, the main qualifying event for London 2012, are slated for Tokyo in October, and international gymnastics officials said they'll decide next month whether the site is still appropriate. They have the luxury of weeks, rather than days, to analyze the situation. Here's hoping their choice is based on what's right for the athletes, rather than what's politically correct or sponsor-driven.
March, 24, 2011
3/24/11
9:03
PM ET
Thanks to existing infrastructure and a last-minute push by Russian Prime Minister Vladimir Putin -- who obviously is capable of marshaling resources in a hurry -- Moscow will host the world figure skating championships originally slated for Tokyo.

Among those slated to compete in the event, now scheduled for April 24 to May 1, are defending champions Mao Asada and Daisuke Takahashi of Japan, whose stricken country will still be in the earliest stages of recovering from the mind-boggling loss of life and property destruction caused by the March 11 earthquake and ensuing tsunami.


March, 14, 2011
3/14/11
5:04
PM ET
The figure skating world championships slated for Tokyo next week are now officially in limbo. This morning's
announcement by the International Skating Union
-- which, given the obvious magnitude of the disaster in Japan, seemed unnecessarily delayed -- resolved just one thing: The event will not be held at the original site.
ISU president Ottavio Cinquanta didn't rule out any options in an
interview
with the Chicago Tribune's Philip Hersh today. Postponement, relocation and cancellation are all still on the table.
January, 18, 2011
1/18/11
5:13
PM ET
If the season after the Winter Olympics is supposed to be low-key for figure skaters, someone forgot to send the memo to Meryl Davis and Charlie White.
The Canton, Mich.-based ice dancers have had a tumultuous stretch since winning the Olympic silver medal in Vancouver, British Columbia, as just about everything about their routine in recent years shifted in some way. But despite many adjustments -- and the heady notion that they're in an ideal position to become the first American ice dance world champions in March -- Davis and White sound notably composed and ready for the U.S. national championships at the end of January.
January, 11, 2011
1/11/11
2:49
PM ET
Three-time U.S. figure skating national champion and world bronze medalist Johnny Weir posed for the cover of his new autobiography "Welcome to My World" with one stiletto-clad foot appearing to hold up a huge disco ball. Yet despite that unconventional image, the book follows the familiar arc of many an athlete's life: a driven child with a loving, supportive family; a conflicted adolescent who grows into an accomplished performer; an imperfect adult who stumbles at inopportune times and tries to savor his experience no matter where he finishes. By turns thoughtful, snarky, giddy and caustic, the book also serves as the vehicle for Weir to confirm that he is gay -- a subject he had long refused to address because he considered it private and unrelated to his athletic career.
Weir, who is not skating competitively this season, sat down with ESPN.com's Bonnie D. Ford on Monday to talk about his book and his future in the sport. The following are excerpts from that conversation.
December, 8, 2010
12/08/10
7:13
PM ET
Jojo Starbuck compiled an accomplished pairs skating career, winning national titles and world championship medals and competing in two Winter Olympics. But she admits she had one daydream that never materialized.
"Richard Dwyer was my childhood idol," Starbuck said from her home in New Jersey. "I always wanted to be a Dwyer girl. They floated around the ice looking like angels in their gowns. They were the epitome of glamour."
November, 15, 2010
11/15/10
4:21
PM ET
By
ESPN.com news services
| ESPN.com
Japan's Kanako Murakami won the gold medal at Skate America with a final score of 164.93 to put her in front of American Rachael Flatt (162.86). Japan's Daisuke Takahashi overcame a fall and some shaky landings to win the men's free skate.
In the pairs competition, Aliona Savchenko and Robin Szolkowy of Germany nailed the opening throw of their free skate and skated toward the gold medal from there. And Americans Meryl Davis and Charlie White tangoed their way to the gold medal in the ice dance competition.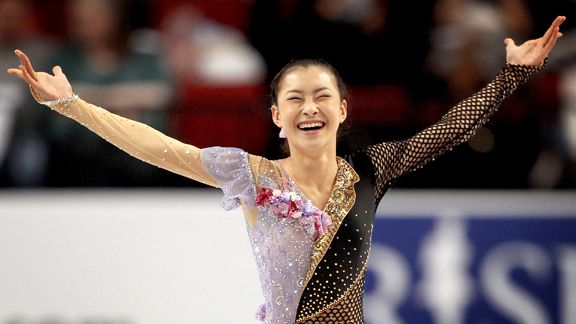 Matthew Stockman/Getty ImagesKanako Murakami earned a trip to the Grand Prix final in Beijing with her first senior Grand Prix title.
October, 13, 2010
10/13/10
4:51
PM ET
PHILADELPHIA -- Sasha Cohen, wearing pearls to dress up a velour hoodie, is sipping coffee in a café in the bohemian Philly enclave of Manayunk. A rolling suitcase nearly as big as she is sits at her feet and a silver stretch limo will soon pull over to the curb across the street, ready to wait as long as need be.
This is the second stop in a day that will take Cohen from the Jersey shore all the way to Boston to promote "The Caesars Tribute: A Salute to the Golden Age of American Skating" show on Dec. 11 in Atlantic City. Cohen turns a mere 26 later this month and it's odd to think of her as part of figure skating's past, but the reality is that she's embarking on the first October of the rest of her life.