Olympics:

freestyle aerials
August, 9, 2011
8/09/11
12:01
PM ET
In January of last year, aerial skier Jeret "Speedy" Peterson sat across from me in a coffee shop in the lodge at the Deer Valley Resort, outside Park City, Utah. Sun was streaming in the windows and ambient noise swirled around us: Chatter, laughter, a barista banging a filter to get rid of espresso grounds.
Peterson was in a good place. He had already clinched a spot on the 2010 U.S. Olympic team and the freestyle World Cup that weekend was another chance for him to refine the form and landing for his signature trick -- the triple-flip, five-twist Hurricane. He was finding it easier to speak openly about what had gone awry in his life. His backstory of personal tragedy made his well-publicized exit from the 2006 Olympics after a public brawl look like what it was, a trifle.
[+] Enlarge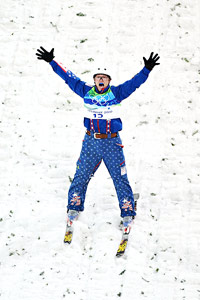 Streeter Lecka/Getty ImagesJeret Peterson won a silver medal in freestyle aerials at the 2010 Vancouver Olympics.
I found his willingness to talk about his struggle with depression impressive.
"My stance on it is that I didn't do anything to make it happen," Peterson said, speaking deliberately, a slight twang infusing his low voice with warmth. "You know, it's no different than having a broken arm. It's something that you have, it's something you have to deal with, and if you don't, it's not gonna heal."
He said he had liberated himself from the weight of public expectation.
"I definitely have a lot of people who support me in what I do," he said. "If there's people who feel they need to shun me for one incident, I don't even want those people in my life. I'm not here to impress everybody else. I'm here to have fun and I'm here to enjoy what I do and be the best person that I can be. I'm not going to please everybody and I'm not going to try to do that."
He spoke like someone who believed he was winning.
"I'm comfortable in admitting where I went wrong and things in my life that have gone wrong," he said. "If people don't want to be my fan, they don't have to be. I'm OK with that."
It wasn't a defensive statement, just a straightforward assessment: Take me or leave me, and if you take me, take the whole package. There was not one ounce of phony in Speedy Peterson.
In that moment, after years of watching Peterson from a reportorial distance, I did become a fan. Not in the traditional sense of rooting for a quantifiable result; I just wanted him to keep his bearings, maintain his hard-won balance and live a long, happy life. So when he stuck the Hurricane and won a silver medal in Vancouver a few weeks later and joy illuminated that open book of a face, I was quietly, unprofessionally elated.
His press conference the next morning was a moving tribute to the power of perseverance. I left the room feeling uplifted and wrote a story, and then I checked out of freestyle skiing for another four years. Peterson went back to school. I followed him on Twitter and Facebook. He seemed busy. I liked to think he was thriving.