May, 14, 2012
5/14/12
2:19
PM ET
DALLAS -- On the topics of the best song to warm up to (Eminem's "Lose Yourself" for 2008 Olympic all-around gold medalist Nastia Liukin; "Boyfriend" by Justin Bieber for 17-year-old Aly Raisman), what college to attend (NYU for Nastia; Stanford or Vanderbilt for 2008 all-around silver medalist Shawn Johnson) or what they're most looking forward to in London, the women vying for a spot on the 2012 U.S. Olympics gymnastics team didn't agree on much. But there was one topic that brought them to a consensus: naming the Olympics team at the end of trials is a good thing.
"It's easier on our bodies to not have the selection camps," said 2011 world champion Jordyn Wieber, who is making her first run at the Olympics. "Doing routines for such a long time can be tough on your body. We'll be able to go to camp and train instead of going to camp to compete. There's a difference. And it will be nice to get it done at trials and know who's on the team."
[+] Enlarge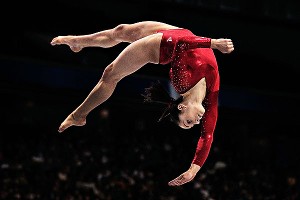 Adam Pretty/Getty ImagesJordyn Wieber and other U.S. gymnasts will find out their Olympics fate on the final day of the U.S. trials on July 1.
Unlike in recent years, the five-woman team -- down from six in 2008 and 2004 -- will be named on the final day of trials, which will be held June 28-July 1 in San Jose, Calif., instead of after a post-trials, two-week selection camp held at the Karolyi ranch outside Houston. In 2008, Johnson and Liukin finished 1-2 at trials, were invited to the selection camp and named to the Olympic team with the disclaimer that they still had to prove their readiness during the camps. Instead of spending the weeks between trials and the Olympics tweaking routines, resting, rehabbing injuries and tapering training, the 12 women invited to the selection camp competed for those six spots.
"The selection process in 2008 was the longest, most stressful process of my life, and I felt like I was run into the ground," Johnson said. "After trials, I was like, 'Ahh, I made the team. Oh wait, no I didn't. I still have to compete.' This way, it will preserve me more and hopefully do the same for the entire team. It's one less meet you have to be on your A-game for. If you look back at 2008, our entire team was at its strongest at trials and then we slowly started to break down. I think they learned from 2008, and this time, I think we will peak at the right time."
At the 2008 Games, Chellsie Memmel broke her ankle during training in Beijing. A few days later, Samantha Peszek injured her ankle minutes before the women's qualifier and was able to compete only on the uneven bars. The team was highly favored for the team all-around but finished second to China. The additional mental and physical stress of those selection camps was often cited as a reason for the team's struggles in Beijing.
"This way is better for us for being in our top shape," said Rebecca Bross, who will be competing 10 months after dislocating her kneecap at the Visa Championships in August. "More importance will be placed on trials. I like going out to competitions better than selection camps. At selection camps, it's only us in the gym, but at a meet, you have the whole crowd there and people cheering you on. It's what we're used to doing."
Although the team will be named earlier, the selection process will still be based on subjective measures. The selection committee will choose the team based on a combination of competitive performance, team needs, medal potential, the composite strength of all team members, individual start values, consistency, attitude and competitive readiness.
"They're not just taking the top five in the all-around," Liukin said. "It really is a puzzle, and hopefully they'll pick the best team to win a gold medal. With my two strongest events, bars and beam, I hope I can play a role to help the team, but besides my gymnastics, I have a few things going for me -- but I can't rely on them. That is no way to make an Olympic team. Living in Dallas, everywhere I go, people are like, 'You won the gold medal. You have to make this team.' But that's not how it works. Your past accomplishments don't matter. All that matters is how you perform today."
March, 2, 2012
3/02/12
8:16
PM ET
NEW YORK -- Jordyn Wieber looked perfectly composed as reporters pelted her with questions like snowballs, pausing occasionally when several hit her at once, glancing from one person to another until she could distinguish a single voice. Her high cheekbones, alert hazel eyes and unflappable expression give her face unusual maturity for a 16-year-old, which isn't surprising given the fact that her life is moving at warp speed.
Wieber, the reigning all-around national and world gymnastics champion, is the cover girl for the AT&T American Cup at Madison Square Garden on Saturday -- an event that has often served as a harbinger of Olympic greatness. She strives for as much groundedness as a rising superstar can manage, attending public school part time in her hometown of DeWitt, Mich., and filling out her education with online classes.
[+] Enlarge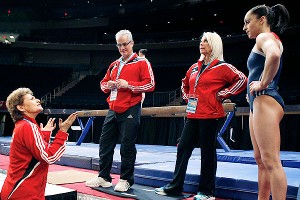 AP Photo/Kathy WillensGymnast Jordyn Wieber seems to be handling the pressure of being Team USA's "it" athlete heading into the 2012 London Olympics.
"It's very important for her to feel like a normal kid," said Kathryn Geddert, who with husband John coaches Wieber at the Twistars USA club in Dimondale, Mich. "That's how she sees herself. She needs that camaraderie with her school friends along with her gym friends. I think if she didn't have that, it would be harder for her."
There's very little teen-speak to Wieber's public delivery, a noticeable absence of "likes" and "you knows." She does talk quickly, however, and when someone asked her to describe what's involved in the ultra-difficult Amanar vault, she complied in nearly the same scant few seconds it takes her to execute it.
"Basically, you do a round-off back handspring onto the table, you put your hands down on the floor and then your feet on the board and then your hands on the vault table, and then from there, you have to block and do two-and-a-half twists in time to land on the floor," Wieber said matter-of-factly.
One of the trickiest parts of the maneuver is the extra half-twist that leaves no margin for error and propels the gymnast into a blind forward landing, but Wieber is growing accustomed to those, both in and out of the gym.
The high beams of media attention veered toward her with full intensity after her win in Tokyo last fall, but so far, her status doesn't seem to have caused so much as a wobble. Her world championships gold "definitely gives me a little bit of confidence, but I have to kind of think about what I need to do right now," she said. "I can't think about what I've done in the past."
Wieber also turned pro a few months ago, and depicted that passage as a collaborative process with her parents.
"They trust me and my decisions and everything and they helped me make my decision. We worked it out and it's all a positive thing."
The pace Wieber is on requires a discipline most adolescents would find hard to live by. Her friend and fellow Olympic hopeful Alexandra Raisman portrays them as perfect roommates at international events "because we both like to get a lot of rest." The two are ardent nappers and recently have become enamored of scented candles as relaxation aids -- Raisman leans toward vanilla and Wieber likes "something cinnamon-y," Raisman said.
"She's handling it really well," Raisman said of the new expectations facing Wieber. "She's using it as motivation, which is really important and really good. She's the same Jordyn she was last year before she was world champion, so I don't think anything has affected her."
Geddert said she admires Wieber's comfort level with the media. "As a 16-year-old, I never would have been able to do the stuff she's done," the coach said.
Mary Lou Retton, who won this event three times, including the year she took Olympic gold (1984), observed that Wieber appears to have the ability to thrive on pressure rather than sag under it.
"If she stays healthy, she's the one to beat in London," said Retton, now a mother of four daughters ages 9 to 16. "She's the whole package. She's got explosiveness, she's got flexibility, she's got poise, upper-body strength, everything. As an athlete, you always kind of doubt yourself until you've got that big one in the bag, and she has that now.
"She's fierce on that floor. I wouldn't want to have to compete against her. She's just like a lion."