August, 5, 2012
8/05/12
8:11
AM ET
LONDON -- Justin Gatlin says hold on a second. Or perhaps 9.8 seconds. The way he sees it, Sunday's 100-meter final is not just a two-man race between Jamaica's Usain Bolt and Yohan Blake.
"I think seven guys can win. The whole eight in the field, actually," Gatlin said after Saturday's heats. "If you put everything together, with the right wind behind you, the track, and everyone has a good start and is working the second half of the race -- it's just going to be who's going to be able to put on the best technical race."
Gatlin has some expertise in this matter. He was the 100-meter gold medalist at the 2004 Olympics, but was serving a four-year ban for a positive PED test when Bolt electrified the world with his gold-medal performance at Beijing in 2008.
[+] Enlarge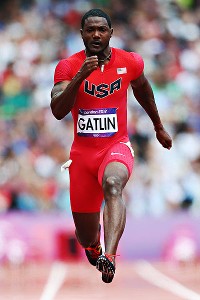 Michael Steele/Getty ImagesJustin Gatlin ran a 9.97 in his 100-meter preliminary heat on Saturday.
Bolt lost at last year's world championships when he false-started and hasn't been running consistently at top form this year, either. Blake, who ran in 10 flat in his Saturday heat, became the youngest 100 world champ at age 21 last summer, then beat Bolt in the 100 and 200 at the Jamaica Olympic trials last month. Some consider him, not Bolt, to be the favorite Sunday.
Bolt stumbled a bit out of the blocks in his heat, but recovered quickly and won easily enough, though his time (10.09) was slower than that of Blake and the top three Americans -- Gatlin, Tyson Gay and Ryan Bailey. Gatlin, however, said he thought Bolt ran well: "He looked like Bolt."
And that can be an intimidating sight.
"He's the equivalent of a guy walking on the moon for the first time," Gatlin said. "He's done something no one else has ever done -- and you've got to line up in the blocks shoulder to shoulder with this guy? You're going to be in awe sometimes. I think a lot of runners are almost looking to see what he's going to do, even when you're running.
"You've got to block that out and go out there and compete."
It isn't just Bolt's speed that excites fans -- it's also his style, with his signature lightning-bolt arm pose and demonstrative preparations as he gets into the blocks. Gatlin is just fine with that, saying it has brought excitement to track and field, but doesn't affect the race.
"I love entertainment. I love going to movies, I love watching theater in the park, so the answer is if that's what they want to do, so be it," he said when asked about Bolt and the Jamaican runners after winning the U.S. trials in June. "I have to worry about my lane. If he's in Lane 4 doing a tap dance, that's great. I'll be in Lane 3 and focused on Lane 3. My lane is just as long as his lane, no shorter. I have to worry about that."
Of course, before we crown the world's fastest man, all of the runners must reach the finals. There will be an American and Jamaican runner in each of the three semifinal heats Sunday evening. Gatlin and Asafa Powell run in the first heat, Bolt and Bailey run in the second, and Gay and Blake in the third. The two top finishers in each heat, plus the next two fastest times, will advance to the final at the end of the night's competition.
Bailey had Saturday's best time with a personal-best-tying 9.88. The 23-year-old has overcome a lot to get to the start line. Growing up, he moved between cities -- "Too many to count" -- with his mother as she followed her husband from prison to prison. He was briefly in a gang in Ohio. As recently as four years ago, he still was sleeping on his mother's floor.
"It wasn't the best childhood," he said at U.S. trials. "I just realized I was on the wrong road and needed to turn my life around."
Gay ran a 10.08 on Saturday, saying he felt good but ran the heat at roughly 75 percent. In addition to the strength of the Jamaican runners, the challenge for Gay is his own body. He has had hamstring issues and underwent hip surgery last year. The hip was so sore this spring, he had to run on grass to avoid pain. But he once ran 9.69, and is one of only three runners who know what it feels like to line up against Bolt and beat him.
In what he termed "a nice stroll," Gatlin ran a 9.97 in his heat and is looking to improve it Sunday night (his best is 9.8). Running on what has been declared a fast track, can he or his teammates knock off the Jamaicans?
"We all have our eye on the prize. We want to get that gold," Gatlin said at trials. "So if it's going to be three Jamaicans in our way or the whole world in our way, that's what it's going to take to get around that and get that gold medal."
June, 21, 2012
6/21/12
6:40
PM ET
EUGENE, Ore. -- The sprint world is understandably looking ahead to the Jamaican Olympic trials next week, as the three fastest 100-meter times in the world this year have been run by Jamaicans, led by superstars Usain Bolt (9.76 seconds) and Yohan Blake (9.84), with veteran Asafa Powell (9.85) right behind.
But the fourth man on the world's list of season's-best times could be making some noise this weekend here at the U.S. trials. Justin Gatlin, track's prodigal son, who has come nearly all the way back to his 2004 Olympic gold-medal form after a four-year doping ban, posted a 9.87 earlier this year. And he said he has more speed left in his tank.
"In 2004, I ran 9.85 in the finals of the Olympics," Gatlin said Thursday at a pre-trials news conference. "My season opened with a 9.87, and my coach, Dennis Mitchell, felt like there was definitely a lot of room for improvement."
Gatlin said he's been making those improvements and his training times "are ready to challenge the world."
He was quick to respond when asked if his practice form has reached the level he attained in 2004. "I think so," he said. "My coach's stopwatch hand is pretty accurate. This year we've been putting together a lot of good times at practice."
Asked to elaborate on those times, Gatlin ducked slightly. "All I can really say is that it's better than 9.87," he said. "Much better."
It will likely take much better than 9.87 to challenge Bolt & Co., but Mitchell is confident Gatlin's experience and mentality will allow him to deal with the pressure of this weekend's 100, and anything that comes his way in London.
"When he gets on the track, I don't have to worry about his competitive spirit," Mitchell said. "I know that if the first- or second- or third-best guy in the world is in the race and everybody's fixated on that, he will go out there and execute his race to the T to make sure his goals are met."
Mitchell wouldn't reveal what that execution entails, other than to say he's scouted Gatlin's U.S. and international opponents for weaknesses in their races, and is working on ways to take advantage of them.
The coach, a world-class sprinter himself at the turn of the century, did dish about the time he competed against his pupil, when Gatlin was a freshman at Tennessee. "I beat him, of course," Mitchell said.
Gatlin noted that many in the press have used the word "redemption" to describe his comeback, but to him this season and these trials feel more like a homecoming. "I can say I'm victorious," he said. "I'm happy to be back. I know what it's like to have a talent and not be able to use it."
The doping suspension and resultant criticism made him wiser and more appreciative of what he had, what he lost and hopes to regain. "I may not be the fastest guy out there," he said. "I may not be the most charismatic guy out there. But I'm probably one of the bravest."
April, 28, 2012
4/28/12
9:08
PM ET
PHILADELPHIA -- Track is the ultimate soloist's sport, where early-season results, especially early-season relay results, really don't matter.
But that did nothing to dim the smiles on the faces of American athletes at Saturday's Penn Relays, where the United States opened the London Olympics lead-up outdoor season in dominant fashion.
Led by meet-record efforts on the part of its female sprinters, the U.S. won all six races in the U.S. vs. the World competition, and that 6-0 tally didn't begin to describe the cold American grip on the chilly day's events.
"A great start to the year," said Allyson Felix, who helped set meet marks in the women's 4x100 and 4x400-meter relays. "We're getting the chemistry going, saying that we're here and we want to do well, and every time we step on the track we want to win."
The world never really had a chance. Felix and her partners in the 4x100 -- starter Tianna Madison, third-leg Bianca Knight and anchor Carmelita Jeter -- were nearly flawless on their baton passes in a record-setting 42.19-second trip around the track. Even more impressive: The crew had never worked together until the day before the meet, and Jeter and Knight hardly practiced at all.
"We just knew we'd get each other the stick," Jeter said. Added Knight, "We just did two handoffs [Friday] and I said, 'That's it. It'll work. Don't worry about it.'"
They didn't look worried at all, as Jeter, the world champion at 100 meters, finished more than a full second ahead of Jamaica, the Americans' chief rival. Whether that will worry the Jamaicans this early in the season is a matter of some debate.
"If they knew we just put this together yesterday," Knight said, "then they might be a little nervous."
The oft-jinxed men's 4x100 squad also looked smooth, as Mike Rodgers, Justin Gatlin, Doc Patton and Walter Dix ran a 38.4-second lap and trounced a Jamaican squad that was minus superstars Usain Bolt, Yohan Blake and Asafa Powell.
It was more of the same in the 4x400 relays. American women Francena McCorory, Felix, Natasha Hastings and Sanya Richards-Ross won in a meet-record 3:21.18, about 40 meters ahead of the field.
The usually dominant U.S. men's quarter-milers, meanwhile, were their usually dominant selves. After solid legs by Calvin Smith and intermediate hurdlers Angelo Taylor and Bershawn Jackson, LaShawn Merritt essentially toyed with the opposition, stalking and waiting until the final straightaway to glide past the Bahamas for the victory. "I wanted to make it exciting," he said.
The only true excitement Saturday came in the women's sprint medley and men's distance medley relays. In the women's race, American 800-meter runner Maggie Vessey surged off the final curve to overtake Great Britain's Marilyn Okoro in front of the frenzied Franklin Field crowd. Later in the afternoon in the distance medley, Leo Manzano of the USA Blue team beat the USA Red team's Bernard Lagat in the last lap of the final 1,600-meter leg.
The U.S. attributed the unprecedented sweep to, of all things, teamwork.
"We all get along," Patton said of the current crop of American sprinters. "There's no egos on this team anymore."
That's different from in the past, Gatlin said.
"Not taking away anything from previous relay teams from the United States," he said, about to take something away from them, "there's no prima donnas, there's no fighting for the anchor leg. We know what our positions are; we know what we're good at; and we specialize in our positions and get the stick around as quick as possible."
The U.S. will need all of the above to have any prayer of beating the Jamaicans at full strength. But despite it being early in the season (and despite the notable absences), the Americans must have felt good circling the track, wearing the stars and stripes in one of Ben Franklin's old haunts and celebrating being the feistiest and fastest bunch, at least for one day.
As Jackson put it, "London here we come."
April, 27, 2012
4/27/12
8:51
PM ET
PHILADELPHIA -- Slowly, steadily, Justin Gatlin continues his efforts to shed unwanted baggage.
The American heads into the Penn Relays on Saturday ready to take on the world, literally, in the USA vs. the World 4x100 relay at Franklin Field. And the fallen star is lighter in both body and spirit than he's been in years.
"I weighed 183 when I won my gold in '04," Gatlin said Friday, referring to his 100-meter victory at the Athens Olympics. "I'm 183 again."
He was a champion again after winning a world indoor title last month in Istanbul when he bested Jamaica's Nesta Carter in the 60-meter final.
[+] Enlarge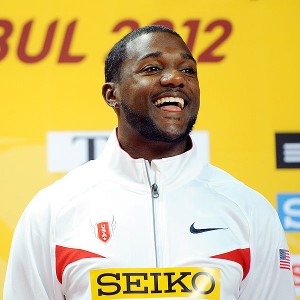 Gabriel Bouys/Getty ImagesJustin Gatlin will run with fellow Americans Walter Dix, Angelo Taylor and Lashawn Merritt in Saturday's USA vs. the World event at the Penn Relays.
It's a far cry from two years ago, when Gatlin was a 210-pound has-been, beginning a comeback from a four-year IAAF doping ban for elevated testosterone levels. After the triumph in Istanbul, he admitted to worrying during his exile that he'd never again be relevant in the sport. First, Tyson Gay rose in Gatlin's absence to dominate the U.S. and world stage in 2007; a year later, Jamaica's Usain Bolt broke records and attained heights of human performance never seen before.
But Gatlin's 2012 indoor season captured people's attention, and even has his competition in a forgiving mood. Bolt's coach, Glen Mills, said on a conference call this week, "I don't believe that somebody should be sentenced to death or banned for life," and that Gatlin's world title "indicates he is back to the level where he was."
Gatlin didn't plot his path to prominence this way. He hired former U.S. sprint star Dennis Mitchell as his coach in November and began the winter with a specific focus.
"I just wanted to work on my start," he said Friday. "I wanted to get the first part of my race together. I wasn't even thinking about world championships or nationals or anything like that. I just wanted to get a couple of races in and prep myself for the outdoor season."
But Mitchell, whom Gatlin called "a taskmaster, a perfectionist," altered his thinking. If Gatlin was running indoors, Mitchell told him, then he'd have to run in the world championships. And if he was running at worlds, he was winning the gold medal.
Never mind that Gatlin hadn't competed in the 60 meters since his teens; he set about critiquing his start and, at Mitchell's urging, working on "every little movement." He succeeded so well, he found himself on the podium in Istanbul.
That attention to detail matters a lot more in the Bolt era.
"The margin is smaller, and the age of running away from the field is probably past us," Gatlin said.
Since Bolt's record-setting explosion, which has seen the 6-foot-5 Jamaican lower the 100-meter record three times, from 9.74 to 9.58, "you have a lot of athletes who've passed the 'wow' factor, the shock factor of, like, a 9.85 or 9.6 or even 9.5," Gatlin said. "And they're looking at it like, 'Hey, if he can do it, I can do it.'"
Still, the Rip Van Winkle of track, who woke up from his doping ban in a completely changed world, said he doesn't think anyone could have imagined Bolt's times back in 2004.
"You'd have some people say, 'You know, somebody could run 9.5,'" Gatlin said, "but they could never tell you how."
Now everybody knows. Gatlin even had a historical analogy. Decades ago, he said, "it was so improbable to send rockets into space. And now it's like, oh well, every other month we're sending things above the atmosphere to observe stuff."
It hasn't exactly been a rocket ride for Gatlin, but these days, the man who fell to earth seems to be enjoying his journey back into rarefied air.
January, 17, 2012
1/17/12
6:32
PM ET
U.S. Track and Field released the full list of participants for the U.S. Open event on Jan. 28 at Madison Square Garden in New York:
The inaugural U.S. Open kicks off the USATF's Visa Championships Series and will be broadcast on Jan. 29 on ESPN2 (7 p.m. ET).
Here's a look at the field:
Men's events
50 meters: Trell Kimmons (USA), Kimmari Roach (JAM), Asafa Powell (JAM), Justin Gatlin (USA), Daniel Bailey (ANT), Nesta Carter (JAM).
600 yards: Bershawn Jackson (USA), Renny Quow (TRI), Greg Nixon (USA), Tabarie Henry (UVI).
Mile: Bernard Lagat (USA), Silas Kiplagat (KEN), Henok Legesse (ETH), Daniel Komen Kipchirchir (KEN), Anthony Famiglietti (USA), Matt Elliott (USA).
50-meter hurdles: Aries Merritt (USA), David Oliver (USA), Terrence Trammell (USA), Jeff Porter (USA), Dwight Thomas (USA), Omo Osaghae (USA).
Shot put: Christian Cantwell (USA), Adam Nelson (USA), Ryan Whiting (USA), Cory Martin (USA).
High Jump: Jesse Williams (USA), Dusty Jonas (USA), Jamie Nieto (USA), Jim Dilling (USA).
Women's events
50 meters: Bianca Knight (USA), Veronica Campbell-Brown (JAM), Alexandria Anderson (USA), Tehesia Harrigan (IVB), Jessica Young (USA), Gloria Asumnu (NGR).
500 yards: Monica Hargrove (USA), Jasmine Chaney (USA), Keshia Baker (USA), Davita Prendergast (JAM).
800 meters: Ajee Wilson (USA), Fantu Magiso (ETH), Jessica Smith (CAN).
Mile: Anna Pierce (USA), Stephanie Garcia (USA), Lauren Hagans (USA), Brenda Martinez (USA).
50-meter hurdles: Kellie Wells (USA), Lolo Jones (USA), Dawn Harper (USA), Tiffany Porter (GBR), Nia Ali (USA), Ginnie Crawford (USA).
Pole vault: Jenn Suhr (USA), Becky Holliday (USA), Jillian Schwartz (ISR), Lacy Jansen (USA), Mary Saxer (USA), Janice Keppler (USA).