Olympics:

Katie Uhlaender
February, 13, 2014
Feb 13
10:21
AM ET
SOCHI, Russia -- Two American women with inspiring stories are both in medal contention halfway through the women's skeleton competition, setting up the possibility of an emotional finish Friday.
Noelle Pikus-Pace, 31, who retired after the Vancouver Olympics but returned in 2012 with the goal of winning her first Olympic medal, is in second place after her first two runs Thursday, .44 seconds behind Great Britain's Lizzy Yarnold.
Katie Uhlaender, who has battled injuries, concussions, depression and the death of her father, former Major Leaguer Ted Uhlaender, finds herself in fourth place after two runs, just .14 seconds from the podium.
"That would be a dream come true if Katie and I could both be up on that podium together, to have two U.S. flags flying and waving in the wind," Pikus-Pace said. "That would be absolutely incredible."
Pikus-Pace began the competition with an opening run of 58.68 seconds, breaking Uhlaender's year-old course record. That mark was short-lived, though, as Yarnold followed it up with a 58.43. Pikus-Pace corrected a few mistakes to turn in a second run of 58.65, solidifying her second-place standing.
Pikus-Pace, who finished fourth in 2010 in Vancouver, has sparked questions this week by taking only two of the available six official training runs. She is reportedly suffering from back issues.
"I'm just trying to take it a day at a time," Pikus-Pace said. "It's pretty hard when I only had a few runs here, but I felt well coming into the race today, although my first run was pretty sloppy to say the least. I feel happy with how I was able to come back in the second run and put it down. I know what I need to change tomorrow, and I'll be ready to give my best."
One of the final racers in the field, Uhlaender turned in a time of 58.83 in her first run, followed by a 58.75, the third-fastest time of the second heat.
"I'm having mixed feelings," Uhlaender said. "I was really happy with my first run even though I made some mistakes at the top that cost me quite a bit of speed, but the second run, I had a huge mistake at the bottom that cost me from pulling ahead."
February, 6, 2014
Feb 6
6:09
PM ET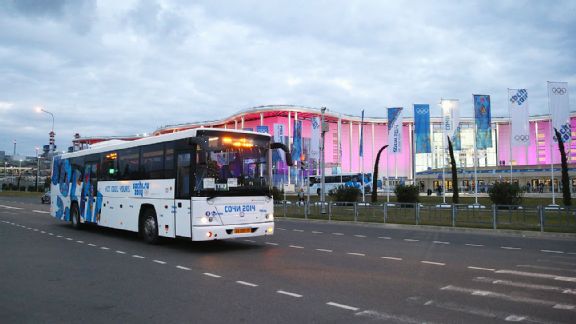 Bruce Bennett/Getty ImagesMedia-only buses help transport journalists to and from credentialed locations at the Sochi Games.
KRASNAYA POLYANA, Russia -- When the Sochi Olympics volunteer offered me a free Coke, I knew it was a bad sign.
I had seen this trick three days earlier, when I checked into my hotel and my room wasn't ready. Apparently, the old I'll-give-you-something-free-so-you-don't-get-upset-with-me trick is on Page 1 of the Russian Crisis Management handbook. Only this time, I refused the bait.
Some five hours earlier, my day began by discovering an electrical wire poking through the wall of my shower:
So this is an interesting new addition to the plumbing in my #Sochi2014 hotel room. pic.twitter.com/N2UPeaA6uD

— Wayne Drehs (@espnWD) February 6, 2014
The rubber housing had been peeled back so that the inside copper of the wire was wrapping around the on/off water handle. It hadn't been this way the day before. But here it was. Welcome to Russia, Part 49, I figured.
I took a deep breath and hopped in the shower anyway. Everything was normal. Soon after, I left for a series of bus rides that would take me from my media hotel in Sochi's coastal cluster up to the Rosa Khutor alpine center. A similar trip with three transfers a day earlier had taken me two hours.
But Thursday, the world had conspired against me. Each time my bus arrived at a transfer stop, the next bus was missing and no one could explain where it was or when it might arrive. After a while, pointing to your watch and shaking your head only goes so far. In the end, my trip ended up taking 3½ hours. It wasn't so much the wait that challenged my insanity -- it was not having answers.
Now, I know what you're thinking. Shut up, journalism man. No one wants to hear you whine about your difficult day getting to and from venues at the Olympics. I get it. But this isn't just a media issue. It's affecting athletes, too. Later in the day, while waiting for the bus to leave the alpine center, U.S. skier Stacey Cook was wandering in the parking lot with her downhill skis in tow, searching for help.
"Does anyone here speak English?" she asked.
Cook was searching for a bus to take her back to her hotel.
"I just want to get some lunch," she said.
After being told we were waiting for the media bus, which went far lower in the valley than Cook needed to travel, she returned inside the venue to seek help elsewhere.
A day earlier, U.S. skeleton athlete Katie Uhlaender confessed she had faced her own communication-transportation challenges. To remedy the issue, she asked a bilingual Sochi volunteer to record a series of critical phrases into her phone that she could play on demand. Each time she needed to ask something, those phrases were at her disposal with the push of a button.
I didn't think about it much at the time, but on Thursday I learned my lesson. I've begun my own search for a friendly, bilingual Russian to help record a few phrases into my phone. Up first: "No, thank you. I'm not thirsty."