Olympics:

Lance Armstrong
March, 16, 2013
3/16/13
11:26
PM ET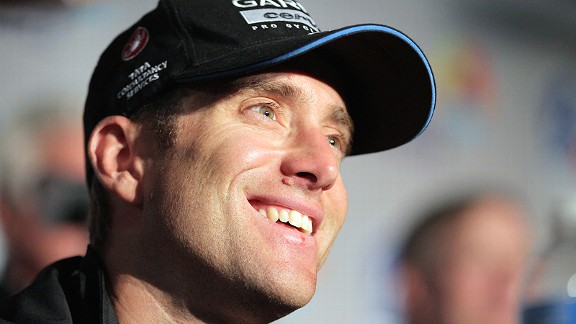 Doug Pensinger/Getty ImagesChristian Vande Velde races this week for the first time since serving a doping suspension that was reduced to six months in exchange for cooperation with the USADA's case against Lance Armstrong.
Veteran Christian Vande Velde is one of three Garmin-Sharp riders who will start this week's Tour of Catalunya in Spain, their first race since serving doping suspensions that were reduced in exchange for cooperation with the U.S. Anti-Doping Agency's case against Lance Armstrong. Vande Velde, 36, of Lemont, Ill., signed with the U.S. Postal Service team before the 1998 season and rode in support of Armstrong at the Tour de France in 1999 and 2001. He subsequently competed for two European-based teams before joining the Garmin organization in 2008, and finished fourth at that year's Tour.
In 2010, Vande Velde was among numerous witnesses interviewed by federal investigators then gathering evidence in a criminal investigation of organized doping on the Postal team. Last year, he and 10 other former Postal riders gave sworn testimony, including their own admissions to performance-enhancing drug use, that collectively formed a crucial and compelling part of USADA's case.
The five riders who were active at the time received six-month suspensions and had some past results nullified. Armstrong's longtime teammate George Hincapie has retired. Levi Leipheimer was fired by his Omega-Pharma-Quick Step team and remains unsigned. Vande Velde, David Zabriskie and Tom Danielson, whose suspensions ended March 1, will compete at Cataluyna this week. It marks the beginning of what Vande Velde says will be his final professional season. His tentative schedule includes the Giro d'Italia, the Tour de France and the USA Pro Cycling Challenge in Colorado, a race he won last year in dramatic fashion in a time trial on the last day.
Vande Velde spent much of his suspension in suburban Chicago with wife Leah and daughters Uma, 5, and Madeline, 4. He also trained by himself (and occasionally with Zabriskie) in Southern California, where he struggled emotionally. "It finally dawned on me that I really enjoy this, and I'm really thankful I have my health and have the opportunity to race at the highest level cycling has to offer,'" he told ESPN.com in a telephone interview Saturday from Girona, Spain.
"I don't want pity from anyone. That's my biggest fear of saying these kinds of things, and that is the farthest thing from the truth. I'm just saying what I was going through. There were plenty of times when I questioned what I was doing at this stage of my career and why I was doing this. I definitely stumbled for a while there."
The following are excerpts from Vande Velde's conversation with ESPN.com.
What have the last six months been like?
[+] Enlarge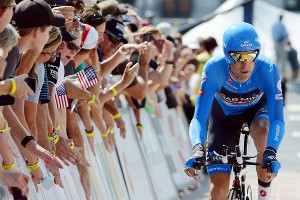 Garrett W. Ellwood/Getty ImagesVande Velde considered retiring after winning last year's USA Pro Cycling Challenge but "didn't want to go away and hide after everything that came out."
It's been hard. I'm not going to lie. And I didn't foresee a lot of the things that would be hard. Like, for example, a training camp in November-December that a lot of times I didn't want to go to. I've been at a training camp at that point in time for the last 20 years of my life. Having that gaping hole there and not being retired, it blindsided me. I know I'm going to race this year, that'll come, and I wasn't freaking out about that. But it was definitely being away from the team, having that communication like I always have, that was hard, much more than I thought it would be.
I put myself out there and did quite a few public speaking [engagements] and it was all met really well. I was happy to do it, too, because there aren't too many questions I get asked now that I can't answer honestly.
[Editor's note: USADA still has pending cases against former Postal director Johan Bruyneel and other staff members that could involve evidence from riders.]
I enjoyed it, and I think most of the people I spoke to enjoyed it too. That was a different side that I didn't foresee being so positive.
I spoke to the Challenged Athletes Foundation [charity ride] three or four days after [USADA's evidence] was announced. That was one that I was pretty scared about, in all honesty. Of course people threw some hard questions out there and I addressed them. I definitely made it so that I wasn't that elephant in the room: "Come up and ask me, I don't want you to be avoiding me.'"
August, 24, 2012
8/24/12
9:38
AM ET
Good! The U.S. Anti-Doping Agency finally got that bad, bad Lance Armstrong. Now, I hope they'll finally go after Babe Ruth for all those beers he drank during Prohibition.
I am no Lance apologist, but I am an avid cyclist and cycling fan, and frankly, I wonder what good can result from USADA's decision Thursday night to strip him of his seven yellow jerseys. Three of those Tour de France victories came a decade or more ago, while the most recent was seven years ago. That's so long ago it would have been considered ancient history even in the pre-Twitter world.
It's not like taking away Lance's victories will correct a past injustice. With the rampant use of performance-enhancers, we cannot automatically say the second-place finisher each year rode clean (yes, Jan Ullrich, I'm talking about you). In fact, combine this latest decision with all the Floyd Landis, Alberto Contador, Ullrich, Bjarne Riis, Operation Puerto scandals/mia culpas, and as far as I can tell, no one actually won the Tour de France from 1996 to 2007. The cyclists rode 20,000 miles and climbed countless mountains to exhaustion for no reason whatsoever. Tour de France announcers Phil Liggett and Paul Sherwen should have spent those 12 Julys at the beach instead.
There are two reasons why cyclists are busted so often for performance-enhancers: One, they obviously use them to excel in a sport that demands they race more than 100 miles a day for three weeks during the biggest stage races. The other reason is that, like track and field, cycling actually tries hard to catch the cheaters by testing them repeatedly. You can even be banned just for not letting people know where you are on a given day (2007 Tour de France leader Michael Rasmussen was dropped by his team for that very reason). Get caught doping and you can be banned anywhere from several years to life.
This is unlike American team sports, especially football, where the players grow ever bigger, faster and stronger despite assurances that they are regularly tested. And even if they are caught, the players miss as little as four games. And fans prefer it that way. They don't want a sport's biggest names regularly banned -- particularly if they have them on their fantasy teams.
That's what concerns me most about the fallout from this latest Lance decision. I don't worry about the sport, but I worry for the fans, specifically the potential fans that will be lost.
Lance's Tour success inspired many Americans, myself included, to get on their bikes and ride. Forget about his considerable work in raising funds for cancer research (I think we still will all treat cancer as a serious issue regardless of what happens to a bicyclist), Lance also turned many of us onto cycling and got us hooked on a healthier lifestyle. Thursday night's news will not stop us from riding or from following races. But what about those potential fans who will be turned away from cycling and never get on a bike to experience the joys and health rewards of the sport (not to mention the gas-saving benefits)?
On the one hand, these intense testing programs are necessary to keep the competitive playing field at least semi-level. On the other hand, the sport eventually winds up eating itself, turning every single one of its athletes into a suspect, making all top performances suspicious and driving away potential fans to other sports.
Don't get me wrong. I'm not saying that we should not test. I applaud baseball for cracking down -- the recent Melky Cabrera and Bartolo Colon bans are proof the sport takes testing seriously -- and appreciate that home run and other batting statistics have returned to the norm.
We must test. But we also must draw a line somewhere. And going after athletes for something they might have done seven to 13 years ago clearly crosses that line. Stripping Lance of his titles does far more harm than good. USADA should have let this one go. The agency exists to police sports, not destroy them.
Rather than investing so much money and effort chasing an athlete from the previous decade, perhaps we should be more focused on catching the current cheats.
February, 25, 2011
2/25/11
5:39
PM ET
It is perilous to turn your back on the cycling beat, even for a week. That was amply illustrated during my recent vacation when the sport's two most polarizing figures tag-teamed to make major news within 24 hours of each other.
As federal investigators continue to probe doping and fraud allegations against Lance Armstrong, the seven-time Tour de France winner retired -- for real, he said. With a doping suspension looming, three-time Tour champion Alberto Contador was cleared to race again -- for now. From afar, the overlapping headlines made it seem as if the two were still competing for room on the road as they did during their operatic season together on Astana in 2009.
[+] Enlarge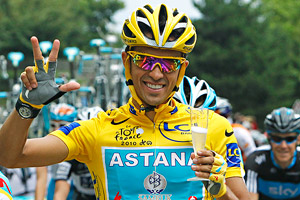 AP Photo/Christophe EnaWADA and/or UCI officials will likely appeal a recent ruling that cleared Alberto Contador of doping.
In terms of impact, however, it was no contest.
Armstrong's muted sign-off fell like a pebble into a deep well. That is partly because it came just one race early -- he initially committed to a farewell Tour of California in May -- and partly because he had become a non-factor from a competitive standpoint.
His two-year comeback fell short of his own expectations and left him on the brink of another season with many more reasons to quit professional cycling than to continue: his knee, his personal life, his foundation, cumulative fatigue, a desire to better control his message while under legal siege or all of the above. His retirement in 2005 prompted sweeping tributes; this time, as most of the coverage noted, an epitaph will have to wait until the investigation plays out.
By contrast, the first ruling in Contador's convoluted case has potentially far-reaching implications for anti-doping enforcement and for sport in general.
Last month, I described Contador's adjudication process in Spain as a farce because the facts were being evaluated by officials from that country's cycling federation -- the very people who would least want a national icon discredited. It turns out that was an understatement.
Under the current World Anti-Doping Agency code, there's no room for discretion on a positive test for clenbuterol, no matter the amount, unless the athlete can prove accidental ingestion. (Even then, a reduced sanction is called for.) Contador's tale of tainted steak and imperfect regulation in the beef industry simply didn't establish that. In the absence of hard evidence of contamination, the notion that the RFEC's competition committee initially "proposed" a one-year suspension rather than the mandatory two years was dubious enough.
It only got worse.
Politicians, up to and including Spain's prime minister, publicly stated Contador should not be sanctioned. Then, the rider's legal team claimed a required letter of notification from international cycling officials never arrived. The latter is an interesting protest given the still-unexplained time gaps in the case that played to Contador's favor. Exhibit A: He had a full month to quietly marshal his defense after being informed of his positive test, as opposed to the average rider who gets ambushed with the news.
I heard the speculation that Contador would be gently lifted off the meat hook, and I didn't buy it. Having covered cycling for a dozen years now, I should know better than to dismiss anything.
Spanish officials scored a great exacta here, rendering a decision that is both completely illogical and totally cynical. The chances of an appeal by either WADA or the UCI, cycling's governing body, or both, are high. Why struggle with potential indignation at home when it's so easy to pass the buck?
The message to prominent Spanish athletes is clear: We've got your back.
Contador's case timeline began with an unusual month-long delay in informing him of his positive test. Now the process is at a point where it's unlikely an appeal can be concluded before the July 2 start of the Tour de France.
WADA and UCI officials understandably won't commit themselves until after they've reviewed the case file, but an appeal is inevitable. It's either that or take clenbuterol off the banned list. There is no real point in prohibiting it if this precedent is allowed to stand. More importantly, Contador's interim victory calls into question the most basic tenet of anti-doping jurisprudence -- that the athlete, rather than the prosecutors, bears the burden of proof.
The agencies have roughly three weeks from now to decide whether to intervene, and the Court of Arbitration for Sport generally hears cases and issues a ruling within three months of an appeal. CAS could agree to either side's request for an expedited hearing, or it could grant either side more time.
It's wearying, at the very least, to think about the possibility of a Contador suspension being handed down during the Tour. Or what if CAS were to rule against him after a successful title defense, imposing a two-year sanction that could nullify two Tour wins in one fell swoop? That would be chaos even by cycling's generous standards of absurdity.
Contador's temporary reprieve made headlines around the world, including Food Safety News. If WADA needs to study the subject of clenbuterol contamination more closely, or entertain the idea of a threshold amount under which there would be no doping sanction, so be it. But until then, Contador should be judged by the existing rules. The only constructive thing about the inexplicable decision out of Spain is his case may finally end up in the hands of people who will do just that.