Olympics:

Maggie Steffens
December, 13, 2012
12/13/12
7:51
PM ET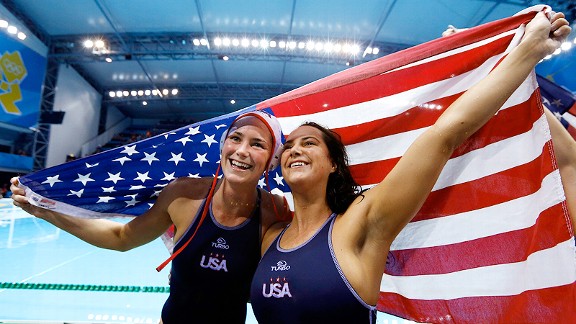 AP Photo/Alastair GrantMaggie Steffens, right, and sister Jessica helped lead the U.S. women's water polo team to its first Olympic gold this past summer.
With every sunrise and sunset, with the change of another season, the moments from the greatest two weeks in Maggie Steffens' young athletic life drift further and further away. Four months after carrying the U.S. women's water polo team to its first gold medal, the 19-year-old is adjusting to life as a college freshman and Olympic champion.
There are days like the one not too long ago, when Steffens shared her gold medal with a mother who immediately wanted to take a picture biting the hardware.
"I was like, 'Uh, no,'" Steffens said. "I brushed it off as no big deal, but inside I was cringing. I mean, really? This isn't some chocolate bar."
And on the day she moved into her Stanford dorm this fall, there were the whispers. She heard them. "There goes the Olympic girl."
"I told them, 'Nope. My name is Maggie,'" she said. "I'm the same Maggie I was before all of this."
[+] Enlarge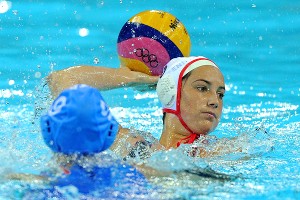 Michael Regan/Getty ImagesMaggie Steffens will play for Stanford's water polo team this year.
She may be the same person, but the way strangers view her is infinitely different. Four years ago in Beijing, the feisty 15-year-old watched from the stands as her older sister, Jessica, and other members of the U.S. team lost in the gold-medal match for the second time in three Olympics. She insisted it wouldn't happen again.
Then in London this past summer, as the youngest member of the U.S. team, Maggie scored an unfathomable 21 goals on 27 shots -- including a 5-for-5 showing in the 8-5 gold-medal victory over Spain -- to win the Olympic crown and make "The Star-Spangled Banner" the song of choice at the tournament's conclusion.
When her world stopped spinning, when Steffens finally returned home to California and had a second to hop in her bed, close her eyes, take a deep breath and try to absorb what had just happened, the memories that most prominently flooded the 19-year-old's head weren't the images everyone would have expected.
Sure, she thought about the goals she scored and the plays she made. Of course she reflected on the moment her gold medal was hung around her neck and the night her and Jessica paraded around the pool deck with the American flag draped behind them. The gut-wrenching semifinal win over Australia is there, too, a night when the Aussies forced overtime with one second left. But the memories that make her smile most are the ones no one knows about.