March, 19, 2011
3/19/11
7:41
PM ET
Warm weather turned the Swiss slopes where the Alpine skiing World Cup was supposed to have been held over the last four days into soup. The best-of-four series that was to have decided the season-long title duel between Germany's Maria Riesch and three-time defending champion Lindsey Vonn was reduced to a best-of-two, and Riesch wound up prevailing by three points.

In the larger scheme of things -- like, say, the events in Japan and Libya -- this is not a tragedy. In a sense, scrubbing both the super-G and giant slalom evened things out, since Vonn is stronger in speed events and Riesch in technical events. And cancellation was obviously the right call if conditions were unsafe.

But this still equates to ending the World Series with one team up three games to two. There are apparently no provisions in the World Cup rules to deal with this kind of situation. And because of that, the sport lost out on what could have been one of its most compelling moments in recent history, especially in what is usually a lower-key season following a Winter Olympics.

Coupled with the maybe-it's-on, maybe-it's-not status of the world figure skating championships that were slated for Tokyo this coming week, fans of international sport would be well within their rights to ask the following fundamental question:

Where's Plan B?

The two events obviously were affected by diametrically different circumstances. The weather in Switzerland was forecast to be unseasonably warm days in advance, but you can't cancel an event based on a guess, however educated.

Still, why couldn't the two women's races -- if not the men's -- have been re-scheduled for the following weekend in the same location or somewhere else in Europe? It's not as if there aren't any other ski resorts in the vicinity and plenty have experience in hosting World Cup events.

The public answer from FIS, the sport's world governing body, was that there are "no reserve days" (in a six-month season?) and that it would be "unfair to reschedule one race and not another," as if the World Cup final were just any race.

Those statements are tantamount to "We just don't do that," and that's not enough. The real answer likely lies in a lack of flexibility with contractual commitments to sponsors and television, and the arrangements to which officials have become accustomed. In other words, it's probably about everything but the athletes, who should be the constituents international federations are most concerned with.

As for figure skating, the complete tone-deafness of the International Skating Union is stupefying. The magnitude of the catastrophe in Japan called for a swift, compassionate response, not a tentative and seemingly political one. At last word, the ISU was awaiting an answer from Japanese organizers before acting on any of the offers that have been made from other countries, including the United States and Russia.

Either the world championships should have been canceled immediately -- some have suggested part of the multi-million dollar budget for the event could have been donated to disaster relief -- or officials should have sent condolences to Japan, promised automatic hosting privileges within a certain time frame and worked around the clock to find an alternative location. And next time, there should be a backup in place that would be on notice for the entire year before.

Skating also is blowing a huge opportunity with its fan base and disregarding the best interests of the athletes by fumbling around with the bizarre idea of holding worlds at the start of next season. Imagine if worlds were to be held in the next few weeks, dedicated to the people of Japan, perhaps even used as a fund-raising platform. Imagine reigning world champions Mao Asada and Daisuke Takahashi defending their titles with grace and dignity before a worldwide audience. It would be riveting, emotional and entertaining, which are the reasons we bother watching sports to begin with.

More to the point, it's time for international federations who handle millions of dollars in commercial enterprise to stop acting like mom-and-pop stores. At any given time, any global sport might have to deal with natural disaster, political unrest or plain old lousy weather. There should be a sensible crisis plan in place for every major event, and a coherent way to communicate it.
March, 16, 2011
3/16/11
1:45
AM ET
Four days, two women, one trophy. If this were a movie script, it might have been sent back for tweaks because it's a little too perfect, especially since Lindsey Vonn and Maria Riesch also happen to be good friends.
The forecast in Lenzerheide, Switzerland, is for warm temperatures and hot competition in the women's Alpine skiing World Cup final. Germany's Riesch and the United States' Vonn go at it in the downhill event Wednesday, the super-G Thursday, the slalom Friday and the giant slalom Saturday for all the marbles. Riesch leads Vonn by a scant 23 points in a series where wins count for 100.
[+] Enlarge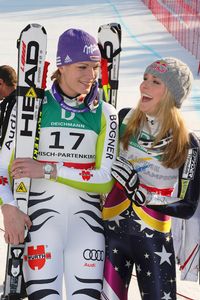 Clive Mason/Getty ImagesMaria Riesch, left, leads Lindsey Vonn by just 23 points heading into this weekend's World Cup events.
What's actually at stake is the big crystal globe awarded to the best overall skier on the circuit. If Vonn wins, it would be her fourth straight and perhaps hardest to achieve. If Riesch hangs on, she would become the first German woman to capture the championship in 13 years and the third in history.
Over the past two weeks, Vonn has clinched season titles in the combined, downhill and super-G events and steadily whittled away at Riesch's lead. Her stock is on the uptick, a trend underscored by the rivals' results last weekend in the technical events. Instead, the woman who has won more World Cup races than any other American skier, male or female, reached the GS podium for the first time in her career, finishing third; meanwhile, Riesch DNFed on the second run of the slalom.
Vonn declared she is where she wants to be after racing from behind all season, and she wouldn't be there without having taken some chances. She embraces both the great performances and the mishaps on her Facebook page and Twitter feed, posting videos of her crashes and, just last week, a photo of a little unwanted facial color.
Her decision to race the downhill at the World Championships shortly after sustaining what was described as a mild concussion has been questioned, and rightly so given our ever-increasing knowledge about the potential consequences of those risks. But no one can doubt the passion Vonn brought to the circuit this season even after checking off the lifetime goal of winning an Olympic gold medal a little more than a year ago in Vancouver.
The men's competition will be somewhat of an afterthought. Croatia's Ivica Kostelic built a Secretariat-like lead to clinch the overall crown last weekend. Giant slalom specialist Ted Ligety of the U.S. will try to keep his grip on a 77-point lead over Norway's Aksel Lund Svindal (Cyprien Richard of France is just another three points shy in third) to win his third season title in the discipline.