February, 5, 2014
Feb 5
11:06
AM ET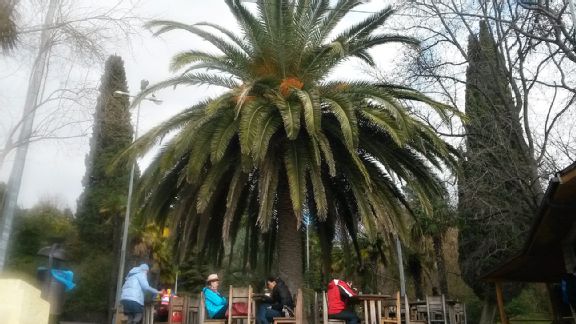 Jim Caple
I dined outside under a palm tree this afternoon, enjoying spoonfuls of jambalaya while taking in the view of the Black Sea and the cruise ships in port. I did not do this in Lillehammer at the 1994 Olympics.
Of course, Sochi's subtropical climate is a tad warmer than Lillehammer and also warmer than Vancouver was four years ago. Temperatures were in the low 50s Wednesday, which was warm enough for several young women to walk around in shorts, such as this woman posing with the Olympic mascots.
Stuffed toy versions of those Olympic mascots, by the way, are available in virtually every store along the Sochi waterfront and throughout its downtown. If you want one, wait until after the Olympics, then place your bid on eBay because the huge supply of these animals is certain to be heavily discounted.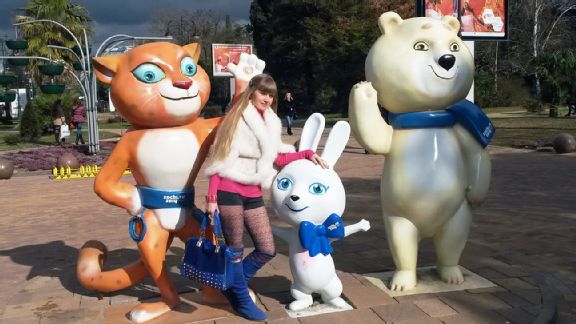 Jim Caple
February, 23, 2011
2/23/11
9:24
PM ET
Mascot mavens, take note: Saturday via a gala television presentation, Russia will unveil the winner of a national vote for the cute and huggy, warm and possibly fuzzy hood ornament for the 2014 Olympic Winter Games and Paralympics to be held in the Black Sea resort of Sochi.
You can read up on the candidates and their backstories here. Meanwhile, as a public service, my snap judgments on each are listed below:
[+] Enlarge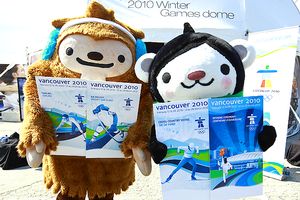 Jeff Vinnick/Getty ImagesCute and huggy, warm and fuzzy ... Quatchi and Miga won over Vancouver during the 2010 Winter Olympics.
Olympics
Brown Bear: Been there, done that with 1980 Moscow Games mascot Misha.
Ded Moroz, aka "Father Frost": For a Santa lookalike, the dude's real name is a real downer. Are his elf assistants Ded Tired and Ded Wrong?
The Fire Boy: Sochi, at sea level with daytime temperatures averaging around 50 degrees in February, does not need another heat source.
The Snow(board) Leopard: Aloof but accessible, with a certain "Tony the Tiger" charisma. Essence of cool. My runaway pick.
The Little Sun: See "Fire Boy."
Polar Bear: Could live with this, especially if the choice drew more attention to the vanishing habitat of a magnificent animal. Backup pick.
The Snow Girl: Looks too high-maintenance.
Zaya the Doe Hare: Gender confusion could lead to calls for DNA testing.
Paralympics
The Bullfinch: Just doesn't say "winter" to me.
The Dolphin: Fun-lovin' marine mammal should be considered for Rio 2016.
Matryoshka Dolls: Best pick based on cultural reference and cute factor.