Olympics:

Michal Neuvirth
September, 12, 2014
9/12/14
1:57
PM ET
The expectation back in June was that the NHL and NHL Players' Association would have some kind of World Cup announcement by the end of summer, but that's going to wait a bit longer.
Both sides have an understanding that they will wait to get more concrete details in order, including being able to commit firmly to a regular interval for the tournament, which hasn't been held since 2004 when Canada beat Finland in the final at Air Canada Centre in Toronto.
In other words, while the NHL and NHLPA could have easily announced by now that the event is returning in September 2016, they want to have much more to give than that.
What we know at this point: The World Cup is scheduled to return in September 2016, primarily anchored in Toronto, but there may also be some games in Montreal. That's still in discussion.
[+] Enlarge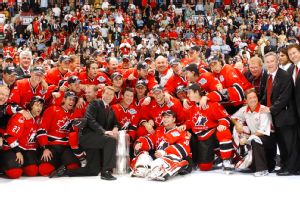 Dave Sandford/Getty ImagesThe World Cup hasn't been held since 2004 when Canada beat Finland in the final at Air Canada Centre.
There likely will be eight countries in the tournament, which is the same as 2004 and 1996. There are six countries fixed: Olympic champion Canada, Russia, the United States, Sweden, Finland and the Czech Republic. The additional two teams and the manner in which they will be selected hasn't been nailed down yet. It might be a pure invitational situation where two countries are handed entries, or there could be a play-in tournament for those last two spots. My vote is for the latter, although without question that comes with more logistical challenges. My guess is the play-in part would be overseas for obvious reasons.
What possibly could also be part of a World Cup announcement -- although it depends on the timing of it over the next few months -- is the return of the Premiere Games. The NHL hopes to have regular-season games back across the pond next season, but no firm details are finalized on that front.
Meanwhile, is an Olympic decision tied directly to a World Cup announcement? Not necessarily, and one source even suggested, "probably not." They don't need to be tied to each other. The NHL and NHLPA can announce World Cup plans for the next few years without having to know exactly what they're doing on the Olympic front.
I think the NHL and NHLPA would like to make a decision as quickly as possible about whether NHL players will continue to play in the Olympics. But part of the issue is that they're not sure where the IOC stands with respect to whether the same types of accommodations would be available to NHL players in South Korea in 2018. The standard was set really high in Sochi last February. NHL players who participated raved about the venues, the logistics, the lodging, well, pretty much everything. (The lone exception would be
the handling by the IOC
of the
Nicklas Backstrom
doping controversy.) No offense to the Vancouver Games in 2010, but it was the best NHL player experience ever.
Now, I'm not sure that even if the IOC guaranteed the exact same high-level setup in South Korea that NHL owners and commissioner Gary Bettman would vote yes. That's to be determined. But the NHLPA would almost surely be a yes if the players were guaranteed the same standard as Sochi.
However, where both the NHL and NHLPA are on the same page right now is that they need to at least find out if the IOC can deliver those goods for South Korea, and right now that answer hasn't been delivered.
There is still much to be determined on the international front; the only thing that's basically assured at this point is that there will be World Cup hockey in two years.
JOHANSEN UPDATE
It's been a long time since there were actual talks between
Ryan Johansen
's camp and the
Columbus Blue Jackets
, but that's expected to change any day.
Jackets GM
Jarmo Kekalainen
and agent Kurt Overhardt each confirmed via text to ESPN.com on Friday that they plan to meet sometime this weekend while both are in Traverse City, Michigan, for the rookie tournament.
It's believed both sides are about $3 million apart per year on a new two-year deal for the restricted free agent.
NEUVIRTH REFRESHED
The most frustrating season of
Michal Neuvirth
's career is behind him, and he's refreshed, re-energized and ready for the challenge in Buffalo this season.
"Super-excited," Neuvirth told ESPN.com this week.
That's about the exact opposite he was feeling last season. Once seen as the future No. 1 goalie in Washington -- appearing in 48 games with the Caps in 2010-11 and 38 games in 2011-12 -- Neuvirth lost the net to
Braden Holtby
. But what was obviously tough to swallow last season is that, while Holtby struggled, Neuvirth felt he didn't get much of a chance to get back in. He appeared in only 13 games with the Caps, and agent
Patrik Stefan
was working with Caps management behind the scenes to try to get Neuvirth dealt. All the while, his lack of playing time is likely what cost him a chance at an Olympic roster spot for his native Czech Republic.
All in all, a season to forget.
"It was frustrating, but you got to take it for what it is, and I think it made me stronger," Neuvirth said. "You got to go through tough times in your career sometimes. I feel it's going to make me better and stronger for the long run. I'm just focused now on the opportunity I have here in Buffalo and [will] play the best I can for the Sabres."
The Caps dealt Neuvirth to the Sabres at the trade deadline, where he'll compete in goal this season with
Jhonas Enroth
, who as the incumbent likely would start the season with just a bit of an edge. But they're both 26, both eager to prove much, and the sense is both will get a fair chance.
"The net is up for grabs," Neuvirth said. "Right now we've got two No. 1s. Jhonas is a great goaltender and I like him as a person, I respect him as a goalie. It's going to be a good competition. We're going to push each other every day to get better, and I think we're going to be a good tandem."
In the meantime, Neuvirth goes to camp next week as ready as he's ever been.
"I've been working hard in the offseason, focusing on my core, on my groin and hips, they feel like never before," he said. "I feel a lot stronger and my goal is to play as many games as I can."
As for the last-place Sabres, there's a sense of renewal all-around after a busy offseason.
"We had some great signings here," Neuvirth said over the phone from Buffalo. "We have good leadership. It's going to be a hardworking team that plays as a group, a team that never gives up on a loose puck. I think that we're going to surprise some people this year."
January, 8, 2014
1/08/14
10:31
AM ET
BURNSIDE:
OK, has everyone in Canada exhaled yet after Tuesday's Olympic roster announcement? What was easy to ignore amid the drama that surrounded the Canadian announcement, at least a little bit, was that the rest of the field for the Sochi Olympics hockey tournament had also unveiled their respective 25-man rosters by the end of the day. No other team -- not even Sweden and Russia, two of the favorites to take home gold -- had the kinds of decisions Canada and the United States faced in making their roster decisions vis-à-vis excluding elite NHL players. That doesn't mean there weren't some curious decisions made along the way for the other hockey nations.
For instance, I remain more than a little perplexed at the Czech national team's opting to leave top NHL point producers
Jiri Hudler
,
Radim Vrbata
and
Tomas Fleischmann
off the roster. Hudler is tied with
Jaromir Jagr
with the second-most points among Czech NHLers, and Vrbata is fourth. Instead, the Czechs will ice a lineup that includes 42-year-old
Petr Nedved
. Seriously. I thought I saw him at one of the alumni games in Detroit during the lead-up to the Winter Classic.
Another interesting decision saw the Czechs leave
Michal Neuvirth
off the roster, leaving them with just one NHL netminder in
Ondrej Pavelec
, whose work can most charitably be described as up-and-down for the middle-of-the-road Jets. If there is a certain oddness to the Czech roster, let's not forget that it managed to snag a bronze medal the last time the Olympics were held outside North America, in 2006 in Torino, Italy. Nedved won't be the only graybeard plying his trade in Sochi, of course;
Teemu Selanne
is back for a record sixth Olympics, while Jagr is back for his fifth. Pretty cool, although you have to wonder about the effectiveness of 40-something players on the big ice in Sochi. Or do you?
LEBRUN:
Well, in terms of having a legend such as Selanne in the Finnish dressing room, that speaks for itself; it's all about his presence for the younger players in that room, where he is a godlike figure. I have no problem with that. Another Finnish legend,
Saku Koivu
, took himself out of the running for the team, feeling that he was still trying to find his game after missing so much time with a concussion. I respect that about Koivu because you know how much it would have meant to lace them up one last time for Suomi.
Where I disagree with you is that opting for a non-NHLer over an NHLer is necessarily a bad call. That's just North American bias, my friend. So the Czechs took two KHL netminders over Neuvirth. So what? Neuvirth has hardly played this season. In fact,
Alexander Salak
has a .935 save percentage for SKA St. Petersburg with a 15-8 record this season. There are some very good players in the KHL, which is why so many are spread on different Olympic rosters. I have no issue with that.
I also think what you're seeing is the odd player selected out of respect for playing in a domestic league, a nod to players returning home to play. Case in point,
Tomas Kaberle
on the Czech Olympic roster. Again, got no issue with that.
The only issue I have with the Czech roster is, like you, I cannot believe Vrbata and Hudler were left off. The word on the street is that both players don't get along well with Czech head coach Alois Hadamczik, and that might have played a part in his roster decisions. If that's the case, shame on the coach. If Steve Yzerman can make the ultra-difficult personal decision to leave
Martin St. Louis
off his roster, the Czech coach should put his country ahead of his personal feelings as well. It's absolutely ridiculous that Vrbata and Hudler aren't on the team.
BURNSIDE:
Whoa, whoa, there, partner. Didn't say that not taking NHL players over players from other leagues was a mistake. Merely noted that leaving off Neuvirth, who has significant NHL experience, including a couple of turns through the playoffs, was noteworthy, especially given that Pavelec has been inconsistent. So calm down, my friend.
One of the great things about the Olympic tournament is not just the guys who get snubbed -- although that's always the immediate focus -- but also the decisions of various hockey bodies in forming their teams. No other nation reflects this split between relying exclusively on NHL talent and opening the door to players who are playing at a high level at home than Russia. You knew the Kontinental Hockey League would be well-represented on the Russian team in Sochi, and to our earlier discussion of older players, the fact that a guy such as
Sergei Gonchar
wasn't named isn't all that surprising, but it does make it harder to handicap the Russian squad, especially given that young Edmonton defender
Anton Belov
was named along with KHLers Evgeny Medvedev and Ilya Nikulin. Up front, there are seven KHLers, including familiar names
Ilya Kovalchuk
and
Alexander Radulov
. (Wonder if the Russians will impose a curfew in Sochi?)
LEBRUN:
I'm sure the Russian team will remind Radulov he's in Sochi, not Scottsdale, so the curfew won't be needed. As for the Russian roster, which doesn't include that many surprises, I did raise an eyebrow at the inclusion of
Dallas Stars
rookie winger
Valeri Nichushkin
. Not because I don't think he's going to be a great player -- he sure is -- but because he's a teenager, it just seems like such a huge stage with the added pressure of being the host team. I mean, as much as Canada had incredible pressure to win on home soil in 2010, I think it's even more magnified in Russia with the political intrigue of the KHL influence on the roster (10 KHL players). Just seems like a powder keg waiting to happen, and I just wonder how an 18-year-old can handle that environment.
I totally agree with you that Gonchar should have been named to the Russian team, if for no other reason than the pressure noted above. He is a veteran who could have helped ease the tension that's invariably going to find that dressing room, just as it did midway through the 2010 tournament for host Canada.
BURNSIDE:
So, now that you've seen all the rosters, does your impression of how things might shake down in Sochi change at all? I know folks were surprised that defenseman
Victor Hedman
wasn't named to Team Sweden, but that's a stocked team assuming the vintage
Henrik Lundqvist
shows up for work. I have to say the team that continues to make me wonder is Switzerland. We know that it's had success on a relative scale in these tournaments, knocking off Canada in Torino 2-0 in 2006 and pushing Canada to a shootout in Vancouver. Its defense includes NHLers
Raphael Diaz
,
Mark Streit
and
Roman Josi
, and one of the NHL's hottest netminders in
Jonas Hiller
. Is it time to move the Swiss into what would be the Group of 8 with Canada, Russia, Sweden, Czech Republic, Slovakia, the United States and Finland as a team that shouldn't surprise anyone if it comes home with a medal? In some ways, given the uncertain health of
Marian Gaborik
and
Lubomir Visnovsky
, I might even slot the Swiss ahead of the Slovaks heading into what should be a terrific tournament.
LEBRUN:
Not only did the Swedes not pick Hedman, but they also passed on
Jonas Brodin
from the Wild, which surprised me. It speaks to their depth of choices as well. You're talking about an Olympic blue line consisting of
Alexander Edler
,
Oliver Ekman-Larsson
,
Jonathan Ericsson
,
Niklas Hjalmarsson
,
Erik Karlsson
,
Niklas Kronwall
,
Johnny Oduya
and
Henrik Tallinder
. Um, yeah, there's a little talent here.
As you know, I picked Sweden to win gold in Sochi in part because of the tournament is played overseas, and that always makes me nervous about the two North American teams. The wild card right now for Sweden, the Olympic champs the last time the tournament was played overseas, in 2006, has to be Lundqvist. Let's be blunt:
Jhonas Enroth
and
Jonas Gustavsson
are not real options if we're talking gold-medal run. The King in New York needs to have his A-game straightened out for the Swedes to contend.
Man, we could go on forever. What a tournament it's going to be. Can't wait to be there with you covering it, my friend.