August, 4, 2012
8/04/12
7:05
PM ET
ESPN's T.J. Quinn and Julie Foudy break down Saturday at the Olympics -- Michael Phelps' finale, how Americans sprinters fared in the women's 100 meters and Serena's big win at Wimbledon: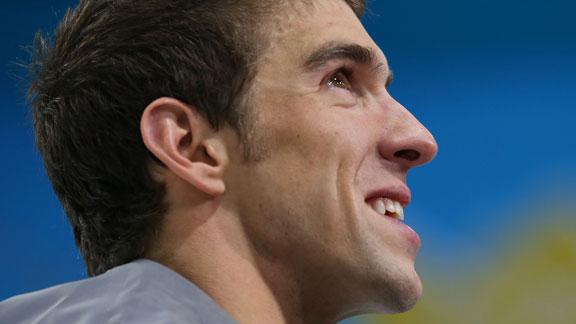 August, 3, 2012
8/03/12
4:01
PM ET
LONDON -- A quick look at the top stories from the London Aquatics Centre on Friday night:
Magnificent Missy
On Thursday, Missy Franklin laughed off the suggestion that her body was starting to tire at the end of her grueling seven-event schedule, the most ever for a female swimmer. "I'm only 17," Franklin said. "There's no such thing as fatigue."
On Friday night, she backed up those words, winning her third gold of the London Games and setting a new world record in the 200-meter backstroke, her best event. Franklin won in 2:04:06, bettering Kirsty Coventry's 2009 world record by three-quarters of a second.
With the win, Franklin became the first American to win the event since Melissa Belote in 1972. That year, Belote also won the 100 and 200 back, just as Franklin did here. Fellow American Elizabeth Beisel won the bronze (2:06.53).
Franklin has now won four medals in London, three of them gold, and is expected to swim the backstroke leg of the 4x100 medley relay Saturday, the final night of competition in the pool.
"It feels amazing," she said. "It's my favorite one. I'm the happiest girl alive."
Michael on a mission
With 50 meters to go in the 100 butterfly Friday night, Michael Phelps was in seventh place, more than a second behind longtime rival Milorad Cavic. It didn't matter. In the last individual event of his decorated career, Phelps catapulted down the water like a man on a gold-medal mission, turning in the fastest 50-meter split and catching Cavic to win gold.
It was Phelps' third gold of these Olympics and 17th of his career. It also extended his Olympics medal record to 21 with one more event left on his schedule, the 4x100 medley relay Saturday night.
After the race, Phelps refused to complain about his first 50 or criticize what he said was a poor turn. Instead, he focused on the positive.
"I'm just happy the last individual event was gold," he said. "That's all I really wanted at the end of the night."
Teenage star
The U.S. found its latest distance star Friday night when 15-year-old Katie Ledecky won the 800 freestyle in a near world-record time of 8:14.63. Ledecky, the youngest member of the U.S. Olympic team, managed to shave more than five seconds off her U.S. Olympic trials-winning time (8:19.78) and broke Janet Evans' 22-year-old American record (8:16.22).
"I figured I was going pretty fast, and at one point I thought, '[Even] if I am going to be close to this record, I don't even care. I just want to get my hand on the wall first,'" Ledecky said.
She also became the first American woman to win the 800 since Brooke Bennett in 2000.
August, 2, 2012
8/02/12
4:50
PM ET
LONDON -- A quick look at the action from the London Aquatics Centre on Thursday night:
End of the road
Michael Phelps and Ryan Lochte faced off in the 200-meter individual medley in what is almost certainly the last head-to-head meeting in a rivalry that captivated the world. In a thrilling race that lived up to its billing, Phelps won in 1:54.27, 0.63 seconds faster than Lochte, to earn his 16th Olympic gold medal (and 20th overall) and became the first swimmer to win the same individual event in three straight Summer Games.
The pesky breaststroke leg was the key for Phelps, but he out-split Lochte at every turn.
Both men did a double Thursday night. Lochte took bronze in the 200 backstroke and Phelps qualified first in the 100 butterfly semis just a few minutes after the 200 IM medals ceremony. There will almost certainly be a conversation about whether Lochte took on too many events in London, but that shouldn't diminish Phelps' accomplishment.
Phelps admitted to losing considerable motivation after his eight-gold-medal bonanza in Beijing four years ago, and who knows if he would have found that incentive had it not been for Lochte's emergence and superior performances over much of the past couple of seasons. The question now is whether anyone will be able to push Lochte the way Phelps did.
Breakthrough win
Tyler Clary, so long third fiddle to Lochte and Phelps, bested Lochte in the last 50 meters to win the 200 backstroke in an Olympic-record time of 1:53.41, while Lochte faded to third. Clary pointed to the sky after he touched the wall, a tribute to his late club coach in Fullerton, Calif., Kevin Perry.
Rebecca's Soni day
After setting a world record in Wednesday's 200 breaststroke semifinal, two-time defending Olympic champion Rebecca Soni bettered it by 0.41 seconds to become the first woman to repeat in the event.
Best of the rest
For Jessica Hardy, it was almost enough just to be there. Hardy, who was denied the chance to compete four years ago after a tainted supplement led to a positive doping test, didn't even expect to qualify in the 100 freestyle at the U.S. trials (she began her career as a breaststroker), yet she still made the final here and finished eighth. Missy Franklin, meanwhile, came in fifth in an event that is not her strongest. The two U.S. men in the 50 freestyle, Cullen Jones and Anthony Ervin, qualified for Friday night's finals in first and third position, respectively.
August, 1, 2012
8/01/12
4:42
PM ET
LONDON -- A quick look at the top stories from London Aquatics Centre on Wednesday night:
Marquee man
For the first time since Matt Biondi in 1988, an American man won one of the marquee events of the Olympic swimming program, the 100-meter freestyle. In a dramatic, come-from-behind victory, Nathan Adrian out-touched James Magnusson by one one-hundredth of a second to win gold.
At the 50-meter mark, Adrian was in third place by .04 seconds behind world-record holder Cesar Cielo of Brazil and Brent Hayden of Canada. But on the back half it became a race between Adrian and Magnusson, with Adrian reaching and touching the wall first. Adrian finished in 47.52 and Magnusson in 47.53.
After touching the wall, Adrian turned to look at the scoreboard, saw the "1" next to his name and unleashed an enormous smile. He then held his head in his hands as he began to cry.
Phelps versus Lochte, Part II
Michael Phelps and Ryan Lochte have said that when they're in the pool at the same time, neither one wants to lose. So even though Wednesday night's 200 individual medley was merely a semifinal, an appetizer for Thursday night's main event, it still meant something. A lot, in fact.
It was further proof that if Phelps wants to beat Lochte, he'll need to figure out a way to get out in front of his rival during the butterfly and backstroke legs. On Wednesday, Phelps held a .06-second advantage midway through the race before Lochte overtook Phelps on the breaststroke and then pulled away on the freestyle, winning by more than a second. Lochte's final time of 1:56.13 was the fastest in the semifinals. Phelps' 1:57.11 was third. Laszlo Cseh of Hungary was second (1:56.74) and has a chance to spoil the Phelps-Lochte party.
Phelps will have one advantage Thursday: He will be fully rested, while Lochte will be coming off an earlier final in the 200 backstroke.
The new leading ladies
Missy Franklin said Wednesday morning that one of the highlights of her Olympics has been receiving congratulatory tweets from two of her favorite singers, Justin Bieber and Scotty McCreery.
After her performance Wednesday night, she may be in line for more Twitter love. Franklin entered the 100 freestyle semis with the seventh-fastest preliminary time but sped through Lane 7 during the semis in 54.26, the third-fastest semifinal time of the night.
A little less than two hours later, she led off the Americans' winning 4x200 freestyle relay, giving Franklin, Allison Schmitt and Dana Vollmer their second gold medal of these Games. Shannon Vreeland won her first gold as part of the relay.
But it was Schmitt who stole the show, turning a half-second deficit into a 1.49-second, Olympic-record victory (7:44.41). With Schmitt being just 20 years old and Franklin 17, the future of the U.S. women's swim team appears bright.
July, 31, 2012
7/31/12
4:59
PM ET
LONDON -- A quick look at the top stories from the London Aquatics Centre on Tuesday night:
An unlikely path to history
Although Michael Phelps had never come right out and said it, most believed he came back to London with his eye on becoming the most decorated Olympian of all time. He needed two medals to tie and three to pass Russian gymnast Larisa Latynina, who won 18 medals from 1956 to 1964. On Tuesday night, Phelps passed Latynina, but did so in surprising fashion.
Phelps hadn't lost in his signature event, the 200-meter butterfly, at a major individual competition since 2000. But in Tuesday's final, he was out-touched at the wall after leading the entire race, losing to South Africa's Chad le Clos by .05 seconds. Le Clos, who swam the event in 1:52.96, described his victory as "the greatest moment of my life." Phelps entered the race with the top eight times in the 200 fly, as well as the top time this year. Le Clos' previous personal best was 1:54.34. While a sour-faced Phelps stood to receive his silver medal, le Clos was overcome with emotion.
Phelps' smile would return later in the night, though, as he, Ryan Lochte, Conor Dwyer and Ricky Berens helped the U.S. win gold in the 4x200 free relay, beating France by more than three seconds. Phelps swam the anchor leg and was all smiles after the race when it was announced to the crowd that he set the mark for the most medals ever by an Olympian.
Golden girl
Lost in the wake of Missy Franklin's rise to stardom this year has been the emergence of another young American swimmer, Allison Schmitt. Schmitt took a year off at the University of Georgia to train at the North Baltimore Athletic Club with Phelps' coach, Bob Bowman, and she saw the ultimate results of that choice, winning Olympic gold Tuesday for the first time in the 200 freestyle.
"I couldn't be happier," Schmitt said. "I couldn't see anything other than the racer next to me, so I didn't know where I was or what the time was."
Schmitt was in fourth place after the first 50, but took control from there, blowing away a field that included world-record holder Federica Pellegrini, as well as Franklin, and cruising to the wall nearly two seconds faster than France's Camille Muffat, who finished second. Schmitt's time (1:53.61) was an Olympic record, nearly a second faster than her previous best and the second-fastest time in the event.
Silencing her critics ... or adding to them?
China's Ye Shiwen must have the thickest skin of any 16-year-old girl in the world. With a swirl of controversy surrounding her stunning success here this week, she won her second gold of the week, using yet another blistering split in her freestyle leg to win the 200-meter individual medley in an Olympic record 2:07.57.
Shiwen turned at 150 meters in third place, more than a second behind American Caitlin Leverenz, but then looked like she was shot out of a rocket on her last 50, beating Australia's Alicia Coutts by more than a half second to win.
Earlier Tuesday, her father criticized the Western media for suggesting Shiwen's success might be chemically enhanced. He told Chinese media outlet Tencent: "The Western media has always been arrogant and suspicious of Chinese people."
China's anti-doping chief also chimed in, insisting it isn't right for people to single out Chinese swimmers who produce good results. "We never questioned Michael Phelps when he bagged eight gold medals in Beijing," he told state news agency Xinhua.
July, 30, 2012
7/30/12
8:20
AM ET
LONDON -- For the first time since his pointed comments critiquing Michael Phelps' work ethic, Tyler Clary dove into the competition pool at the Aquatics Centre Monday morning and did everything he could to steer the conversation from controversy to swimming.
Swimming in the preliminary heats of the 200-meter butterfly, with Phelps in the next lane, Clary turned in the second-fastest time of the morning (1:54.96). Phelps finished third and is seeded fifth entering tonight's semifinals with a time of 1:55.53.
"I said to myself coming into the third wall I was amazed with how well I felt and wanted to see what I could bring home and it was faster than trials," Clary said. "Super, super excited for tonight."
Phelps seemed pleased with his time, as well. On the morning after he turned in the second-fastest split of all 32 swimmers in Sunday night's 4x100 freestyle relay, he was trying to conserve energy.
[+] Enlarge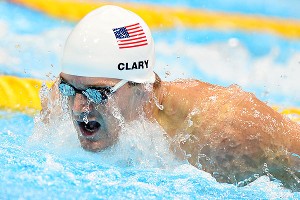 Martin Bureau/AFP/Getty ImagesTonight, Tyler Clary will swim in a separate 200 butterfly semifinal heat from Michael Phelps.
"I'm pretty happy with that time," he said. "That's all I needed to do."
The swim was Clary's first since he criticized Phelps' work ethic and referred to himself as more of a "blue-collar worker." The day after the article appeared in The (Riverside, Calif.) Press-Enterprise, Clary went to Phelps and apologized, insisting what was printed was not what he meant. The next day, Clary apologized to his other U.S. teammates for causing a distraction.
Finally, on Monday, there appeared to be something else to talk about.
"People are going to say whatever the heck they want," Clary said. "Just leave it be. It doesn't bother me."
On Monday night, Clary and Phelps will swim in separate semifinal heats. Austria's Dinko Jukic swam the fastest time of the morning in the event (1:54.79); but Clary cautioned not to make too much of anyone's preliminary times.
"It's only prelims," he said. "It doesn't matter. Everybody has their own way of doing prelims. Some people show all their cards, some people don't. It just matters what happens in the finals, right?"
Other top Americans from the morning included Allison Schmitt (1:57.33) and Missy Franklin (1:57.62), who swam the second- and third-fastest times in the preliminary heats of the women's 200 freestyle. World-record holder Federica Pellegrini set the pace (1:57.16).
For Franklin, it was the first swim of a full day. Monday night, she will swim in the 200 free semis and 100 backstroke final, with 21 minutes scheduled between races. She is seeded second in the final of the 100 back, behind Australia's Emily Seebohm, who swam 0.27 seconds faster than Franklin in the semifinals.
"It's going to be fun," the 17-year-old Franklin said. "I need to keep my energy up as much as possible and do the best I can do and just be proud of myself. It's going to be tough for sure."
July, 26, 2012
7/26/12
2:17
PM ET
LONDON -- Missy Franklin was on Twitter at the time, thumbing through her news feed and trying to stay connected with the people and things she cares about most when she came across an update that sent her world into a tailspin.

Some 15 minutes from where she lives, in the same Colorado town where she attends St. Regis Jesuit High School, there had been a shooting at a premiere of "The Dark Knight Rises." Several were dead. Many more were injured. Franklin was certain one of her closest friends had gone to see the film. He had been eagerly talking about it for weeks.

These were supposed to be the greatest days in her 17-year-old life. She had just stolen the show at the U.S. Olympic trials and was now training with her U.S. teammates in France in preparation for her first Olympics and likely her official worldwide coming-out party. But now she was worried that some of her closest friends back home might be injured. Or worse, dead.

"I was absolutely horrified," Franklin said. "It was horrible. So senseless."

Though it was 3 a.m. in Colorado, she texted her mom, DA, who was already awake. Back and forth they went. How are you? What happened? Have you heard from anyone?

And all she could do was wait. The six-hour time difference made it even harder. DA Franklin texted U.S. women's coach Teri McKeever, asking McKeever to check in on Missy and help support her. Missy's club coach, Todd Schmitz, who lives in Aurora, Colo., was there, as well.

McKeever had not yet heard about the tragedy. But upon realizing what DA was talking about, she immediately went to Missy's room.

"I wanted to see for my own eyes that she was OK," McKeever said. "I knocked on the door with sort of a, 'How are you doing?' and talked about how when you grow up you see more and more hard things," McKeever said. "And that's kind of what sucks sometimes about growing up. And then I told her if she needed something I was right there.

"She was upset. But it wasn't unusual. It was like all of us that day. What happened was crazy. I wanted to make sure that she had her space to deal with it."

As the day progressed, word trickled in that neither Franklin nor Schmitz's friends were among the 12 who suspect James Holmes shot and killed or the 58 more he injured. Franklin's close friend had in fact gone to a midnight showing of the movie. But he had done so somewhere else.

And as much as that was a relief, Franklin's emotions then shifted to sorrow for those had not received such positive news.

And so Sunday morning in the preliminary heats of the 100-meter backstroke, when she dips into the water for the first time, Franklin will swim with her home state at least partly on her mind. Not only has Colorado weathered the horrific shooting, but also the 29-square mile wildfire that was the worst in the state's history.

"Right now, what I can do here is swim my heart out and hopefully make my state proud and give a little bit of fun for the tough summer Colorado has had," Franklin said.


June, 26, 2012
6/26/12
2:12
PM ET
OMAHA, Neb. -- After spending the first day of trials as a screaming, yelling teenage spectator, 17-year-old swimming sensation Missy Franklin finally found herself in the water this morning and did not fail to impress.
Franklin swam the fastest time of the morning in the preliminary heats of the women's 100-meter backstroke, posting the fifth-fastest time in the world this year (59.54). She will be the top seed in tonight's semifinal. The final for the event is Wednesday night.
"It felt so good to get that first race out of the way," Franklin said. "I'm super, super happy with my time. I didn't think I'd go out that fast. It felt amazing."
Franklin couldn't stop smiling after her swim. She entered the event seeded second behind her idol, Natalie Coughlin, with a time of 59.18. She said she was inspired by looking up at the Century Link Center scoreboard while she was swimming. The bottom of the scoreboard features the American flag, the Olympic rings and the words, "United States Olympic Team."
"Talk about motivation," she said. "That definitely helped get my tempo up the last 25."
April, 18, 2012
4/18/12
1:30
PM ET
A look at some of the "100 days out" festivities from today in New York and London:
Former U.S. Olympic greats Carl Lewis, Shannon Miller and Greg Louganis meet up with London hopeful Allyson Felix (second from right) in Times Square. Felix is attempting to pull off the 200-400 double this summer.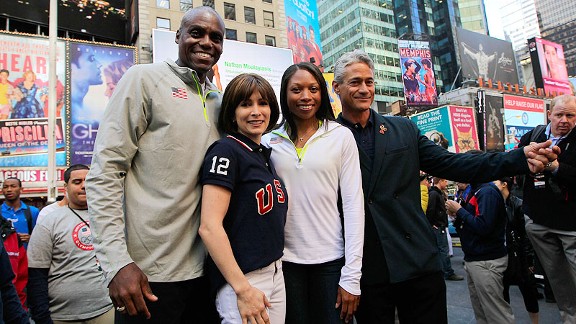 Chris Trotman/USOC/Getty Images
Fairly quiet in London? A handful of official countdown clocks, like this one in Trafalgar Square, reminded the locals of what's to come in July.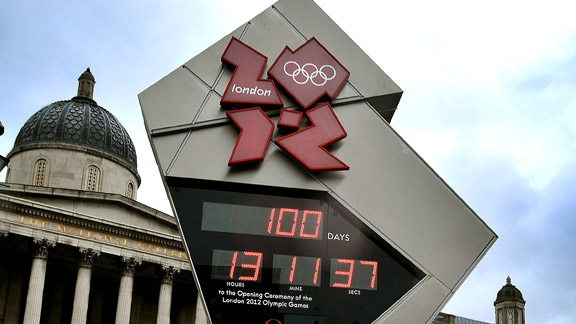 Press Association/AP Images
Ralph Lauren is charged with designing the looks for U.S. Olympians this summer. We got a sneak peek at the closing ceremony outfits Monday. Rebecca Soni, Aly Raisman, Tony Azevedo, Bryan Clay, Diana Lopez and Steven Lopez modeled them for "Today."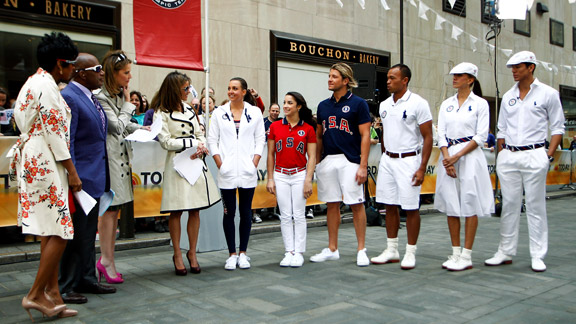 Jeff Zelevansky/Getty Images for USOC
Performance artist David Garibaldi worked his magic in Times Square. (Check out his work here.)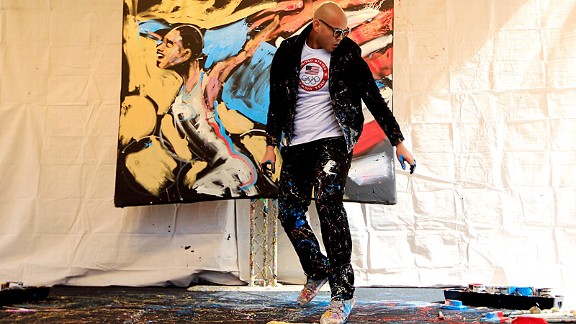 Chris Trotman/Getty Images
Missy Franklin, whom some have called "the female Michael Phelps," checked in with "Today" show host Matt Lauer in New York.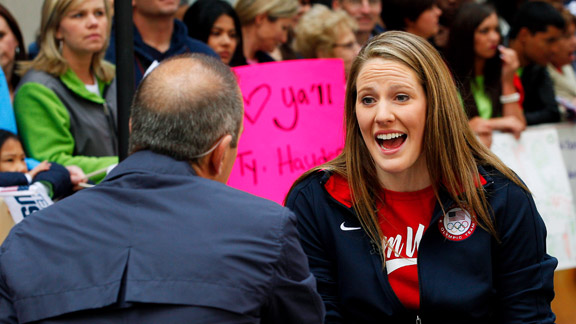 Jeff Zelevansky/Getty Images for USOCMissy Franklin checked in with "Today" show host Matt Lauer in New York on Wednesday.