July, 2, 2012
7/02/12
12:11
AM ET
SAN JOSE -- Nastia Liukin wrote a bittersweet ending to her decorated career Sunday night, walking off the floor with tears in her eyes after receiving a pair of standing ovations from the crowd at HP Pavilion.
It was far from a storybook ending for the 2008 Olympic all-around champion, but one of extraordinary grace and meaning. Liukin, competing only in bars and beam, struggled badly in her uneven bars routine; her legs folded on a handstand and then, in the evening's most startling moment, missed the bar on a release and fell face-down flat on the mat.
[+] Enlarge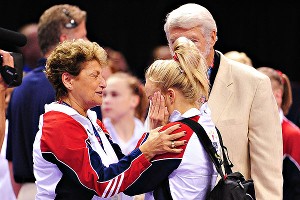 Kyle Terada/US PresswireNastia Liukin announced her comeback last October, hoping to become the first reigning Olympic champion to return to the Games since Nadia Comaneci in 1980.
The crowd cheered her on as she gathered herself and finished the routine, standing to applaud in appreciation when she finished.
"It's not really something where I thought I should stop or not finish my routine," Liukin said. "I was ready to finish and that's how I've been taught [from] such a young age. I've learned from my dad and my mom to be a fighter."
Liukin closed her competitive career with a clean beam routine and strong dismount, and then her eyes welled as the sold-out crowd rose to its feet once again to acknowledge the end of her competitive career. She waved and wiped her eyes.
This experience wasn't quite the throwback that sponsors, fans and U.S. Olympic officials had likely hoped for, but Liukin said she has no regrets.
"I don't consider this a failure for me," Liukin said, wiping away tears. "There can be different highs in your career and I feel like I've lived through amazing highs now. Winning the all-around gold four years ago and having two standing ovations for my performances tonight was something I'll remember for the rest of my life."
Liukin's mistakes from Friday night, including a fall on the bars, took her out of contention for the 2012 team. The 22-year-old champion mounted a comeback less than nine months ago, but battled a shoulder injury and admitted Friday that a lack of stamina contributed to her mistakes.
Liukin will go to London as the athlete representative for the Federation of International Gymnasts (FIG) and plans to attend NYU in January. "This was another stepping stone toward the rest of my life and I'm ready to take it," Liukin said.
June, 28, 2012
6/28/12
12:01
AM ET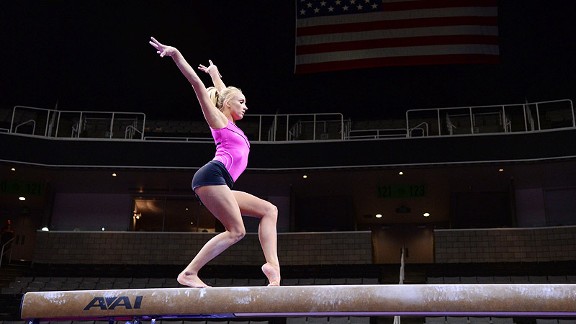 Kyle Terada/US Presswire
SAN JOSE, Calif. -- Nastia Liukin isn't used to being the underdog. Before the 2008 Beijing Games, she had already won four national all-around titles -- two at the junior level and two at the senior -- and nine world medals. She believed the 2008 Olympics were her destiny. Even when she struggled with injury in the lead-up to the Games, she was always considered to be a lock for the team.
This year, she's far from it.
Liukin, the 2008 Olympic all-around champion, is competing on only her best two events -- bars and beam -- at the Olympic trials this week. Over the two-day competition, she'll need to hit those four routines out of the park to have a chance at a trip to London.
By her own estimation, only one of those four was up to par three weeks ago at U.S. nationals, but she said those mistakes were all in her head.
"Everything I messed up on there was such a fluke mistake and my nerves coming out," Liukin said Wednesday after a training session at trials. "Somebody had told me that I hadn't competed bars since Beijing and I think that got into my mind a little bit."
She said she has been hitting "every routine, every day" and, in fact, looked much improved in Wednesday's practice, when she completed her full bar set and multiple beam routines, error-free. Even national team coordinator Martha Karolyi, the head of the selection committee, noticed the difference.
"She looks much more confident. She looks promising to me," she noted. Karolyi wouldn't speculate on Liukin's chances to make the team, but said she thought there were plenty of other good bar workers in contention for a spot, a none-too-optimistic comment on the odds of seeing Liukin in London.
For Liukin, though, just getting to San Jose has been an achievement. She didn't announce a comeback until late last year and has been sidelined at times by a shoulder injury that still has her popping Advil and working through pain. During the past eight months, she has called Karolyi several times, and said Karolyi urged her each time not to give up. Though more training time might have given her a better shot at the team, she doesn't think her body would have held up if she'd returned to the sport sooner.
Whether or not Liukin earns one of the five Olympic spots Sunday, she'll be OK with the outcome.
"I just want to leave it all out there on the floor, and give the selection committee something to think about," Liukin said. "I'm realistic about my chances ... but yes, of course, I really want to be on it."
May, 14, 2012
5/14/12
2:19
PM ET
DALLAS -- On the topics of the best song to warm up to (Eminem's "Lose Yourself" for 2008 Olympic all-around gold medalist Nastia Liukin; "Boyfriend" by Justin Bieber for 17-year-old Aly Raisman), what college to attend (NYU for Nastia; Stanford or Vanderbilt for 2008 all-around silver medalist Shawn Johnson) or what they're most looking forward to in London, the women vying for a spot on the 2012 U.S. Olympics gymnastics team didn't agree on much. But there was one topic that brought them to a consensus: naming the Olympics team at the end of trials is a good thing.
"It's easier on our bodies to not have the selection camps," said 2011 world champion Jordyn Wieber, who is making her first run at the Olympics. "Doing routines for such a long time can be tough on your body. We'll be able to go to camp and train instead of going to camp to compete. There's a difference. And it will be nice to get it done at trials and know who's on the team."
[+] Enlarge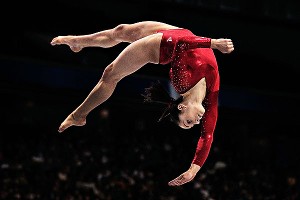 Adam Pretty/Getty ImagesJordyn Wieber and other U.S. gymnasts will find out their Olympics fate on the final day of the U.S. trials on July 1.
Unlike in recent years, the five-woman team -- down from six in 2008 and 2004 -- will be named on the final day of trials, which will be held June 28-July 1 in San Jose, Calif., instead of after a post-trials, two-week selection camp held at the Karolyi ranch outside Houston. In 2008, Johnson and Liukin finished 1-2 at trials, were invited to the selection camp and named to the Olympic team with the disclaimer that they still had to prove their readiness during the camps. Instead of spending the weeks between trials and the Olympics tweaking routines, resting, rehabbing injuries and tapering training, the 12 women invited to the selection camp competed for those six spots.
"The selection process in 2008 was the longest, most stressful process of my life, and I felt like I was run into the ground," Johnson said. "After trials, I was like, 'Ahh, I made the team. Oh wait, no I didn't. I still have to compete.' This way, it will preserve me more and hopefully do the same for the entire team. It's one less meet you have to be on your A-game for. If you look back at 2008, our entire team was at its strongest at trials and then we slowly started to break down. I think they learned from 2008, and this time, I think we will peak at the right time."
At the 2008 Games, Chellsie Memmel broke her ankle during training in Beijing. A few days later, Samantha Peszek injured her ankle minutes before the women's qualifier and was able to compete only on the uneven bars. The team was highly favored for the team all-around but finished second to China. The additional mental and physical stress of those selection camps was often cited as a reason for the team's struggles in Beijing.
"This way is better for us for being in our top shape," said Rebecca Bross, who will be competing 10 months after dislocating her kneecap at the Visa Championships in August. "More importance will be placed on trials. I like going out to competitions better than selection camps. At selection camps, it's only us in the gym, but at a meet, you have the whole crowd there and people cheering you on. It's what we're used to doing."
Although the team will be named earlier, the selection process will still be based on subjective measures. The selection committee will choose the team based on a combination of competitive performance, team needs, medal potential, the composite strength of all team members, individual start values, consistency, attitude and competitive readiness.
"They're not just taking the top five in the all-around," Liukin said. "It really is a puzzle, and hopefully they'll pick the best team to win a gold medal. With my two strongest events, bars and beam, I hope I can play a role to help the team, but besides my gymnastics, I have a few things going for me -- but I can't rely on them. That is no way to make an Olympic team. Living in Dallas, everywhere I go, people are like, 'You won the gold medal. You have to make this team.' But that's not how it works. Your past accomplishments don't matter. All that matters is how you perform today."