Olympics:

New York City Half-Marathon
March, 20, 2011
3/20/11
11:11
PM ET
Galen Rupp wore a black scarf as a face warmer to guard against the 35-degree chill at the start line of the New York City Half-Marathon on Sunday morning. It made him look like a bit of an outlaw. In fact, he entered this race -- twice as long as any distance he had done in his sensational schoolboy, college and professional career on the track -- as somewhat of an outsider, having run on the road only once before.
Rupp looked totally comfortable as he stayed with the lead pack, including defending champion Peter Kamais of Kenya, on the undulating circuit around Central Park. And then, at roughly the 7-mile mark, Kamais tripped and fell and Rupp tumbled over him, landing on his right hip.
It would have been an oh-no moment for anyone, let alone a runner looking to show he belonged, but Rupp shook off the shock, counseled himself to relax and quickly bridged back to the group. There he remained as the runners emerged from the park and made their way down Seventh Avenue, through Times Square, past the theater marquees of 42nd Street and finally onto the West Side Highway at a quickening pace that whittled the leaders to three.
[+] Enlarge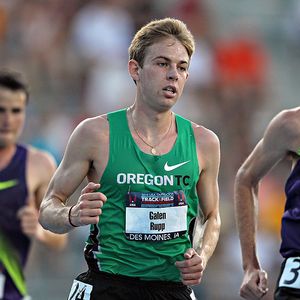 Andy Lyons/Getty ImagesGalen Rupp moved his talents from the track to the road in Sunday's NYC Half-Marathon.
The 24-year old Rupp found himself matching strides with his relatively new training partner, Mo Farah of Great Britain, who was also making his half-marathon debut, and defending New York City marathon champion Gebre Gebremariam of Ethiopia. They pulled away from him inside the last mile, and Farah outkicked Gebremariam for the win in 1:23.00. Rupp finished seven seconds behind.
"It's unbelievable running on the streets here,'' said Rupp, who pronounced his quick tour of Manhattan "a lot more interesting than running laps around the track.'" He was a last-minute starter here after an earthquake in New Zealand scrubbed his plans to run a 10,000-meter event there and has made no decisions about how much road racing lies in his near future.
He admitted to some pre-race jitters.
"This is about as nervous as I get before a race,'' Rupp said. "You never know with a new distance. But Alberto and Kara both told me, 'You're so ready to do this.' To have two great marathoners tell you that carries a lot of weight.'"
Rupp was referring to three-time New York City Marathon champion Alberto Salazar, his coach, and Kara Goucher, the eminent American distance runner who trains in the same Nike-sponsored group in Portland, Ore. Goucher also finished third (1:09:03) on Sunday, and her result may have held even more meaning.
Last week, Goucher said her running had suffered from her own lowered expectations after returning from the birth of her son Colton last September. She ran a 1:14:02 half-marathon in Phoenix to finish second in her first race back last January. At her second event -- the 8-kilometer event at the U.S. Cross-Country Championships in February -- she finished seventh, almost two minutes shy of Shalane Flanagan's winning time. Goucher said that result was the push she needed to "stop babying myself.'"
"I don't want to the best woman who just had a baby, I want to be the best woman, period, so I have to stop giving myself that out and just do it,'" she said.
Goucher, 32, said Salazar hasn't changed the way he treats her, which is good. She paraphrased his general message as, "I'm so glad you have Colton, I'm so glad your life is more well-rounded. Did you hit your 120 miles this week?"
"I do need someone to hold me to those standards,'' she said. "When I line up, no one is gonna be like, 'Did you get enough sleep last night? Did Colton sleep well?' ... I either need to be all in or this isn't going to happen.'"
Had the race been a little longer, Goucher said Sunday, she might have been able to better answer the late surge by Kenyans Caroline Rotich, who won in 1:08:52, and Edna Kiplagat, the 2010 marathon champion here.
"My key word now is 'free,'" said Goucher, who plans to race in the Boston Marathon next month. "Free of limits on myself, free not to do anything but run as hard as I can ... I'm ready to win one."
March, 18, 2011
3/18/11
9:05
PM ET
NEW YORK -- Yuri Kano had planned to run a marathon last weekend in her native Japan, so physically, she's in great shape for Sunday's New York City Half-Marathon. But her well-conditioned cardiovascular system will be humming with something more than pure adrenaline when she takes the start line in Central Park.
[+] Enlarge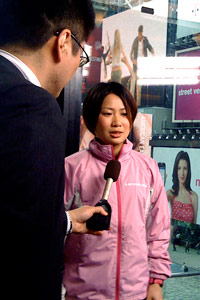 Bonnie D. FordYuri Kano will be the only elite Japanese runner, man or woman, in Sunday's NYC Half-Marathon.
Kano arrived in New York from Tokyo on Thursday night, leaving her stricken country with sadness but also with the hope that she might cheer up people there with a good performance. On Friday afternoon, the diminutive 32-year-old walked into a news conference wearing a pink windbreaker and a shy expression. She has raced in New York many times, but never under these circumstances.
"It broke my heart to see the devastating scenes in northern Japan,'' said Kano, whose family is from Osaka and was not directly affected by the March 11 earthquake and tsunami. She has an apartment in Tokyo that was rattled, and her sleep has been interrupted nightly by aftershocks over the past week.
"It was difficult to concentrate on training, especially when I've seen the news," Kano said. "I'm also thinking about how I can help them. ... We have to endure and do what we can do. I want to be one of the ones who is fighting against this disaster."
Kano is the only elite Japanese runner in either the men's or women's field in Sunday's event. She has finished in the top four at this race three times, improving her time in each outing and logging a time of 1:10.31 in 2008.
More recently, she suffered a bruising fall early in the 2009 New York City Marathon after inadvertently becoming tangled with another runner, but she persevered to finish ninth. Kano had intended to defend her title at the March 13 Nagoya Marathon, but the race was canceled due to the national disaster.
New York Road Runners club president and CEO Mary Wittenberg said organizers expect between 10 and 30 recreational runners from Japan to be among the 10,000 participating in the event.
This is the second time in the past few months the NYRR has embraced a competitor coming out of a calamitous situation. This past fall, Edison Pena, one of 33 Chilean miners trapped underground for 69 days, limped to the finish of the New York City Marathon less than a month after being freed.