Olympics:

Nordic Combined
February, 27, 2015
Feb 27
2:09
PM ET
By
Ryan Garfat
| ESPN.com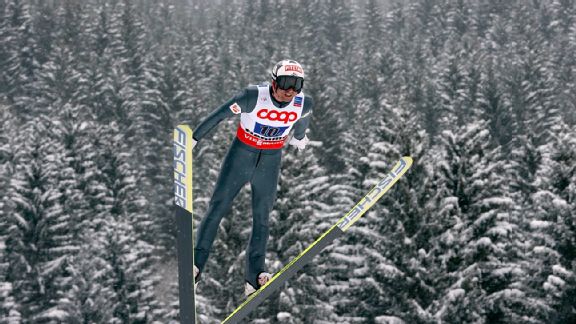 AP Photo/Matthias SchraderAustria's Mario Stecher soars through the air at the Nordic Ski World Championships in Italy in 2013. The 12-time Nordic combined World Cup winner and Olympic gold medalist retired following a 21-year career.
FALUN, Sweden -- Six-time Olympian Mario Stecher of Austria has ended his Nordic combined career, 21 years after winning his first of 12 World Cups.
The 37-year-old Stecher, who has been left out of the Austrian team for the Nordic skiing world championships, says "this is the right time. So far I've enjoyed this sport incredibly but now something is missing."
In 1994 at 16, Stecher won the second World Cup he competed in to launch a career that earned him 10 medals from major championships, including two Olympic team event titles in 2006 and 2010, and two world championship golds in 2011.
Stecher calls winning silver at the 2013 worlds shortly after recovering from knee surgery "one of my greatest moments ... That was my emotional highlight."
December, 17, 2010
12/17/10
6:10
PM ET
Years of perseverance by the core athletes on the U.S. Nordic Combined team paid off at the 2010 Vancouver Games as they ended their podium drought with a spectacular breakthrough -- three individual medals, including Billy Demong's gold, and a silver in the team event. Demong promptly announced he was committed to another four-year Olympic cycle, while his fellow veterans Todd Lodwick and Johnny Spillane elected to take a season-by-season approach.
It's tough to come up with an encore after last winter's performance. The team doesn't want to vanish from the winter sports map after planting its flag so emphatically, and various circumstances have contributed to a slow start on the World Cup circuit, but head coach Dave Jarrett said the plan going into 2010-11 has always been to gear everything toward the odd-year World Championships next February in Oslo.
Demong, 30, married former skeleton racer Katie Koczynski and remodeled his house from the ground up last summer. With Jarrett's blessing, he deliberately backed off his customary training regime in the offseason, although he did don his cyclist's helmet and logged three stage races including the Tour of Utah.
Somewhat predictably, Demong finished way out of the money in the season's first two World Cups in Finland and Norway and is back home in Park City, Utah, contemplating "a whole new set of rules to live by for this new goal," he said.


"I went over [to Europe] and got hosed ... but a little bit of struggling made me hungry," Demong said. "My mind is starting to put the puzzle back again, training-wise and life-wise, for what I need to do for Sochi [in 2014]."
He'll return to defend his 2009 world championship, but hasn't set his schedule between now and then yet.
Spillane, 30, who collected two individual silver medals in Vancouver, tore up a knee during Demong's wedding weekend jumping off 70-foot-high Pulpit Rock into the deepest part of Lake Placid and has been rehabbing after surgery to repair his ACL. Jarrett didn't begrudge the recreational leap -- "I've jumped off Pulpit Rock too, a lot of people have -- he just landed wrong," the coach said from Ramsau, Austria, site of this weekend's World Cup event. The good news on that front is Spillane has been medically cleared to begin ski jumping again and should be in shape to compete in Europe next month.
Lodwick, 34, will race in Ramsau. Meanwhile, Jarrett has focused his efforts on younger athletes like brothers Bryan and Taylor Fletcher (24 and 20, respectively), twins Brett and Eric Camerota (25) and World Cup rookies Brett Denney (20) and Nick Hendrickson (19). Both Taylor Fletcher and Brett Camerota were on the Olympic roster, and Camerota was part of the silver medal-winning quartet in the team event.
Nordic Combined skiers often mature slowly -- Lodwick is a notable exception on the U.S. team -- but Jarrett, a former national team member himself, said his developing talents have a big advantage now.
"All they've grown up knowing is [the team's] success at the very highest level," Jarrett said.