Olympics:

Olympic media summit
October, 2, 2013
Oct 2
5:05
PM ET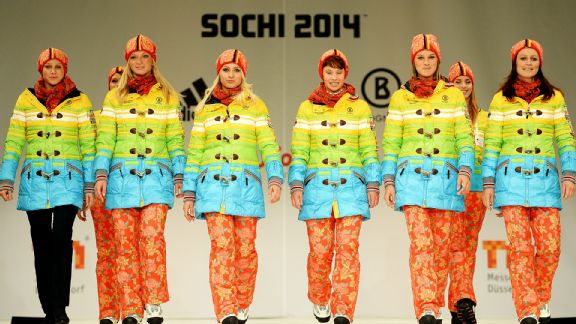 Lars Baron/Getty ImagesThe German Olympic Sports Confederation (DOSB) said the uniforms "are not a protest" of Russia's anti-gay law.
PARK CITY, Utah -- So is the German Olympic team making a political statement with this rainbow-hued uniform? Or is it simply trying to top the old Houston Astros' rainbow jerseys for the worst look in the history of sports?
I suspect the latter.
Few Olympic federations are willing to go out on a limb to make a strong political statement. They are, however, quite willing to make bad fashion statements.
Remember the horizontally striped, "Where's Waldo?"-style Swedish uniforms from London in 2012? Or Russia? Or Malaysia? And when you have winter coats to add, so much the better.
Plus, I would imagine whatever fashion company responsible for this mess was drawing up the designs months before Russian president Vladimir Putin signed the new anti-gay law. I mean, you don't come up with something that ugly overnight. It takes months and months of carefully planning. I know! How about we add orange-patterned pants in a salute to Marcia Brady?!?!
Many people probably are eager to see what political reaction the uniforms get when the German team marches into Olympic stadium during the opening ceremonies in Sochi. Personally, I am more eager to see what Joan Rivers has to say about them on "Fashion Police."
October, 2, 2013
Oct 2
2:59
PM ET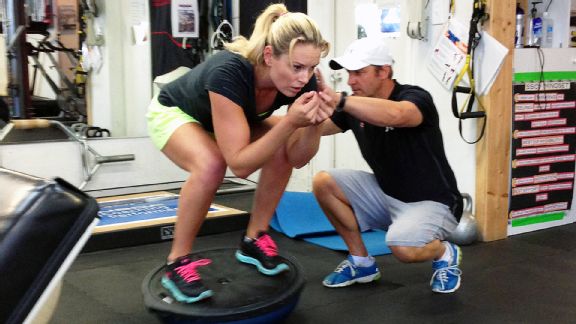 AP Photo/Pat GrahamLindsey Vonn said Wednesday there hasn't been any pain or swelling in her surgically repaired knee.
PARK CITY, Utah -- There were a couple bits of interest that came out of Lindsey Vonn's teleconference at the Olympic media summit Wednesday.
The most important is that Vonn says her right knee feels great and she could be healthy enough to race when the World Cup season opens at the end of October in Solden, Sweden. If not then, she definitely plans to compete at the World Cup race in Beaver Creek, Colo., at the end of November.
Her other interesting response was when she said she was speaking from Ohio. Ohio? What mountains are in Ohio? Oh, wait. That's right. Tiger Woods is competing in the Presidents Cup there this week. Vonn did not mention Tiger by name, but did say "my boyfriend" had provided a lot of support during her rehabilitation after knee surgery.
There are no reporters from the National Enquirer at the media summit, so there were no questions about Vonn's relationship with Tiger. Instead, the focus was on her return from February's devastating knee injury. Vonn crashed in a race and tore her right ACL and MCL, and she also fractured a bone in her lower right leg.
[+] Enlarge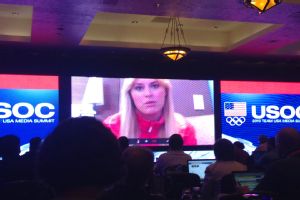 ESPN.comLindsey Vonn spoke to reporters at the Olympic media summit by teleconference.
"My knee is great," Vonn said. "It has no pain, no swelling. ... I'm definitely quite a bit further along than I anticipated, or anyone else anticipated. The surgery was very successful."
Vonn said the key remaining issue in her recovery is getting prepared to push her knee to the limit in a race.
"I don't have any trust issues. I trust my knee is 100 percent. It's just that I haven't pushed my knee to 100 percent yet; I haven't tried it in a race," Vonn said. "That's as much mental as anything else. I have to be in that racing mindset. But it's not that I'm doubtful or don't trust my knee or body. ... There are other athletes who don't trust their knee [after injury], but that's definitely not me."
Vonn said she did not completely rule out competing in slalom sometime this season, but added it is unlikely due to the stress on her knee.
"I'm definitely more excited to be back on skis than I normally am," Vonn said. "I haven't raced since February when I crashed, so the excitement has increased since being injured. But I am someone who thrives on chaos. I need a lot going on. I need to be skiing and training."
That is certainly true. There is always drama around Vonn, even before she and Tiger started dating. She had to be airlifted off a mountain following a training-run crash at the 2006 Olympics in Torino. She resorted to placing layers of a rare cheese on a severely bruised shin to help it heal at the 2010 Olympics in Vancouver. She fought off severe flu early last season and then shredded her knee in February.
Yet there isn't much that stops her for long. So what if she completely shredded her knee just eight months ago? She is looking to make Sochi her fourth Olympics, and ahead of schedule.
"I'm going in as the defending champ in the downhill," Vonn said. "I'm coming back from knee surgery and I still have a lot of expectations, both that I put on myself and what everyone else puts on me."
October, 1, 2013
Oct 1
5:37
PM ET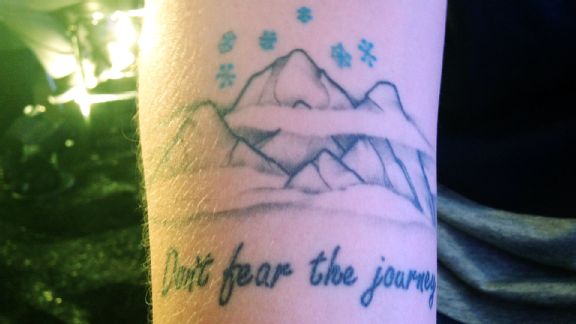 ESPN.comDevin Logan said her tattoo was inspired by her time rehabbing from a serious knee injury.
PARK CITY, Utah -- There are many sights, sounds and stories at the Olympic media summit.
One of our favorites from Tuesday was freeskier Devin Logan's explanation of a tattoo she has on her right arm.
Logan, who competes on both the slope and pipe circuits, said the tattoo came to be while she we rehabbing a serious knee injury last year. Logan suffered the injury just days after winning the FIS freestyle ski halfpipe World Cup event in New Zealand in 2012, forcing her to have surgery and ending her 2012-13 season.
Now, she's back and eyeing a trip to the Sochi Olympics.
But, back to the tattoo ...
"Each flake represents a member of my family," Logan said Tuesday. "'Don't fear the journey' just means to not fear what life brings you. You don't know what will happen next, from day to day."
Will she add more body art soon?
"I've thought about it, but don't know if my mom would like it too much," Logan joked.
Maybe Mom wouldn't mind an Olympic medal tattoo?
October, 1, 2013
Oct 1
4:58
PM ET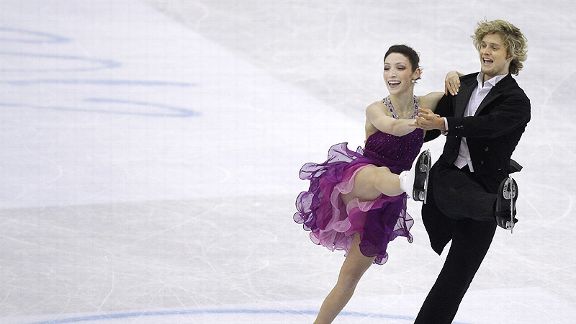 AP Photo/Lionel CironneauMeryl Davis and Charlie White won the silver medal at the 2010 Vancouver Olympics.
PARK CITY, Utah -- Any edge, no pun intended, could enter into the calculation as ice dancers Meryl Davis and Charlie White pursue the Olympic gold medal that just eluded them four years ago.
Will setting their free dance to a famous piece by a Russian composer (Rimsky-Korsakov's "Scheherazade") under the guidance of a Russian coach they unabashedly call a genius help them connect with the crowd at the Sochi Games? If they put together the complete package, they said Tuesday at the Olympic media summit.
The duo said they toyed with using the piece a few years ago, but is glad they saved it for the ideal competitive moment. The music is a way of honoring Russian influence on dance in general and coach/choreographer Marina Zoueva's tutelage specifically, they said.
"It never hurts to have the support of the crowd ... at the end of the day, it's really about moving the audience, making that emotional impact," Davis said.
But in a development no one could have foreseen a decade or two ago when the Russians dominated the discipline, Davis and White will have to try to dethrone fellow North Americans for the title: their friends and rink-mates Tessa Virtue and Scott Moir of Canada. The tandems have gone 1-2 at the past four world championships, with Davis and White prevailing in the past two editions.
Davis and White say it wouldn't be "healthy" to focus on the Olympic gold medal itself, and manage to be convincing when they talk about refining their already superlative chemistry.
"When we won worlds in 2011, one of the things that helped us [defend] is that we didn't say, 'Let's continue at this level and expect the same results,"' White said. "Our expectations go beyond any given placement ... staying in character from beginning to end, and keeping everyone enthralled."
The short program could prompt a world-wide sing-along. It will be set to music from "My Fair Lady," including, naturally, "I Could Have Danced All Night."
"It's bubbly, light, elegant, fun," Davis said.
Davis and White joked easily about their snail's progress toward undergraduate degrees at the University of Michigan -- they've crawled past the start lines of their junior years and are taking this academic year off for obvious reasons. "Each passing year is bringing us closer to the Guinness Book of World Records [for tenure as students]," White said.
The refreshing thing about them is their obvious desire to keep learning on the ice after all this time.
September, 30, 2013
Sep 30
8:43
PM ET
PARK CITY, Utah -- Despite his enormous success in the World Cup last season, gold medalist Ted Ligety still does not like the ski equipment regulations the International Ski Federation (FIS) imposed last year in an attempt to make the sport safer.
"I've been very vocal against the new regulations that have been put in place, for a variety of reasons," Ligety said at the Olympic media summit Monday. "The No. 1 reason is I don't think the safety question is really a valid question they were going to answer with these new skis. Also, I think it makes an unfair situation when a governing body makes rules that completely favor certain athletes and don't favor others.
"Also, it really affects the next generation of skiers coming up. This year, there will be 16-year-old skiers skiing on the same skis we did in the World Cup last year and they're hard for me to ski on a lot of times. That definitely does not help the development of the sport."
[+] Enlarge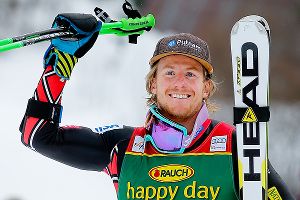 Stanko Gruden/Agence Zoom/Getty ImagesTed Ligety believes the FIS should not be setting any regulation rules for skis.
The regulations for giant slalom increased the minimum length of the skis (from 185 to 195 cm), as well as their minimum turn radius (from 27 meters to 35 meters). Ironically, Ligety said those modifications favor his style of skiing, but he said he is upset because they hurt skiers with different styles.
"In giant slalom, they definitely favor me. The style of skier they favor is someone who arcs more of the turn and takes the turn deeper, and that's definitely something I do," Ligety said. "But you look at someone like Massimiliano Blardone. He was third in the GS standings the year before and he was way out there this year [13th]. He was a guy that would take a straighter line and chop off the top of his turn, then hit it hard and get some acceleration out of his turn. And that technique just doesn't work anymore.
"There are definitely guys who have had their careers hurt by the new skis."
Ligety blasted the FIS on his website, calling the governing body a "dictatorship" and insisting the rules will ruin the sport. Asked Monday what changes he would have made instead, Ligety said he would prefer there be no regulations.
"FIS has proven themselves to be wrong every time they make new ski regulations," he said. "Before they made the skis wider and that made the skis more aggressive and created more injuries and now they're making them narrower. They keep having all these ideas that they test very mildly and they don't work, and then a couple years later they go back. I think it would be better if they just stayed out of it and let the ski companies make the regulations. ...
"I don't think it's made it any safer. In a lot of ways, it's made it more dangerous because you have to really muscle the ski around and manipulate and twist on the ski."
September, 30, 2013
Sep 30
8:22
PM ET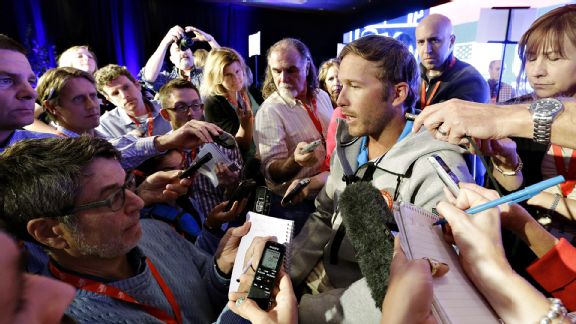 AP Photo/Rick BowmerBode Miller is attempting to qualify for his fifth Winter Olympics. His first was in 1998.
PARK CITY, Utah -- Though he hasn't competed in more than a year and is the oldest male on the U.S. alpine ski team, Bode Miller didn't exactly mince words when asked Monday about his plans for the upcoming season.
"I'm going to kick ass," Miller said. "That's the gist of it."
The statement was greeted with chuckles from the assembled media at the Olympic media summit, but this was no joke. The man who hasn't competed since microfracture surgery on his left knee in spring of 2012 finds himself refreshed, refocused and reenergized entering what is his fifth and likely last Olympic campaign of his decorated career.
The 35-year-old Miller said Monday that he left his decision to retire entirely to the results of the surgery. If things went well, he planned on skiing again. If they didn't, then that was going to be it. With the surgery a success, he's back for what he said is likely his last competitive season.
"It's perishable being a ski racer," he said. "Until you're rotten and shriveled up, you keep going. I'm pretty shriveled up, but I'm not all the way rotten ... at least not yet."
During his recovery, he spent much of his time on the beaches of Southern California with his wife, Morgan Beck, a professional volleyball player, doing plyometric exercises designed to help slim and strengthen his 6-foot-2 frame. He said he's now 20 pounds lighter than when he last competed, allowing him to be even quicker than he once was.
And, most important, his repaired knee is finally pain-free. Despite being relatively conservative during a recent training session in Portillo, Chile, the early results were promising.
"I didn't take a lot of risk," he said. "One thing during an Olympic season is risk management. It's easy to make stupid mistakes in summer training. But in terms of structure, the knee is perfect. The ligaments are in great shape. The last few days were demanding on the body and I was ready."
He added, "My fitness will be a huge asset for me. It's something that was neglected the past few years, so my plan is to kick ass."
And while doing so, help those who are less fortunate. On Monday, the USOC announced that Miller will be the first athlete ambassador for a new "Gateway to Gold" program designed to introduce people with physical and visual disabilities to Paralympic sports and identify those with the possibility of competing for the U.S. Paralympic Team. It was Miller who sought out USOC CEO Scott Blackmun last year with the goal of improving opportunities in the Paralympic space. The new program will essentially take the core principles of Miller's Turtle Ridge Foundation to a broader audience.
"It's a philosophy that needs a broader audience. It needs more exposure," Miller said. "People get inspiration from watching people deal with these situations and do the incredible. I would not still be racing today had I not gone through that process. It really is something I benefitted from and is really important. I'm thrilled to be part of it and ready to help out."
September, 30, 2013
Sep 30
6:32
PM ET
AP Photo/Rick BowmerLolo Jones is vying for a spot on the U.S. women's bobsledding team for the Sochi Olympics.
PARK CITY, Utah -- For all the changes Lolo Jones has endured in her transformation from Olympic hurdler to bobsledder, perhaps nothing has proven more challenging than her quest to build a bigger, stronger, heavier body.
Last year, during her inaugural bobsled season, the 31-year-old struggled to put on weight. So you can imagine her excitement during a recent commercial shoot when she slipped into her Team USA bobsled suit only to have it rip down the middle of her torso. While many would have reacted with horror, Jones smiled.
"Yeah, that hasn't happened to me before," Jones admitted Monday at the U.S. Olympic media summit. "They had to sew me back in. It was crazy. I was like, 'Get me a scale.' I was happy."
Happy because the wardrobe malfunction meant Jones was inching closer to her target weight of 162 pounds that she hopes to reach in the lead-up to the Sochi Olympics. Jones, who weighed 135 pounds when she finished fourth in the 100-meter hurdles in the 2012 London Games, struggled to eclipse 150 pounds last season.
After dropping down to 138 to run hurdles this past spring and summer, she's ecstatic that she's already up to 158.5 pounds before the 2013 bobsled season has even begun. (Her diet included plenty of bacon double cheeseburgers and consuming 9,000 calories per day.)
"As a track athlete, you're more like a greyhound dog," Jones said. "With bobsled, you're more Rottweiler or pit bull. At first, my legs were so thick. I felt like I had pregnant legs."
It's all in the name of Jones' longtime goal: winning an Olympic medal.
"When you're wearing that Team USA, it doesn't feel any different if you're in a bobsled uniform or a track uniform," she said. "You get the same chills. Well, maybe it's a bit colder [for bobsled]."
Jones is one of several American women who will be vying for a spot on the U.S. bobsled team. She finished second in her first career World Cup competition last November and was part of the U.S. team that won gold at last year's World Championships.
The U.S. team trials begin Oct. 12. Regardless of what happens there and whether or not she's selected for the U.S. team, the Iowa native said she has every intention of returning to track and field to hopefully compete in Rio in 2016. And, on Monday, she hinted that the bobsled might not be the end of her Winter Olympics dream.
"When I went out to bobsled, the skeleton coach said, 'You should really be a skelly athlete,'" Jones said. "'You wouldn't have to gain all the weight. You could go back and forth easier,' So, I hate to say this, but after the Winter Olympics, I kind of want to try skelly. Not serious. But I just want to go down and see what it's like."
September, 30, 2013
Sep 30
6:08
PM ET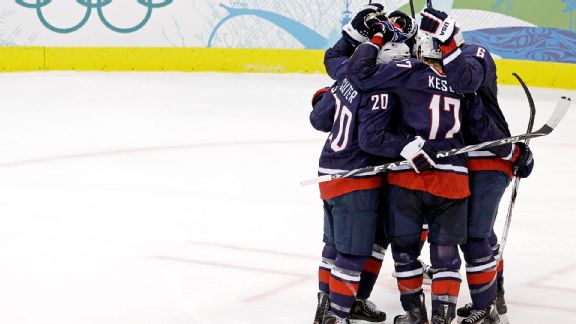 AP Photo/Julie JacobsonThe U.S men's hockey team reached the gold-medal game in the past two Winter Olympics held on North American soil (2002 and 2010).
PARK CITY, Utah -- The United States men's hockey team has enjoyed a lot of success on North American ice.
The Americans won gold at the 1960 Olympics in Squaw Valley, Calif., and, as you might recall, upset the Soviets en route to the gold medal at the 1980 Olympics in Lake Placid. The team won silver in 2002 (Salt Lake City) and 2010 (Vancouver), losing to Canada each time.
Playing elsewhere has been the problem. The U.S. has never won gold outside its own country and has medaled outside of North America only once since 1956. Even with NHL players, the U.S. team was, shall we say it, underwhelming at the 1998 Olympics in Nagano and the 2006 Olympics in Torino, finishing sixth and eighth.
Which does not exactly bode well for the 2014 Olympics in Sochi.
St. Louis Blues right winger David Backes, who was on the 2010 team, said Monday that the U.S. recently talked about this pattern and how to change it. He said playing on Europe's larger rinks and playing somewhere outside their comfort zone are the major issues. (All teams played on an NHL-sized rink in the Vancouver Games.)
"Collectively, they're the biggest challenges," he said at the Olympic media summit. "I know that's a politician's answer to the question, but I think that they're the difference between success on North American soil and not a lot of success on European soil. Those two things combine for a little bit of adversity before you've even dropped the puck.
"On top of that, the other guys are swinging the other way. [In Salt Lake and Vancouver], they were going from living in their comfort zone to coming over to North America and not being comfortable with our culture, our society, our food, whatever," Backes added. "Now they're back on European soil and are as comfortable as can be. That tilts the table a little, but preparing for that and being aware that it's going to happen and taking it in stride will be a big factor in whether we have the success we hope to have or whether we don't."
"We have to come to grips with that," said Nashville Predators GM David Poile, who is also serving as the general manager of the 2014 U.S. men's team. "People were very comfortable in Salt Lake and Vancouver. They had their families there. Socially, they were comfortable because they could go out after a game or on an off-day and go out to a restaurant. Sochi will have a totally different dynamic. Sochi is not really close to anything -- the city is 35-40 minutes away. It's going to be a different experience for all the athletes."
Adapting to the ice and a less physical game is also important, Poile said.
"There has to be some adjustments," he said. "Whether it's angles for goalies or what a defensemen does in going back and getting a puck or what position a forward plays, there have to be some changes. Maybe it just seems obvious, but it needs to be pointed out to the players and put into the strategy of the game."
September, 30, 2013
Sep 30
2:53
PM ET
PARK CITY, Utah -- Evan Lysacek's scintillating gold medal performance at the 2010 Vancouver Olympics had everything but a quadruple jump. Conventional wisdom said that would be the last time a champion could afford to do without the biggest trick. The sport was advancing inexorably, and even though there are still very few men who can land clean quads consistently in competition, there's no doubt the attempt will be necessary in Sochi.
Lysacek knew that, and he had included a quad toe loop in a short program run-through on Aug. 21. He took a violent spill and stayed off the ice for a month because of an abdominal tear. But the pain returned when he resumed training, and doctor-ordered imaging last week revealed a tear to his left labrum that seriously endangers Lysacek's chances of competing at all this Olympic season.
[+] Enlarge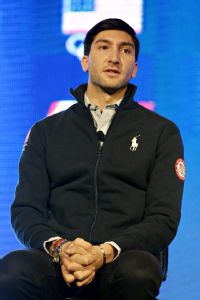 AP Photo/Rick BowmerEvan Lysacek won the Olympic gold medal at the 2010 Vancouver Olympics.
The 28-year-old Chicago-area native had already pulled out of a competition this month and Monday told reporters at the Olympic media summit that he would be forced to skip Skate America, the first Grand Prix event of the season and an important bellwether for Lysacek back in his heyday. (Jason Brown, who won silver at the 2013 world juniors, will take Lysacek's place in the lineup.)
Lysacek joked that his rehab "has all the makings of a gripping reality show -- constantly developing, new characters constantly entering into the list." But his demeanor was subdued. He called his return to training on ice "a recent development" and didn't delve into specifics, saying only that he is being cautious and following doctors' orders.
In order to compete at the Olympics, Lysacek must first log a minimum qualifying score of 25 points in the technical elements of the short program and 45 points in the free skate -- basically, the equivalent of breathing and staying upright -- at an international competition.
The U.S. national championships in Boston in January, where the team will be selected (results generally prevail, but there is some discretion), doesn't count in that equation. At the moment, Lysacek has no other Grand Prix assignment or invitation. He said he is working with the U.S. Figure Skating Association to find an event or events where he can meet the standard and shake off the rust.