Olympics:

Opening Ceremony
February, 7, 2014
Feb 7
10:10
PM ET
By
ESPN.com news services
| ESPN.com
There is something special about the Opening Ceremonies of the Olympics. It touches the casual observer, the fan and even the athlete. The U.S. Olympic Committee sent out these reactions from American athletes after Friday night's ceremonies in Sochi: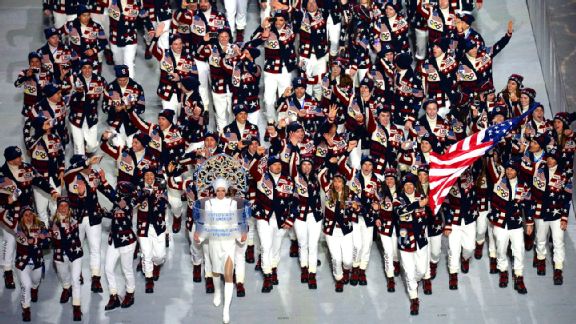 Yuri Kadobnov/Getty ImagesTeam USA flag bearer Todd Lodwick leads his American delegation during the Opening Ceremony.
Arielle Gold (Steamboat Springs, Colo.), Snowboarding
"That was definitely one of the most amazing things I've ever done. I think the fact that I'm at the Olympics has finally set in."
Taylor Gold (Steamboat Springs, Colo.), Snowboarding
"Walking into the stadium is a crazy and powerful experience. It's unlike anything I've ever seen -- as clichéd as it sounds. There's no other way of putting it."
Alex Deibold (Manchester, Vt.), Snowboarding
"I've been dreaming about this moment for as long as I can remember and all of the hard work I've put in over the years feels like it paid off the second I walked into the stadium. Definitely something I will always remember."
Sarah Hendrickson (Park City, Utah), Ski Jumping
"Such an amazing feeling. It really is emotional because everything in sport you have done leads up to this moment. It's everything I have dreamed of for the past five years and specifically the last six months."
Jessie Diggins (Afton, Minn.), Cross-Country Skiing
"It was such a rush! I can't keep the smile off my face! I feel so much pride for the USA!"
Lanny Barnes (Durango, Colo.), Biathlon
"I don't think the excitement of walking into the stadium during the Opening Ceremony has changed after my third Olympics. There is something truly special about putting on the Team USA gear and walking in behind the flag. It gives me goose bumps every time I think about it. I can think of no greater honor in sports."
Erik Fisher (Middleton, Idaho), Alpine Skiing
"That was very impressive -- the best show I've ever seen. The Olympic spirit is certainly alive in Sochi."
Hannah Kearney (Norwich, Vt.), Freestyle Skiing
"The Opening Ceremony is the embodiment of everything Olympic. To me, wearing the same uniform as every other American athlete and walking into a stadium designed to celebrate the Olympic spirit is the moment I first truly feel like an Olympian."
Heather McPhie (Bozeman, Mont.), Freestyle Skiing
"The Opening Ceremony was one of my favorite things to watch growing up! Walking in the Opening Ceremony in Vancouver is one of my favorite memories, and it is the first time I truly felt like an Olympian! The Opening Ceremony marks the start of the world coming together for something so positive in this world and I am honored to be an athlete representing the USA here in Sochi!"
Bradley Wilson (Butte, Mont.), Freestyle Skiing
"The Opening Ceremony is something that I always would watch over the years. I can remember every one of them very well, too. As a spectator, it was the start of something very special. I was always so inspired after watching. The Opening Ceremony here in Sochi was when I finally realized the amazing accomplishment of being an Olympian."
Emily Cook (Belmont, Mass.), Freestyle Skiing
"I am so excited to share this Opening Ceremony experience with an incredible team and the world! Tonight is the start of an amazing few weeks of competition and an opportunity to celebrate the years of training, ups and downs and all of the people it has taken to help each of us get here"
Mac Bohonnon (Madison, Conn.), Freestyle Skiing
"Walking into the stadium alongside all of Team USA is the pinnacle of any Olympic experience. The ceremony embodies the Olympic spirit and brings the entire movement together, which I think is pretty special. The only better moment I can think of is hearing the national anthem play with a gold medal around my neck."
Jessica Schultz (Anchorage, Alaska), Curling
"The energy and emotion we feel walking with the rest of Team USA is a perfect start to this amazing experience."
Aaron Blunck (Crested Butte, Colo.), Freestyle Skiing
"I have never felt so good to represent America than tonight at the Opening Ceremony! That was insane! Go USA!"
Devin Logan (West Dover, Vt.), Freestyle Skiing
"Words can't describe what I witnessed live with my own eyes! It was the coolest experience of my life."
Debbie McCormick (Madison, Wis.), Curling
"There is nothing more exciting than walking hand-in-hand with my teammates in the Olympic Opening Ceremony! My heart is filled with stars and stripes, joy and excitement."
February, 7, 2014
Feb 7
8:33
PM ET
By
John Dorsey
| ESPN.com
After passing through the hands of more than 14,000 torchbearers along the way, the Sochi Olympic torch relay ended at Fisht Olympic Stadium Friday night. The flame was brought into the stadium by tennis star Maria Sharapova, but the honor of igniting the Olympic cauldron fell to two Russian Olympic greats. Hockey legend Vladislav Tretiak and figure skater Irina Rodnina -- both three-time gold medalists for the former USSR -- lit the cauldron together, signaling the official start of the Sochi Winter Olympics.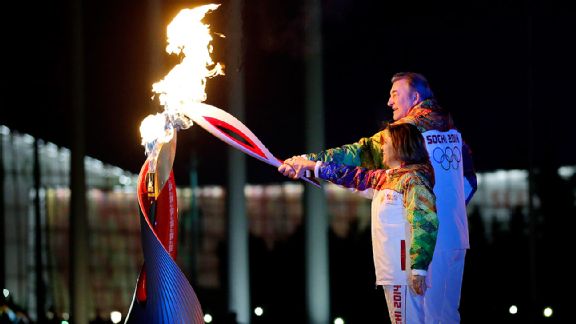 AP Photo/Matt SlocumRussian Olympic heroes Irina Rodnina and Vladislav Tretiak light the Olympic cauldron during the opening ceremony of the 2014 Winter Olympics in Sochi.
February, 6, 2014
Feb 6
3:41
PM ET
SOCHI, Russia -- Twenty years ago at the opening ceremony of the Lillehammer Games, 17-year-old Todd Lodwick walked in with the U.S. team and then watched in wonder as his mother stormed down the stadium steps through crowds of white-clad spectators, determined to get as close as she could. The young Nordic combined phenom detoured out of the procession to hug her.
He'll have to stay in step Friday. Lodwick, the first six-time Winter Olympian from the United States, was selected by his fellow athletes as flag-bearer.
The honor caps a few weeks of wildly oscillating emotions for Lodwick, who won the U.S. Olympic trials in late December only to crash on a ski jump landing less than two weeks later, dislocating his left shoulder and seemingly jeopardizing his chance to make history.
[+] Enlarge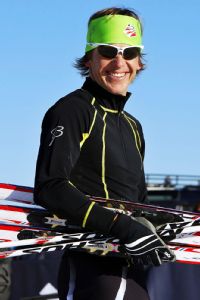 Nathan Bilow/USA TODAY SportsTodd Lodwick is still on the mend, but it won't affect his responsibilities during Friday's opening ceremony.
But Lodwick, now 37 and a father of two, rehabbed furiously, pushing through up to three sessions of physical therapy daily and doing lower-body cardio training with his left arm in a sling. He'll walk Friday still healing from non-displaced fractures in his shoulder and one rib, a torn labrum and soft tissue injuries, but said "no way" would that keep him from his appointed task.
"I'm 90 percent, and it's not going to be an issue," said Lodwick, a Steamboat Springs native who sported a state of Colorado cap as he spoke to reporters.
"To represent the 230 athletes who get to walk behind me is humbling," said Lodwick, who added that he was proud to follow in the literal footsteps of previous flag-bearers Scott Hamilton (figure skating) and Bill Koch (Nordic skiing).
Lodwick, a world junior champion, six-time World Cup winner and double world championship gold medalist in the demanding discipline that tests both ski jumping and cross-country skiing skill, was the first building block of the current team's success. Like any elite athlete with that kind of longevity, he has seen extremes of elation and disappointment.
Burned out after the 2006 Torino Games, he left the sport for two years but returned to become a world champion and make the 2010 Olympic team. He missed an individual medal in Vancouver by .07 of a second, then helped win a silver in the team event.
Lodwick clinched his trip to Sochi at the trials in Park City, Utah the last weekend of December, courtesy of a strong jump that earned him a 36-second head start on the field in the cross-country race. But then, in an unfortunate exception to two remarkably injury-free decades, he crashed on landing a provisional jump at a World Cup event in France.
After Lodwick was named to the team Jan. 25, there was speculation that he would skip the two individual events and wait for the team event Feb. 20 to give himself maximum time to mend. Thursday, head Nordic combined coach Dave Jarrett said nothing has been ruled out yet.
Jarrett said that pending medical clearance, Lodwick hopes to jump for the first time since his injury during official training time for the individual normal hill event next week. Depending on how things look, he could compete in that event or the large hill event Feb. 18.
The coach noted that Vancouver large hill gold medalist Billy Demong carried the U.S. flag in the closing ceremony there, making it two in a row for a sport that labored in total obscurity in the United States for eons.
"It's a pretty cool streak," Jarrett said.
Demong is back to defend his Olympic championship, joined by brothers Bryan and Taylor Fletcher, whose recent successes have kept the veterans motivated.