Olympics:

Pan American Games
October, 24, 2011
10/24/11
10:49
PM ET
A look at how some American athletes fared Monday at the Pan American Games:
Gymnastics
The U.S. women's team won the team gold medal Monday, its 14th title in Pan Am Games history.
Team USA finished with 219.750 points, followed by Canada (217.450) and Brazil (209.825). The gold-winning squad included Bridgette Caquatto, Jessie DeZiel, Brandie Jay, Shawn Johnson, Grace McLaughlin and Bridget Sloan.
"I was going through the lineup and getting all teary-eyed because I was so proud of them," Johnson said. "We have gone through a lot in the last couple of weeks and I think we did a great job."
The U.S. also qualified for the all-around (held Wednesday) individual events (Thursday and Friday):
All-around: Caquatto and Jay.

Vault: Jay.

Uneven bars: Caquatto and Johnson.

Balance beam: DeZiel (third reserve athlete).

Floor exercise: DeZiel.
Boxing
The final four U.S. boxers were eliminated from contention in Monday's quarterfinal bouts: flyweight John Franklin, lightweight Toka Kahn Clary, light heavyweight Jeffery Spencer and super heavyweight Danny Kelly.
Men's volleyball
Team USA rallied from a 12-9 deficit in the fifth set to defeat Puerto Rico, 22-25, 25-19, 20-25, 25-16, 15-13 in its opening pool-play match. Captain Evan Patak led all scorers with 27 points on 18 kills, seven blocks and two aces.
"We won because of two things. First, our ability to adapt," U.S. coach John Speraw said. "We made some crucial adjustments throughout the match from a variety of different players. And for a young team like this, I found that impressive. Second, the serving of our captain, Evan Patak, carried the team when we struggled early in the match. He put on some runs that helped us win the second set and give us the confidence to beat Puerto Rico."
Next up for the men's squad: Canada on Tuesday in Pool B play.
Track and field
The U.S. earned three medals on the opening day of the track and field competition at the Pan Ams.
Jarred Rome won silver medal in the men's discus, Amber Campbell won bronze to become the first U.S. athlete to earn a Pan Ams medal in the women's hammer throw since 1999, and Becky Holliday took home the bronze in women's pole vault.
"The most challenging part was having this late of outdoor season because I compete indoors, as well ... so I've been going since January," Campbell said. I'm really hoping to continue the success into next year, try to fight these girls all around the world and make it to the podium in London."
October, 24, 2011
10/24/11
11:23
AM ET
By
Alejandro Pelayo
| ESPN.com
GUADALAJARA, Mexico -- Mexican archer Alejandra Valencia has become an archery queen at these Pan American Games with two gold medals -- one individual and one team medal -- breaking a Pan Am Games record with her teammates in the process.
The native of Sonora admitted that as a girl she practiced cycling along with her older sister, before her sibling was injured in an accident that opened the door to begin practicing archery -- upon an invitation from instructor Miguel Angel Flores.

"I told them they should instead come with me to archery; that there were no accidents there," Flores commented. "Of course, I did it because I was seeking people for my team."



The cycling accident, which was not serious, was witnessed by the aforementioned coach. As a consequence of the fall, Valencia's sister suffered a minor knee injury, while Flores intervened to help them. Minutes later, they both received an invitation from the instructor to switch sports.

From that point on, Valencia would not leave archery, although she recognized that it was not easy to adapt to a sport she had never practiced and in which she was not familiar. Thus, the process was slow; however, she adapted and has been able to launch a successful career.

"I had been told to go into cycling, track and field or basketball because of my height, but nothing attracted me," Valencia said. "One day Miguel invited me when I was riding a bike with my sister and I stayed.

"At the beginning I couldn't even hit the bale. I would say, 'When will I hit it? When will I hit it?' But I would see the older ones and I knew that I would hit the bale like them."
Barely 17 years old, Valencia remembers the moment when she fcompeted in the Pan Am Games finals. She points out that the key to her success was that she tried to remain cool at all times and remain concentrated so that the arrows hit the bull's-eye.

"The truth is that I always strived to not be relaxed because it is bad to be too relaxed," she said. "I always tried not to be calm but to have everything under control. I strived toward that. That is precisely what makes me more excited about this gold medal. Because it wasn't just any competitor; it was one of the highest-ranked, at No. 2. Honestly it was very, very exciting to have won gold against her."

Meanwhile, Fernando Becerra, archery coach in Jalisco, Mexico, and member of the Guadalajara 2011 Pan American Games Organizing Committee, maintained that for those who follow this sport closely, Valencia's victory comes as no surprise, given her meteoric career. Another archer who experienced a meteoric rise is Juan Rene Serrano, who emerged from the individual events empty handed.

"The results are deceitful. We were, of course, awaiting a medal from Juan Rene since he was the flag bearer for Mexico, but his fate would be to share a bracket with the world champion, which is not easy at all," Becerra said. "Letting go of the possibility of reaching the final due to pressure from the public that wanted to see him crowned champion carried weight in the following battle for bronze. In the women's events, Valencia dedicated herself fully to meeting expectations. It is not surprising that she is the Pan American champion, and she solely dedicated herself to close the year out well."
October, 17, 2011
10/17/11
4:38
PM ET
The United States started strongly on the opening day of the rowing competition at the Pan American Games, finishing with two silver medals.

Megan Smith and Meg George finished just behind the Argentine duo of Maria Best and Maria Abalo, who won in a 7:24.57.

"Going into the final, Megan and I knew we had a lot of hard work ahead of us," said George. "Argentina and Canada are smart racers and we expect[ed] to have to fight for every inch."

"It was a push right from the beginning," said Smith. "We went out wanting to get ahead, and stay there. We were able to maintain that for quite a while and went at it as hard as we could. It was the best race we could have rowed today."

The women's double sculls crew of Catherine Reddick and Megan Walsh also won silver for the U.S., crossing the line just after Cuba.

"I think our race was really solid," said Walsh. "It's been our most solid 2k, all out, put together performance. I think it was a good way to end. We just put our heads down and went for it."

The men's team of Andrew Quinn and Dan Urevick-Ackelsberg finished fourth in the final of the men's double sculls.


October, 15, 2011
10/15/11
10:02
PM ET
By
Alejandro Pelayo
| ESPN.com
GUADALAJARA, Mexico -- There is no doubt that what was witnessed Friday night at Omnilife Stadium was simply spectacular.
However, there were some details that perhaps weren't noticed on television but surfaced from the stands.
The opening ceremonies of the Pan Am Games on Friday night overcame all of the expectations; nevertheless, the Mexican national anthem turned out for the worse.


Vicente Fernandez, known as el Rey de la Canción Ranchera (The King of Ranchera Music) throughout the Latin world, performed an a cappella version of the anthem, but made a mistake when he changed the lyrics.
"Surround Oh Motherland! Your temples dear (Ciña ¡Oh Patria! tus sienes querida)," he sang.
The correct composition of the anthem is, "Surround Oh Motherland! Your temples with olive (Ciña ¡Oh Patria! tus sienes de oliva)."
Fernández replaced the phrase de oliva (of olive) with the word querida (dear), both terms rhyme if based on the Spanish pronunciation.
Fernández does have a solid background in music, but even the best chef has his off days. Still, his gaffe happened at an international event with more than 200 million people watching on television throughout the continent.
[+] Enlarge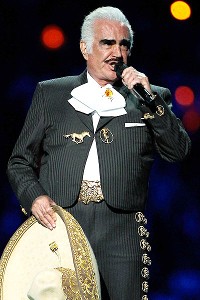 Mike Ehrmann/Getty ImagesVicente Fernandez performed the Mexican national anthem during Friday's opening ceremony at the Pan Ams.
"That's how my teacher taught me the anthem when I was a kid," Fernández said afterward. "It's the third time I sing the anthem [at an event], but not in front of 80,000 people. I felt such a great honor to be singing the national anthem."
The singer acknowledged his mistake while interpreting the anthem.
Saturday, the mishap was being criticized throughout Mexico. Forgetting the lyrics of the national anthem has become a bad habit in Mexico.
Artists such as Julio Pachado, who made the mistake at a Caribbean Series baseball game; Luis Ramirez, who forgot the lyrics and finished by humming it; and singer Pablo Montero, who erred at a NASCAR race in Mexico, committed what for many is a national sin.
But the most memorable was Coque Muñiz, who got confused and finished the anthem by modifying its lyrics before Jorge "El Maromero" Paez's boxing match on Sept. 16, Mexican Independence Day.
Another negative moment from Friday's opening ceremony was when ODEPA president Mario Vázquez Raña plainly didn't know what he was reading. His speech was so hastily prepared, he was the only one booed during the event. To make things worse, he said during his speech that this was the 10th Pan Am Games, when in reality it's the 16th edition.
It was a shame to see thousands waiting in line outside at the end of the ceremony. Many had to wait for hours for buses or shuttles to take them to parking lots. A lot of people plainly preferred to walk at midnight and look for taxis to take them instead.
October, 14, 2011
10/14/11
5:42
PM ET
Alison Tetrick Starnes is brainy enough to be a molecular biologist. She has the diploma, the published research and the white lab coat from a previous job (with her name embroidered over the pocket, thank you very much) to prove it. Those smarts have also made her a realist, and she knows her chances of making the U.S. Olympic cycling team next year are relatively microscopic.
"To be honest, 2012 probably isn't my goal," she said in a phone interview last week. "I'm looking more towards 2016. But the Pan Ams are really important for me to show my ability to medal at a major international event -- train, prepare, do the whole [athletes'] village thing."
Starnes, 26, is confident she's capable of a top-three performance in Sunday's time trial at the Pan American Games in Guadalajara, Mexico, but she tried to leave nothing to chance. The third-year pro did a block of altitude training in Lake Tahoe and feels good about her form.
The podium finish Starnes is gunning for would represent a significant climb back from a year ago, when she was riding for Team Tibco. She was careening along on a descent during the Cascade Cycling Classic in July 2010 when she crashed heavily on her hip, fracturing her pelvis in two places, and had to be airlifted off the course.
The injury immobilized her for a few weeks, but bones heal. More worrisome was a concussion whose effects lingered for months, affecting her eyesight and concentration (and oddly, breaking her lifelong habit of biting her nails). The trauma was psychological, as well. When veteran Chris Horner rode the final 20 miles of a Tour de France stage last summer with a concussion and was filmed, clearly disoriented, at the finish, Starnes found the footage so upsetting she had to leave the room.
But the gregarious Starnes, who laughs easily and often when she talks about herself, said she never seriously considered quitting. "I have some goals in the sport, and I'm going to go for it," she said. "You can't ride scared."
The daughter of cattle rancher and former UCLA nose guard Steve Tetrick, Starnes was born in Solvang, Calif., and grew up with her nose buried in books until she hit high school and decided she wanted to play tennis. Pragmatic even then, Starnes decided she would aim for a college scholarship rather than entertain fantasies of being a pro.
"I started too late, and I struggled with tennis -- there wasn't a direct correlation between time spent on the court and performance, or skill set," she said.
She was competent enough to get a ride at Abilene (Tex.) Christian University, and graduated in December 2006 with a degree in biochemistry. She worked in that field the following year, but soon found herself drawn to triathlon and had some early success, largely because of her strength in the cycling leg.
October, 14, 2011
10/14/11
12:53
PM ET
By
Alejandro Pelayo
| ESPN.com
GUADALAJARA, Mexico -- Twelve years ago, a dream started.
A city started to take shape in its quest to host a continental event. Now, it's only hours before this city opens its arms and receives the XVI Pan American Games with an opening ceremony that promises to surprise locals and visitors.
The Perla Tapatía, as this city is called, is ready to amaze a whole continent and show how a country has been able to surpass infinite number of adversities. In a few hours, not a word will be spoken of the violence that has engulfed Mexico, of the country's insecurities, of the economic crisis.
On Friday, Guadalajara hopes to enchant all of the Americas with a unique 2-1/2-hour ceremony that will start at 9:30 p.m. ET. The organizing committee and Five Currents Co. have prepared a ceremony that will serve as a window to millions of people who can enjoy a colorful Mexico full of traditions that combine its culture with present time.
"I'm sure that we will surprise everyone with our opening ceremony," said Carlos Andrade-Garín, president of the Guadalajara 2011 Pan American Games Organizing Committee. "It will be really spectacular, whether it rains or not. We are prepared to surprise the whole continent so they know that Guadalajara is a worthy host.
"It has been too many years of trying to get selected as the host city. It could not be done in 2003, when it went to Santo Domingo, neither in 2007. It has been more than a decade of hard work and great effort that will now be reflected with Games that we hope are the best in history. We have worked for that and we hope that on Oct. 30 we can say we fulfilled our goal and that everyone -- fans, athletes and the whole PASO [Pan American Sports Organization] family -- leaves satisfied and smiling."
[+] Enlarge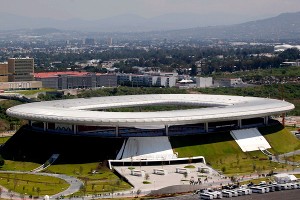 AP Photo/Eduardo VerdugoThe 49,850-seat Omnilife Stadium will be the scene for Friday's Pan Am Games opening ceremony.
The ceremony
ESPNDeportesLosAngeles.com had a chance to take a peek during a dress rehearsal earlier in the week, and the show will have things never before seen. The main characteristic will be the interaction with the public at Omnilife Stadium, opened in 2010 and considered the most modern and avant garde installation in Latin America.
"Five Currents, the company that prepared the show for the opening ceremony, is an experienced company in this type of events, among them the 2007 Games at Rio de Janeiro and will also be responsible for the opening ceremony at the 2012 Olympic Games in London, England," said Ivar Sisniega, operations director for the organizing committee. "We can assure you that the opening ceremony is going to be top level."
Featured artists
Among the top entertainers confirmed for the ceremony are Mexican rock group Maná and Mexican folk singer Alejandro Fernández, as well as Olivia Wornat, Nortec, Bostich & Fussible, Eugenia León, Juanes, Mariachi Vargas from Tecalitlán, and Ximena Navarrette, former Mexican Miss Universe in 2010.
Surprises
Among the mysteries of the ceremony is where the Pan American fire will be burning for the next two weeks. It had been rumored it would be the biggest torch in any Games endorsed by the International Olympic Committee, Olympic Games included, and would break a Guinness Book world record.
Another of the surprises: which Mexican athlete will light the Pan Am fire. The last four bearers will be high-profile Mexican athletes, including former pro golfer Lorena Ochoa, as well as soccer megastar Javier "Chicharito" Hernández.
October, 13, 2011
10/13/11
7:21
PM ET
By
The Associated Press
| ESPN.com
GUADALAJARA, Mexico -- Just like the Olympics, the Pan American Games come around every four years and bring together a team of talented athletes from the United States to compete in a multi-sport international event.
Unlike the Olympics, however, stars like swimming great Michael Phelps and runner Allyson Felix prefer to skip the event altogether.
"At the end of the day, I think the scheduling of these games was a little bit more challenging than normal just because it was October instead of the summer," United States Olympic Committee secretary general Scott Blackmun said Thursday, a day before the opening ceremony in rainy Guadalajara.
[+] Enlarge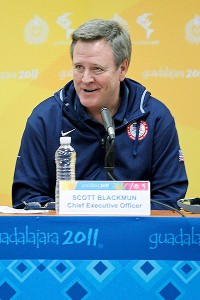 Mike Ehrmann/Getty ImagesUSOC secretary general Scott Blackmun said scheduling is one of the reasons why some star U.S. athletes skip the Pan Am Games.
"Much of our team historically is comprised of collegiate athletes who are in their college seasons or otherwise in school right now," Blackmun added. "In other cases we had some scheduling challenges. The best example of that I think is the gymnastics championships in Tokyo. We had athletes competing there up until a couple of days ago. It is not safe for them to go straight from one competition to another."
The Pan American Games started in 1951 in Buenos Aires, Argentina, and have twice been staged in the United States. Traditionally, the best athletes from the United States competed in order to get big-time experience. A few of the more famous Americans to win gold medals at the Pan Am Games are swimmer Mark Spitz and sprit-long jumper Carl Lewis. Both went on to record-setting glory at the Olympics.
But these days, swimming, track and field and other sports have their own world championships, and those events have become more important in the run up to the Olympics.
The Americans are still favored to finish at the top of the medals table in Guadalajara, as usual. But United States chief of sport performance Alan Ashley said that wasn't the outright goal. With about 650 athletes, more than the projected team for next year's Olympics, the Americans are in Mexico to win medals and qualifying places for the London Games.
"We haven't actually sat down and said we are going to win the medal count. But I know that if you went to the individuals that will be on the field of play, they are going to come and absolutely give it their best shot," Ashley said. "For those sports where we can still qualify (for the Olympics), we absolutely want to keep a lot of focus and effort on those."
The lack of the biggest stars doesn't mean that all top-level athletes skip the games. Steffen Peters, a three-time Olympian who was born in Germany but competes for the United States, made the trip to Guadalajara.
October, 13, 2011
10/13/11
6:21
PM ET
By
The Associated Press
| ESPN.com
GUADALAJARA, Mexico -- The Pan American Games' opening ceremony is expected to go off on schedule despite the heavy rain from Hurricane Jova.
The opening ceremony is set for Friday in Guadalajara with 42 nations preparing for the 2½-week competition, the biggest international sports event in Mexico since the 1986 World Cup.
Bernardo de la Garza, president of the national sports and physical culture commission, says the weather is expected to break Friday.
October, 12, 2011
10/12/11
9:00
PM ET
Olympic rower Jason Read was selected as the flag bearer for Team USA for the opening ceremony for the Pan Am Games, set to begin Friday in Guadalajara, Mexico.
"I've been fortunate as an athlete to achieve a great deal, but this is something entirely different," Read said in a statement released by the USOC on Wednesday. "To lead our team into the stadium, carrying the flag of the United States of America, is humbling, to say the least. I'm thrilled by this honor and grateful to my teammates for selecting me."
Teresa Edwards, a five-time Olympian in basketball, will also be one of eight athletes to carry the Pan American Sports Organization flag into the opening ceremony.
September, 22, 2011
9/22/11
7:27
PM ET
Here are the complete USA Gymnastics rosters for the 2011 World Championships and 2011 Pan Am Games:
World Championships
Men
Jake Dalton
Jonathan Horton
Steven Legendre
Danell Leyva
Alexander Naddour
John Orozco
Chris Brooks (alternate)
Head coach: Kevin Mazeika
Women
Gabrielle Douglas
Anna Li, Aurora
McKayla Maroney
Alexandra Raisman
Alicia Sacramone
Sabrina Vega
Jordyn Wieber
Shawn Johnson (non-traveling alternate)
Head coach: John Geddert
Assistant coach: Jiani Wu
Pan Am Games
Men
Donothan Bailey
Glen Ishino
C.J. Maestas
Sho Nakamori
Paul Ruggeri
Brandon Wynn
Tyler Mizoguchi (alternate)
Coaches: Justin Spring, Rustam Sharipov
Women
Bridgette Caquatto
Jessie DeZiel
Brandie Jay
Shawn Johnson
Grace McLaughlin (replaces injured Chellsie Memmel)
Bridget Sloan
Grace McLaughlin (alternate)
Hallie Mossett (alternate)
McKenzie Wofford (alternate)
Head coach: Marvin Sharp
Assistant coach: Jiani Wu
September, 13, 2011
9/13/11
12:34
PM ET
After countless hours of training and unwavering persistence, the 27 women on the U.S. field hockey national squad was narrowed down to the 16 athletes that will represent the United States at the Pan American Games.

The Pan American Games, held Oct. 19-28 in Guadalajara, Mexico, are the first opportunity to qualify for the 2012 London Olympics in field hockey and only the gold medalist qualifies for the Games.

"The goal of this team is clear ... to win the Pan American Games," head coach Lee Bodimeade said, according to USA Field Hockey.

"It will take the intensity and support of the entire squad to lift us to this level, both on and off the training field. It will be tough and difficult, but those are the exact reasons why we choose to attack this challenge. I look forward to the beginning of the final stage of preparation."

Olympians Kayla Bashore-Smedley, Lauren Crandall, Rachel Dawson, Katelyn Falgowski, Caroline Nichols and Amy Tran-Swensen will be joined by rookie Michelle Cesan and 2010 sportswoman of the year Katie O'Donnell.

The biggest challenge to the United States will come from Canada, Chile and, especially the world's No. 1 ranked team, Argentina. The United States has finished second to Argentina in five of the past six Pan American tournaments.

Should the Americans not win gold in Mexico, they can attend one of three events held in Belgium, India or Japan in 2012 in a final attempt to clinch one of the 12 Olympic spots.


August, 23, 2011
8/23/11
3:39
PM ET
By
Associated Press
| ESPN.com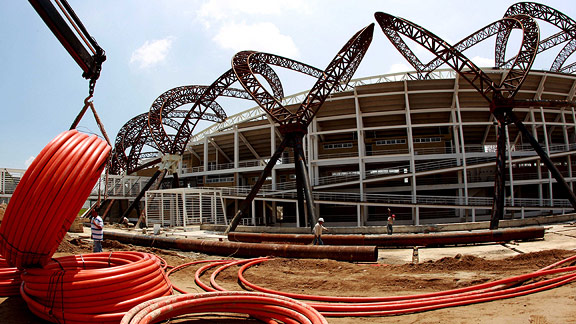 AP Photo/Bruno GonzalezThe 8,500-seat stadium for track and field is lagging behind and only accessible by dirt trails.
GUADALAJARA, Mexico -- The centerpiece of the Pan American Games in Mexico, an 8,500-seat stadium for track and field, has become a muddy mess less than two months before the event.
Poor planning, political infighting and an untimely rainy season has left the venue in Guadalajara in bad shape. The $28 million project has faced countless delays, and construction only began late in 2010.
Other venues are on schedule for completion before the event opens Oct. 14. But the track and field venue is lagging behind and only accessible by dirt trails.
With 42 countries competing in 36 sports, the Pan American Games is the biggest multi-sport event Mexico has hosted since the 1968 Olympics in Mexico City.