Olympics:

President Barack Obama
September, 14, 2012
9/14/12
5:50
PM ET


WASHINGTON, D.C. -- Welcoming sporting champions to the White House is a ritual that goes on no matter what -- a rare, unequivocally happy moment in the life of both athletes and the president who serves at the time of their success.

Friday, it was a brief respite from world events, in this case the tragic deaths of the U.S. ambassador and three other Americans working at the consulate in Libya that lowered flags around the country to half-staff and made one of President Barack Obama's later appointments a somber one. Just two hours after Obama stayed past the allotted time to shake the hands of as many Olympians and Paralympians as possible, he departed by helicopter for Andrews Air Force Base to be present when the diplomats' remains arrived.

But for one sunny hour on the South Lawn, close to 400 athletes basked in the afterglow of their achievements this summer in London. The president called himself the "Fan-in-Chief" who taped events so he could watch them at the end of his long workdays; first lady Michelle Obama, who led the U.S. delegation in London, singled out double Paralympic swimming gold medalist Brad Snyder, a Navy lieutenant blinded while on duty in Afghanistan last year.

Then, for once, the tables were turned. Rather than being swarmed by fans, it was the athletes who came down off the risers and lined up for photo ops and hugs from Mr. and Mrs. Obama, who were joined by Vice President Joe Biden.

Gold medalist Aries Merritt maintained his Olympic peak and set a world record in his specialty, the 110-meter hurdles, in Belgium last week. He was pleasantly surprised when the president recognized and greeted him as "the hurdle guy," and decided to share a personal story: His grandmother, Louise Hubbard, who died shortly before the 2008 election, predicted Obama would win, he told the president.

Sprinter Sanya Richards-Ross, who doubled up on gold in the 400 meters and 4x400 relay, initially found herself tongue-tied and couldn't muster the thanks she'd planned to express for support from the top. "Michelle Obama embodies, to me, a woman who supports her husband and is a great role model," Richards-Ross said. She did eventually find her voice to ask Mrs. Obama if she could be a part of the "Let's Move" youth fitness initiative -- a request the first lady obliged by putting her in touch with an assistant.

For Richards-Ross, who is committed to competing in the 2016 Rio Games, the White House visit represented the end of a four-year cycle but not a career. The day was slightly more poignant for 2008 fencing silver medalist Tim Morehouse, who was attending his third White House team gathering but is retiring from competition.

"I'm a fencer for life," said Morehouse, who once fenced the president at a White House event. "It doesn't mean I'll never pick up my sabre again." In fact, he is finalizing the details of a New York-based pilot program to train physical education teachers to teach fencing. "I want to get a million kids fencing," he said.

President Obama singled out several athletes in attendance, including swimmer Michael Phelps, who now holds the all-time medal haul record of 22; sprinter Tyson Gay; weightlifter Holley Mangold; discus thrower Lance Brooks; Paralympic volleyball player Kari Miller; and 15-year-old 800-meter swimming gold medalist Katie Ledecky, whom Obama praised for finishing her summer high school reading assignments amid all the excitement.

He also called Manteo Mitchell, who finished his leg of a 4x400 preliminary heat with a broken shin bone, "one of my favorite stories of the whole Olympics."
August, 1, 2012
8/01/12
10:07
AM ET
LONDON -- When he woke up Wednesday morning and began scrolling through thousands of Twitter mentions congratulating him on becoming the most decorated Olympian of all time, Michael Phelps found one name in particular that clearly stood out. It was that of President Barack Obama.

"Congrats to Michael Phelps for breaking the all-time Olympic medal record," Obama tweeted. "You're made your country proud. -- bo."

Phelps responded by tweeting, "Thank you Mr. President!! It's an honor representing the #USA!! The best country in the world!!"

Welcome to the first Twitter Olympics, where the conversation the morning after Olympic greatness centers not on what you had to eat or where you went to celebrate but rather how many famous people or fellow athletes gave you a shout-out in social media. For Phelps, the list included Obama, John Wall, Dhani Jones and Shaun White.

"A bunch of athletes and figures from all over the world were sending things," Phelps said. "It was pretty cool."

U.S. teammate Ryan Lochte saw the Obama tweet and reacted as only Lochte could.

"That was pretty tight," Lochte said.

Phelps and Lochte were both back in the water for preliminary heats on Wednesday morning. Lochte turned in the second-fastest time in of the morning in both the 200 backstroke (1:56.36) and 200-meter individual medley (1:58.03), while Phelps had the fourth-fastest time in the 200 IM (1:58.24). Fellow American Tyler Clary was fastest in the 200 back with a time of 1:56.24. All three will race in semifinals Wednesday night.

"I didn't really get much sleep last night," Phelps said. "I didn't warm down at all so this morning I didn't feel too comfortable."

Also back in the pool Wednesday morning was Missy Franklin, who swam her preliminary heat in the women's 100-meter freestyle in the 10th-fastest time (:54.26). She admitted it was hard getting focused for her race because she's particularly excited about Thursday's 200-meter backstroke, her best event. But at the same time, she was buzzing about her own brush with celebrity via Twitter.

It came in the form of a pair of tweets from her two favorite singers -- Justin Bieber and 2011 American Idol winner Scotty McCreery. Both had watched Franklin's gold medal performance in Monday night's 100-meter backstroke final and gushed about the 17-year-old on the social media website.

Bieber tweeted: "heard @FranklinMissy is a fan of mine. now im a fan of hers too. CONGRATS on winning GOLD! #muchlove"

If you needed a reminder that Franklin is still just a teenage girl, watching her run around the Olympic village and hyperventilate over the tweet likely would have done the trick. She reacted not like an Olympic champion or budding celebrity in her own right, but like any teenage girl who had just found out that Justin Bieber knew she existed. With her heart undoubtedly raced, Franklin composed herself enough to reply, "I just died. Thank you."

"I could not believe it when I saw it," Franklin said Wednesday. "I was running around like a chicken with its head cut off. I was so excited."

Then came the mention from McCreery, who first tweeted that he was rooting for Franklin and then later tweeted, "I like how @franklinmissy wants to stay in high school even tho shes an Olympian. They were the best 4 years of my life for sure!"

Of course, it isn't the decision to go to high school but rather college that Franklin will weigh after the Olympic Games. But that didn't stop her from thanking McCreery for the Twitter love and gushing about him as well.

"And Scotty McCreery, too?" she said. "I was super excited about that. My two favorite singers tweeted me. That was incredible."

July, 17, 2012
7/17/12
7:12
PM ET
During their stop in Washington, D.C. this week, the U.S. men's and women's basketball teams made a few important stops before both squads beat Brazil in respective exhibition games. Check out some photos from their trip:
Both teams participated in a wreath ceremony at the Tomb of the Unknown Soldier in Arlington, Va.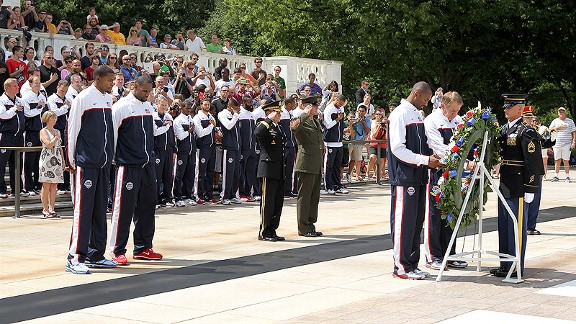 Nathaniel S. Butler/NBAE/Getty Images
Candace Parker and other players took a tour of Arlington National Cemetery.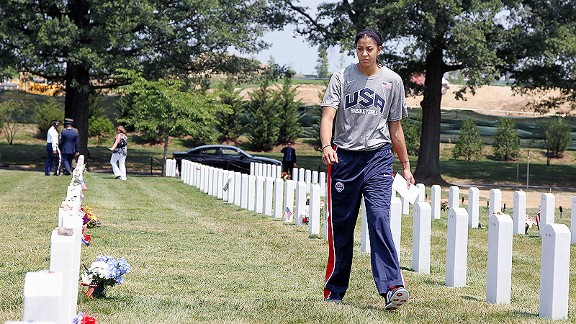 Nathaniel S. Butler/NBAE/Getty Images
President Barack Obama met with the team before its game against Brazil.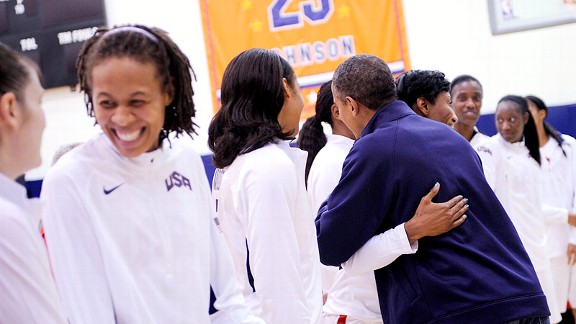 Leslie E. Kossoff-Pool/Getty Images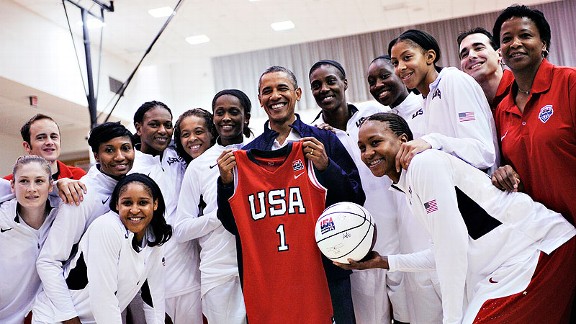 Leslie E. Kossoff-Pool/Getty Images
As part of USA Basketball's Hoops for Troops program, military members and their families were able to take part in an open practice with both teams.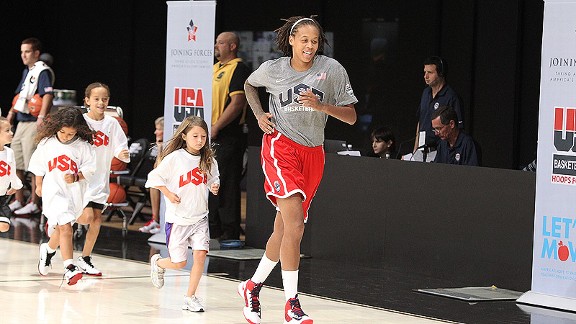 Nathaniel S. Butler/NBAE/Getty Images