January, 10, 2014
Jan 10
9:43
AM ET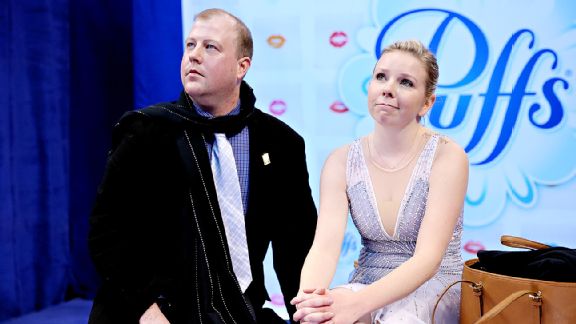 Matthew Stockman/Getty ImagesRachael Flatt, pictured here with coach Justin Dillon, said this would be her last nationals event.
BOSTON -- Four years ago at age 17, Rachael Flatt went to the U.S. figure skating championships and qualified for the Olympics. This year's championships, which she says will be her last, did not open so well. She missed her opening triple lutz in the short program and never really recovered, finishing next to last and 20th overall.
"It was a frustrating couple of minutes out there," Flatt said. "I had been training really well. I had been back in Colorado Springs training the last couple weeks and skating some clean shorts. It's just frustrating to come out and miss the first jump."
Then again, the four years since the Vancouver Games have been rather frustrating for Flatt, what with an assortment of injuries, including a stress fracture of her right tibia.
"It really takes always the appeal of skating," Flatt said. "You're constantly in physical therapy or constantly seeing the doctor. 'Why won't this get any better?' I've been dealing with tendinitis in both legs and my ankles. It got to the point where it hurt just to walk.
"It's been an exercise in frustration, right? But at this point, this year was the first year I've actually felt healthy. I took five months off after my season last year and got back on the ice in June and figured, 'I'm finally feeling good, why not give it a shot?' So here I am. And it wasn't my best, but I'm just happy to be here."
Flatt is majoring in biology with a minor in psychology at Stanford with the goal of becoming a doctor. Which doesn't exactly make training easy.
She says her usual day begins around 7 a.m. when she wakes up to train for several hours, then attends classes from 11 a.m. until 4 p.m. or so, then works out for an hour, occasionally goes to a school meeting as one of the junior class presidents or practices with the dance team, then studies until about 2 or 3 a.m. before finally going to bed. "I'm probably not getting the sleep I should, but, hey, I'm young and I can still handle it."
Despite all that, and the injuries, Flatt said her passion for skating kept her going.
"Skating is one of those things you really become addicted to," she said. "When you've been in the sport as long as I have, 18 years, it's kind of hard to see it out of my life at any point. It's a love/hate relationship and sometimes I just don't want to do anything with it, but I really do love it."
Ashley Wagner said Flatt was the "perfect example of someone who is skating because she loves the sport and that's something I really admire.
"She's a phenomenal athlete. I grew up with her -- we were the babies that were coming up after Michelle Kwan. To see her still skating -- not because she's going after a certain goal, but because she wants to be here, she wants to be on the ice -- is something we can all admire."
August, 19, 2011
8/19/11
12:43
PM ET
2010 Olympian Rachael Flatt will start working with a new coaching staff as she begins her academic career at Stanford University in late September.
[+] Enlarge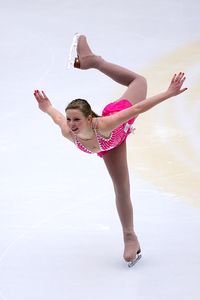 China Photos/Getty ImagesRachael Flatt won the 2010 U.S. title, the 2008 world junior title and three silver medals at the U.S. Figure Skating Championships.
Flatt announced that she will be working with Justin Dillon, Lynn Smith and Sergei Ponomarenko in the Palo Alto, Calif., area.
"I'm looking forward to the beginning of my academic endeavors and my training in northern California," Flatt said in a statement released by U.S. figure skating. "I'm excited to work with Justin and Lynn and eventually compete at the U.S. Championships that will take place near my new training sites."
Flatt will train at Sharks Ice San Jose (the official practice venue of the 2012 U.S. Figure Skating Championships), Sharks Ice Oakland and Ice Oasis.
Flatt worked with Tom Zakrajsek and Becky Calvin at the Broadmoor Skating Club in Colorado Springs, Colo., for the past 10 years. She won the 2010 U.S. title, the 2008 world junior title and three silver medals at the U.S. Figure Skating Championships while working with Zakrajesek and Calvin.
"With regard to my skating, there are so many people who have been part of my team," Flatt said. "I'd like to thank Tom and Becky especially for being part of that team from the beginning."