August, 2, 2012
8/02/12
4:50
PM ET
LONDON -- A quick look at the action from the London Aquatics Centre on Thursday night:
End of the road
Michael Phelps and Ryan Lochte faced off in the 200-meter individual medley in what is almost certainly the last head-to-head meeting in a rivalry that captivated the world. In a thrilling race that lived up to its billing, Phelps won in 1:54.27, 0.63 seconds faster than Lochte, to earn his 16th Olympic gold medal (and 20th overall) and became the first swimmer to win the same individual event in three straight Summer Games.
The pesky breaststroke leg was the key for Phelps, but he out-split Lochte at every turn.
Both men did a double Thursday night. Lochte took bronze in the 200 backstroke and Phelps qualified first in the 100 butterfly semis just a few minutes after the 200 IM medals ceremony. There will almost certainly be a conversation about whether Lochte took on too many events in London, but that shouldn't diminish Phelps' accomplishment.
Phelps admitted to losing considerable motivation after his eight-gold-medal bonanza in Beijing four years ago, and who knows if he would have found that incentive had it not been for Lochte's emergence and superior performances over much of the past couple of seasons. The question now is whether anyone will be able to push Lochte the way Phelps did.
Breakthrough win
Tyler Clary, so long third fiddle to Lochte and Phelps, bested Lochte in the last 50 meters to win the 200 backstroke in an Olympic-record time of 1:53.41, while Lochte faded to third. Clary pointed to the sky after he touched the wall, a tribute to his late club coach in Fullerton, Calif., Kevin Perry.
Rebecca's Soni day
After setting a world record in Wednesday's 200 breaststroke semifinal, two-time defending Olympic champion Rebecca Soni bettered it by 0.41 seconds to become the first woman to repeat in the event.
Best of the rest
For Jessica Hardy, it was almost enough just to be there. Hardy, who was denied the chance to compete four years ago after a tainted supplement led to a positive doping test, didn't even expect to qualify in the 100 freestyle at the U.S. trials (she began her career as a breaststroker), yet she still made the final here and finished eighth. Missy Franklin, meanwhile, came in fifth in an event that is not her strongest. The two U.S. men in the 50 freestyle, Cullen Jones and Anthony Ervin, qualified for Friday night's finals in first and third position, respectively.
June, 28, 2012
6/28/12
2:06
PM ET
OMAHA, Neb. -- Since she's arrived in Omaha, 20-year-old Breeja Larson has wanted to say hello. In the lobby of the hotel or the hallway of the arena or on the deck of the warm-up pool, she's seen the stars of swimming and wanted nothing more than to extend her hand, introduce herself and feel like she belongs.
But her coach told her to be a swimmer, not a fan. There would be time for camaraderie later. But little did anyone know that time would come so fast. Lost in the shuffle of another Ryan Lochte/Michael Phelps showdown and the passing of the torch between Natalie Coughlin and Missy Franklin on Wednesday night was Larson's shocking upset of Rebecca Soni in the 100-meter breaststroke final.
[+] Enlarge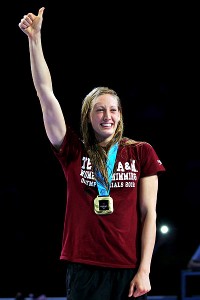 Al Bello/Getty ImagesBreeja Larson won Wednesday's 100 breast final in 1:05.92, while Rebecca Soni took the second spot on the U.S. team.
Larson didn't begin competitive swimming until three years ago. It was her first Olympic trials. She was seeded sixth in the event, behind the likes of Soni, world record-holder Jessica Hardy and two-time Olympic silver medalist Amanda Beard. Yet, at the end of the night, she was the one standing on top. When her hand touched the wall and she looked up at the scoreboard, a twisted mix of shock, amazement and genuine delight overcame her. And minutes later, she was thinking about, what else -- finally getting to extend that hand and say hello.
"I see them walking by and I want to introduce myself," she said. "Now I get to meet 'em and I'm really excited."
Larson was the first swimmer from A&M to win at trials and the second Aggie to make the team. She was barely recruited out of Mesa, Arizona, and struggled in her early days in College Station. Yet A&M coach Steve Bultman believed in her.
"It was really hard," Larson said. "I was the slowest kicker. I probably moved backwards a little bit. All of the drills and everything, I was the last one to the wall and everyone had to be patient waiting for Breeja to come in so we could finish."
But that year, as a freshman, she set four A&M records and finished second in the 100- and 200-meter breaststroke at NCAAs. After returning home that summer, her world was rocked by a cancer scare. She was at a birthday party at a friend's house when one of her friend's moms noticed a couple lumps on her neck when she swallowed. The next day doctors told her it was likely cancer.
"After that, it got really hard to get out of bed," she said. "Why go and work hard when I might not be able to swim?"
Several biopsies were done, and about a month later, the diagnosis changed -- a voicemail message informed her the lumps were benign.
"I took that opportunity as my second chance," she said. "I only have three more years to have the time of my life with this college team and I wanted to give it everything I had."
Every day, she would write on her hand the time she wanted this year at NCAAs. And then at that meet, she went out and set the American, U.S. Open and NCAA record in the 100 breast with a time of 57.71 seconds.
That performance prompted swimming insiders to start taking notice. And after Wednesday night, the rest of the world is quickly following suit. Perhaps now, Larson doesn't need to worry about introducing herself to any of America's big-name swimmers. Perhaps they should introduce themselves to her.
April, 18, 2012
4/18/12
1:30
PM ET
A look at some of the "100 days out" festivities from today in New York and London:
Former U.S. Olympic greats Carl Lewis, Shannon Miller and Greg Louganis meet up with London hopeful Allyson Felix (second from right) in Times Square. Felix is attempting to pull off the 200-400 double this summer.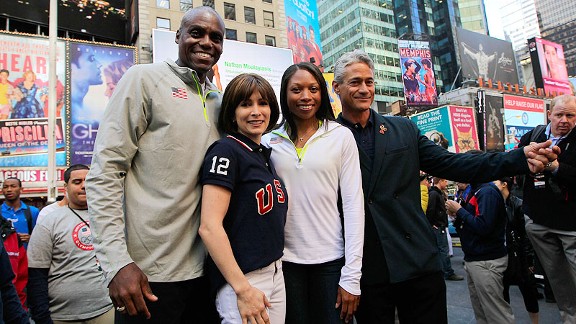 Chris Trotman/USOC/Getty Images
Fairly quiet in London? A handful of official countdown clocks, like this one in Trafalgar Square, reminded the locals of what's to come in July.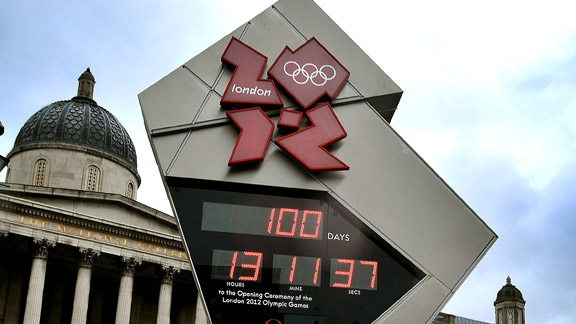 Press Association/AP Images
Ralph Lauren is charged with designing the looks for U.S. Olympians this summer. We got a sneak peek at the closing ceremony outfits Monday. Rebecca Soni, Aly Raisman, Tony Azevedo, Bryan Clay, Diana Lopez and Steven Lopez modeled them for "Today."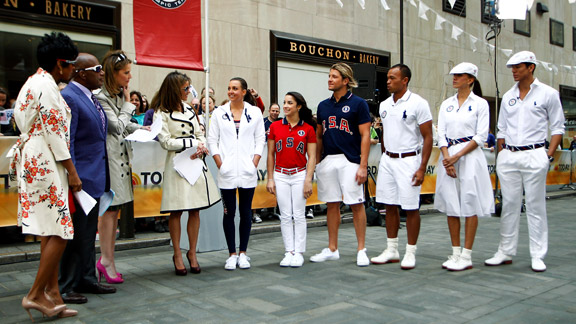 Jeff Zelevansky/Getty Images for USOC
Performance artist David Garibaldi worked his magic in Times Square. (Check out his work here.)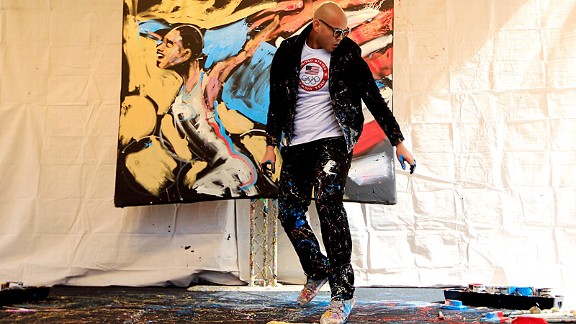 Chris Trotman/Getty Images
Missy Franklin, whom some have called "the female Michael Phelps," checked in with "Today" show host Matt Lauer in New York.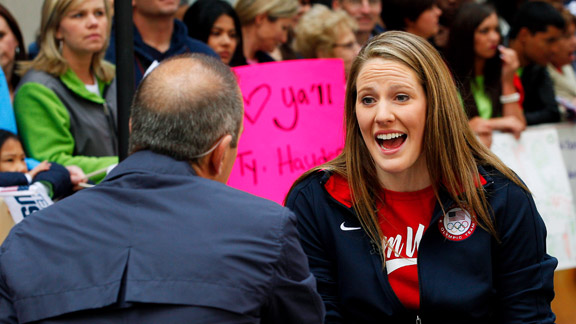 Jeff Zelevansky/Getty Images for USOCMissy Franklin checked in with "Today" show host Matt Lauer in New York on Wednesday.
October, 11, 2011
10/11/11
2:30
PM ET
Three-time Olympic medalist Rebecca Soni helps the Sport Science crew break down the fundamentals for the breaststroke: