November, 14, 2011
11/14/11
4:26
PM ET
Ross Miner's elegant 2010-11 long program was set to the iconic soundtrack of "Casablanca." This season, he's competing to a moody medley of selections from "The Untouchables," but Miner said there's no particular connection between the two pop culture references.
"I've never even seen the movie, and I'm not trying to portray any character," Miner said by telephone from Sapporo, Japan on Sunday night. "I don't feel like it's an iteration of last year."
No, Miner was playing the part of himself, with fluid lines, sharp footwork and spins, and it served him well. He came from sixth place after the short program all the way to the podium with a bronze medal at the NHK Trophy, his first Grand Prix medal with a composed performance in the long that included two triple Axels. His total score of 212.36 points was a personal best.
"I really approached this trying to get off the ice happy with each practice, each session," said Miner, 20, a native Vermonter who trains with coaches Mark Mitchell and Peter Johansson at the Skating Club of Boston. "I'm building this year for sure, still growing as a skater."
[+] Enlarge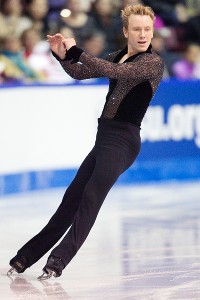 Geoff Robins/AFP/Getty ImagesRoss Miner rallied to finish third overall at this past weekend's NHK Trophy event.
Miner, the 2011 U.S. bronze medalist and a former national junior champion, is in his second season of senior international competition. He finished seventh and ninth in his two Grand Prix appearances last year and 11th at the world championships in Moscow this past April, a competition that was relocated from Tokyo and delayed six weeks after the devastating earthquake and tsunami in Japan.
He said he was glad to have the chance to skate before a Japanese audience he described as "very knowledgeable, and always loud," supportive of its favorite sons and foreign rivals. Early in his exuberant post-event exhibition number set to Bruce Springsteen's "Born to Run," Miner treated the fans to the Cantilever -- a showy strength move he perfected as a boy but does sparingly now.
As has become routine with the men, quadruple jumps were a focus of attention. Gold medalist Daisuke Takahashi thrilled the home crowd by hitting a quad flip in warm-ups, but couldn't quite execute it at the start of his long program. Brandon Mroz of the U.S. landed a quadruple Lutz in his short program, a first at this level of competition, but struggled mightily in his long program and finished ninth overall.
Mroz was elated after hitting the quad Lutz, a jump he said he chose to work on specifically because no one else was doing it. He landed it in an invitational event in September, then had to wait weeks before the International Skating Union certified it. This time, there was no "upon further review" and no doubt. He said he was proud of himself for "keeping my flow after such a big trick, keeping my composure," and found himself in third place after the short.
But Mroz couldn't recover after falling on his opening jump in the long. Visibly frustrated as he awaited his scores in the kiss-and-cry area, he half-humorously hit himself in the head a few times. "I let stuff get the best of me," he said by phone after landing in the United States on Monday.
This was the first big competition of the season for the 20-year-old Mroz, who trains in Colorado Springs under coach Tom Zakrajsek. Mroz had a strong Grand Prix showing last year with two top-three finishes, but couldn't translate that into a podium placement at the national championships, where he competed injured and finished seventh.
Zakrajsek said he wants Mroz to point toward nationals and worlds and keep polishing all the elements in his two programs (both choreographed by former world champion and Olympic bronze medalist Jeffrey Buttle of Canada), as well as making the quad Lutz (and at least one other quad) a surer thing. It's a lot to ask, but as one U.S. official told Zakrajsek after the short program at NHK, "We want it all."
"Brandon had a lot of success early on and there's pressure on him to deliver again," Zakrajsek said. "While we were over [in Japan], I felt that dealing with jet lag and practices was not as smooth as I wanted it to be. I want him to be a little better trained going into the Cup of Russia [Nov. 25-27]. He's got some nice things going on, but it's a whole process."
Mroz has a quick turnaround before flying to Moscow in fewer than 10 days. He said his weekend of extremes won't deter him from continuing to take risks in his skating.
"I could do a program that's much easier, but I want to put something new out there, push the boundaries and bring freshness and athleticism to the sport," Mroz said.
Miner has added a quad Salchow to his repertoire and originally intended to compete with it this season, but decided he would be better off focusing on the more nuanced aspects of his skating.
"The quad is definitely important, and at some point I'm going to need one, but there's a way to get where you need to get without one," he said. "Brandon has a great program, but some other guys, they land a quad and that's their program."
Miner's Grand Prix season is done; he placed sixth at Skate Canada last month and won't compete again until the U.S. championships in late January. That break should make up for an offseason shortened by the rescheduling of worlds.
"A lot of time to work on things," he said.
But not to rent "The Untouchables." That will wait until he's no longer living it.