Olympics:

Sanya Richards-Ross
September, 14, 2012
9/14/12
5:50
PM ET


WASHINGTON, D.C. -- Welcoming sporting champions to the White House is a ritual that goes on no matter what -- a rare, unequivocally happy moment in the life of both athletes and the president who serves at the time of their success.

Friday, it was a brief respite from world events, in this case the tragic deaths of the U.S. ambassador and three other Americans working at the consulate in Libya that lowered flags around the country to half-staff and made one of President Barack Obama's later appointments a somber one. Just two hours after Obama stayed past the allotted time to shake the hands of as many Olympians and Paralympians as possible, he departed by helicopter for Andrews Air Force Base to be present when the diplomats' remains arrived.

But for one sunny hour on the South Lawn, close to 400 athletes basked in the afterglow of their achievements this summer in London. The president called himself the "Fan-in-Chief" who taped events so he could watch them at the end of his long workdays; first lady Michelle Obama, who led the U.S. delegation in London, singled out double Paralympic swimming gold medalist Brad Snyder, a Navy lieutenant blinded while on duty in Afghanistan last year.

Then, for once, the tables were turned. Rather than being swarmed by fans, it was the athletes who came down off the risers and lined up for photo ops and hugs from Mr. and Mrs. Obama, who were joined by Vice President Joe Biden.

Gold medalist Aries Merritt maintained his Olympic peak and set a world record in his specialty, the 110-meter hurdles, in Belgium last week. He was pleasantly surprised when the president recognized and greeted him as "the hurdle guy," and decided to share a personal story: His grandmother, Louise Hubbard, who died shortly before the 2008 election, predicted Obama would win, he told the president.

Sprinter Sanya Richards-Ross, who doubled up on gold in the 400 meters and 4x400 relay, initially found herself tongue-tied and couldn't muster the thanks she'd planned to express for support from the top. "Michelle Obama embodies, to me, a woman who supports her husband and is a great role model," Richards-Ross said. She did eventually find her voice to ask Mrs. Obama if she could be a part of the "Let's Move" youth fitness initiative -- a request the first lady obliged by putting her in touch with an assistant.

For Richards-Ross, who is committed to competing in the 2016 Rio Games, the White House visit represented the end of a four-year cycle but not a career. The day was slightly more poignant for 2008 fencing silver medalist Tim Morehouse, who was attending his third White House team gathering but is retiring from competition.

"I'm a fencer for life," said Morehouse, who once fenced the president at a White House event. "It doesn't mean I'll never pick up my sabre again." In fact, he is finalizing the details of a New York-based pilot program to train physical education teachers to teach fencing. "I want to get a million kids fencing," he said.

President Obama singled out several athletes in attendance, including swimmer Michael Phelps, who now holds the all-time medal haul record of 22; sprinter Tyson Gay; weightlifter Holley Mangold; discus thrower Lance Brooks; Paralympic volleyball player Kari Miller; and 15-year-old 800-meter swimming gold medalist Katie Ledecky, whom Obama praised for finishing her summer high school reading assignments amid all the excitement.

He also called Manteo Mitchell, who finished his leg of a 4x400 preliminary heat with a broken shin bone, "one of my favorite stories of the whole Olympics."
August, 7, 2012
8/07/12
9:00
PM ET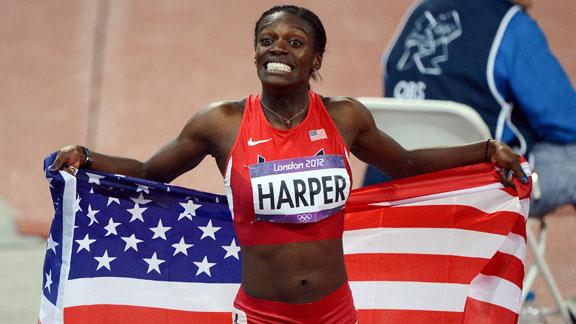 LONDON -- Allyson Felix was talking to a couple of reporters about winning her 200-meter semifinal Tuesday evening when she was interrupted by the loud, repeated squeals of France's Myriam Soumare.
Soumare wasn't hurt or scared or in danger. She was standing at the top of a stairway looking out toward the track's scoreboard and she had just seen that her time in the semifinal had qualified her for Wednesday's final. "Wheeee! Wheeee!!!'' she screamed again and again while jumping up and down and hugging a fellow runner.
Evidently, she was very happy to earn a spot in the final.
And why not? Wednesday's final boasts an illustrious field. In addition to Felix, there is 400-meter gold medalist Sanya Richards-Ross, 100-meter gold medalist Shelly-Ann Fraser-Pryce of Jamaica, 100 silver medalist Carmelita Jeter and Jamaican 100 bronze medalist Veronica Campbell-Brown.
The pressure is on Felix, who did not medal in the 100 but is the race favorite in the 200. She coasted to an easy victory in her semifinal and said she was feeling good.
"I know what she's experiencing because I went through the same thing in the 400," Richards-Ross said.
Richards-Ross was comfortably in second place behind Fraser-Pryce as they came around the turn in their semifinal and could have coasted home and still be guaranteed a spot. Instead, she kicked it up a notch and passed Fraser-Pryce down the stretch to win.
She said she was not sending a message, just trying to secure a good lane for the final and give herself the best chance at a medal. She said her gold medal in the 400 has taken off any pressure for the 200.
"It's all gravy now. No pressure out here," Richards-Ross said. "This is a lot of fun for me and I really do want to grab a medal tomorrow, but either way I'm still an Olympic champion."
June, 29, 2012
6/29/12
1:24
AM ET
EUGENE, Ore. -- The U.S. Olympic Committee likes to trot out the phrase, "The Hardest Team to Make," to sell the Olympic track trials.
Often, it's just hype. In the women's 200 meters this week, it's a cruel fact.
The depth of the field in the half-lap sprint has some of the fastest women in the world running in awe. Or fear. Or silence. And this was after just the first of three qualifying rounds Thursday night.
"It's unbelievable," said Lauryn Williams, the Olympic silver medalist in the 100 at the 2004 Athens Games and the 2005 world champion who scraped into Friday's semifinal round as the 21st and final qualifier in 23.20 seconds. "This is the best 200 I've ever seen in all my years competing, for sure."
Bianca Knight, one of the top curve runners in the world who was part of the U.S. world champion 4x100 relay last year at Daegu, was only the 17th fastest qualifier (23.11). She tried to conserve as much energy as possible. She has no choice. "I have to save everything I can," she said, "because the next round will definitely be run like a final. The heats are so stacked."
You couldn't throw a rock without hitting a major championship medalist Thursday afternoon. And if you had, they probably wouldn't have noticed. Carmelita Jeter, the fastest woman alive and reigning 100-meter world champ, clocked the second-fastest time of the day, then kept right on sprinting past the media, without so much as a sideways glance.
Allyson Felix, the Olympic 200 silver medalist in Beijing (2008) and Athens (2004) and world champion at the 200 in 2005, '07 and '09, smiled but said nothing as she moved on by. Felix and fellow Nike runner Jeneba Tarmoh had other reasons not to talk.
They're mired in USA Track and Field's 100-meter dead heat controversy, which won't be resolved until after Saturday night's 200 final. Even if they wanted to talk about the 200, they wouldn't risk having to answer questions about who's going to London as the third member of the 100 squad.
The top finisher Thursday, Tianna Madison, was asked to stop and talk the media after coming home in 22.57, but she just shook her head and kept going. Too tired, she said.
One reason everyone's ratcheting up their intensity is Sanya Richards-Ross, the 400-meter standout who is trying a 200-400 double for the first time. Richards-Ross qualified easily for the 400 earlier this week, and she has run the fastest 200 in the world this season. She alone looked carefree among the contenders Thursday evening.
"That first race is the hardest," Richards-Ross said, "because you really want to go for it, but you want to stay controlled."
It certainly didn't appear difficult. She flew out of the blocks and scorched the curve, then jogged home in 22.67. Richards-Ross is running with as much confidence as anyone anywhere right now, and that includes the Jamaican Olympic trials. "I felt good today and I'm looking forward to tomorrow."
She's the only one. Richards-Ross' presence in the field almost certainly means someone like Jeter or Felix, two of the sport's elites, or Tarmoh or Madison, who are having outstanding seasons, or Knight, who has worked steadily toward the Games for the past four years after a standout career at Texas, will be left off the team.
Knight figures it will take a time of 22.6 or better just to make it out of the semifinals; to win the final, or even make the team, it may take under 22 seconds. "I'm definitely going to have to PR," Knight said.
It's some frightening math.
"You have that top six in the 100," said Williams, referring to the number of 100-meter finalists who entered the 200. "And then you have three or four others who threw their name in the hat, people like Sanya Richards. It's going to be a great race."
And that's just the semifinals.
June, 21, 2012
6/21/12
6:55
PM ET
EUGENE, Ore. -- Sometimes, the choices athletes make in life come down to the calendar.
That was the case for a pair of American sprinters, Allyson Felix and Sanya Richards-Ross, who are going after different sprint doubles at the U.S. Olympic trials.
For the first time, Richards-Ross will try to make a U.S. team in both her specialty, the 400 meters, where she's a past world champion, and in the 200, in which she's posted the fastest times of her life this year.
[+] Enlarge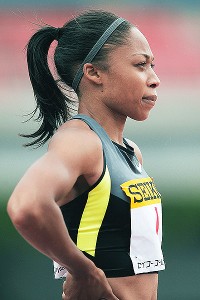 Adam Pretty/Getty ImagesAllyson Felix is set to race in the 100 and 200 meters at the U.S. Olympic trials, which began Thursday in Eugene.
Felix, meanwhile, who doubled in the 200 and 400 meters at last year's world championships in Daegu, South Korea, is changing up this year, attempting to make the team at 100 and 200 meters instead.
Though their double-duties differ, the logic of their decision-making was similar. For Richards-Ross, the decision was easy. She's healthier than she has been in years (more on that below), and has always thought of herself as a sprinter. But she based her decision largely on the fact that the 400 concluded first at the U.S. trials and in London. With the calendar showing that her pet event would be out of the way early at the trials and allow her some days to rest up for the 200 rounds, she planned her season around the possibility of a double. "For me, the 400 was my priority," she said.
But the 200 was always in the back of her mind. She did a 200 in Manchester early in the season, then ran 400s through the Prefontaine meet the first week of June. When her 400 times were up to par, she decided to run the 200 at the adidas meet in New York on June 9.
"I knew I was in great shape," she said of the 200 in New York. "I wasn't sure how fast I'd go." Turns out, it was quite fast -- a personal record of 22.09 seconds. "To run a PR in the 200 was fantastic," she said. "[After that], it was kind of a no-brainer." After the 400 finishes at the trials, she gets three days off to rest up for the 200. "If I make the team, I want to represent my country," she said. "That's my goal."
The goal is more attainable thanks to a personal medical breakthrough. For years, Richards-Ross has been held back by a chronic disease, originally diagnosed as Behcet's syndrome. Now, though, she said the aching in her joints and skin inflammation that haunted her off and on for years -- which required her to take medicines that negatively affected her training -- has been diagnosed as something different. She's not making that diagnosis public, but she said it resulted in a change in medication, which in turn has had a positive impact on her running.
"I'm 100 percent healthy and it's showing," Richards-Ross said.
Felix said her experience with the meet calendars for the trials and the Olympics played into her decision to go for a shorter 100-200 double this year. Like Richards-Ross, she wanted to play to her strength, which in her case is the 200.
"It all came down to the 200," she said. "I've said from the beginning, that's what was most important for me."
At last year's worlds, Felix grinded through the rounds to win a silver medal in the 400, which left her less spry for the 200, and she finished third in the event she calls "her baby."
So this year, she vowed to take good care of her baby. "It was really about what was going to help me run my best 200 and set me up for the best possible race," she said. "Running the 100 helps me run my 200. That's what it's really all about."
The 100 training benefits her turnover during the 200. "It keeps me in that sprint mode," she said. But mostly, she said, it helps her start. "For me, that's the key -- just trying to get that down," she said. "Just improving on that front end, normally that's where I give up a lot of ground. So having that extra time to be able to work on those things, I definitely feel the benefit."
June, 11, 2012
6/11/12
4:32
PM ET
NEW YORK -- Double talk was in the air all week ahead of the Adidas Grand Prix meet here at Randall's Island on Saturday.
Kenya's David Rudisha, the world-record holder in the 800 meters, mused during a press appearance about running the quarter mile as part of a 4x400-meter relay team should his countrymen qualify for the Olympic final. He did nothing to dispel such talk at the meet Saturday, destroying the field and running the fastest 800 on U.S. soil in 1:41.74.
The 100 world champion, Yohan Blake, did nothing to hurt his chances of doubling at the Jamaican Olympic trials with a 9.90-second victory in the 100.
American sprinters Carmelita Jeter and Allyson Felix have been coy all spring about whether they will double when the Olympic trials convene in Eugene, Ore., late this month. Jeter won gold in the 100 at the world championships in Daegu, South Korea, and silver in the 200 last season, while Felix is a medal threat in the 100, 200 and 400. Their logy performances in the Grand Prix 100, however, in which Jeter finished third (11.05) and Felix placed fourth (11.07), don't bode well for either attempting a 100-200 double.
[+] Enlarge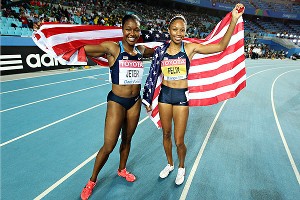 Andy Lyons/Getty ImagesCarmelita Jeter and Allyson Felix have yet to reveal their 'double' plans ahead of the Olympic trials later this month.
But one other potential "doubliner" in London, Sanya Richards-Ross, made a nearly airtight case for chasing gold in two events.
Richards-Ross has long been a giant in the 400, holding the American record and winning the world championship in 2009. She also impressed at the June 2 Prefontaine Classic in Eugene with a smoking 49.39-second victory there. Yet her Saturday performance in the 200 might be the single most important portent from the New York meet. Richards-Ross exploded out of the blocks and simply overwhelmed her best competition, Bianca Knight, to win in a personal record of 22.05 seconds, the fastest time in the world this year.
The race was a statement both to the world track community, which has seen Richards-Ross dominate the 400 for years but disappoint in big meets, and to her coach, Clyde Hart.
When asked if the result indicated she was ready for the double, Richards-Ross left no doubt.
"This is a big-time indicator," she said. "Any time my 200s are really fast, my 400 gets easier. And I asked Coach about attempting the double, and he said, 'Let's see how you are today.' Hopefully I made my point and I'll be able to do both in Eugene."
Richards-Ross' sprint speed has never been better. She opened up the season with a wind-aided 100 time of 10.89 in Austin. In the 200, her previous personal record was 22.17 in 2006, the year she set the American record of 48.7 in the 400.
She's in position to erase memories from last year in Daegu, where she finished out of the medals, and at the 2008 Beijing Olympics, where Great Britain's Christine Ohuruogu edged her for gold in the 400.
"I'm really happy that my races have come together again," she said. "I lost a bit of confidence last year, and I feel it coming back, so I'm very excited for the season."
No wonder. She ran what she called the best curve in her life Saturday, which, coming in the wake of the Pre result, is erasing any doubts that may have haunted her from last season.
"I went out in Eugene and really executed, ran 49.3, my fastest time in three years, so that gave me the extra confidence I needed today to go out there and let go and let my body run freely," she said.
Now, the goal is to survive the grueling rounds in Eugene.
"I've got to make the team, for sure, in the 400 first and then in the 200," she said. "That would be icing on the cake. I just want to make the team safely, and then put on a great show in London."
A show that's looking more and more like a double feature.
May, 13, 2012
5/13/12
5:32
PM ET
DALLAS -- Mother's Day carried added meaning on the first morning of the U.S. Olympic Media Summit, thanks to U.S. track stars Lashinda Demus and Sanya Richards-Ross. Demus just missed qualifying for Beijing in 2008 in her specialty, the 400-meter hurdles, a year after giving birth to twin boys, Dontay and Duaine, after what she described as "a horrible pregnancy." Now, she's in top form and on top of the world, having won the world title last year in Daegu, South Korea.
"It's a big difference from 2008," Demus said. "My whole body is different. Now, this is my normal body. I'm in better shape than I was then; I'm running faster; my [sons] are bigger."
Another major difference? In 2009, Demus hired a new coach -- her mother, Yolanda Demus -- who first put Lashinda on the track when she was 2 years old.
[+] Enlarge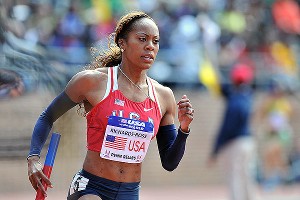 Zuma Press/Icon SMISanya Richards-Ross' mother, Sharon, manages her career.
"Everything has changed," Demus said. "My training has changed, especially with my mom as my coach. Everything is looking pretty good and on schedule as far as the Olympic Games."
Demus also changed agents, hiring her husband, Jamel Mayrant, but said it took some effort to persuade her mother to take over the stopwatch.
"My mom didn't come that easily," Demus said, "but I knew that she was a very hard coach, and I knew that if I wanted to get where I wanted to be, which I'm on my way to now, she was the best person for it. I wanted to keep everything in the family."
Richards-Ross knows what that's like. She lets her mother, Sharon, manage her career. They work well together now, but when Sanya was learning to run, they were competitors. Sharon Richards, on hand here Sunday, recalled family track meets at the beach, where her husband, a former Jamaican national soccer player, she and her daughters would race. Pops would win, and "I would be second," Sharon said.
"And then, as time progressed, it was Daddy, then Sanya." She paused for a beat. "Then Mommy retired, because I was having no part of that. I'm OK with my husband running first, me second and the girls after, but when she took over, that was it. She retired me."
Now, Sharon's in management, but she has a hard time keeping distance from her main client.
"I'm much more nervous than Sanya is," she said. Before races, "I'm teary-eyed, I get weak in the knees, I get weak in the stomach, I don't want anybody to talk to me, I need to go drink some water; it's a total emotional roller coaster for me. And one would think that since she's been doing it since she was 7 that it would get better, but it totally gets worse."
Yet she's also a cagey enough observer of the sport, having grown up in Jamaica, to know which meets to worry about and which not to. Richards-Ross was run down in the home stretch and finished second to Novlene Williams-Mills in a meet eight days ago in Kingston, Jamaica, but Sharon thinks everything is copacetic.
"Immediately after the race, [Richards-Ross] knew what happened," Sharon said. "She's been doing a little bit of speed work and she got out like a bat out of hell and wasn't able to hold on all the way to the finish line. But after having assessed the race with Coach [Clyde] Hart, he was pretty impressed that, having gotten out a second and a half faster than she should have, she was able to hold on as long as she did. So it was a learning curve for her. I think she's good from here on [out]."
Mom knows best.