August, 7, 2012
8/07/12
2:28
PM ET
Track cyclist Sarah Hammer's best chance at a gold medal evaporated three years ago when the International Olympic Committee dropped the individual pursuit, the event in which she has been world champion since 2008.
"It's my pet event, what I love, and I thought it was a great Olympic event,'' she said. "But once it was over and done with, it was over and done with. I moved on, and I would say I moved on pretty well.''
[+] Enlarge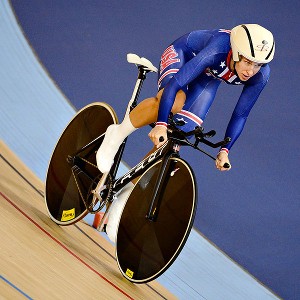 Andrew P. Scott/USA TODAY SportsSarah Hammer misses the individual pursuit. But the two silvers she's taking from London help make up for it.
She did. Hammer powered the U.S. to a silver medal in the team pursuit this past weekend and took home another silver medal in the six-race omnium that concluded Tuesday afternoon.
"Everything that I had been dreaming of and wanting for the last two years had been dedicated to this omnium event,'' she said. "I am now the proud owner of two of these silver medals. It's an amazing dream I've been dreaming about since I was 10 years old. Now I get to go home and share this with my family and friends.''
Hammer came close to winning gold Tuesday, holding a two-point lead over Great Britain's Laura Trott heading into the final race. In the omnium, riders receive points based on their order of finish in each race. You get one point for finishing first, two for second, three for third and so on, with the lowest cumulative score winning. That meant that, to win gold, Hammer had to finish within two places of Trott in the final 500-meter time trial.
Unfortunately, the 500 meters is probably Hammer's weakest event in the omnium. "I'm not as naturally explosive from the start,'' she said. "Once I get rolling, I'm good, but to get off the line and ready to go [is the issue]. But I've been in the gym training because I knew that was going to make the difference in the Olympic medal.''
It did. Hammer rode a personal best 35.90, but that was only good enough for fourth place in the event. Trott, meanwhile, finished with the best time to win the gold medal.
Hammer was clearly disappointed at missing gold, but these Olympics went far better than in 2008, when she and three fellow U.S. track riders were left out to hang after they inadvertently caused an incident by wearing masks upon their arrival in Beijing -- as they had been instructed to do to protect against pollution. She went home without a medal from Beijing but has two medals as souvenirs this time.
Hammer, who turns 30 this month, said that she isn't sure whether she will try to compete in Rio in 2016 but that she definitely will keep riding a bike. "The great thing is my whole family rides. My husband, my mom, my dad. Now I get to go back home and we all get to ride together.''
March, 30, 2011
3/30/11
7:14
PM ET
Months before it happened, track cyclist Sarah Hammer knew the International Olympic Committee was probably going to demote her best event from Olympic medal status for 2012, citing a need to streamline the program and even out the medals available to both genders. It still came as a shock.

"I didn't understand where the motivation was coming from," said Hammer, who had already won two of her four world championships in the 3,000-meter individual pursuit in 2009 when the IOC announced the change. "It's such a popular event -- the blue ribbon event of cycling."

The move knocked the spectator-friendly race in which two cyclists start at opposite ends of the track and chase one another while simultaneously trying to beat the clock off its medal perch and folded it into a new two-day event called the omnium. It aroused controversy that bubbles to this day, but Hammer opted to go with the flow and race what was put in front of her. "I knew from that point on that my focus would be on the team pursuit and the omnium," she said. "Obviously, it was an adjustment."

And just as obviously, Hammer has adjusted. Last weekend at the track world championships in the Netherlands, the 27-year-old Temecula, Calif. star retained her crown in the individual pursuit and helped the U.S. to a second-place finish in the team pursuit. Perhaps most tellingly where London 2012 is concerned, Hammer won a fiercely-contested silver medal in the omnium -- the new six-part wheel-o-rama that is the spiritual cousin of track and field's heptathlon.

Hammer's podium hat trick was the first by an American woman at track cycling worlds and further reinforced her status as an Olympic medal favorite next year. She is the reigning world record holder (3 minutes, 22.269 seconds) in the individual pursuit -- a goal she achieved last May -- and believes it is a critical factor to success in the omnium, which for the women also includes a 250-meter "flying lap" time trial, a 20-kilometer points race, a 10-kilometer scratch race, a 500-meter time trial and an elimination race.

Hammer is one of only a few elite women who eschews road racing and competes solely on the track, although she is convinced that the omnium will prompt more specialization. "The fact that you have so many more events means that people are going to have to put in a lot more time on the track," she said.

She is currently based in Mallorca, Spain, with her husband and coach Andy Sparks, who also happens to be the head coach of the Irish national track cycling squad. (Sparks guided the U.S. team in Beijing in 2008 when Hammer made her Olympic debut and subsequently coached at an international facility in Switzerland.) "It's great for both of us," Hammer said. "The Irish don't have a history in the sport, so they're building their program up. It's good for me too, to have new faces around in training."

The biggest downside? Hammer's two dogs, a Golden retriever and a black Lab, are staying behind in southern California with her parents while she gears up for London.

Hammer hopes the 2012 Games will mark the peak of an already outstanding career. She left the sport after racing in the junior ranks but was lured back after watching the Olympic competition in Athens in 2004 and finished fifth in the individual pursuit in Beijing despite the fact that her preparation was disrupted by a serious back injury.

Hammer suspects she'll be stronger mentally this time as well. "I'll still be excited, but I'll know what to expect this time, and that is an advantage," she said.