Olympics:

Sarah Hendrickson
September, 1, 2013
Sep 1
9:51
AM ET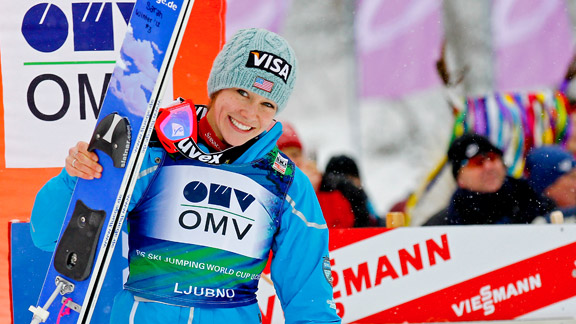 Stanko Gruden/Agence Zoom/Getty ImagesThere is no timetable yet for Sarah Hendrickson's return.
PARK CITY, Utah -- Every veteran on the U.S. women's ski jumping team has had multiple surgeries that kept them off their beloved hills, and they all can relate to the tunnel reigning world champion Sarah Hendrickson is about to enter. They kept her in their thoughts -- and texts and calls -- as they went about their business last week, and said they're confident she'll tackle the passage with the right energy.
"Never met an athlete that young, that talented, that smart, that driven, who knows what she's doing," said 2009 world champion Lindsey Van, who is 10 years older than Hendrickson and informally coached her during an injury layoff of her own one summer when Hendrickson was still a kid club jumper.
Hendrickson won the 2012 World Cup overall title and was a favorite to medal at the 2014 Sochi Games before a training jump went bad earlier this month. She underwent a three-pronged surgery last Thursday after tearing up her right knee on Aug. 21 in Oberstdorf, Germany. U.S. Ski team physician Dr. Andrew Cooper repaired her MCL and meniscus and reconstructed her ACL. Team officials declined to outline any specific timetable for her possible return.
Three-time Olympian and head coach Alan Alborn said Hendrickson should benefit from previous experience with the tedious process of rehab. She had surgery to repair microfractures on her other knee in April 2012 and could not put any weight on it for six weeks. Hendrickson had to rebuild atrophied muscle before she could even resume regular dry land workouts, but was back to jump training by September. "Five jumps later, I knew she was good to compete," Alborn said.
Alborn was careful not to compare the two injuries or make any predictions about how Hendrickson might progress over the next few months. But he and the other jumpers have all known her since she was a little girl and said they are certain of one thing: Her attitude. "If they say she can jump in January, that's when she'll be jumping," said teammate Abby Hughes.
Can Hendrickson be fit enough to compete in Sochi, where women's ski jumping is on the program for the first time in history? The answer is several months away, and will be contingent not only on her physical recovery but on team selection procedures. The United States, with one of the world's strongest athlete pools, will send four jumpers to the Winter Games in February. The winner of the U.S. Olympic trials on Dec. 29 qualifies automatically. Three others will earn berths based on World Cup results. All Olympic sports have a procedure for injured athletes to request a discretionary slot.
December, 6, 2011
12/06/11
12:50
PM ET
Sarah Hendrickson flew into history Saturday by winning the inaugural women's ski jumping World Cup on the Olympic hill in Lillehammer, Norway, sailing down a trail that older athletes blazed for her. The victory for the 17-year-old from Park City, Utah, was especially sweet for the U.S. team, one of the groups that took the lead in the long and ultimately successful fight to include the discipline for women on the Olympic calendar.
This season, the women have their own International Ski Federation (FIS) sanctioned World Cup events after toiling for years on the lower-key, lower-tier Continental Cup circuit. The first event of 14 parachuted the women directly into Norway, the cradle of the sport. They jumped before a crowd of 3,000 under a novel format that alternated women's and men's rounds. The entire two hours of competition was televised live in Europe by numerous national networks and Eurosport.
Altogether, it was a significant upgrade from the past. The 5-foot-3 Hendrickson, who was born the year the Olympics were held in Lillehammer, was only too happy to absorb the bigger buzz.
[+] Enlarge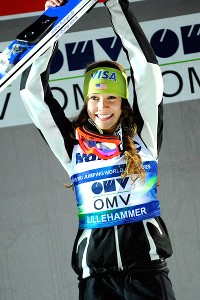 Alain Grosclaude/Getty ImagesSarah Hendrickson's jump distances of 100.5 and 95.5 meters this past weekend were comparable to the top men's marks.
"I kept saying, this feels like World Championships," Hendrickson said by phone from Norway. "Then I keep thinking, we have 13 more World Cups just in the season. It's a great feeling to have all that there throughout the whole year, not just [at worlds] every two years."
Hendrickson has uncommon composure for someone her age, a trait that came in handy over the weekend when she became a popular interview subject. The day after her win, she was invited to join longtime Eurosport commentator David Goldstrom to offer her analysis on the men's big hill competition.
"She's amazing, the fact that she's managing the situation that's moving around her in the last three days in a super-professional way," said U.S. coach Paolo Bernardi. "Just 17, and she's more professional than most of the older athletes I've met in my career."
Hendrickson's grounding starts at home, where she tries to have as normal a social life as possible given her unearthly skills. She got on skis at age 2 and began jumping at 7 (the ideal age, when kids are both fearless and ultra-flexible), prompted by her dad, a jumper in his high school days, and older brother.
But Hendrickson also loves soccer -- she's a left-footed midfielder -- and continues to play for her high school and club teams.
"I always kind of thought about going to college and playing soccer, but with the inclusion in the Olympics and getting World Cup, I think I've decided essentially to stay with ski jumping," she said.
Bernardi has come out to watch some of Hendrickson's soccer matches and admits the possibility of injury makes him nervous, but he said that's outweighed by his belief that she "needs to be happy and enjoy life ... when she's on the road, she gives 100 percent."
Hendrickson's jump distances of 100.5 and 95.5 meters were comparable to the top men's, and so is her technique, according to Bernardi. And it's not as if she's come out of nowhere. Last year, she became the first American, male or female, to medal at the Junior World Championships, taking a bronze.
Still, she said she surprised even herself with her performance.
"In official training the day before the event, I had the two longest jumps out of anybody," Hendrickson said. "It's actually kind of hard going into a competition knowing you've had the best training jumps. People are kind of looking at you continuing that into the competition."
She might have to get used to that.