Olympics:

Serena Williams
August, 4, 2012
8/04/12
7:05
PM ET
ESPN's T.J. Quinn and Julie Foudy break down Saturday at the Olympics -- Michael Phelps' finale, how Americans sprinters fared in the women's 100 meters and Serena's big win at Wimbledon: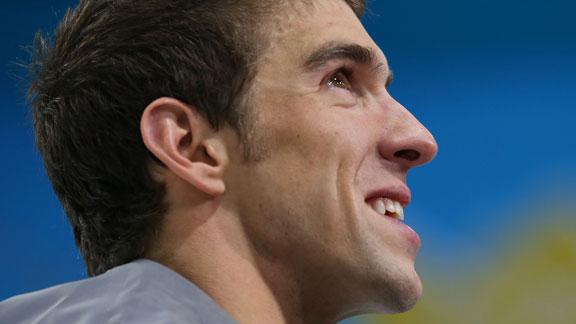 August, 4, 2012
8/04/12
12:35
PM ET
LONDON -- The Olympic women's singles final provided a double dose of something you don't see every day: namely, a championship match in which a player wins only one game and a medal ceremony in which a flag takes flight.
Serena Williams
continued her dominant season by winning her 17th straight match. This title might be the last "first'' of her sensational career, giving her the so-called Golden Slam collection of all four Grand Slam event titles plus Olympic gold. She has two Olympics doubles titles, as well -- perhaps Platinum Slam would be a better label? -- and will try for a third with sister Venus this weekend.
Serena's crushing 6-0, 6-1 win over Russia's
Maria Sharapova
was surprising in some regards, given that both are Wimbledon champions and know the turf on Centre Court very well. But it was no shock in the context of their career series. Williams now leads that 9-2, but Sharapova's two wins came in 2004, and she has not taken a set from Williams since 2008 on green clay in Charleston, S.C.
Brisk wind is never a good thing for Sharapova's high ball toss and fickle serve, but, even in perfect conditions on a full-throttle day, it might have been difficult for anyone to break through the combination of power and focus Williams displayed.
During the medal ceremony, wind pulled the U.S. flag from its moorings on a horizontal flagpole; it drifted down into the stands, drawing gasps from the crowd and startling the three women on the podium. "It was probably flying to come hug me -- fluttering toward me trying to wrap its fabric around me," said Williams, who bounced up and down ebulliently and even threw a few dance moves after nailing an ace on match point.
Williams did not drop a set en route to gold, and no opponent won more than three games in a set against her.
August, 3, 2012
8/03/12
5:08
PM ET
ESPN's George Smith reports on the big Olympic tennis day at Wimbledon, including a preview of the women's final between Serena Williams and Maria Sharapova, and Roger Federer's marathon win that booked him a spot in the men's gold-medal match against Andy Murray:
August, 2, 2012
8/02/12
12:12
PM ET
ESPN.com's Prim Siripipat and Bonnie D. Ford discuss Serena Williams advancing to the semifinals, the women's eight winning its second straight gold medal and London's mayor getting stuck on a zip line: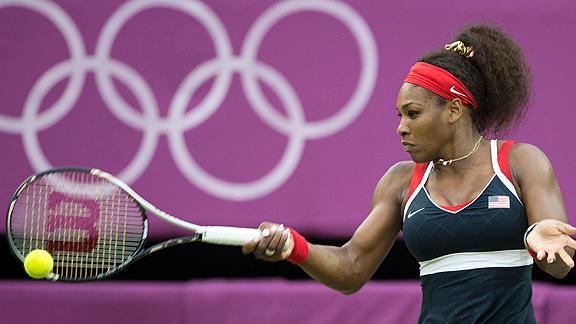 July, 24, 2012
7/24/12
3:40
PM ET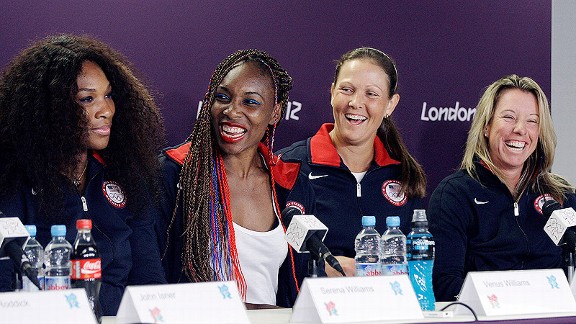 AP Photo/Frank Franklin II
LONDON -- First-timers and veterans on the U.S. Olympic tennis team said they'll walk in Friday's opening ceremonies only if they're not playing the next day. They'll get their marching orders at Thursday's draw.
The two naturalized U.S. citizens on the team -- Varvara Lepchenko, whose family sought political asylum from their native Uzbekistan, and South African-born doubles specialist Liezl Huber -- would find it particularly hard to sit out the gala.
At a press conference Tuesday afternoon, Huber said she felt "ugly" -- disheveled, grubby and tired after the long trip to London and team processing.
"But I'm telling you, when I was trying on the outfit for the opening ceremony, I looked OK,'' said Huber, who is known to shed tears during the national anthem at Fed Cup matches. "Having said that, we're here for one role and that's to do the best for our country, and if it means we have to skip [the opening ceremony], then that's the way it's going to be."
Other volleys from the press conference:
• Andy Roddick, winner of an ATP event in Atlanta last week, will be back on the surface where he has played in three Wimbledon finals, each successively more thrilling. "I certainly wasn't disappointed when London won the Games.'' he said.
• Mixed doubles pairings will be announced Tuesday. The Williams sisters were mum on their intentions, but given Venus' fragile health and that Serena may not want to play in three events, it appears unlikely.
• Serena on potentially becoming the first player to have all four Grand Slam events and both Olympic singles and doubles gold. "I actually didn't even know that, so no pressure," she said.
• Being the best doubles tandem in history doesn't grant any special privileges when it comes to Olympic security. Bob and Mike Bryan didn't have "validated" (i.e., laminated) credentials and weren't allowed into Olympic Park with the rest of the team. If asked, however, the twins would likely say that winning an Olympic gold medal is the biggest unchecked item on their tennis bucket lists. They've been eliminated by the eventual champions in the past two Summer Games, by Switzerland's Roger Federer and Stanislas Wawrinka in 2008 and Chile's Fernando Gonzalez and Nicolas Massu in 2004.
One-liner of the day: A regretful Venus Williams on whether she likes to shop in London: "That pound has always been so strong."