February, 7, 2014
2/07/14
10:45
PM ET
By
ESPN.com news services
| ESPN.com
[+] Enlarge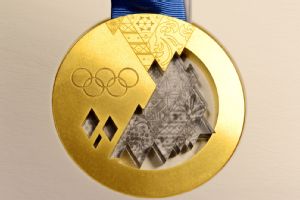 KIRILL KUDRYAVTSEV/AFP/Getty ImagesThis is what gold looks like.
Receiving an Olympic gold medal is special. The athlete is immediately entered into a very select group. Now, on Feb. 15, there will be an even more select group.
The Associated Press reports that the winners of the 10 gold medals awarded on Feb. 15 will also receive special commemorative medals that include fragments of a meteorite that crashed into Russia. Feb. 15 is the one-year anniversary of the meteorite's impact into a lake in the Urals in central Russia. The meteorite caused significant damage and hurt more than 1,000 people in the Chelyabinsk region.
Forty more medals with a chip of the space rock are being crafted and will be sold to private collectors.
Another report, this one by Radio Golos Rossii, stated that a total of 1,400 medals will be awarded at the Sochi Games and about 100 more will be kept at the International Olympic Committee headquarters in Lausanne, Switzerland.
February, 7, 2014
2/07/14
10:10
PM ET
By
ESPN.com news services
| ESPN.com
There is something special about the Opening Ceremonies of the Olympics. It touches the casual observer, the fan and even the athlete. The U.S. Olympic Committee sent out these reactions from American athletes after Friday night's ceremonies in Sochi: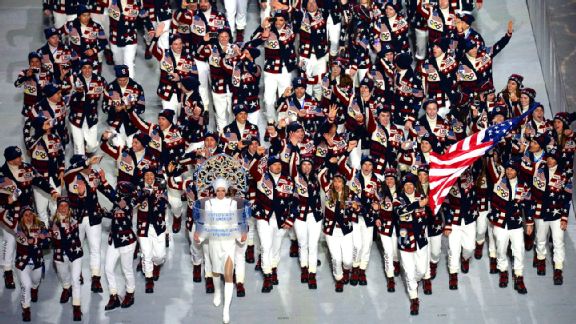 Yuri Kadobnov/Getty ImagesTeam USA flag bearer Todd Lodwick leads his American delegation during the Opening Ceremony.
Arielle Gold (Steamboat Springs, Colo.), Snowboarding
"That was definitely one of the most amazing things I've ever done. I think the fact that I'm at the Olympics has finally set in."
Taylor Gold (Steamboat Springs, Colo.), Snowboarding
"Walking into the stadium is a crazy and powerful experience. It's unlike anything I've ever seen -- as clichéd as it sounds. There's no other way of putting it."
Alex Deibold (Manchester, Vt.), Snowboarding
"I've been dreaming about this moment for as long as I can remember and all of the hard work I've put in over the years feels like it paid off the second I walked into the stadium. Definitely something I will always remember."
Sarah Hendrickson (Park City, Utah), Ski Jumping
"Such an amazing feeling. It really is emotional because everything in sport you have done leads up to this moment. It's everything I have dreamed of for the past five years and specifically the last six months."
Jessie Diggins (Afton, Minn.), Cross-Country Skiing
"It was such a rush! I can't keep the smile off my face! I feel so much pride for the USA!"
Lanny Barnes (Durango, Colo.), Biathlon
"I don't think the excitement of walking into the stadium during the Opening Ceremony has changed after my third Olympics. There is something truly special about putting on the Team USA gear and walking in behind the flag. It gives me goose bumps every time I think about it. I can think of no greater honor in sports."
Erik Fisher (Middleton, Idaho), Alpine Skiing
"That was very impressive -- the best show I've ever seen. The Olympic spirit is certainly alive in Sochi."
Hannah Kearney (Norwich, Vt.), Freestyle Skiing
"The Opening Ceremony is the embodiment of everything Olympic. To me, wearing the same uniform as every other American athlete and walking into a stadium designed to celebrate the Olympic spirit is the moment I first truly feel like an Olympian."
Heather McPhie (Bozeman, Mont.), Freestyle Skiing
"The Opening Ceremony was one of my favorite things to watch growing up! Walking in the Opening Ceremony in Vancouver is one of my favorite memories, and it is the first time I truly felt like an Olympian! The Opening Ceremony marks the start of the world coming together for something so positive in this world and I am honored to be an athlete representing the USA here in Sochi!"
Bradley Wilson (Butte, Mont.), Freestyle Skiing
"The Opening Ceremony is something that I always would watch over the years. I can remember every one of them very well, too. As a spectator, it was the start of something very special. I was always so inspired after watching. The Opening Ceremony here in Sochi was when I finally realized the amazing accomplishment of being an Olympian."
Emily Cook (Belmont, Mass.), Freestyle Skiing
"I am so excited to share this Opening Ceremony experience with an incredible team and the world! Tonight is the start of an amazing few weeks of competition and an opportunity to celebrate the years of training, ups and downs and all of the people it has taken to help each of us get here"
Mac Bohonnon (Madison, Conn.), Freestyle Skiing
"Walking into the stadium alongside all of Team USA is the pinnacle of any Olympic experience. The ceremony embodies the Olympic spirit and brings the entire movement together, which I think is pretty special. The only better moment I can think of is hearing the national anthem play with a gold medal around my neck."
Jessica Schultz (Anchorage, Alaska), Curling
"The energy and emotion we feel walking with the rest of Team USA is a perfect start to this amazing experience."
Aaron Blunck (Crested Butte, Colo.), Freestyle Skiing
"I have never felt so good to represent America than tonight at the Opening Ceremony! That was insane! Go USA!"
Devin Logan (West Dover, Vt.), Freestyle Skiing
"Words can't describe what I witnessed live with my own eyes! It was the coolest experience of my life."
Debbie McCormick (Madison, Wis.), Curling
"There is nothing more exciting than walking hand-in-hand with my teammates in the Olympic Opening Ceremony! My heart is filled with stars and stripes, joy and excitement."
February, 6, 2014
2/06/14
12:02
PM ET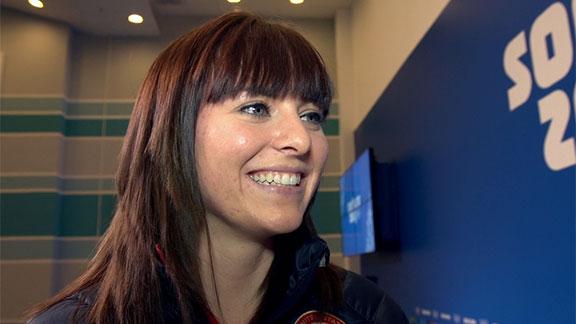 Twelve years have passed since an American woman medaled in long-track speedskating at the Olympics. That drought not only should end in the next two weeks, the U.S. could place two women on the podium here. And interestingly, they both are from states that don't often see ice.
World sprint champion Heather Richardson is from High Point, N.C. The world record holder in the 1,000 meters, Brittany Bowe, is from Ocala, Fla. Nonetheless, the two are currently first and second, respectively, in the World Cup rankings for the 1,000.
Because they hail from warm-weather climates, Richardson and Bowe both got their start as in-line skaters.
"I think that a lot of us have followed the footsteps of KC Boutiette, Jen Rodriguez and Derek Parra. They all did it," Richardson said. "I think we were looking for in-line skating to make it as an Olympic sport but we just didn't see it coming so we took our opportunity on the ice."
Bowe wasn't just an in-line skater -- she also was a point guard at Florida Atlantic University. "Growing up, being an Olympian was always my dream," she said. "But unfortunately, I realized that in-line skating wasn't going to take me there. And then playing four years of college basketball, I realized that basketball was not going to be my ticket, either."
Watching friends and competitors reach the 2010 Olympics, Bowe said, made her realize she needed to switch to speedskating. She moved to Salt Lake City that summer and quickly took to the ice. She still won't rule out playing basketball professionally, but right now she is focused on looking to help the U.S. team to match or better its 2002 medal count of eight medals in speedskating.
[+] Enlarge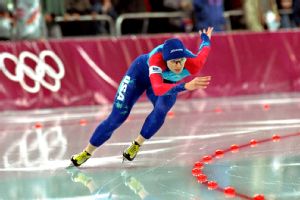 AP Photo/Thomas KienzleBonnie Blair will forever be an icon in the sport of speedskating.
"I think that's realistic. We're all pushing each other," Richardson said. "I think it will light a fire to the next person. One person will medal and the next person will want to medal, too."
Bowe said that everyone on the U.S. team helps each other, but Richardson in particular does. "Having Heather next to me, who is one of, if not the
the
, fastest women in the world is definitely an advantage to have."
Likewise, Richardson says Bowe pushes her. "Just coming from basketball, where she was in the weight room a lot more than I ever had been, coming from in-line -- so she's really strong in the weight room. So just having [her] there makes me think, 'Oh, she has heavy weights on, maybe I should put heavy weights on.'"
Richardson competed in Vancouver but her best finish was sixth place. She has improved significantly since then and is a contender to win in the 500, 1,000 and 1,500. She won all three events at the U.S. Olympic trials last month.
"I think in Vancouver I was just happy to be there," Richardson said. "Here, I want to put in some solid races. Just go out relaxed, do my best and hopefully be on the podium. My goal is definitely is to be on the podium in at least one of my three individual events."
Bowe also wants to step on that podium -- and perhaps get some people in Florida to pay attention to the sport.
"To be honest with you, growing up in Florida we don't really pay too much attention to the Winter Olympics," Bowe said. "Which is kind of ignorant for me to say, being here now. But I've had the honor of meeting Bonnie Blair and Eric Heiden, who are the legends of my sport. They've taught me a lot and it's been really cool getting to know them and their legacy as I've been building mine."
Speedskating is not the only area the two push each other. Richardson's basketball game is also improving, thanks to Bowe.
"She's getting better," Bowe said. "She's developed a nice little jump shot for sure."
February, 5, 2014
2/05/14
11:06
AM ET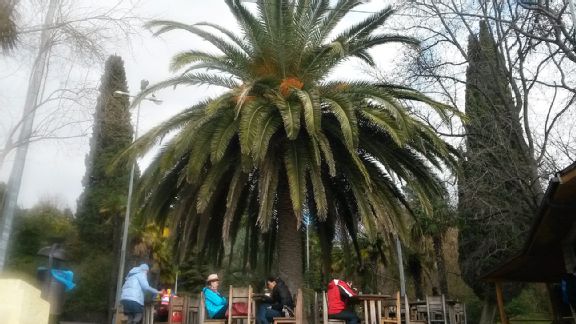 Jim Caple
I dined outside under a palm tree this afternoon, enjoying spoonfuls of jambalaya while taking in the view of the Black Sea and the cruise ships in port. I did not do this in Lillehammer at the 1994 Olympics.
Of course, Sochi's subtropical climate is a tad warmer than Lillehammer and also warmer than Vancouver was four years ago. Temperatures were in the low 50s Wednesday, which was warm enough for several young women to walk around in shorts, such as this woman posing with the Olympic mascots.
Stuffed toy versions of those Olympic mascots, by the way, are available in virtually every store along the Sochi waterfront and throughout its downtown. If you want one, wait until after the Olympics, then place your bid on eBay because the huge supply of these animals is certain to be heavily discounted.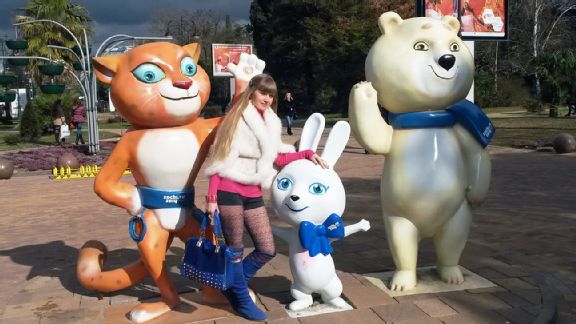 Jim Caple
February, 3, 2014
2/03/14
5:50
PM ET
By
ESPN.com news services
| ESPN.com
With apologies to Europe -- the band, not the continent -- we're in "
The Final Countdown
." Sorry, try shaking that one out of your head. Friday is the opening ceremony, and the Olympic torch in Olympic Park got a test run Monday.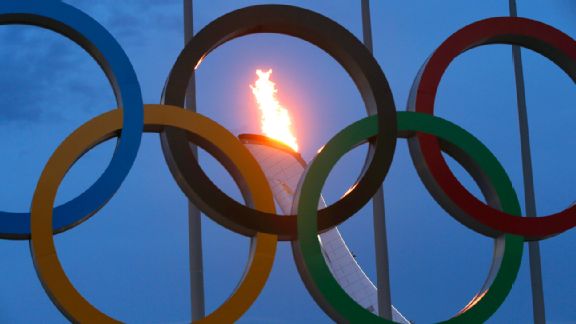 AP Photo/David J. Phillip
February, 3, 2014
2/03/14
2:31
PM ET
By
ESPN.com news services
| ESPN.com
The days before the Olympics are always a scramble for the host city. Making sure every "T" is crossed, "I" is dotted ... and every hotel room is finished?

Hotels in the mountains near Sochi are still being worked on just days before the Games are set to begin. It caused some embarrassment for local organizers over the weekend, but Olympic officials say everything will be in place by Wednesday.

"It does not mean that it's a catastrophe, that people do not have a room. People have not been put outside," Olympic Games executive director Gilbert Felli said after a news conference hosted by IOC president Thomas Bach.

Only a few hundred of the 41,000 rooms were not finished, not cleaned or missing phones or televisions, Felli told The Associated Press.

Officials said they expect most of the athletes and their families to arrive Thursday. The Opening Ceremony is Friday.



January, 30, 2014
1/30/14
4:14
PM ET
By
ESPN.com news services
| ESPN.com
It is always a little warmer when a cauldron and the Olympic torch are lit. Olympic wrestling champion Aslanbek Khushtov, right, and Yuri Kokov, the acting head of Kabardino-Balkaria, light the Olympic flame during a welcoming ceremony of the Olympic torch relay in the city of Nalchik, in southern Russia.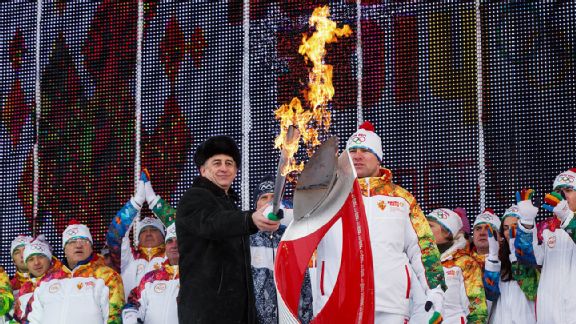 AP Photo/ Olympictorch2014.com