June, 24, 2012
6/24/12
8:07
PM ET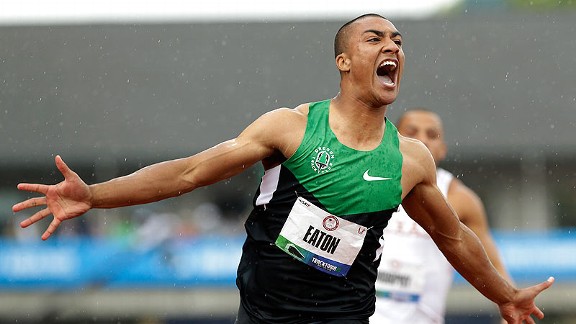 AP Photo/Eric Gay
EUGENE, Ore. -- If you care about Olympic sports at all -- heck, if you care about sports, period -- then Ashton Eaton's world record in the decathlon here at the Olympic trials is not a one-day story.
It all came together Saturday evening at his home track at Hayward Field, the Fenway Park of American track. To witness the crowd of 21,000 on its feet for the entirety of Eaton's final 1,500 meters, urging him on to greatness, was to witness, viscerally, sports history being made.
So, let's savor his 9,039-point performance a while, with some more perspective on what Eaton accomplished.
First, the numbers
• Here's what Eaton posted in each of the 10 disciplines:
Day 1:

100 meters: 10.21 seconds (fastest ever in a decathlon), 1,044 points

Long jump: 8.23 meters, or 27 feet (best ever in a decathlon), 1,120 points

Shot put: 14.20 meters (46, feet, 7 inches), 741 points

High jump: 2.05 meters (6 feet, 8 ¾ inches), 850 points

400 meters: 46.70 seconds, 973 points
Day 2:

110 hurdles: 13.70 seconds, 1,014 points

Discus: 42.81 meters (140 feet, 5 inches), 722 points

Pole vault,: 5.30 meters (17 feet, 4 ½ inches), 1,004 points

Javelin: 58.87 meters (193 feet, 2 inches), 721 points

1,500: 4:14.48, 850 points
The takeaways: For a man to sprint that fast and run distance that well is just plain unfair. And this record has room to grow. Eaton, the greatest all-around runner in the history of the event, is still learning how to throw.
This is no fluke
No one sets the decathlon record by accident. Look down the list of the decathlon record's progression and every record holder is among the sport's greats. This is also a good portent for Eaton in London. Every American decathlon world-record holder has also won a gold medal (though not always while they held the world record) -- James Bausch in 1932, Glenn Morris in 1936, Bob Mathias in 1948 and 1952, Rafer Johnson in 1960, Bill Toomey in 1968, Bruce Jenner in 1976 and Dan O'Brien in 1996.
OK, one fluky thing … the weather
Runner-up Trey Hardee said Eaton's record deserved "an asterisk," not because something should be taken away from it, but because something should be added. Hardee, the two-time defending world champion, called it the wettest decathlon he has ever competed in, and he got no argument from Eaton. The often driving rain, especially during the first day, plays havoc with this event, in which one error can kill a whole meet.
"You need skills, but you also need a consciousness to deal with chaos," said Harry Marra, Eaton's coach, who trains him in Eugene. "Rain like that is chaos. Throwing it in a circle where it's slippery, it's chaos. You don't practice that. Well, we do in Oregon. It definitely is an advantage."
Why people are excited
It's not just the record; it's how Eaton carries himself and the context of what he's doing.
First, at 6-feet, 180 pounds, he's normal sized, with none of the linebacker bulk usually associated with decathletes. He's not a cyborg, he's not a robotic corporate-sponsored product, at least not yet. Suitably for Oregon, the home of Steve Prefontaine, Eaton says things like, "The beauty is the pursuit of the limit, not the limit itself." And he has the personality of a decathlete, athletes who tend to be the student-council presidents of the sports world: organized, diligent, focused on the long term, optimistic and outgoing, with a healthy dose of humility. Eaton is damn glad to meetcha, yet he seems sincere about it.
He is also from a long line of diverse American champions in this most diverse event. One of the most touching aspects of the weekend was that Eaton achieved the record in front of living American gold medalists Bryan Clay, O'Brien, Jenner, Toomey, Johnson and Milt Campbell, along with the surviving sons of the first great decathlete, Jim Thorpe. Clay was competing, of course, and the rest came to Eugene for a ceremony celebrating 100 years of the event at the Olympics.
Thorpe, the first champion, was a Native American, and Johnson and Campbell represented the U.S. in the 1950s, when many states wouldn't have allowed them to drink at the same fountains as whites because they are African-American.
Like Clay and O'Brien, Eaton has a mixed-racial heritage and fits right into the cultural continuum of the event, whose champions always seem to be a bellwether of social forces. And like O'Brien and other former U.S. champions Dave Johnson and Tom Pappas, Eaton comes from a small town in the Northwest, creating a back story that was perfect for the weekend, and one that is likely to hold appeal as America, and the world, get to know him.
June, 23, 2012
6/23/12
9:39
PM ET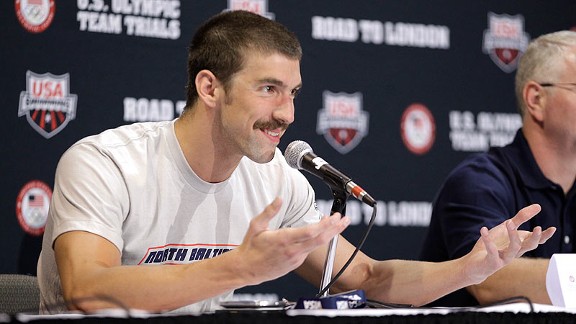 AP Photo/Mark HumphreyMichael Phelps wasn't taking the bait Saturday when reporters asked about the 400IM race.
OMAHA, Neb. -- The U.S. Olympic swim trials are starting with a cliffhanger before a single drop of water is displaced. And Michael Phelps isn't about to spoil it.
Phelps is entered in Monday's 400-meter individual medley, the first race of the meet. He is the two-time defending Olympic champion in the event and has held the world record since 2002, breaking his own mark seven times since. He said he wanted no part of the four-minute-plus meat grinder after the 2008 Olympics, but later changed his mind and has raced it several times this season.
The IM would kick off the widely anticipated serial showdown between Phelps and rival Ryan Lochte in dramatic fashion, and Phelps' former University of Michigan teammate Tyler Clary has said he's confident he can finish in the top two.
Yet not everyone is convinced Phelps is actually going to take the plunge.
"We've got a couple hours to decide, right?" Phelps said, spreading his hands wide and smiling mischievously. "In 24 hours, you guys will know."
He wouldn't even take the bait on my follow-up question about when he'll shave his bushy mustache. "I can't give that away," he said. "If I shave tomorrow, that would mean I'm swimming the 400 IM. It'll come off when the rest of my body hair comes off."
Swimmers have until early Sunday evening to scratch from Monday morning's events.
Clary said he doesn't expect Phelps to swim, "but stranger things have happened."
Clary, who broke Phelps' American record in the short-course 400-yard IM in 2009, is seeded second in the event behind Lochte and ahead of Phelps. He theorized that the 400 IM might not fit in with the rest of Phelps' goals, and said the 16-time Olympic medalist knows he can pass on it without hurting the U.S. team.
"It's not going to change what I do in the pool on Monday night, whether or not he's in it," Clary said. "I'm gonna throw down and swim the best race I've got."
Lochte, the reigning world champion in the event, said simply, "I sure hope he is," when asked to predict whether Phelps will be on deck for the preliminary heats. "He's the world's best swimmer, ever. I love racing against him. It's fun."
Phelps has raced the 400 IM several times this season, edging Clary at the Indianapolis Grand Prix and winning the event in Austin earlier this month without either Lochte or Clary in the field.
June, 23, 2012
6/23/12
9:24
PM ET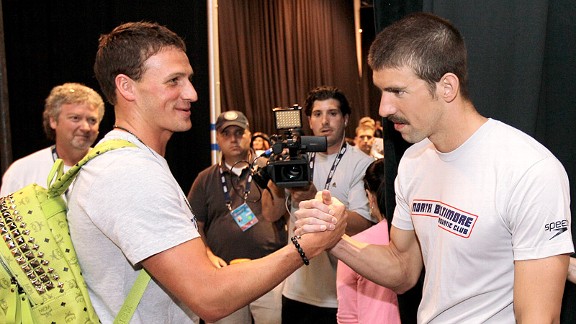 AP Photo/Mark HumphreyRyan Lochte and Michael Phelps could face off as many as six times at the U.S. trials.
OMAHA, Neb. -- Some 48 hours before the culmination of their highly anticipated showdown at the U.S. Olympic swimming trials, the two greatest swimmers in the world shared a moment here Saturday afternoon.
It wasn't much. A handshake. A half-hug. A how-are-you. Then, Ryan Lochte, with his lime-green backpack, and Michael Phelps, with his bushy moustache, were on their way. But the five-second exchange, sandwiched between two 30-minute sessions of Lochte and Phelps talking about beating each other, made for compelling theatre.
For this is the headline story of next week's trials. Sure, the main goal is to take 1,829 qualified swimmers and fill 52 U.S. slots for London, but the majority of questions that filled the interview room Saturday were about the Lochte-Phelps rivalry and just who is going to come out on top this summer.
Just as compelling as their brief interaction was what the two superstars had to say. Up first was the cool and confident Lochte, reminding everyone yet again that he feels like this is "his time." He added that he loves his rivalry with Phelps and believes the interest surrounding the two of them butting heads this summer could potentially "change the sport."
Then came the ultra-calm Phelps, coyly refusing to say whether or not he'll swim Monday's 400 IM, insisting he's trying to enjoy his final Olympic run and selling the narrative of being an underdog. Yes, an underdog.
"He's the world-record holder, the world champion in a couple events," Phelps said of Lochte. "He has been lighting up the last couple of years in the swimming world. I guess you could say people are trying to catch him."
Whether or not this is what Phelps truly thinks, you can believe it's what coach Bob Bowman has been telling him. When asked at the end of his press conference if Lochte's confidence affects him, Phelps admitted it does serve as added motivation. He hears what people say, he sees what they type on Twitter, when they tag him and Lochte, and he often finds it "frustrating."
Phelps compared it to 2003, when Australian coach Don Talbot said the American was unproven; or in 2008, when another Aussie, Ian Thorpe, said winning eight gold medals could not be done, it was impossible. Now it's Lochte providing a little added inspiration with Phelps refusing to fire back.
"I've never once said anything publicly. I never will," Phelps said. "That's not how I am. I let the swimming do whatever talking it needs to, has to, will do, whatever. That's how I've been [in] my career and that's how I'm going to finish it. A lot of people can talk the talk, but they can't walk the walk."
When asked Saturday who the best swimmer was at this meet, Lochte deferred. With Lochte currently entered in 11 events this week and Phelps seven, the pair could potentially go up against each other as many as six times. Scratches are likely, but there's no question all eyes will be on both of them anytime they're together on deck.
"I'm just going to have to let that swimming talk this week, and then next week you guys can decide who is best," Lochte said.
June, 21, 2012
6/21/12
6:55
PM ET
EUGENE, Ore. -- Sometimes, the choices athletes make in life come down to the calendar.
That was the case for a pair of American sprinters, Allyson Felix and Sanya Richards-Ross, who are going after different sprint doubles at the U.S. Olympic trials.
For the first time, Richards-Ross will try to make a U.S. team in both her specialty, the 400 meters, where she's a past world champion, and in the 200, in which she's posted the fastest times of her life this year.
[+] Enlarge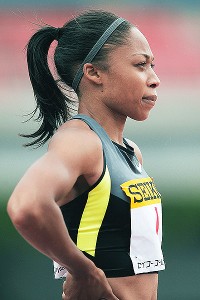 Adam Pretty/Getty ImagesAllyson Felix is set to race in the 100 and 200 meters at the U.S. Olympic trials, which began Thursday in Eugene.
Felix, meanwhile, who doubled in the 200 and 400 meters at last year's world championships in Daegu, South Korea, is changing up this year, attempting to make the team at 100 and 200 meters instead.
Though their double-duties differ, the logic of their decision-making was similar. For Richards-Ross, the decision was easy. She's healthier than she has been in years (more on that below), and has always thought of herself as a sprinter. But she based her decision largely on the fact that the 400 concluded first at the U.S. trials and in London. With the calendar showing that her pet event would be out of the way early at the trials and allow her some days to rest up for the 200 rounds, she planned her season around the possibility of a double. "For me, the 400 was my priority," she said.
But the 200 was always in the back of her mind. She did a 200 in Manchester early in the season, then ran 400s through the Prefontaine meet the first week of June. When her 400 times were up to par, she decided to run the 200 at the adidas meet in New York on June 9.
"I knew I was in great shape," she said of the 200 in New York. "I wasn't sure how fast I'd go." Turns out, it was quite fast -- a personal record of 22.09 seconds. "To run a PR in the 200 was fantastic," she said. "[After that], it was kind of a no-brainer." After the 400 finishes at the trials, she gets three days off to rest up for the 200. "If I make the team, I want to represent my country," she said. "That's my goal."
The goal is more attainable thanks to a personal medical breakthrough. For years, Richards-Ross has been held back by a chronic disease, originally diagnosed as Behcet's syndrome. Now, though, she said the aching in her joints and skin inflammation that haunted her off and on for years -- which required her to take medicines that negatively affected her training -- has been diagnosed as something different. She's not making that diagnosis public, but she said it resulted in a change in medication, which in turn has had a positive impact on her running.
"I'm 100 percent healthy and it's showing," Richards-Ross said.
Felix said her experience with the meet calendars for the trials and the Olympics played into her decision to go for a shorter 100-200 double this year. Like Richards-Ross, she wanted to play to her strength, which in her case is the 200.
"It all came down to the 200," she said. "I've said from the beginning, that's what was most important for me."
At last year's worlds, Felix grinded through the rounds to win a silver medal in the 400, which left her less spry for the 200, and she finished third in the event she calls "her baby."
So this year, she vowed to take good care of her baby. "It was really about what was going to help me run my best 200 and set me up for the best possible race," she said. "Running the 100 helps me run my 200. That's what it's really all about."
The 100 training benefits her turnover during the 200. "It keeps me in that sprint mode," she said. But mostly, she said, it helps her start. "For me, that's the key -- just trying to get that down," she said. "Just improving on that front end, normally that's where I give up a lot of ground. So having that extra time to be able to work on those things, I definitely feel the benefit."
June, 21, 2012
6/21/12
6:40
PM ET
EUGENE, Ore. -- The sprint world is understandably looking ahead to the Jamaican Olympic trials next week, as the three fastest 100-meter times in the world this year have been run by Jamaicans, led by superstars Usain Bolt (9.76 seconds) and Yohan Blake (9.84), with veteran Asafa Powell (9.85) right behind.
But the fourth man on the world's list of season's-best times could be making some noise this weekend here at the U.S. trials. Justin Gatlin, track's prodigal son, who has come nearly all the way back to his 2004 Olympic gold-medal form after a four-year doping ban, posted a 9.87 earlier this year. And he said he has more speed left in his tank.
"In 2004, I ran 9.85 in the finals of the Olympics," Gatlin said Thursday at a pre-trials news conference. "My season opened with a 9.87, and my coach, Dennis Mitchell, felt like there was definitely a lot of room for improvement."
Gatlin said he's been making those improvements and his training times "are ready to challenge the world."
He was quick to respond when asked if his practice form has reached the level he attained in 2004. "I think so," he said. "My coach's stopwatch hand is pretty accurate. This year we've been putting together a lot of good times at practice."
Asked to elaborate on those times, Gatlin ducked slightly. "All I can really say is that it's better than 9.87," he said. "Much better."
It will likely take much better than 9.87 to challenge Bolt & Co., but Mitchell is confident Gatlin's experience and mentality will allow him to deal with the pressure of this weekend's 100, and anything that comes his way in London.
"When he gets on the track, I don't have to worry about his competitive spirit," Mitchell said. "I know that if the first- or second- or third-best guy in the world is in the race and everybody's fixated on that, he will go out there and execute his race to the T to make sure his goals are met."
Mitchell wouldn't reveal what that execution entails, other than to say he's scouted Gatlin's U.S. and international opponents for weaknesses in their races, and is working on ways to take advantage of them.
The coach, a world-class sprinter himself at the turn of the century, did dish about the time he competed against his pupil, when Gatlin was a freshman at Tennessee. "I beat him, of course," Mitchell said.
Gatlin noted that many in the press have used the word "redemption" to describe his comeback, but to him this season and these trials feel more like a homecoming. "I can say I'm victorious," he said. "I'm happy to be back. I know what it's like to have a talent and not be able to use it."
The doping suspension and resultant criticism made him wiser and more appreciative of what he had, what he lost and hopes to regain. "I may not be the fastest guy out there," he said. "I may not be the most charismatic guy out there. But I'm probably one of the bravest."
June, 20, 2012
6/20/12
6:18
PM ET
As schools let out and the weather warms, learning to swim becomes increasingly important. Ask Cullen Jones. He's an Olympic gold medalist swimmer, but he nearly drowned at a water park when he was five years old.
"I know what it feels like to be in that situation," he said. "I know what it feels like to get in the water."
Jones was enjoying an afternoon at a waterpark with his parents when his father, Ronald, led him down the largest slide. Cullen followed but he flipped over on his inner tube when he hit the bottom and sank. He passed out and needed to be fully resuscitated. He said his mother, Debra, enrolled him in swimming lessons within a week. Those lessons eventually led him to an Olympic podium though he wasn't comfortable in the water right away.
"It took a while," Jones said. "I remember parts of [the near-drowning] and she fills in the rest. She says it took a good six months to get me into the water and feel comfortable and have fun."
According to the Center for Disease Control and Prevention, about 10 people a day drown in the United States, with one in five younger than 14. African-American children drown at a rate three times higher than Caucasians, which is partially explained by a survey conducted by the USA Swimming Foundation and University of Memphis: 73 percent of African-American children and 60 percent of Hispanic/Latino children cannot swim.
Jones is African-American and is using his Olympic fame to get more children in the pool for lessons. He is working with the USA Swimming Foundation/Phillips 66 "Make a Splash" water safety program to increase swim lesson participation.
"I get messages daily, 'Hey I just started swimming, I'm the only black person on team,' or 'I'm the only Asian, the only Hispanic,'" Jones said. "It's cool to be a role model and that people care what I think. ... 'Make A Splash' really keeps a tally of the kids we touch and the numbers are showing that kids are getting into swimming. It's great."
The lessons certainly paid off for Jones. He won a gold medal at the 2008 Olympics in Beijing where he swam on the 4x100 free team and will swim again at next week's trials to earn a spot for London.
Jones said it was a little difficult being the only African-American swimmer in his group growing up but that his community was also a melting pot. He does remember an incident after he won a junior Olympic meet around the age of 15.
"A lady came by and she said to my parents, 'Shouldn't he be playing basketball?'" Jones recalled. "My mom, who is the nice, calm woman, turned around and was about to go off, but my dad grabbed her and said, 'No Debra, calm down.'
"I'll never forget what Dad said to me. He said, 'The reason she said that is because you beat her son.'"
That, he said, provided him with sufficient motivation to excel, and now he wants to provide motivation to others.
"It's really about getting kids to understand the importance of learning to swim," he said. "Not necessarily to follow in my footsteps but just to get in the water."