February, 5, 2014
Feb 5
1:52
PM ET
By
Bonnie Ford
| ESPN.com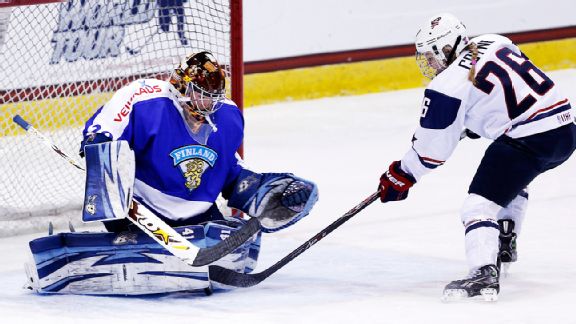 AP Photo/Mike GrollWhen Team USA looks inside Finland's goal they will see the Noora Raty looking back at them.
The U.S. team outscored its three Olympic round-robin opponents 31-1. Canada steamrolled by a 41-2 margin. The routs raised some questions about the women's inclusion in the Winter Games as critics wondered why the global level hadn't progressed more since the inaugural competition in 1998.
Whether there's more overall depth in the game in 2014 will soon be revealed. But the preliminary rounds should be more competitive and entertaining because of a format change that sorted the top four teams into one group and the next four into another. The third- and fourth-place teams in Group A will move on to play the first- and second-place teams in Group B in the quarterfinals, and those winners advance to the semifinals against the top two teams.
That fine print means the U.S. team will have to accelerate into the tournament rather than warm up its engine. First up Saturday is Finland, whose team shockingly upended the Americans at home in the Four Nations Cup in November. Canada awaits next Wednesday in what is almost certainly Act I of a two-part championship drama.
"I don't see a downside, personally," head coach Katey Stone said of the reshuffled deck. "It's a world-class event, and we want to be challenged as much as we can."
The U.S. and Canada have faced off in group play in the last two world championships, which "only enhanced the overall product," Stone said.
Perhaps Finland's greatest asset on the ice is 24-year-old goaltender
Noora Raty
, whose stellar career at the University of Minnesota ended with a perfect 41-0-0 season and a national championship. Raty made 58 saves in Finland's 3-1 win in the premier Four Nations event.
U.S. goaltender
Jessie Vetter
said she respects Raty's ability to keep her team in any game and added that she welcomes the chance to hit the ice running, so to speak, in the first game.
Vetter made pre-Olympic headlines when the U.S. Olympic Committee asked her to modify designs on her mask
that were deemed to run afoul of international rules, including the words "We The People" from the preamble to the U.S. Constitution.
The ruling came in plenty of time for artist Ron Slater to redo the mask with alternate patriotic motifs Vetter liked -- an eagle and the Statue of Liberty, among others -- that stayed within guidelines for equipment.
"It didn't affect me," Vetter said of the makeover. "He did a great job."
August, 27, 2013
8/27/13
4:51
PM ET
CALGARY, Alberta -- A little ball hockey, eh?
Team Canada took to the floor-covered ice Monday for "walk-through" practices, which is the coaching staff's unique solution to a tough situation given the inability to actually get on the ice for real practices.
The 45 players were split into two groups and ran around with their sticks in their hands playing out drills from the coaching staff while wearing track shorts, T-shirts and running shoes.
Kudos to head coach Mike Babcock for the clever solution for a tough predicament.
"I thought it was a real good day for us," Babcock said. "Obviously, I have never done this before. We've put a lot of planning into it. I spent a lot of time talking to people to gather the information -- [head coach] Tom Izzo in particular with Michigan State basketball. He talks about the walk-throughs, and [they are] part of the reason that he believes they've been to six Final Fours in the last 15 years. Todd Downing is a quarterback coach with the Lions. He talked about the plays they walk through each and every day and the muscle memory and the timing and spacing that's going on.
"This is a big sheet, and guys aren't used to it. It's even bigger when you can't move very fast, and you couldn't go very fast today. But I thought it was a good teaching tool. The other thing is when you've got 23 guys on your team, you usually got to teach 23 different ways. Everybody learns different, so when you see it on video, it's one way you see it. In a book, it's another way. You've got a posting on the wall, you walk through it again and then you talk about it. To me, what we're trying to do is get them to understand the way we're going to play, so it meets the comfort for them when they arrive in Sochi."
It's early, folks, but, for the heck of it, here were the lines:
Chris Kunitz
-
Sidney Crosby
-
Patrick Sharp
Eric Staal
-
Jonathan Toews
-
Rick Nash
Logan Couture
-
John Tavares
-
Steven Stamkos
Andrew Ladd
-
Ryan Getzlaf
-
Corey Perry
Jeff Carter
-
Mike Richards
-
Martin St. Louis
Milan Lucic
-
Matt Duchene
-
James Neal
Brad Marchand
-
Patrice Bergeron
-
Jordan Eberle
Taylor Hall
-
Jordan Staal
"Don't read anything into the lines," Babcock cautioned.
Joe Thornton
's absence from the camp (family illness) left Hall and Jordan Staal lined up with a University of Calgary player, Dylan Walchuk.
Talk about a thrill for the college player.
"I know. It's pretty sweet. Maybe I'll see myself on TV tonight if I get lucky," Walchuk said.
So much is going to play out over the next few months before Team Canada picks the team. It's hard to tell a whole lot from these lines when you consider that most of the line combinations at the camp four years ago didn't hold water come the Olympics in Vancouver four months later.