August, 1, 2014
Aug 1
2:43
PM ET
By
ESPN.com news services
| ESPN.com
Heads up, hoops fans: Nike has yet another new Team USA uniform for you to feast your eyes on!
On Friday, the company
officially unveiled
the U.S. men's national basketball team's gear for the upcoming FIBA Basketball World Cup, which begins Aug. 30 in Spain. Check 'em out: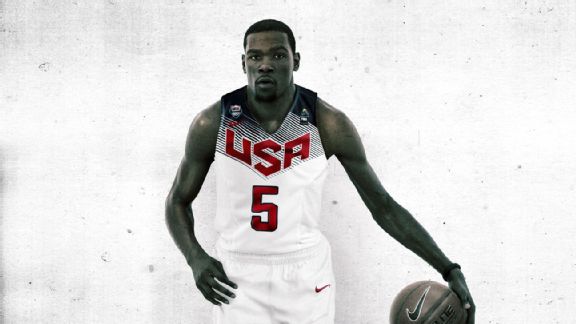 NikeKevin Durant, you are the real MVP!
The home and away looks: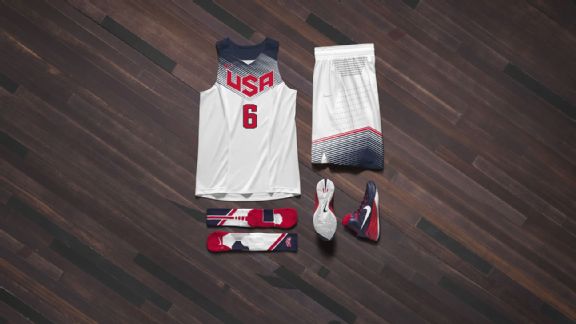 Nike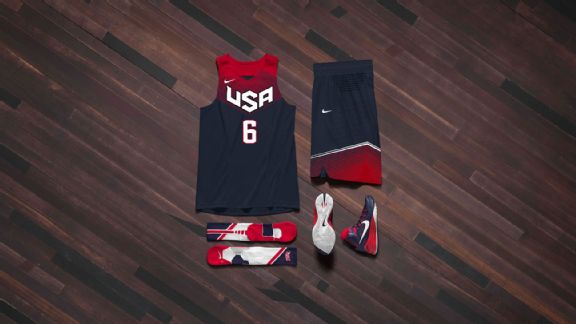 Nike
So, what do you think of the uniforms? Cast your vote or write a comment below:

February, 15, 2014
Feb 15
1:44
PM ET
By
ESPN.com staff
| ESPN.com
T.J. Oshie
, the hero of Team USA's thrilling
shootout win over Russia
, might not have been in Sochi at all had it not been for his skill in the shootout.
Oshie was one of a handful of players, including
Brandon Saad
of the
Chicago Blackhawks
, who fought for the final forward spots on Team USA leading up to the Olympics.
ESPN.com's Scott Burnside was embedded with GM David Poile and the other American decision makers throughout the selection process, and
his report from inside
contains a prophetic statement from Poile:
As he has throughout, (Blackhawks GM Stan) Bowman speaks on behalf of his player, Saad.

"I think he's a more versatile player than Oshie," Bowman says.

"I think he's got more to his game than Oshie. He's like a young version of [Marian] Hossa. He's such a strong guy. He's just hard to handle. He's smart. He's a guy the coaches would love," the Chicago GM says.

Poile, meanwhile, knows Oshie and likes his personality.

"Oshie's got that shootout move," he adds.
Burnside also reported that the Team USA coaching staff wanted Oshie, in part for his versatility and chemistry with
David Backes
, as well as his shootout skills.
It appears they put their faith in the right player.
February, 11, 2014
Feb 11
3:25
PM ET
Jason Brown has had a pretty memorable past year. At this time last year, he was just an 18-year-old figure skater on the junior circuit. In the year since, he made the Olympic team, won a medal and even met Russian president Vladimir Putin.
[+] Enlarge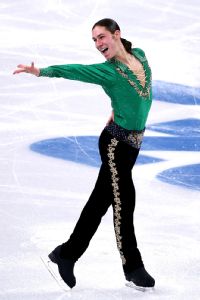 Robert Cianflone/Getty ImagesJason Brown's Olympic debut has been an eventful one so far.
That meeting was after the team figure skating competition. Putin attended Sunday's finals, then congratulated the skaters.
"It's something that happened so fast, you almost didn't think it was real," Brown said. "Our team was standing around, and he literally put his hand out for each of us. We all shook his hand.
"It was kind of like one of those moments where you stand there with your eyes open -- and then he moved on to the next person. It happened so fast, I was totally star-struck and having a hard time trying to grasp it all. It was so incredible. ..."
"He's so supportive of the Russians and their skating, and that's another incredible aspect, that Putin is behind all the skaters. He's behind the Russian federation and he's here to support them, and I think that's awesome. That's huge. And the fact that he came up to us is such a memorable moment. It's incredible that I can say I shook Putin's hand."
Brown helped the U.S. to a bronze medal in the team competition by skating the men's free program. Although he fell once, he skated much better than U.S. champion Jeremy Abbott, who fell twice in the short program and dug his teammates into an early hole. Still, Abbott said that made for good preparation for this week's men's competition that starts Thursday.
"I had some big demons post-U.S. nationals, and I got to meet them up close and shake their hands and make peace with them and send them on their way," Abbott said. "It was good for me mentally because it made me really look at my preparation, and I really wasn't in my structure. When I was at the rink I was, but when I was in the athletes village I wasn't. So it made for a very unsteady situation, and when I got in that pressure situation, it kind of all collapsed."
Abbott says he's altered his schedule to compensate thanks to the lesson he learned in the team competition, Plus, both he and Brown have medals they have only a slim chance of winning as individuals.
"To be on the medal stand with my teammates yesterday and to think a year ago I didn't even think I was going to be skating in seniors competition?" Brown said. "I didn't think I was going to make the Olympic team. And now to have a medal?"
February, 7, 2014
Feb 7
10:10
PM ET
By
ESPN.com news services
| ESPN.com
There is something special about the Opening Ceremonies of the Olympics. It touches the casual observer, the fan and even the athlete. The U.S. Olympic Committee sent out these reactions from American athletes after Friday night's ceremonies in Sochi: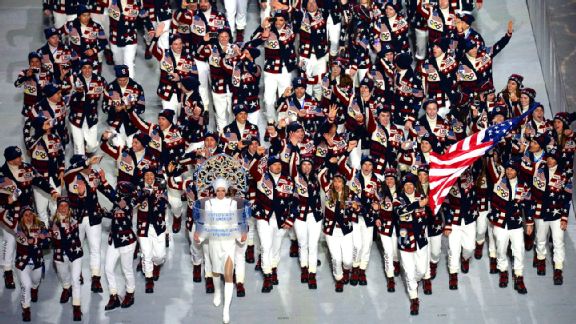 Yuri Kadobnov/Getty ImagesTeam USA flag bearer Todd Lodwick leads his American delegation during the Opening Ceremony.
Arielle Gold (Steamboat Springs, Colo.), Snowboarding
"That was definitely one of the most amazing things I've ever done. I think the fact that I'm at the Olympics has finally set in."
Taylor Gold (Steamboat Springs, Colo.), Snowboarding
"Walking into the stadium is a crazy and powerful experience. It's unlike anything I've ever seen -- as clichéd as it sounds. There's no other way of putting it."
Alex Deibold (Manchester, Vt.), Snowboarding
"I've been dreaming about this moment for as long as I can remember and all of the hard work I've put in over the years feels like it paid off the second I walked into the stadium. Definitely something I will always remember."
Sarah Hendrickson (Park City, Utah), Ski Jumping
"Such an amazing feeling. It really is emotional because everything in sport you have done leads up to this moment. It's everything I have dreamed of for the past five years and specifically the last six months."
Jessie Diggins (Afton, Minn.), Cross-Country Skiing
"It was such a rush! I can't keep the smile off my face! I feel so much pride for the USA!"
Lanny Barnes (Durango, Colo.), Biathlon
"I don't think the excitement of walking into the stadium during the Opening Ceremony has changed after my third Olympics. There is something truly special about putting on the Team USA gear and walking in behind the flag. It gives me goose bumps every time I think about it. I can think of no greater honor in sports."
Erik Fisher (Middleton, Idaho), Alpine Skiing
"That was very impressive -- the best show I've ever seen. The Olympic spirit is certainly alive in Sochi."
Hannah Kearney (Norwich, Vt.), Freestyle Skiing
"The Opening Ceremony is the embodiment of everything Olympic. To me, wearing the same uniform as every other American athlete and walking into a stadium designed to celebrate the Olympic spirit is the moment I first truly feel like an Olympian."
Heather McPhie (Bozeman, Mont.), Freestyle Skiing
"The Opening Ceremony was one of my favorite things to watch growing up! Walking in the Opening Ceremony in Vancouver is one of my favorite memories, and it is the first time I truly felt like an Olympian! The Opening Ceremony marks the start of the world coming together for something so positive in this world and I am honored to be an athlete representing the USA here in Sochi!"
Bradley Wilson (Butte, Mont.), Freestyle Skiing
"The Opening Ceremony is something that I always would watch over the years. I can remember every one of them very well, too. As a spectator, it was the start of something very special. I was always so inspired after watching. The Opening Ceremony here in Sochi was when I finally realized the amazing accomplishment of being an Olympian."
Emily Cook (Belmont, Mass.), Freestyle Skiing
"I am so excited to share this Opening Ceremony experience with an incredible team and the world! Tonight is the start of an amazing few weeks of competition and an opportunity to celebrate the years of training, ups and downs and all of the people it has taken to help each of us get here"
Mac Bohonnon (Madison, Conn.), Freestyle Skiing
"Walking into the stadium alongside all of Team USA is the pinnacle of any Olympic experience. The ceremony embodies the Olympic spirit and brings the entire movement together, which I think is pretty special. The only better moment I can think of is hearing the national anthem play with a gold medal around my neck."
Jessica Schultz (Anchorage, Alaska), Curling
"The energy and emotion we feel walking with the rest of Team USA is a perfect start to this amazing experience."
Aaron Blunck (Crested Butte, Colo.), Freestyle Skiing
"I have never felt so good to represent America than tonight at the Opening Ceremony! That was insane! Go USA!"
Devin Logan (West Dover, Vt.), Freestyle Skiing
"Words can't describe what I witnessed live with my own eyes! It was the coolest experience of my life."
Debbie McCormick (Madison, Wis.), Curling
"There is nothing more exciting than walking hand-in-hand with my teammates in the Olympic Opening Ceremony! My heart is filled with stars and stripes, joy and excitement."
February, 6, 2014
Feb 6
3:41
PM ET
SOCHI, Russia -- Twenty years ago at the opening ceremony of the Lillehammer Games, 17-year-old Todd Lodwick walked in with the U.S. team and then watched in wonder as his mother stormed down the stadium steps through crowds of white-clad spectators, determined to get as close as she could. The young Nordic combined phenom detoured out of the procession to hug her.
He'll have to stay in step Friday. Lodwick, the first six-time Winter Olympian from the United States, was selected by his fellow athletes as flag-bearer.
The honor caps a few weeks of wildly oscillating emotions for Lodwick, who won the U.S. Olympic trials in late December only to crash on a ski jump landing less than two weeks later, dislocating his left shoulder and seemingly jeopardizing his chance to make history.
[+] Enlarge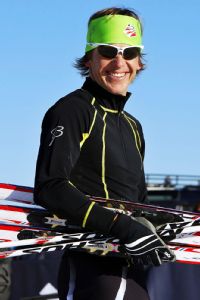 Nathan Bilow/USA TODAY SportsTodd Lodwick is still on the mend, but it won't affect his responsibilities during Friday's opening ceremony.
But Lodwick, now 37 and a father of two, rehabbed furiously, pushing through up to three sessions of physical therapy daily and doing lower-body cardio training with his left arm in a sling. He'll walk Friday still healing from non-displaced fractures in his shoulder and one rib, a torn labrum and soft tissue injuries, but said "no way" would that keep him from his appointed task.
"I'm 90 percent, and it's not going to be an issue," said Lodwick, a Steamboat Springs native who sported a state of Colorado cap as he spoke to reporters.
"To represent the 230 athletes who get to walk behind me is humbling," said Lodwick, who added that he was proud to follow in the literal footsteps of previous flag-bearers Scott Hamilton (figure skating) and Bill Koch (Nordic skiing).
Lodwick, a world junior champion, six-time World Cup winner and double world championship gold medalist in the demanding discipline that tests both ski jumping and cross-country skiing skill, was the first building block of the current team's success. Like any elite athlete with that kind of longevity, he has seen extremes of elation and disappointment.
Burned out after the 2006 Torino Games, he left the sport for two years but returned to become a world champion and make the 2010 Olympic team. He missed an individual medal in Vancouver by .07 of a second, then helped win a silver in the team event.
Lodwick clinched his trip to Sochi at the trials in Park City, Utah the last weekend of December, courtesy of a strong jump that earned him a 36-second head start on the field in the cross-country race. But then, in an unfortunate exception to two remarkably injury-free decades, he crashed on landing a provisional jump at a World Cup event in France.
After Lodwick was named to the team Jan. 25, there was speculation that he would skip the two individual events and wait for the team event Feb. 20 to give himself maximum time to mend. Thursday, head Nordic combined coach Dave Jarrett said nothing has been ruled out yet.
Jarrett said that pending medical clearance, Lodwick hopes to jump for the first time since his injury during official training time for the individual normal hill event next week. Depending on how things look, he could compete in that event or the large hill event Feb. 18.
The coach noted that Vancouver large hill gold medalist Billy Demong carried the U.S. flag in the closing ceremony there, making it two in a row for a sport that labored in total obscurity in the United States for eons.
"It's a pretty cool streak," Jarrett said.
Demong is back to defend his Olympic championship, joined by brothers Bryan and Taylor Fletcher, whose recent successes have kept the veterans motivated.
February, 5, 2014
Feb 5
1:52
PM ET
By
Bonnie Ford
| ESPN.com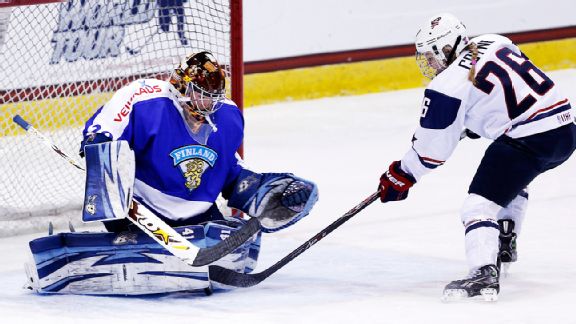 AP Photo/Mike GrollWhen Team USA looks inside Finland's goal they will see the Noora Raty looking back at them.
The U.S. team outscored its three Olympic round-robin opponents 31-1. Canada steamrolled by a 41-2 margin. The routs raised some questions about the women's inclusion in the Winter Games as critics wondered why the global level hadn't progressed more since the inaugural competition in 1998.
Whether there's more overall depth in the game in 2014 will soon be revealed. But the preliminary rounds should be more competitive and entertaining because of a format change that sorted the top four teams into one group and the next four into another. The third- and fourth-place teams in Group A will move on to play the first- and second-place teams in Group B in the quarterfinals, and those winners advance to the semifinals against the top two teams.
That fine print means the U.S. team will have to accelerate into the tournament rather than warm up its engine. First up Saturday is Finland, whose team shockingly upended the Americans at home in the Four Nations Cup in November. Canada awaits next Wednesday in what is almost certainly Act I of a two-part championship drama.
"I don't see a downside, personally," head coach Katey Stone said of the reshuffled deck. "It's a world-class event, and we want to be challenged as much as we can."
The U.S. and Canada have faced off in group play in the last two world championships, which "only enhanced the overall product," Stone said.
Perhaps Finland's greatest asset on the ice is 24-year-old goaltender
Noora Raty
, whose stellar career at the University of Minnesota ended with a perfect 41-0-0 season and a national championship. Raty made 58 saves in Finland's 3-1 win in the premier Four Nations event.
U.S. goaltender
Jessie Vetter
said she respects Raty's ability to keep her team in any game and added that she welcomes the chance to hit the ice running, so to speak, in the first game.
Vetter made pre-Olympic headlines when the U.S. Olympic Committee asked her to modify designs on her mask
that were deemed to run afoul of international rules, including the words "We The People" from the preamble to the U.S. Constitution.
The ruling came in plenty of time for artist Ron Slater to redo the mask with alternate patriotic motifs Vetter liked -- an eagle and the Statue of Liberty, among others -- that stayed within guidelines for equipment.
"It didn't affect me," Vetter said of the makeover. "He did a great job."
August, 8, 2012
8/08/12
7:46
PM ET
Some at-the-buzzer instant analysis from Team USA's 119-86 victory over Australia in Wednesday night's Olympic quarterfinals:


How it happened:
When
LeBron James
rebounded an errant
Kobe Bryant
3-pointer in the third quarter, levitated over everyone else in the vicinity and banked in a one-handed pumping layup at his leisure, we were provided a pretty handy snapshot of this quarterfinal matchup.
Because James' presence hung over this game.
It took until the fourth quarter for the United States to get significant separation from the typically plucky Aussies, thanks to Kobe's spree of four 3s in 60-odd seconds, but James also made sure Team USA was never really threatened. The NBA's reigning MVP racked up 11 points, 14 rebounds and 12 assists in 30 minutes to register a comfortable triple-double that steered the Americans into Friday night's semifinals against Argentina.
Team USA again appeared to fall well short of its defensive potential by sloppily surrendering the first 11 points of the second half to cut a 14-point lead down to three in a matter of seconds. The Yanks also couldn't prevent
San Antonio Spurs
guard Patty Mills, who emerged from group play as the tournament's co-leading scorer with Spain's
Pau Gasol
at 20.6 points per game, from dropping another 26.
Yet the Americans never were in any lasting danger against a group of Aussies who couldn't afford to miss eight of 21 free throws and the handful of inside chances they did have. Not when they didn't have
Andrew Bogut
in the lineup to punish the Americans more for their intermittment focus.
"If Bogut's playing, it's different," Team USA coach Mike Krzyzewski said. "It's just different."
What it means:
Team USA will play Argentina on Friday night for the third time in a span of 17 days, with the winner advancing to the gold-medal game against the winner of Russia-Spain.
Team USA now has won 48 consecutive games in international play, dating back to a loss to Greece in the semifinals of the 2006 Worlds in Japan.
The last team to beat the Americans on the Olympic stage? Argentina in the 2004 semifinals.
Team USA's Olympic win streak is up to 15 now.
Player of the game:
In case we weren't clear before ...
Eleven points. Fourteen rebounds. Twelve assists.
Need we say more?
Kobe had all 20 of his points in the second half -- 18 coming on his six 3s after interimssion -- and
Kevin Love
finished with 10 points and 11 rebounds, eight of those boards coming on the offensive end. Deron Williams and
Carmelo Anthony
also quietly totaled 18 and 17 points, respectively.
Those performances, though, were complements to what James did as a tone-setter.
Play of the game:
Pick your favorite no-look pass from James.
The ball he bounced through Aron Baynes' legs in the key to set up an early three-point play for Melo that LeBron celebrated as vigorously as any play he's made in these Olympics?
Another no-looker amid a lot of traffic in the paint to free up
Russell Westbrook
for a late layup in the first?
Or the much longer no-looker he zipped inside to make an easy bucket for Love?
On this night, it was hard to take your eyes off James, who almost had his triple-double (seven points, 10 boards and six assists) by halftime.
By the numbers:
With 19 more 3-pointers in its sixth straight victory at London 2012, Team USA has 96 3s as a group for the tournament.
The Americans went into Wednesday night's play with 77, matching the 77 they drained in eight games at the 2008 Olympics in Beijing.
James, meanwhile, needed 56 points in Team USA's final games to overtake
David Robinson
as the program's leading all-time scorer in Olympic play. He's now 45 points away entering Friday's semifinals against Argentina.
July, 26, 2012
7/26/12
10:02
AM ET
LONDON -- As we await Sunday's launch of the Olympic men's basketball tournament, there is some data to dissect.
With some helpful dishing from ESPN Stats & Info, let's go inside the numbers from Team USA's five exhibition wins, by an average of 26.6 points, against the Dominican Republic, Brazil, Great Britain, Argentina and Spain.
12: No Team USA player averaged more than LeBron James' 12.2 shots per game. The breakdown:
3: Kobe Bryant attempted just three shots from the field while playing nearly 21 minutes against Spain. In the 1,310 career NBA regular-season and postseason games in which he's logged at least 20 minutes, Bryant has never attempted fewer than four field goal attempts.
4.7: In one of the more worrisome trends for Team USA, Tyson Chandler averaged one foul every 4.7 minutes of action (14 fouls in 66 minutes). Coach Mike Krzyzewski's only veteran center on the roster was disqualified in the Spain game after being whistled for five fouls in less than nine minutes.
3: Three players -- Bryant, James and Chandler -- started all five exhibitions. Other players who got starts: Chris Paul (four), Kevin Durant (three), Carmelo Anthony (two) and Deron Williams (one).
4: Team USA had four leading scorers on its exhibition tour if you count Williams, who tied with Anthony against Great Britain with a team-best 19 points. The list:
10: The largest deficit Team USA faced was a 10-point hole against Brazil. Spain went up as many as nine points early against the Yanks, but Argentina never tasted a lead. Team USA held no less than a 20-point lead in every game except Brazil.
22: Team USA forced nearly twice as many turnovers as it committed in the five exhibition games, generating 22.0 per game and making just 12.2 turnovers per game as a team. Team USA also averaged 28.6 points per game off turnovers, good for 30 percent of its offense in the five wins (143 of its 497 composite points). Bear in mind that, for comparison's sake, NBA teams created an average 17 percent of their offense from turnovers during the 2011-12 season.
0: None of Team USA's five exhibition opponents reached double figures in fast-break points. Team USA was plus-58 on the break in the five games.
1: Only Argentina outscored Team USA in points in the paint. The Americans were plus-8 inside against both Brazil and Spain and plus-70 on points in the paint against Great Britain and the Dominican Republic.
37.4: Team USA entered the Spain game shooting just 37.4 percent from the shorter international 3-point line, but the Americans were 13-of-23 from deep against the reigning European champions, while Spain shot just 26.3 percent on 3s (5-of-19).