February, 6, 2014
Feb 6
3:41
PM ET
SOCHI, Russia -- Twenty years ago at the opening ceremony of the Lillehammer Games, 17-year-old Todd Lodwick walked in with the U.S. team and then watched in wonder as his mother stormed down the stadium steps through crowds of white-clad spectators, determined to get as close as she could. The young Nordic combined phenom detoured out of the procession to hug her.
He'll have to stay in step Friday. Lodwick, the first six-time Winter Olympian from the United States, was selected by his fellow athletes as flag-bearer.
The honor caps a few weeks of wildly oscillating emotions for Lodwick, who won the U.S. Olympic trials in late December only to crash on a ski jump landing less than two weeks later, dislocating his left shoulder and seemingly jeopardizing his chance to make history.
[+] Enlarge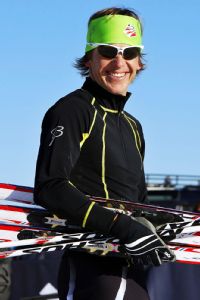 Nathan Bilow/USA TODAY SportsTodd Lodwick is still on the mend, but it won't affect his responsibilities during Friday's opening ceremony.
But Lodwick, now 37 and a father of two, rehabbed furiously, pushing through up to three sessions of physical therapy daily and doing lower-body cardio training with his left arm in a sling. He'll walk Friday still healing from non-displaced fractures in his shoulder and one rib, a torn labrum and soft tissue injuries, but said "no way" would that keep him from his appointed task.
"I'm 90 percent, and it's not going to be an issue," said Lodwick, a Steamboat Springs native who sported a state of Colorado cap as he spoke to reporters.
"To represent the 230 athletes who get to walk behind me is humbling," said Lodwick, who added that he was proud to follow in the literal footsteps of previous flag-bearers Scott Hamilton (figure skating) and Bill Koch (Nordic skiing).
Lodwick, a world junior champion, six-time World Cup winner and double world championship gold medalist in the demanding discipline that tests both ski jumping and cross-country skiing skill, was the first building block of the current team's success. Like any elite athlete with that kind of longevity, he has seen extremes of elation and disappointment.
Burned out after the 2006 Torino Games, he left the sport for two years but returned to become a world champion and make the 2010 Olympic team. He missed an individual medal in Vancouver by .07 of a second, then helped win a silver in the team event.
Lodwick clinched his trip to Sochi at the trials in Park City, Utah the last weekend of December, courtesy of a strong jump that earned him a 36-second head start on the field in the cross-country race. But then, in an unfortunate exception to two remarkably injury-free decades, he crashed on landing a provisional jump at a World Cup event in France.
After Lodwick was named to the team Jan. 25, there was speculation that he would skip the two individual events and wait for the team event Feb. 20 to give himself maximum time to mend. Thursday, head Nordic combined coach Dave Jarrett said nothing has been ruled out yet.
Jarrett said that pending medical clearance, Lodwick hopes to jump for the first time since his injury during official training time for the individual normal hill event next week. Depending on how things look, he could compete in that event or the large hill event Feb. 18.
The coach noted that Vancouver large hill gold medalist Billy Demong carried the U.S. flag in the closing ceremony there, making it two in a row for a sport that labored in total obscurity in the United States for eons.
"It's a pretty cool streak," Jarrett said.
Demong is back to defend his Olympic championship, joined by brothers Bryan and Taylor Fletcher, whose recent successes have kept the veterans motivated.
January, 15, 2014
Jan 15
12:08
AM ET
Part of longevity is luck, and Todd Lodwick has been a very fortunate athlete for most of his 20-year career as an elite Nordic combined competitor.
"I've kind of gained this reputation for being invincible," he said. "Some crazy things have happened to me that might have killed other people."
As luck would have it, his first serious in-season injury came just mere weeks before the Sochi Winter Games, a destination Lodwick had already confirmed by winning the U.S. Olympic trials in late December.
But Lodwick said Tuesday by phone from Park City, Utah that he is optimistic the dislocated left shoulder and strained ligaments he suffered in an off-kilter landing from a provisional jump during a World Cup event in Chaux-Neuve, France, last Friday won't keep him from his sixth Olympics.
"I have every intention of rehabbing this in time to be an integral part of the team," said the Steamboat Springs, Colo., native, who returned from a two-year competitive hiatus to help the U.S. men win a silver medal in Vancouver four years ago. "Don't count me out."
Lodwick lost his balance in mid-air and crashed at the 60-meter mark. He did "a 10-point check -- legs, toes, arms, fingers" -- and initially felt no pain but discovered he couldn't move his left arm. Medical staff reached him quickly. "My first reaction was, 'Put [the shoulder] back in and I'll be good to go,'" he said.
That wasn't advisable, of course, so Lodwick flew home for a medical evaluation. He has to keep the shoulder immobilized for two weeks, but has resumed training from the chest down and is doing intervals on roller skis and simulated hikes on a treadmill to maintain his cardio fitness.
Lodwick said he's had a lot of support from his team, family and friends to help him deal with the psychological blow of the ill-timed injury. "I fully believe this is overcome-able," he said.
The Nordic combined team will be publicly announced on Jan. 25, but the list isn't official until Jan. 27, when the U.S. Olympic Committee must submit a final list. The individual Olympic events are Feb. 12 and 14 and the team event is Feb. 20.