August, 2, 2012
8/02/12
4:50
PM ET
LONDON -- A quick look at the action from the London Aquatics Centre on Thursday night:
End of the road
Michael Phelps and Ryan Lochte faced off in the 200-meter individual medley in what is almost certainly the last head-to-head meeting in a rivalry that captivated the world. In a thrilling race that lived up to its billing, Phelps won in 1:54.27, 0.63 seconds faster than Lochte, to earn his 16th Olympic gold medal (and 20th overall) and became the first swimmer to win the same individual event in three straight Summer Games.
The pesky breaststroke leg was the key for Phelps, but he out-split Lochte at every turn.
Both men did a double Thursday night. Lochte took bronze in the 200 backstroke and Phelps qualified first in the 100 butterfly semis just a few minutes after the 200 IM medals ceremony. There will almost certainly be a conversation about whether Lochte took on too many events in London, but that shouldn't diminish Phelps' accomplishment.
Phelps admitted to losing considerable motivation after his eight-gold-medal bonanza in Beijing four years ago, and who knows if he would have found that incentive had it not been for Lochte's emergence and superior performances over much of the past couple of seasons. The question now is whether anyone will be able to push Lochte the way Phelps did.
Breakthrough win
Tyler Clary, so long third fiddle to Lochte and Phelps, bested Lochte in the last 50 meters to win the 200 backstroke in an Olympic-record time of 1:53.41, while Lochte faded to third. Clary pointed to the sky after he touched the wall, a tribute to his late club coach in Fullerton, Calif., Kevin Perry.
Rebecca's Soni day
After setting a world record in Wednesday's 200 breaststroke semifinal, two-time defending Olympic champion Rebecca Soni bettered it by 0.41 seconds to become the first woman to repeat in the event.
Best of the rest
For Jessica Hardy, it was almost enough just to be there. Hardy, who was denied the chance to compete four years ago after a tainted supplement led to a positive doping test, didn't even expect to qualify in the 100 freestyle at the U.S. trials (she began her career as a breaststroker), yet she still made the final here and finished eighth. Missy Franklin, meanwhile, came in fifth in an event that is not her strongest. The two U.S. men in the 50 freestyle, Cullen Jones and Anthony Ervin, qualified for Friday night's finals in first and third position, respectively.
July, 30, 2012
7/30/12
8:20
AM ET
LONDON -- For the first time since his pointed comments critiquing Michael Phelps' work ethic, Tyler Clary dove into the competition pool at the Aquatics Centre Monday morning and did everything he could to steer the conversation from controversy to swimming.
Swimming in the preliminary heats of the 200-meter butterfly, with Phelps in the next lane, Clary turned in the second-fastest time of the morning (1:54.96). Phelps finished third and is seeded fifth entering tonight's semifinals with a time of 1:55.53.
"I said to myself coming into the third wall I was amazed with how well I felt and wanted to see what I could bring home and it was faster than trials," Clary said. "Super, super excited for tonight."
Phelps seemed pleased with his time, as well. On the morning after he turned in the second-fastest split of all 32 swimmers in Sunday night's 4x100 freestyle relay, he was trying to conserve energy.
[+] Enlarge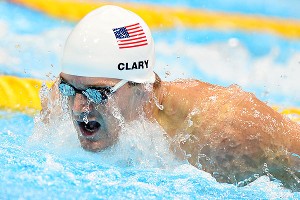 Martin Bureau/AFP/Getty ImagesTonight, Tyler Clary will swim in a separate 200 butterfly semifinal heat from Michael Phelps.
"I'm pretty happy with that time," he said. "That's all I needed to do."
The swim was Clary's first since he criticized Phelps' work ethic and referred to himself as more of a "blue-collar worker." The day after the article appeared in The (Riverside, Calif.) Press-Enterprise, Clary went to Phelps and apologized, insisting what was printed was not what he meant. The next day, Clary apologized to his other U.S. teammates for causing a distraction.
Finally, on Monday, there appeared to be something else to talk about.
"People are going to say whatever the heck they want," Clary said. "Just leave it be. It doesn't bother me."
On Monday night, Clary and Phelps will swim in separate semifinal heats. Austria's Dinko Jukic swam the fastest time of the morning in the event (1:54.79); but Clary cautioned not to make too much of anyone's preliminary times.
"It's only prelims," he said. "It doesn't matter. Everybody has their own way of doing prelims. Some people show all their cards, some people don't. It just matters what happens in the finals, right?"
Other top Americans from the morning included Allison Schmitt (1:57.33) and Missy Franklin (1:57.62), who swam the second- and third-fastest times in the preliminary heats of the women's 200 freestyle. World-record holder Federica Pellegrini set the pace (1:57.16).
For Franklin, it was the first swim of a full day. Monday night, she will swim in the 200 free semis and 100 backstroke final, with 21 minutes scheduled between races. She is seeded second in the final of the 100 back, behind Australia's Emily Seebohm, who swam 0.27 seconds faster than Franklin in the semifinals.
"It's going to be fun," the 17-year-old Franklin said. "I need to keep my energy up as much as possible and do the best I can do and just be proud of myself. It's going to be tough for sure."
June, 26, 2012
6/26/12
11:13
PM ET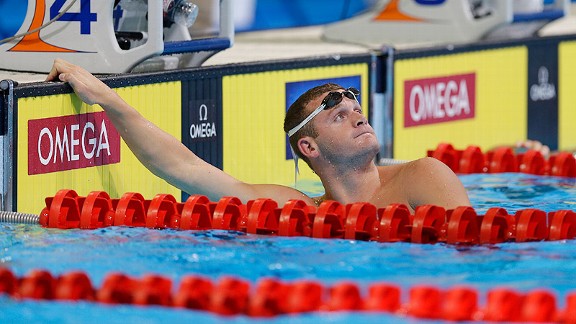 AP Photo/David PhillipTyler Clary finished third in Monday's 400 IM final at the U.S. Olympic swimming trials.
OMAHA, Neb. -- The staff at Joe's Karting in Council Bluffs, Iowa, just over the Nebraska state line, probably didn't know they had a skilled off-road driver and highly frustrated elite athlete in the house Tuesday afternoon. That was where Tyler Clary headed to get his mind off a gallant but disappointing swim in the 400-meter individual medley at the Olympic trials -- the event in which he's a two-time world championships silver medalist, and one he was gunning to race in London.
Clary finished third to Ryan Lochte and Michael Phelps in a sensational race and left the CenturyLink Center on Monday night without speaking to reporters partly at the urging of his coach, Jon Urbanchek. Most infuriating to Clary was the fact that he had been sapped by a viral infection for several days before the race. On Saturday, Clary told me he was congested and running a fever, but did not want to make that public because he hoped the bug would pass and didn't want to seem as if he were making excuses.
The 23-year-old from Riverside, Calif., plans to swim in Wednesday's 200 butterfly and the 200 backstroke on Friday. I caught up with him Tuesday evening:
Question: Break down the IM for us.
Answer: I thought I was doing everything right until probably about 15 meters into the second 50 of the breaststroke. My hips started to get lower in the water. And then in the freestyle, I just wasn't myself. Looking at the video, I didn't even recognize myself. I almost wish I would have said something before the race because now it seems like I'm making excuses for myself, but having a fever Saturday and Sunday can't have helped my case. It kind of sucks because I could have been right in the mix at the end of the race. It's too bad. But that being said, it's not the end of the meet; I've still got the 200 fly and 200 back, and I've got a very solid shot in the 200 back especially.
The fact that I got sick before coming out here and I'm still fighting it off is so frustrating. All these years of preparation, then having to visit doctors and take medication, and giving myself more rest than I would normally be getting, make sure that I'm healing. ... I don't see any reason I wouldn't be back to tip-top shape tomorrow. We'll see when I get in the water.
Q: Jon [Urbanchek] said it might be tonsillitis?
A: It's not tonsillitis. I was seen by two doctors, one on Friday and one on Saturday. My days of fever were Saturday and Sunday. They said it looked like a viral infection. There's not anything you can do about it but let it run its course. They gave me a normal course of antibiotics in case it was bacterial, which I just finished today. I couldn't sleep well because I was so congested. My throat felt like it had a slit in the back of it, I never had so much throat pain before. I would constantly wake up, throw a lozenge in my mouth, go back to sleep. I was gargling with probably three gallons of salt water, doing everything I could.
I don't want to make excuses at all. I had a decent swim, came out and went 4:09.9. That's respectable, but I would rather have not been fighting off a virus. I'm not saying the results would have been different at the end, but the chance is there that they would have been different and I know I would have gone faster. I didn't even watch the video last night, because all I wanted to do was warm down and go home. Watching the last 25 meters, Ryan shut it down hard. He probably could have [swum] a 4:05 if he had wanted. I don't think Ryan's beatable right now in the 400 IM.
Q: So the past 24 hours, you've just been chilling out with your family?
A: I was able to go out to dinner with my family and [girlfriend] Caroline. I was pretty down at dinner, but they kept talking me up and that helped a lot. By the time I left dinner, I was already in a better mood than before. I actually did a little kart racing today. There's a place up the street called Joe's Karting, and I got in a pair of races. Smoked everyone, by the way. [Laughs]
Q: How long do you think it'll take you to flip the switch?
A: It sucks, but it's yesterday. I've still got two races to go and it's my job to get up there -- literally, it's my job to get up there and swim. At this point, it's just make the team, gotta make the team.
June, 25, 2012
6/25/12
1:50
PM ET
OMAHA, Neb. -- Though his top time in this morning's preliminary heat for the 400-meter individual medley was more than four seconds faster than Michael Phelps, Ryan Lochte knows it won't be that easy Monday night.
"That was the easiest 4:14 that he's ever done, that I've ever seen in the whole entire world," Lochte said. "It looked really, really smooth. Tonight is definitely going to be a dogfight, and it's not just me and Michael; it's Tyler Clary too."
The top two finishers in Monday night's final will be the first two members named to the U.S. team that will head to London next month.
Though he insists his body is not yet in top swimming form, Lochte won his heat with a time of 4:10.66. Phelps won the third-to-last heat in 4:14.72, just one second off his trials prelim time before Beijing in 2008.
"I knew I couldn't let anybody get close," Phelps said.
Clary, seeded second in the event, logged the fourth-best time of the morning with 4:15.88. He has said his goal in the final is 4:08.
"As you could probably tell from the last 100, I was just chilling out this morning, seeing what everyone else was gonna do,'' Clary said. "Backstroke felt good. I want to negative split my breaststroke [in the final]."
Lochte was scheduled to swim in the 400-meter freestyle Monday, but he said after the 400 IM that he wouldn't swim the event and that it was just a backup in case he "messed up" in the IM.
"Good thing I didn't mess up," he said.
There had been much suspense leading up to Monday as to whether Phelps would swim the event. After Beijing, he said he'd never swim the IM again. Over the weekend, Lochte predicted Phelps would swim the event at trials, while Clary suggested he wouldn't. Phelps said after Monday's prelims he had known for a while that he'd be swimming.
"It'll be a more interesting race now," Clary said. "It doesn't change my game plan. All I can do is control myself."
December, 1, 2011
12/01/11
5:28
PM ET
At the 2009 swimming world championships in Rome, the suits overshadowed the athletes who inhabited them.
Those second skins that incorporated buoyant polyurethane -- simply referred to as "rubber suits" by the swimmers -- could take a half-hour or more to wriggle into, a worthwhile endeavor because they slashed precious seconds from personal bests. World records tumbled. Many in the sport protested, while some contended that technology should be allowed to progress unimpeded.
The many prevailed, and the controversial suits were banned by FINA, swimming's world governing body. Over the past two seasons, the athletes have inched toward the rubber-aided records wearing more conventional "textile" suits, and this year the ultra-talented Ryan Lochte punched through the fabric wall and broke the world record in the 200-meter individual medley.
[+] Enlarge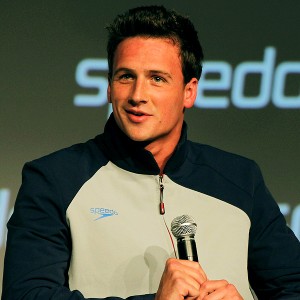 Getty ImagesRyan Lochte says any improvements he makes in his races will be by his efforts, not his apparel.
So when eight Americans and one Canadian swimmer stalked onto a runway in Manhattan on Wednesday wearing new Speedo gear that meets the current rules but also comes with the promise of better biomechanical efficiency, it was hard to sort out what that meant. Where is the line between performance-enhancing and performance-optimizing? Will future records forever be linked to fashion eras, with invisible asterisks dotting the archives?
"The only thing I'll say to that is this -- the suit can't swim itself," said three-time world championship medalist Tyler Clary, the individual-medley standout and former swimmer for the Michigan Wolverines. "You still have to put in the training. You still have to have the mental aptitude to put together a race. The suits can't and never will take that away from somebody until you start putting in a living bio-exo-skeleton."
Athletes like Clary are clearly offended by the idea that they are mere passengers on a high-tech train, but they also want to believe they are competing with state-of-the-art apparel. The Speedo Fastskin3 -- debuted around the world Wednesday and billed as a "system" that integrates the design of suit, goggles and cap -- is the latest attempt at achieving that balance.
The woven suit still requires considerable effort to tug on but is made of permeable material that compresses key parts of a swimmer's body to streamline it. Minus the option of full body coverage, now limited by FINA rules, Speedo designers turned their attention to reducing the drag caused by accessories.
The new goggles are said to be more hydro-dynamic and permit peripheral vision, an innovation especially valued by backstrokers, who often have trouble gauging where their competition is because they're facing the sky or the ceiling and are screened by splashing. It will come into play underwater, too. Michael Phelps' coach, Bob Bowman, speculated the 16-time Olympic medalist would save valuable fractions of seconds because he won't be tempted to turn his head to look at his rivals when he pushes off the wall on a turn.
Athletes with long tresses stand to benefit from a "hair management system" (and who among us couldn't use that on a given day?) in the form of a tight-fitting, cloth do-rag imprinted with arrows that show how to pack hair into a streamlined bun on the nape of the neck. A slick, thicker cap layers over that.
Natalie Coughlin demonstrated for reporters, dividing her nearly waist-length hair into two hanks which then magically disappeared under the cloth cap. She likened the resulting shape of her head to the tapered helmet worn by cyclists.
"The drag we have in the pool is similar to 60 or 70 mph on land," the 11-time Olympic medalist said. "So if you're driving down the highway and you stick your hand outside, going from having your hand turned flat out to turning your hand just the slightest increment will make the biggest difference. And that's what swimming is about, finding those places where you can shave time."
The swimmers who strutted their stuff Wednesday are all sponsored by Speedo, and several of them have participated in the development and testing process over the past four years. They praised the gear for comfort and its potential contribution to their success, as would be expected. Those compliments could be tested soon; the swimwear is approved for competition starting Jan. 1, and several athletes said they plan to don it for the Austin Grand Prix event later that month.
However, when it comes time for the Olympic trials in late June and the London Olympics a month later, anyone, regardless of sponsorship, will be able to race in the Fastskin3. Speedo president Jim Gerson said the company will provide it on request to any swimmer and he does not anticipate the supply crunch that ensued at the same juncture with the first generation of high-tech suits in 2008.
The bottom line: Once swimmers take their marks, they can't afford to fixate on what they're wearing, negatively or positively. Freestyle sprinter Nathan Adrian said what he most values is feeling that he's not behind when he steps up to the starting blocks.
"I choose to race in the best suit given what the rules are," he said.
Lochte said he thinks he'll break his 200 IM record, but emphasized he wants to correct the infinitesimal mistakes he made in that swim rather than leaning on an advantage conferred by apparel.
"It's the swimmer propelling the suit and not the other way around," Coughlin said firmly. "It's an Olympic year; people are training very well and this is what all of us have dreamt about and focused on, so people are going to be fast, regardless. Give us a baby pool and we'll figure out a way to be fast."