August, 7, 2012
8/07/12
11:23
AM ET
LONDON -- Wallace Spearmon is confident he can beat Usain Bolt in a race. Of course, he is talking about an auto race.
"We both have the same car, a Nissan GTR," Spearmon said after Tuesday's 200-meter heats. "I kind of told Bolt about it and he went out and bought one and now he has a sponsorship deal with them. Lord knows what will happen to his car after a while, but my car is faster right now."
Will Spearmon get a Nissan sponsorship deal, too? "I highly doubt it," he said. "Unless I win a gold ... and break some records."
Or beat Bolt. The odds are against Spearmon, but the American sprinter said he likes his chances out of the car and on the track. "I just feel good. I feel confident. ... It should be interesting."
Spearmon, and everyone else, will need more than confidence to beat Bolt, the world-record holder in the event. Two days after winning the 100, Bolt won his 200 heat easily, posting the fastest time of the day (20.39) despite the fact that he essentially jogged the last 50 to 75 meters, occasionally looking left and right to see if anyone was near him. Naturally, no one was.
"It was an easy run," Bolt said. "I'm enjoying it. It's my favorite event. ... It was just about qualifying and not getting injured. It's a fast track. I'm looking forward to it. It should be a good race."
U.S. sprinter Maurice Mitchell, who won his heat in 20.54, said he is looking forward to running against Bolt for the first time. Mitchell, 22, said he watched Bolt win the 100 and 200 on TV when he was in high school.
"I told myself I wanted to be there," he said. "He brings a style to the sport. He helps guys like me who want to live out our dreams. I'm glad we have guys like him to make us young guys get there."
The 200 semifinals are Wednesday night; the finals are Thursday.
August, 5, 2012
8/05/12
8:11
AM ET
LONDON -- Justin Gatlin says hold on a second. Or perhaps 9.8 seconds. The way he sees it, Sunday's 100-meter final is not just a two-man race between Jamaica's Usain Bolt and Yohan Blake.
"I think seven guys can win. The whole eight in the field, actually," Gatlin said after Saturday's heats. "If you put everything together, with the right wind behind you, the track, and everyone has a good start and is working the second half of the race -- it's just going to be who's going to be able to put on the best technical race."
Gatlin has some expertise in this matter. He was the 100-meter gold medalist at the 2004 Olympics, but was serving a four-year ban for a positive PED test when Bolt electrified the world with his gold-medal performance at Beijing in 2008.
[+] Enlarge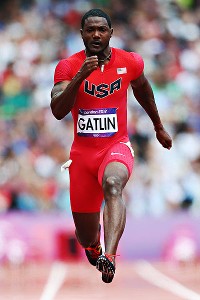 Michael Steele/Getty ImagesJustin Gatlin ran a 9.97 in his 100-meter preliminary heat on Saturday.
Bolt lost at last year's world championships when he false-started and hasn't been running consistently at top form this year, either. Blake, who ran in 10 flat in his Saturday heat, became the youngest 100 world champ at age 21 last summer, then beat Bolt in the 100 and 200 at the Jamaica Olympic trials last month. Some consider him, not Bolt, to be the favorite Sunday.
Bolt stumbled a bit out of the blocks in his heat, but recovered quickly and won easily enough, though his time (10.09) was slower than that of Blake and the top three Americans -- Gatlin, Tyson Gay and Ryan Bailey. Gatlin, however, said he thought Bolt ran well: "He looked like Bolt."
And that can be an intimidating sight.
"He's the equivalent of a guy walking on the moon for the first time," Gatlin said. "He's done something no one else has ever done -- and you've got to line up in the blocks shoulder to shoulder with this guy? You're going to be in awe sometimes. I think a lot of runners are almost looking to see what he's going to do, even when you're running.
"You've got to block that out and go out there and compete."
It isn't just Bolt's speed that excites fans -- it's also his style, with his signature lightning-bolt arm pose and demonstrative preparations as he gets into the blocks. Gatlin is just fine with that, saying it has brought excitement to track and field, but doesn't affect the race.
"I love entertainment. I love going to movies, I love watching theater in the park, so the answer is if that's what they want to do, so be it," he said when asked about Bolt and the Jamaican runners after winning the U.S. trials in June. "I have to worry about my lane. If he's in Lane 4 doing a tap dance, that's great. I'll be in Lane 3 and focused on Lane 3. My lane is just as long as his lane, no shorter. I have to worry about that."
Of course, before we crown the world's fastest man, all of the runners must reach the finals. There will be an American and Jamaican runner in each of the three semifinal heats Sunday evening. Gatlin and Asafa Powell run in the first heat, Bolt and Bailey run in the second, and Gay and Blake in the third. The two top finishers in each heat, plus the next two fastest times, will advance to the final at the end of the night's competition.
Bailey had Saturday's best time with a personal-best-tying 9.88. The 23-year-old has overcome a lot to get to the start line. Growing up, he moved between cities -- "Too many to count" -- with his mother as she followed her husband from prison to prison. He was briefly in a gang in Ohio. As recently as four years ago, he still was sleeping on his mother's floor.
"It wasn't the best childhood," he said at U.S. trials. "I just realized I was on the wrong road and needed to turn my life around."
Gay ran a 10.08 on Saturday, saying he felt good but ran the heat at roughly 75 percent. In addition to the strength of the Jamaican runners, the challenge for Gay is his own body. He has had hamstring issues and underwent hip surgery last year. The hip was so sore this spring, he had to run on grass to avoid pain. But he once ran 9.69, and is one of only three runners who know what it feels like to line up against Bolt and beat him.
In what he termed "a nice stroll," Gatlin ran a 9.97 in his heat and is looking to improve it Sunday night (his best is 9.8). Running on what has been declared a fast track, can he or his teammates knock off the Jamaicans?
"We all have our eye on the prize. We want to get that gold," Gatlin said at trials. "So if it's going to be three Jamaicans in our way or the whole world in our way, that's what it's going to take to get around that and get that gold medal."
August, 4, 2012
8/04/12
1:23
PM ET
LONDON -- The drama travels well, which is part of the reason Usain Bolt could be the most irresistible athlete at the London Olympics. Nothing is normal or ordinary with the fastest man in history, not even a simple first-round qualifying race. Saturday in the men's 100-meter prelims, Bolt won his heat in 10.09, but only after stumbling on his fifth step and recording only the ninth-fastest time of the opening round.
Only Bolt could briefly interrupt the stadium's obsession with Great Britain's beloved heptathlete hopeful Jessica Ennis. Bolt is the rock star of these Games. Bolt is the one, U.S. swimmer Natalie Coughlin recalled, who received a standing ovation when he arrived at the athletes' village. It was Bolt and only Bolt who received a Michael Buffer-style announcement at the start line.
[+] Enlarge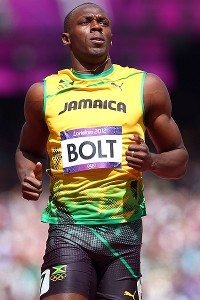 Michael Steele/Getty ImagesUsain Bolt won his semifinal heat in 10.09 seconds Saturday.
"He looked like Bolt," American Justin Gatlin said after a first round in which all the favorites ran like favorites to reach Sunday's semifinals of the marquee event at these Olympics for some of us. "He came here with his A-game. ... You have to think 9.6, 9.5."
Other than most marveling at Michael Phelps, Bolt has consumed more attention than any non-British athlete: whether his body is fit and whether his mind is right, neither of which can be answered in the first round. But what was apparent is the field has plenty of legitimate challengers, men who have won world championships or held world records. Four men who would seem to be Bolt's primary challengers -- Jamaican teammates Asafa Powell and Yohan Blake, and Americans Justin Gatlin and Tyson Gay -- all won their heats.
Powell, the man who has run the 100 in less than 10 seconds more times than any other man, couldn't believe what he was seeing. Never in Olympic history had anyone gone sub-10 seconds in the first round. Yet, by the time Powell took the track, Gatlin had run a 9.97 and American Ryan Bailey had equaled a lifetime best of 9.88, causing Powell to ask, "Hey, what's going on here?"
Part of what's going on is a springy new track. On Friday, the very first day of competition at Olympic Stadium, athletes produced 52 personal bests. It makes you wonder how fast Bolt could run Sunday night in the final if he is as fit as he was in 2008 in Beijing and is as pushed as one would think this field would be able to do.
Gatlin, for one, isn't buying the talk that Bolt is off his form.
"He's the equivalent of the guy walking on the moon for the first time," Gatlin told a group of reporters. "He's done something that no one has ever done before. You have to line up in the blocks, shoulder to shoulder, with this guy? You're going to be in awe sometimes. I think a lot of runners almost have that audience mentality: See what he's going to do, even while you're running. You've got to block that out, go out there and compete against that guy."
What could make that especially difficult is a realization Bolt and his coaches have come to, seemingly in the past few weeks, if not days. Bolt said they've all "come to the conclusion" that they should stop obsessing over the start of his races, which have never been his strength, and sharpen "the last 50 meters because that's my strong point. We're going to focus on the race as we [used] to do."
It has created a kind of "prize fight" atmosphere around Bolt, the Olympic and world champ, the man with the fastest times in the 100 and 200. The man who is expected to not just win at these Olympics but put on an unforgettable show.
September, 3, 2011
9/03/11
5:01
PM ET
While racing in Saturday's 200-meter final at the world championships, Usain Bolt appeared to briefly glance up at the stadium's video board to watch himself running. If so, who can blame him? The man has provided track's most exhilarating performances since the opening beach-running scene in "Chariots of Fire."
We missed out last weekend when the new false start rule disqualified Bolt from the 100 final and provided us only with the image of the world's fastest man whipping off his jersey and stomping off the track in frustration. But he did not jump the gun Saturday in Daegu, South Korea. Bolt was the last out of the starting blocks but quickly passed the rest of the field and continued full-out to win the race in 19.70, the fourth-fastest time ever and .21 seconds shy of his world record.
[+] Enlarge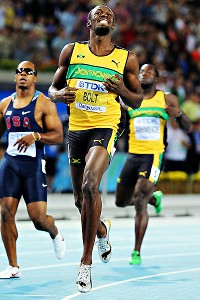 Andy Lyons/Getty ImagesAfter a false start disqualification in the 100 meters, Usain Bolt easily won Saturday's 200 at the world championships.
Bolt immediately celebrated the victory by slapping his chest and performing an arm-weaving, hip-rolling and finger-pumping dance to the crowd. All he was missing was Len Goodman grading him on his performance. He knelt on the track to briefly catch his breath while a ludicrous mascot also took a knee beside him and placed its hand (paw? hoof?) to its mouth as if deep in contemplation.
Would it be inappropriate if I asked him to sign an autograph now?
Bolt gave the crowd his signature lightning gesture and the crowd replied with thunder in its applause. According to The Associated Press, he later told the crowd "I am still the best" before taking off his shoes and dancing barefoot. He also pretended to run away from photographers, but that was just a joke because the camera is the one opponent he doesn't out-distance.
He did, however, stop short of a fog machine, but maybe we'll get that if he leads Jamaica past the United States in Sunday's 4x100 relay finale. That race will be somewhat reduced because Jamaican teammate Asafa Powell dropped out due to a groin injury and American Tyson Gay has been out with a hip injury since June.
But forget Powell and Gay, or even Walter Dix, the American who finished second in the 100 and 200 here. The guys I want to see Bolt compete against come London are Terrell Owens and Chad Ochocinco for the most outrageous, over-the-top victory celebration. Even the opening ceremonies would pale in comparison.
Bolt's theatrics are why the Jamaican sprinter is so popular and so important to a sport that desperately needs the wattage of his star power. The perfectly named Bolt is so electrifying, the stadium could lose power and he still would light up the track bright enough to be seen from Pluto. He is the ultimate competitor for our time, mixing the oldest, most elemental sport there is (who can run the fastest) with the modern competitions that so obsess us ("Dancing With the Stars" and "American Idol").
Not only is Bolt the fastest man on earth, but he puts on such a show that the London organizers may need Simon Cowell as a track referee.
August, 28, 2011
8/28/11
6:55
PM ET
Perhaps track would be better off by adopting football's penalty for a false start. Just back up the offending sprinter five yards and go again. In Usain Bolt's case, that might make the race even more exciting.
Heck, after watching Bolt cruise to the 2008 Olympic gold medal in the 100 meters, you would think the world's fastest human could wait around at the start of the race, linger over a light lunch and espresso while reading the paper, get up, stretch, sign a few autographs and still recover in time to win. Instead, Bolt jump-started and was quickly disqualified from the 100 final Sunday at the world track and field championships.
[+] Enlarge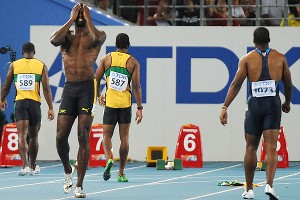 Olivier Morin/AFP/Getty ImagesUsain Bolt's reaction after Sunday's disqualification in the 100 meters: "Looking for tears? Not going to happen. I'm OK."
"I didn't really think they were going to kick him out," second-place finisher Walter Dix told reporters. "How can you kick Usain out of the race?"
This is probably a question asked by many fans in Daegu, South Korea, who paid good money to watch a 100 final that did not have Bolt (DQ), Asafa Powell (who withdrew due to a sore groin) or Tyson Gay (rehabbing from hip surgery).
Track's ruling body changed the false start rule last year so the first false start results in an automatic disqualification. The previous rule had a warning for the first false start and the next false start by any runner would result in a DQ. Before 2003, everyone had been allowed one false start.
The reasoning behind the change was the view that the rule essentially allowed each sprinter a free chance at jumping the gun. If they timed their start correctly, they gained an advantage over everyone else at essentially no risk because, if they false started, they just lined up and tried again. Now, they don't have that luxury.
The irony is, the new rule should make it harder to beat Bolt because sprinters are less likely to take a chance at a quick start. Instead, the biggest name of the sport was disqualified from track's marquee event, and the other runners' subsequent times were underwhelming. Jamaica's Yohan Blake won in 9.92, which was the only time of less than 10 seconds. Compare that to the 2009 world championships when Bolt won with a world-record 9.58, Gay finished second with an American-record 9.71 and only one runner finished slower than 10.00.
I understand the reasoning behind the zero-tolerance rule change, but it's never a good thing for a sport when its top athletes aren't able to compete for a championship. We can only hope Bolt waits a split-second longer in London next summer. Perhaps he should start from his trademark lightning bolt pose.
July, 28, 2011
7/28/11
5:17
PM ET
By
Associated Press
| ESPN.com
STOCKHOLM -- Usain Bolt returns to the scene of two rare defeats in the 100 meters when he runs at the DN Galan meet on Friday, hoping a switch to his favored 200 will help get him back in victory lane.
[+] Enlarge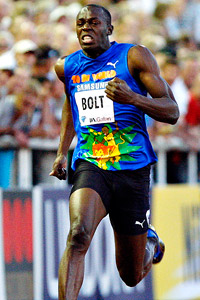 AP Photo/Michael ProbstUsain Bolt was beaten by American rival Tyson Gay in the 100 in Stockholm last year, his only loss of the season and his first at the distance in two years.
The Jamaican star headlines the field at the Diamond League event, his last scheduled race before the world championships next month in South Korea.
The world and Olympic champion was beaten by American rival Tyson Gay in the 100 in Stockholm last year, his only loss of the season and his first at the distance in two years. At the same venue in 2008, Bolt lost to fellow Jamaican Asafa Powell in the 100.
Also Friday, world 400 champion LaShawn Merritt returns to the track after his 21-month doping ban expired Wednesday. South African runner Caster Semenya will attempt to defend her title in the 800.
Bolt will run the 200 this time -- his favorite event -- and he's confident of picking up his first race win at Stockholm's Olympic Stadium.
"You can always expect the best from me," he said Thursday. "I always go out and compete at my best and always do extremely well over 200 meters, so I'm looking forward to it. I'm not really worried about this one."
Bolt is the fastest man over 200 meters this season, clocking 19.86 seconds at the Oslo Diamond League meet in June. But that is still some way off his world record of 19.19.
The 24-year-old Jamaican said he is happy with his progress as he prepares to defend his 100 and 200 titles at the world championships,which begin Aug. 27.
July, 22, 2011
7/22/11
2:00
PM ET
By
Associated Press
| ESPN.com
MONACO -- Usain Bolt claims he'll be happy to successfully defend both sprint titles and stay injury-free at the world championships, ruling out the prospect of lowering his 100-meter world record.

The Jamaican will take on European champion Christophe Lemaitre of France and teammates Nesta Carter and Michael Frater at the Diamond League meet in Monaco on Friday. It's his last 100 before the worlds open Aug. 27 in Daegu, South Korea.

After being hampered by injuries last season, Bolt's season-best time of 9.91 seconds is well short of his world mark.

"I'm not where I want to be. It is getting better but it's a long way from 9.58, for sure," Bolt said at a news conference Thursday. "I don't think I'll be in that form this season. But I definitely need to get to 9.6, 9.7. I'm working hard, I'm trying to stay focused on the job I have and it's coming together."