Stanford is the new, hot Pac-10 flavor. ESPN's College GameDay is headed to Tucson for the big Arizona-Oregon matchup.
But if you are looking to go slightly against the grain -- in the vein of a contrarian stock-market watcher -- consider the team involved in the week's least interesting game: Oregon State.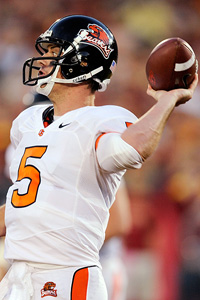 Kevork Djansezian/Getty Images
Oregon State quarterback Sean Canfield's Beavers have a chance to go to the Rose Bowl with a strong finish.
While all eyes will be on the Wildcats and Ducks in the desert and the Big Game battle for Bay Area supremacy between Stanford and California, the Beavers will be at Washington State.
There are no sure-things in college football. But the sliver of space separating the Beavers from being a sure-thing in Pullman measures 76 nanometers.
Assuming they beat the Cougars, the 19th-ranked Beavers will improve to 8-3 overall and 6-2 in the Pac-10. If they then beat the Ducks on Dec. 3 in the Civil War -- and Arizona slips up at least once in its final three games -- guess who's going to their first Rose Bowl since 1965?
Wrong!
Kidding. Yes, that would be Oregon State.
And, just like the previous three seasons, it didn't appear that the Beavers were going much of anywhere when they worked their way into October with a poor-to-middling record.
Then: poof. They made a run. Deja vu all over again.
In 2006, a 2-3 start became a 10-4, nationally ranked finish. In 2007, a 2-3 start became a 9-4, nationally ranked finish. In 2008, a 2-3 start became a 9-4, nationally ranked finish.
2009? The Beavers went crazy and broke the pattern. They started 2-2 this time before the poof. They now are riding a string of five wins in six games, and are poised, again, for a nationally ranked finish.
We know you've read that a bunch. But the redundancy isn't our fault. It's just what Oregon State does. Start slow, finish fast.
And, yes, Mike Riley -- and Beavers fans -- have said many times they'd prefer to start fast and finish fast. But the present pattern sure is superior to the opposite option, eh?
Fact is, the Beavers slow starts often can be reasonably explained. This year and last season, eight defensive starters had to be replaced. In 2007, the Beavers were breaking in a new quarterback. In 2006, they were coming off tough 5-6 season -- they'd lost four of their final five games -- and fans were starting to wonder if Riley could coach.
Ha! I see all those sheepish looks, Beavers fans.
The best explanation for the strong finishes, in fact, is good coaching from Riley and his staff, which may be the best collection of coaches in the Pac-10. Oregon State's players get better as the season progresses. They learn. They improve. They grow more confident.
And, by the way, when their tenures are over, an uncanny number of them get so good, they get to play on Sundays.
This season, both lines were questionable early on. The defense had two sacks through the first four games while the O-line surrendered 15 sacks. In the past six games, they've recorded 12 sacks and given up 11.
On defense, that increased pressure on the opposing quarterback has helped a secondary that has battled injuries and struggled at times. It's also notable that the Beavers are No. 1 in the conference in run defense.
On offense, quarterback Sean Canfield seemed to find his best rhythm when he was asked to get rid of the ball faster to help the young O-line. The Beavers aren't going deep as often as they have in the past, but they own the conference's No. 1 passing offense, which is nice.
Through four games, the Beavers averaged 26.8 points per game. They now average 31.4 ppg.
The numbers across the board should improve this weekend in Pullman.
Then the number is 12: That's how many days the Beavers and Ducks have before they play what could be a monumental rivalry game.
The Civil War for the Roses.