October, 7, 2010
10/07/10
10:15
AM ET
Ten issues to consider heading into the sixth week of games.
1.
Oregon State's pass rush reborn?
The Beavers had six sacks in their win over Arizona State. They had two in their previous three games. The biggest push came inside from tackles Stephen Paea and Brennan Olander. Will they be able to get the same heat on Arizona QB
Nick Foles
? The Wildcats have a much better offensive line than the Sun Devils and Foles gets rid of the ball quickly, so consistent pressure won't be easy.
2.
What's USC's deal
? It's now clear that USC of 2010 is closer to the 2009 version than a rebirth of 2002-2008. Or is it? A win at Stanford would certainly change minds about the Trojans. USC should be able to move the ball versus the Cardinal, but perhaps the bigger issue is can the defense, ranked 99th in the nation, stop
Andrew Luck
and company?
3.
Pistol, Take II
: Cal did a terrible job its first time against a pistol offense, see the 52 points rolled up by Nevada. But two things were stacked against the Bears: 1. New defensive coordinator Clancy Pendergast is an NFL guy who'd never schemed against a pistol; 2. It was a short week of preparation (Friday night game). With UCLA coming to town on Saturday, the Bears have two things stacked in their favor: 1. Pendergast now knows exactly what a pistol is and what can go wrong defending it; 2. Cal had a bye last week so it had an extra week to prepare for the Bruins.
4.
Bowl on the line
? You'd guess when Huskies and Sun Devils fans went through the 2010 schedule looking for bowl eligibility, they each put a "W" by Saturday's game. For the Sun Devils, it's now a must-win. No way they could win five of their final six games to get the seven victories they need (because they played two FCS teams). The Huskies situation isn't as dire but it's still critical for them to hold serve at home, particularly for a team that typically -- until last week at USC -- struggles on the road. Losing inside Husky Stadium to the Sun Devils, who were predicted to finish ninth in the conference in the preseason, wouldn't be a good thing.
5.
LaMichael goes for 200 in the first half
? If Oregon running back
LaMichael James
can gain 257 yards against Stanford, what can he gain against Washington State, which has the worst run defense in a BCS conference? The guess is Ducks coach Chip Kelly would like to have him on the bench in the second half. But if LaHeisman gets 20 carries, he could get his third 200-yard-plus game of the year.
6. Ka
tz vs. the Pac-10's best defense
: Despite replacing seven starters, Arizona is ranked No. 2 in the nation in total defense and No. 3 in scoring defense. Beavers QB
Ryan Katz
seemed to break through last weekend against Arizona State, but part of that was little pressure from the Sun Devils. Katz was sacked eight times in the first three games, but he has yet to throw an interception. The Wildcats get good pressure -- 2.75 sacks per game -- and have a good secondary. Will the Wildcats be able to pressure Katz and either get him down or force a critical mistake (or two)?
7.
Andrew Luck vs. a struggling USC secondary
: The first question for Luck is will his best two receivers --
Ryan Whalen
and
Chris Owusu
-- play. Both are injured, but coach Jim Harbaugh doesn't reveal injury information. The second: How will the Trojans young secondary, which has struggled with coverage as well as tackling, handle Lucks' downfield accuracy? They certainly didn't do well versus Washington's
Jake Locker
. The Trojans have given up 10 TD passes, second most in the conference.
8.
Will the real UCLA defense stand up
? At first, the Bruins couldn't defend the run (Kansas State, Stanford). Then Washington State QB
Jeff Tuel
passed for 311 yards last weekend. California will bring a good running game with
Shane Vereen
and a solid passing game with QB
Kevin Riley
. In fact, other than Stanford, this is likely the best offense the Bruins have faced, though it didn't get in the end zone at Arizona. The Bruins put the clamps on Houston and Texas. Can they do the same to the Bears?
9.
Deantre Lewis vs. the Huskies run defense
: Arizona State QB
Steven Threet
has thrown a lot of interceptions (9) and the Sun Devils have struggled in the red zone (last in the Pac-10). Those two stats are not unrelated. Perhaps it's time to give the ball to running back Deantre Lewis in the red zone, particularly when you look at the Huskies run defense, which is yielding an average of 234.8 yards per game. In fact, it might make sense to run to set up the pass.
10.
Will Cougars fans stick around until the fourth quarter
? It will be a significant victory for Washington State if it is within two touchdowns of Oregon entering the fourth quarter. Heck, even three would be notable. What won't be good is if the Cougs are down by 40 or 50 points entering the fourth quarter, with no fans remaining in the stands. Paul Wulff needs fans to feel hope. Hope means he can still hear support as the clock ticks down in the waning moments.
August, 3, 2010
8/03/10
12:09
PM ET
By
ESPN.com staff
| ESPN.com
Defensive tackles clog the middle and collapse pockets. Dominant ones who demand attention from two blockers make life much easier for defensive coordinators, who suddenly see their linebackers running to the ball unmolested.
And it's typically not a strength position in the Pac-10. Coaches who have worked both down south and out west will tell you that one of the peculiar differences is how many more DTs there are in SEC and ACC country. (Quarterback goes the other way.)
[+] Enlarge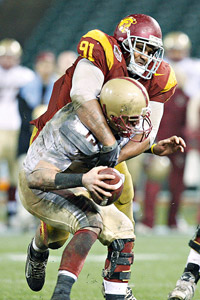 Tony Medina/SMICasey Jurrell had 54 tackles and four sacks in 2009.
In 2010, however, defensive tackle is solid in the conference. The three teams at the top of this list feature potential All-Americans at the position.
So how do things stack up?
Great shape
USC: The Trojans would rank among the nation's best at the position if not for the season-ending knee injury to Christian Tupou. Still, Jurrell Casey is a beast, Hebron Fangupo is huge and DaJohn Harris was one of the surprises of spring practices.

Oregon State: All-America candidate Stephen Paea is powerful and explosive and if he turns in a big season beating double-teams, he could end up a first-round NFL draft pick. Brennan Olander is a returning starter and converted end Kevin Frahm provides depth.

Arizona State: Both 2009 starters, Lawrence Guy and Saia Falahola, are back, and Corey Adams and Williams Sutton should provide quality depth.
Good shape
Oregon: Brandon Bair is underrated, and Zac Clark saw plenty of action as a backup in 2009. While inexperienced, there's young talent to provide depth.

Washington: The Huskies are solid with Cameron Elisara and Alameda Ta'amu, returning starters who turned in their best work this past spring.

California: Hard to rate teams that use a pure 3-4 because there's only a single nose tackle. Still, if Derrick Hill can stay healthy, he and Kendrick Payne will be an outstanding tandem making life tough for opposing centers.

Stanford: The Cardinal is breaking in its own 3-4 this year. Nose tackle Sione Fua is solid in the middle, with Terrence Stephens his backup. Stephens saw limited action as a true freshman in 2009.
We'll see
UCLA: The Bruins are replacing two starters, including the dominant Brian Price. David Carter, Justin Edison and Nate Chandler were solid in spring practices, so the position isn't a huge concern.

Arizona: The Wildcats are replacing two starters, including the underrated Earl Mitchell, a third-round NFL draft pick. After spring practices, Sione Tuihalamaka and Lolomana Mikaele topped the depth chart, which featured six names.

Washington State: Another position where the Cougars might be "better than you think," particularly if Bernard Wolfgramm can stay healthy. Touted JC transfer Brandon Rankin was impressive this spring, and true sophomore Anthony Laurenzi, a five-game starter in 2009, offers experienced depth.
May, 11, 2010
5/11/10
6:06
PM ET
By
ESPN.com staff
| ESPN.com
It's all fun and games until the golf cart flips.
The March joyride ended badly for one current and two former
Oregon State Beavers
as
each pleaded guilty
to a misdemeanor charge of unauthorized use of a vehicle on Tuesday and were sentenced to community service.
Said former quarterback
Lyle Moevao
, the apparent ringleader of the conspiracy to drive 15 mph, "it was the wrong kind of fun."
Moevao received 40 hours of community service and 12 months of bench probation. Former linebacker Keaton Kristick was sentenced to 25 hours community service and 10 months of bench probation, while defensive tackle Brennan Olander received 65 hours and 12 months of bench probation.
Neither Moevao nor Kristick, who recently signed a free-agent contract with the San Francisco 49ers, has a criminal record.
Olander received a tougher sentence because of prior convictions in 2006 for criminal mischief and 2009 for second-degree theft. A starter, he likely will face further penalty from coach Mike Riley. Cliff Kirkpatrick of the
Corvallis Gazette-Times
noted that "Olander could be up for a 30 percent of the season suspension under OSU's code of conduct, which is followed a lot more loosely than when it started."
Kirkpatrick also reported that Olander received "a 2008 citation for less than an ounce of marijuana, for which he had to complete a drug treatment program," though that didn't come up in court.
An Oregon State spokesperson said coach Riley wouldn't comment on any potential punishment this week.
Moevao was ordered to pay $750 in restitution, which will cover damages to the golf cart, with Kristick and Olander paying their share to him.
Paul Buker's
story for The Oregonian
includes quotes from all three participants in Grand Theft Golf Cart.
May, 11, 2010
5/11/10
12:00
PM ET
By
ESPN.com staff
| ESPN.com
Ah, the beautiful Northwest. Wine country. Seafood. Snow-capped mountains. Badly behaving athletes.
It's fair to assume that Oregon State fans are no longer tee-heeing about all of Oregon's off-field troubles. While the Beavers haven't approached the headline-grabbing, are-you-kidding-me? shock of a Heisman Trophy candidate quarterback stealing thousands of dollars worth of electronics from a fraternity, their run of incidents has
certainly ramped up of late
.
The latest two items may threaten the status of one starter, defensive lineman Brennan Olander, and a potential backup quarterback,
Peter Lalich
. Olander was part of a
golf cart joyride gone wrong
, which is more of an issue for him than fellow alleged offenders,
Lyle Moevao
and Keaton Kristick, because: 1. he's still on the team; and, 2. he was involved in a previous incident. Lalich, meanwhile, was charged with a boating DUI over the weekend. He was kicked out of Virginia for two alcohol-related offenses.
If you've forgotten the Ducks' rap sheet, you
can review it here
: thefts, brawls, DUIs, a domestic incident, Facebook tirades, suspensions and expulsions. Lots of page turners.
As for the Beavers, Paul Buker
sets it all up nicely here
, while this is
another effort
from the Statesman-Journal.
Lalich's arrest is the Beavers' seventh police incident this offseason. The Ducks had eight.
Now, here's our issue: There have been rumbles of media criticism
over how the incidents have been covered, with a few Ducks feeling like the Beavers got a free pass compared to the national coverage of Oregon's woes.
Balderdash.
We, of course, would never minimize incidents that require police involvement, but come on folks. Let's get real here.
Three Beavers take a joyride in a golf cart and flip it, doing significant damage. Dumb, but just imagine the scene in your head. Are you honestly possessed with a "let's get tough on crime!" outrage. No, you are not.
As for Olander's previous offense, which obviously slipped under the media radar, Buker of The Oregonian writes, "Olander may face additional team sanctions because he has been in court before, having pleaded guilty to second-degree theft by receiving stemming from a May 2009 incident. That incident involved a bike that had been reported stolen and was later found in Olander's possession. Olander told authorities he had purchased the bike from a transient for $50."
The other three incidents? Two were freshmen cited for minor in possession of alcohol charges. The third was a freshman walk-on who is no longer with the team getting arrested on May 2 for resisting arrest, interfering with a police officer and being a minor in possession.
The names here? John Braun, Tyler Thomas and Kaua Olds.
Compare that to:
Jeremiah Masoli
,
LaMichael James
,
Jamere Holland
,
Garrett Embry
, Josh Kaddu, Kiko Alonso and Rob Beard.
In other words, the Ducks in trouble for various reasons were stars and contributors from a team that played in the Rose Bowl. In Holland's case, he was an oft-troubled but big-name USC transfer who
went nuts on his Facebook page
, which is an underhanded pitch for reporters.
Further, the Masoli theft case was a mystery that challenged mainstream reporters for whom Internet rumors are not sufficient grounds to go forward with a story. While the fraternity theft happened on Jan. 23, Masoli was never arrested or officially named a suspect until just before he pleaded guilty on March 12. Those days in between, while a variety of other incidents occurred, therefore created an atmosphere of intrigue: Did he
really
do it?
Yep.
Further, James' domestic incident also inspired a significant undercurrent of speculation: she's railroading him versus he beat her up. Turned out, it was a
complicated, nuanced situation
that was handled well by authorities. But, again, there was a long stretch between arrest and resolution. If that had been a single incident, the spotlight wouldn't have burned so bright during the interregnum. It wasn't.
From a media perspective, there was way -- WAY -- more going on with Oregon vs. Oregon State, in large part because it became a perfect storm of unresolved matters involving star players augmented by a scattering of new incidents along a timeline that provide new reasons to revisit the unresolved matters involving star players.
As in, no resolution today? Well,
let's debate
whether Oregon is out of control under coach Chip Kelly.
What's the bottom line here?
It is this: Oregon and Oregon State fans should know -- and I read a lot of newspapers because it's a major part of my job as a blogger -- that both teams are covered well by responsible, skilled beat reporters who work very hard to get the story correct.
There's no media bias or conspiracy. Promise.
May, 7, 2010
5/07/10
2:45
PM ET
By
ESPN.com staff
| ESPN.com
March, 17, 2010
3/17/10
12:21
PM ET
By
ESPN.com staff
| ESPN.com
Oregon State coach Mike Riley met with his beat writers Tuesday, and lots of interesting stuff came up.
Riley and his coaches have
moved some guys around
on the Beavers'
depth chart
. And the quarterback battle between
Ryan Katz
and
Peter Lalich
is a
competition
, not a coronation for Katz, Riley said.
Of note:
Kevin Frahm will move inside from defensive end to tackle. Frahm is more a powerful, high-energy guy than an edge rusher, so the move makes sense. Of course, Frahm, a 6-foot-2, 267-pound junior, will be undersized. But, playing next to Stephen Paea, he can expect some one-on-one battles that he can win with quickness. Frahm starts off behind Brennan Olander.
The best news coming from Riley was optimism that linebacker Keith Pankey, who will sit out spring after surgery on his Achilles' tendon, will be recovered in time to play next fall.
The battle at middle linebacker to replace David Pa'aluhi, who left the team for personal reasons, will feature Tony Wilson, Rueben Robinson, Kevin Unga and Walker Vave.
Jordan Poyer has moved from safety to cornerback, where he's listed behind James Dockery.
Sophomore Markus Wheaton and Darrell Catchings are competing for the starting job at split end. Looking at the receiver depth chart, the Beavers look strong at the position, with plenty of experience and talent, topped, of course, by James Rodgers.
The Beavers need to replace Gregg Peat at right guard. The depth chart features Burke Ellis, Colin Kelly and Colin Lyons.
A couple of guys to watch on the O-line are Timi Oshinowo and Wilder McAndrews, who are No. 2 and 3 at left tackle behind true sophomore Michael Philip. Both likely would have been starters last year, if healthy. Oshinowo is coming back from a knee injury, while McAndrews' status is decidedly iffy due a wrist problem that has limited him to three games over the past two seasons.
In addition to Pankey, five players will sit out spring while recovering from injuries, including starting guard Grant Johnson (shoulder). The others are: cornerback Sean Martin and defensive end Mana Rosa (both shoulder) and defensive lineman Mitchel Hunt and offensive lineman Rory Ross (both knees).
December, 1, 2009
12/01/09
6:11
PM ET
By
ESPN.com staff
| ESPN.com
There's no way to sugarcoat it. Oregon embarrassed Oregon State's defense last year.
The Beavers entered the 2008 Civil War ranked 13th in the nation in total defense (290 yards per game). In the spring, five players from that unit would be drafted by NFL teams.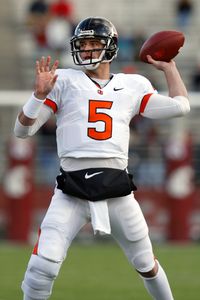 AP Photo/Dean HareOregon will have to stop Oregon State quarterback Sean Canfield and the Beavers top-ranked passing offense.
Yet the Ducks rolled up 694 yards in a 65-38 victory.
For the Beavers, it was a nightmare in Reser Stadium. It cost them the Rose Bowl. For the Ducks, it was inspiring.
"John Wooden said that competitive greatness is when you play your best against the best," Oregon coach Chip Kelly said. "That's what our players did. Our players just made plays. It wasn't a scheme deal. It wasn't like we exploited anything. It had less to do with coaching than any game I was involved with last year."
Oregon can probably identify with how a defense can have a horrible day. It's played good defense all season, but Stanford somehow rolled up 505 yards in a 51-42 win on Nov. 7.
If defense, indeed, wins championships, then it's hard to imagine that defense won't be where the 113th Civil War on Thursday turns. After all, it's all about a championship, considering the winner goes to the Rose Bowl.
It will be strength-on-strength battle.
Oregon has the No. 1 rushing offense in the Pac-10. Oregon State has the No. 1 rushing defense.
Oregon State has the No. 1 passing offense in the conference. Oregon has the No. 2 passing defense.
Both teams rebuilt their defenses this offseason. The Ducks lost six starters -- four were NFL draft choices -- while the Beavers lost eight, including their entire secondary and three-fourths of the defensive line.
Kelly said repeatedly before the season began he wasn't worried about his defense. He loved the across-the-board speed, particularly at linebacker. His secondary ranked among the nation's best.
Even when two cornerbacks -- starter Walter Thurmond III and his backup, Willie Glasper -- went down early with season-ending knee injuries, the Ducks continued to play well.
"[There's] a lot of athleticism and speed," Oregon State coach Mike Riley said. "One of the best Oregon defenses I've seen."
The Ducks perhaps revealed some vulnerability to a power-rushing attack -- Stanford piled up 254 yards on the ground -- but that's not the Beavers thing on offense.
The first order for the Ducks is disrupting Oregon State quarterback
Sean Canfield
, whose quick release has made him the conference's top-rated quarterback.
Oregon State, which starts two sophomores and a true freshman on its offensive line, surrendered 15 sacks in the first four games. But it gave up just 12 in the past seven, in large part because Canfield is distributing the ball quickly to the Rodgers brothers, James and Jacquizz, who are one-two in the conference in receptions per game, and letting them do their thing.
The Ducks rank third in the conference in sacks with 30, but will they be able to get to Canfield? And if not, will they tackle well in space?
As for Oregon State's defense, Riley and defensive coordinator Mark Banker talked candidly about their concerns in the preseason. The Beavers gap-cancellation scheme counts on getting pressure on the quarterback because the secondary is often in press-man coverage. In 2008, ends Victor Butler and Slade Norris dominated with their edge rush, and cornerbacks Keenan Lewis and Brandon Hughes could handle most receivers one-on-one.
That didn't matter much, of course, when the Ducks rushed for 385 yards last year.
That's why many of the Beavers defenders are as interested in redemption as they are in the Rose Bowl.
"That obviously wasn't the Oregon State team we had last year playing out there on that field, that's for sure," said linebacker Keaton Kristick, one of three starters returning from that 2008 crew.
The Beavers defense was mediocre early in the season. It recorded just two sacks in the first four games and couldn't get off the field on third down. But it's picked up the pace considerably, recording 13 sacks over the last seven games and improving its performance on third down by eight percent.
"I think [Banker] has done maybe his best coaching job ever with this group, considering who we lost," Riley said.
Still, the Beavers looked stout on D before they played host to the Ducks last year. This time, they won't have a home crowd making things difficult for quarterback
Jeremiah Masoli
.
The first key is fairly simple: Do your job -- don't freelance.
"When you're playing a team that has variety like that you can't do your job and somebody else's," Riley said.
Then second and third keys also are simple: Get off blocks. Tackle. If the Beavers run defense holds up, it's got a much better chance containing with the Ducks passing game.
It should help that powerhouse defensive tackle Stephen Paea is healthy. A knee injury slowed him considerably in last year's game, though it's not encouraging that the guy who starts next to him, Brennan Olander, is decidedly questionable with his own knee issue.
So which team will be grinning after the Civil War for the Roses?
As they say: Defense wins championships.