Pac-12:

Alabama Crimson Tide
November, 27, 2013
Nov 27
9:49
AM ET
By
ESPN.com staff
| ESPN.com
To watch on your smart phone click here
SEC reporter Edward Aschoff, Big Ten reporter Austin Ward and Pac-12 reporter Kevin Gemmell join host Chantel Jennings to discuss the biggest and most storied rivalries taking place this weekend.
November, 1, 2013
Nov 1
12:30
PM ET
Legendary Arkansas coach Frank Broyles, in his famed genteel drawl, was fond of saying, "They always remember what you do in November."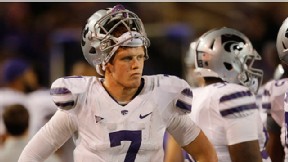 Bo Rader/Wichita Eagle/MCT via Getty ImagesCollin Klein and Kansas State were shocked by Baylor, 52-24, late last season.
Indeed they do, and with the calendar flipping to November in this final year of the BCS, it's also worth remembering that the only sure thing going forward is that nothing's for sure.
This is when it gets good, when upsets become the norm, when the ranks of the unbeaten start to dwindle and when the players and coaches on those teams at the top of the BCS standings start to hear the "Twilight Zone" theme in their sleep.
Weird things just seem to invariably happen once we get to November and beyond in the college football season, and it would probably only be fitting if the BCS' last hurrah provided us with some of the most compelling drama yet.
So what can we expect?
For starters, the six unbeaten teams from BCS conferences aren't all going to stay unbeaten. In fact, No. 3 Florida State and No. 7 Miami square off this weekend in Tallahassee.
The fact that we have a Florida State-Miami game that carries national championship implications only adds to the intrigue. It's the first time since 2004 that the two heated rivals have met as top-10 opponents.
It's also the first time they've both entered the game unbeaten (with each having at least seven wins) since 1991. That was the famed Wide Right I game, when No. 2 Miami beat No. 1 Florida State 17-16 after the Seminoles' Gerry Thomas missed a 34-yard field-goal attempt in the final seconds.
Of course, the next year, the Seminoles had to deal with Wide Right II when Dan Mowrey's 39-yard attempt to tie the game was no good, preserving Miami's 19-16 win.
It's difficult to see Saturday's game coming down to a field goal. Florida State is a huge favorite at home and has won six of its seven games this season by at least 28 points, while Miami had to scratch and claw just to get past Wake Forest and North Carolina the last two weeks.
But, remember, this is November. There are no gimmes.
It's like trying to get those final three outs in a tight baseball game. The ninth inning takes on a whole new life.
That's where we are right now in the college football season. Every snap, every decision, every turnover, every missed tackle and every injury are magnified.
"I think the cumulative effect of the season probably affects every team to some degree," Alabama coach Nick Saban said.
The same goes for being at the top of your game each week.
To continue reading,
click here
.
October, 30, 2013
Oct 30
5:00
PM ET
Jimbo Fisher hates the computers.
The Florida State coach doesn't claim to have much understanding of the formulas the BCS computers use, but he knows enough not to trust them. They're faceless, emotionless automatons programmed to chew up data and spit out rankings without much logic mixed into the recipe along the way.
Football, he believes, requires instincts and passion and perspective.
Sure, Fisher backtracked a tad when the first BCS standings of 2013 had his team at No. 2, but that was short-lived. Florida State dipped to third this week, and Fisher was back on the human-voter bandwagon.
"You have to come back to the eye test," Fisher said. "People are so important in this poll. People watch teams."
Fisher has watched his BCS competition, and the eye test tells him Florida State is not No. 1 -- at least not yet. He has a vote in the USA Today coaches' poll, and while he declined to reveal the entirety of his ballot, he strongly hinted that Alabama owned the top spot.
The Crimson Tide, Fisher said, pass the eye test.
"Alabama's playing great defense, they've got playmakers that can run the football, they're very physical," Fisher said.
He's right on all counts, but Fisher's take on Alabama -- his eye test -- is as much about the perception of the program as it is about the reality of how the Tide have played this season.
To continue reading,
click here
.
October, 30, 2013
Oct 30
4:00
PM ET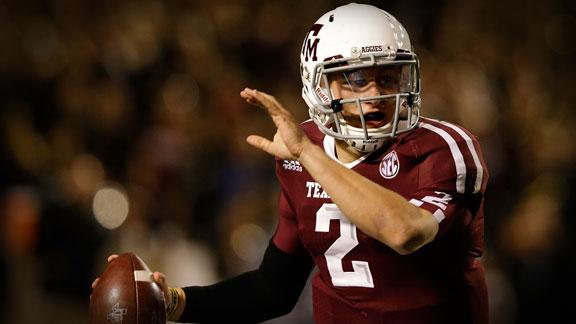 Last week, Nick Saban called out Alabama students for leaving Crimson Tide games early, saying they needed to stick around for all 60 minutes or give away their tickets.
The students responded on Saturday by keeping their section of Bryant-Denny Stadium full until the end of a 45-10 win over Tennessee -- a game the Tide led 35-0 at halftime.
We don't really know if Alabama students are growing bored of their team's constant domination. But if so, they would merely be joining the rest of America.
Saban's "process" reaps undeniably admirable results, as his program has won three of the past four national titles and is in position to claim a third straight crystal football this January.
Admiration and enjoyment, however, do not always go together. An Alabama fatigue factor exists across the country, both because of the Crimson Tide's sustained success and the clinical, almost bloodless, manner in which they've achieved it.
The biggest suspense in the last two BCS title games -- in which Alabama beat Notre Dame and LSU by a combined score of 63-14 -- was whether Saban would crack half a smirk during the celebration.
We respect Alabama's precision. But we also long for some panache. In an age when everyone has a high-definition television and a smartphone to relay all the scores, we demand entertainment as well as execution from our college football teams.
Luckily, we also have an abundance of alternative, anti-Alabama programming this season. In fact, it seems that we're blessed with an unprecedented amount of spectacles and showmen on display from coast to coast, and that is true at the top of this season's BCS standings.
If you could afford just one ticket -- or if you had a really terrible cable package that gave you access to just one game -- how would you choose between some of these top viewing options?
To continue reading,
click here
.
October, 28, 2013
Oct 28
3:00
PM ET
TUSCALOOSA, Ala. -- Saturday's game at Bryant-Denny Stadium was a dud. It seemed like
who was watching was of greater concern than what they were actually watching
at times. In the end, Alabama walloped Tennessee 45-10 for the school's 50th all-time win over its SEC East rival.
But the greater context of the game was more significant. Tennessee, for better or worse, served as a piñata for both No. 1 Alabama and No. 2 Oregon this season, offering a rare common opponent to examine. When you consider the fact that no other top-five team has faced a common opponent with Alabama, the Tennessee games grow more interesting.
So who looked better against Butch Jones' Volunteers? Well, the answer to that question is tricky. The scores -- Alabama won by 35 points and Oregon won by 45 -- are misleading. The Ducks jumped to a 38-0 halftime lead and continued their manic pace on offense, scoring three third-quarter touchdowns. The Tide, too, got out to a big 35-0 halftime lead, but instead cruised in the third and fourth quarters, scoring one touchdown and a field goal.
Oregon ran 67 plays on offense to Alabama's 65, and the Ducks were more efficient.
Marcus Mariota
threw for 456 yards and four touchdowns and helped generate 687 total yards of offense.
AJ McCarron
, meanwhile, threw for 275 yards and two touchdowns. All told, the Tide put up a respectable 479 yards of offense. But in fairness, the difference in first-half offense -- Oregon put up 350 yards to Alabama's 292 -- was not as noticeable.
The teams' third- and fourth-down efficiency numbers were nearly identical. Alabama converted on 7 of 11 third downs and moved the chains on its lone fourth-down attempt. Oregon, conversely, was 6 of 13 on third downs and picked up a first down on its only fourth-down attempt.
Both teams ran for an average of roughly 5 yards per carry and both forced a turnover on defense.
The defenses offered little separation, though. Oregon gave up a touchdown to Tennessee in the first quarter and the Vols held the ball for 34:18. Alabama, meanwhile, didn't give up points until a third-quarter field goal and the Vols didn't score a touchdown until early in the fourth quarter when the game was well in hand. Tennessee generated about the same offensive output against Alabama as it did against Oregon -- 322 yards to 316.
Truthfully, if you're looking for who the better team is -- Alabama or Oregon -- based on their common opponent, Tennessee, you're looking too hard. Both Alabama and Oregon beat up on Tennessee badly and both looked like title contenders in the process. Alabama's traditional pro-style offense, largely viewed as weaker than Oregon's fast-paced attack, held its own by comparison. Meanwhile, Oregon's defense, traditionally thought of as inferior to Alabama's historically dominant defense, was just as good by comparison, too.
If you're an Oregon fan you can focus on the Tide's one turnover against the Vols. An Alabama fan would point out that his team committed only four penalties and didn't allow a single sack while Oregon committed twice as many penalties and allowed twice as many sacks.
But leave the film study to the coaches if the two teams do wind up meeting in Pasadena for the BCS National Championship in January. We've got a long way to go until then.
September, 21, 2013
Sep 21
7:00
PM ET
By
ESPN.com staff
| ESPN.com
Can Texas right the ship against K-State? Will Michigan avoid another upset scare? Can Auburn-LSU produce another close one? And what about that Arizona State-Stanford showdown in the Pac-12?
We'll be watching these games and many more on Saturday night and we'd like you to join in on the conversation. Head on over to
Campus Connection
at 8 ET and follow the action along with our eight reporters. Post your comments and questions and we'll include as many of them as possible.
September, 1, 2013
Sep 1
12:02
AM ET
AUBURN, Ala. -- It wasn't easy, but Auburn used big plays in the first half and key stops in the second half to earn a victory over Washington State in Gus Malzahn's debut as head coach Saturday.


It was over when:
Washington State had a chance in the final minutes to tie the game, but on fourth-and-5 from the Auburn 25,
Connor Halliday
's pass fell incomplete. The Tigers got the ball back, picked up a first down and put the game away.
Game ball goes to:
In an unexpected lineup change,
Robenson Therezie
filled in at the star position for
Justin Garrett
. He turned out to be the star of the game, literally. Therezie pulled down two interceptions, including one late that killed a Washington State drive.
Stat of the game:
Last year, Auburn finished the season with two interceptions. The Tigers matched that number in the first quarter alone. Add the late pick by Therezie, and they finished with three interceptions in the game.
Unsung hero:
Running back
Corey Grant
wasn't even listed on the depth chart before Saturday's game. That likely will change. The former Alabama transfer ran wild against Washington State, finishing with 146 yards on nine carries and a 75-yard touchdown run in the second quarter.
What it means for Auburn:
It might not have been as convincing as the fans would've liked, but a win is a win, and Auburn already is off to a better start than last year. There were a lot of positives to take away, but there also were a lot of needs to address going forward. Either way, the Tigers are 1-0 under Gus Malzahn.
What it means for Washington State:
Even though the Cougars have to fly back home with a loss, they looked much improved from a year ago and battled right down to the end. Halliday finished 35 of 63 for 344 yards and a touchdown, and the offense as a whole racked up 464 yards against Auburn.
June, 29, 2013
Jun 29
1:00
PM ET
By
ESPN.com staff
| ESPN.com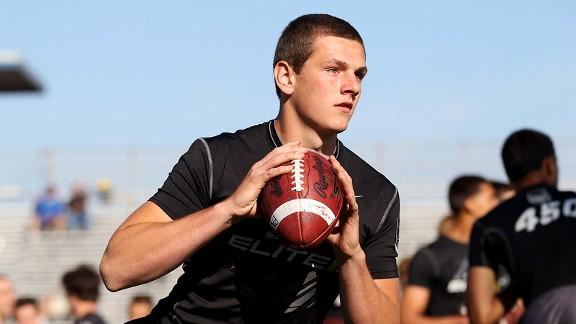 The nation's top pocket-passer,
Keller Chryst
, ranked No. 21 in the ESPN 300,
committed late in the week
to
Stanford
. Chryst, a senior at Palo Alto (Calif.), picked the Cardinal over USC, Alabama and Pitt. He talked about the decision with Phil Murphy.
PAC-12 SCOREBOARD
Saturday, 12/21
Monday, 12/23
Tuesday, 12/24
Thursday, 12/26
Friday, 12/27
Saturday, 12/28
Monday, 12/30
Tuesday, 12/31
Wednesday, 1/1
Thursday, 1/2
Friday, 1/3
Saturday, 1/4
Sunday, 1/5
Monday, 1/6
Tweets from @ESPNCFB/pac-12