November, 21, 2014
Nov 21
12:00
PM ET
The following is a public service announcement from the ESPN.com Pac-12 blog.
Those planning to attend Saturday's Utah-Arizona game at Rice-Eccles Stadium, or watching the 12:30 PT kickoff on ESPN, are advised to bring the following items:
Blood pressure medication

A defibrillator

A shoulder to cry on

A comforting beverage of your choice (the Pac-12 blog doesn't judge)
Given the erratic and unpredictable nature of both teams, the Pac-12 blog thanks you for your consideration.
[+] Enlarge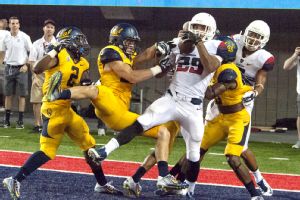 Darin Wallentin/Getty ImagesThe Wildcats have made close, nail-biting finishes the norm.
Think we're being too dramatic? We're not. More nails have been bitten to the nub between watching Utah and Arizona than any other teams in the conference. That they meet Saturday in a game with Pac-12 South implications only adds to the pulse-racing dramatics these two teams have practiced in 2014.
Each team has played in six games decided by seven or fewer points -- that's tied for the second most in FBS. The Wildcats are 5-1 in those tight games while the Utes are 4-2. Utah has also played three overtime games, going 2-1 in bonus football.
Arizona coach Rich Rodriguez prepped his team in the preseason for the fact that his Wildcats would likely participate in several barn burnings. And thus they were ready when things got close in Week 2 on the road at UTSA.
"We've got some talent, but (we knew) we're not overloaded where we can dominate anybody," Rodriguez said. "Plus the schedule that we play, there are a lot of quality teams with a lot of quality players. We got into that mindset that we're ready to battle. I think it's helped us when we've faced some adversity. Whether we've gotten down early or been on the road, our guys said hey, let's make some plays and keep playing and see what happens."
What happened was some of the most dramatic football in the country this season. Among Arizona's thrillers are a 36-point, fourth-quarter, time-expiring Hail Mary against Cal; a win over No. 2 Oregon on the road; a missed field goal in the loss to USC; and most recently, a successful last-second field goal to beat Washington.
If Arizona has been the Cardiac 'Cats, then Utah has certainly been the ulcer-inducing Utes. During a stretch from the end of September to the beginning of November, the Utes played in five straight games decided by six or fewer points. The highlights include a two-point win over UCLA, a double-overtime win over Oregon State and a last-minute touchdown against USC. The lowlights are an overtime loss to ASU and blowing a 21-0 lead to WSU.
Most recently, Utah won a double-overtime game last week at Stanford.
"I'd say it starts with our leadership and the senior leadership on this team," said Utah coach Kyle Whittingham. "It's a great group. It's as good of leadership as I've been around during my time at Utah and I think that's a main factor in the mentality of the team and the way they are able to persevere."
Winning these close games is unfamiliar territory for the Utes. But playing in them isn't. Last season Utah also played in six close games, but lost in overtime to Oregon State, by a touchdown to UCLA and by a point to ASU.
"I think we're a better football team personnel-wise across the board," Whittingham said. "We've upgraded and that obviously has a lot to do with it. But between that, the experience we may have gained and the leadership, I think those are probably the main factors."
While Utah has relied on its experience, Arizona has relied on its conditioning. You might recall way back in 2012 when Rodriguez was first hired, he famously (infamously?)
called his players weak
. Now it's that physical strength that he's banking on to get his guys through tough times.
"I think our team knew back in August, we talked about it, we knew we would probably be in a lot of tight games that would go the full 60 minutes and if anything else, we're going to be a pretty conditioned team," Rodriguez said. "We control what we can control and we talk about playing as hard on the last play as we do the first play and I think our guys really believe that plays a role in every game. There's a little luck involved, too. But we've been in nine straight games that have gone down to the fourth quarter and our guys, to their credit, they are still playing as hard as they did at the beginning."